Abstract
Atherosclerosis is a chronic inflammatory disease characterized by the formation of plaques inside arteries, leading to narrowing and blockage. Potential therapeutic strategies include expanding the population of regulatory T-cells (Tregs) to enhance atheroprotective immunity, and inhibiting the formation of macrophage foam cells. Here, we studied the effect of bone marrow-derived mesenchymal stem cells (BM-MSCs) on atherosclerotic plaque formation in Apolipoprotein E−/− (ApoE-KO) mice, and elucidated the underlying mechanism. BM-MSCs isolated from 4 week-old ApoE-KO mice were evaluated by flow cytometry for expression of MSC-specific markers. Thirty eight week-old ApoE-KO mice were randomly divided into three experimental groups (n = 10 per group): 1. MSC group—received BM-MSCs intravenously; 2. Vehicle group—received DMEM; 3. Control group—did not receive any treatment. Administration of MSCs resulted in a marked decrease in the size of atherosclerotic plaques 3 months after treatment. In addition, the number and function of CD4+CD25+FOXP3+ regulatory T-cells (Tregs) in cultured splenocytes, and the expression of FOXP3 at both mRNA and protein levels, was significantly increased in the MSC group. In vitro experiments further indicated that the formation of macrophage foam cells was inhibited by treatment with MSCs, accompanied by a significant downregulation in CD36 and scavenger receptor A (SRA). Our findings suggest that MSCs play an atheroprotective role by enhancing the number and function of Tregs and inhibiting the formation of macrophage foam cells. Hence, administration of MSCs to atherosclerotic patients might have significant clinical benefits.
Access options
Buy single article
Instant access to the full article PDF.
USD 39.95
Price excludes VAT (USA)
Tax calculation will be finalised during checkout.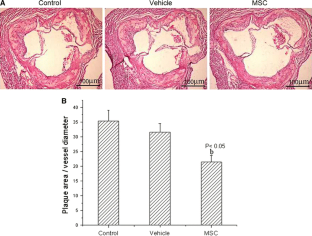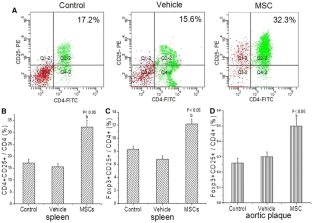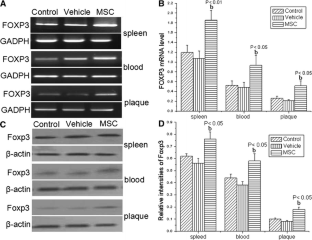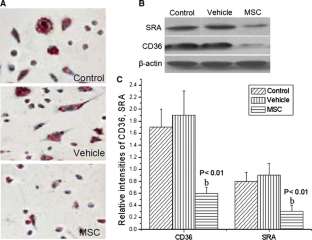 References
Frostegård Johan (2013) Immunity, atherosclerosis and cardiovascular disease. BMC Med 11:117

Ait-Oufella H, Sage AP, Mallat Z, Tedgui A (2014) Adaptive (T and B cells) immunity and control by dendritic cells in atherosclerosis. Circ Res 114(10):1640–1660

Cheong C, Choi JH (2012) Dendritic cells and regulatory T-cells in atherosclerosis. Mol Cells 34(4):341–347

Gerry AB, Leake DS (2014) Effect of low extracellular pH on NF-κB activation in macrophages. Atherosclerosis 233(2):537–544

Getz GS, Vanderlaan PA, Reardon CA (2011) Natural killer T-cells in lipoprotein metabolism and atherosclerosis. Thromb Haemost 106(5):814–819

Chistiakov DA, Sobenin IA, Orekhov AN (2013) Regulatory T-cells in atherosclerosis and strategies to induce the endogenous atheroprotective immune response. Immunol Lett 151(1–2):10–22

Ait-Oufella H, Salomon BL, Potteaux S, Robertson AK, Gourdy P, Zoll J, Merval R, Esposito B, Cohen JL, Fisson S, Flavell RA, Hansson GK, Klatzmann D, Tedgui A, Mallat Z (2006) Natural regulatory T-cells control the development of atherosclerosis in mice. Nat Med 12(2):178–180

Tacke F, Alvarez D, Kaplan TJ, Jakubzick C, Spanbroek R, Llodra J, Garin A, Liu J, Mack M, van Rooijen N, Lira SA, Habenicht AJ, Randolph GJ (2007) Monocyte subsets differentially employ CCR2, CCR5, and CX3CR1 to accumulate within atherosclerotic plaques. J Clin Invest 117(1):185–194

Gu P, Gao JF, D'Souza CA, Kowalczyk A, Chou KY, Zhang L (2012) Trogocytosis of CD80 and CD86 by induced regulatory T-cells. Cell Mol Immunol 9(2):136–146

Entin-Meer M, Afek A, George J (2009) Regulatory T-cells, FOXP3 and atherosclerosis. Adv Exp Med Biol 665:106–114

Liao J, Chen X, Li Y, Ge Z, Duan H, Zou Y, Ge J (2012) Transfer of bone-marrow-derived mesenchymal stem cells influences vascular remodeling and calcification after balloon injury in hyperlipidemic rats. J Biomed Biotechnol 2012:165296

Le Blanc K, Rasmusson I, Sundberg B, Götherström C, Hassan M, Uzunel M, Ringdén O (2004) Treatment of severe acute graft-versus-host disease with third party haploidentical mesenchymal stem cells. Lancet 363(9419):1439–1441

Levings MK, Sangregorio R, Roncarolo MG (2001) Human CD25+ CD4+ regulatory T-cells suppress naive and memory T-cell proliferation and can be expanded in vitro without loss of function. J Exp Med 193(11):1295–1302

Ramasamy R, Fazekasova H, Lam EW, Soeiro I, Lombardi G, Dazzi F (2007) Mesenchymal stem cells inhibit dendritic cell differentiation and function by preventing entry into the cell cycle. Transplantation 83(1):71–76

Cederbom L, Hall H, Ivars F (2000) CD4+CD25+ regulatory T-cells down-regulate co-stimulatory molecules on antigen-presenting cells. Eur J Immunol 30(6):1538–1543

Gondek DC, Lu LF, Quezada SA, Sakaguchi S, Noelle RJ (2005) Cutting edge:contact-mediated suppression by CD4+CD25+ regulatory cells involves a granzyme B-dependent, perforin-independent mechanism. J Immunol 174(4):1783–1786

Grossman WJ, Verbsky JW, Barchet W, Colonna M, Atkinson JP, Ley TJ (2004) Human T regulatory cells can use the perforin pathway to cause autologous target cell death. Immunity 21(4):589–601

Suvas S, Kumaraguru U, Pack CD, Lee S, Rouse BT (2003) CD4+CD25+ T-cells regulate virus-specific primary and memory CD8+ T-cell responses. J Exp Med 198(6):889–901

Thornton AM, Shevach EM (1998) CD4+CD25+ immunoregulatory T-cells suppress polyclonal T-cell activation in vitro by inhibiting interleukin 2 production. J Exp Med 188(2):287–296

Collison LW, Vignali DA (2001) In vitro Treg suppression assays. Methods Mol Biol 707:21–37

McMurchy AN, Levings MK (2012) Suppression assays with human T regulatory cells: a technical guide. Eur J Immunol 42(1):27–34

Whitman SC, Ravisankar P, Daugherty A (2002) Interleukin-18 enhances atherosclerosis in apolipoprotein E(-/-) mice through release of interferon-gamma. Circ Res 90(2):E34–E38

Klingenberg R, Gerdes N, Badeau RM, Gisterå A, Strodthoff D, Ketelhuth DF, Lundberg AM, Rudling M, Nilsson SK, Olivecrona G, Zoller S, Lohmann C, Lüscher TF, Jauhiainen M, Sparwasser T, Hansson GK (2013) Depletion of FOXP3+ regulatory T-cells promotes hypercholesterolemia and atherosclerosis. J Clin Invest 123(3):1323–1334

Jacobs SA, Roobrouck VD, Verfaillie CM, Van Gool SW (2013) Immunological characteristics of human mesenchymal stem cells and multipotent adult progenitor cells. Immunol Cell Biol 91(1):32–39

Sardella G, De Luca L, Francavilla V, Accapezzato D, Mancone M, Sirinian MI, Fedele F, Paroli M (2007) Frequency of naturally-occurring regulatory T-cells is reduced in patients with ST-segment elevation myocardial infarction. Thromb Res 120(4):631–634

de Boer OJ, van der Meer JJ, Teeling P, van der Loos CM, van der Wal AC (2007) Low numbers of FOXP3 positive regulatory T-cells are present in all developmental stages of human atherosclerotic lesions. PLoS One 2(8):e779

Lü CX, Xu RD, Cao M, Wang G, Yan FQ, Shang SS, Wu XF, Ruan L, Quan XQ, Zhang CT (2013) FOXP3 demethylation as a means of identifying quantitative defects in regulatory T-cells in acute coronary syndrome. Atherosclerosis 229(1):263–270

Fang SM, Du DY, Li YT, Ge XL, Qin PT, Zhang QH, Liu Y (2013) Allogeneic bone marrow mesenchymal stem cells transplantation for stabilizing and repairing of atherosclerotic ruptured plaque. Thromb Res 131(6):e253–e257

Prockop DJ, Oh JY (2012) Mesenchymal stem/stromal cells (MSCs): role as guardians of inflammation. Mol Ther 20(1):14–20

Picca CC, Larkin J 3rd, Boesteanu A, Lerman MA, Rankin AL, Caton AJ (2006) Role of TCR specificity in CD4+CD25+ regulatory T-cell selection. Immunol Rev 212:74–85

Sakaguchi S, Setoguchi R, Yagi H, Nomura T (2006) Naturally arising Foxp3-expressing CD25+CD4+ regulatory T-cells in self-tolerance and autoimmune disease. Curr Top Microbiol Immunol 305:51–66

van Es T, van Puijvelde GH, Foks AC, Habets KL, Bot I, Gilboa E, Van Berkel TJ, Kuiper J (2010) Vaccination against Foxp3(+) regulatory T-cells aggravates atherosclerosis. Atherosclerosis 209(1):74–80
Acknowledgments
This work was supported by a grant from the Educational Foundation of Hubei province (No.B20102108) and the Technology Bureau of Shiyan in Hubei Province (No. 2011063).
Conflict of interests
The authors declare no conflict of interest.
About this article
Cite this article
Wang, Z.X., Wang, C.Q., Li, X.Y. et al. Mesenchymal stem cells alleviate atherosclerosis by elevating number and function of CD4+CD25+FOXP3+ regulatory T-cells and inhibiting macrophage foam cell formation. Mol Cell Biochem 400, 163–172 (2015). https://doi.org/10.1007/s11010-014-2272-3
Received:

Accepted:

Published:

Issue Date:

DOI: https://doi.org/10.1007/s11010-014-2272-3
Keywords
Mesenchymal stem cells

Atherosclerotic plaque

CD4+CD25+FOXP3+ regulatory T-cells

Macrophage foam cell