Abstract
Lipopolysaccharide (LPS), a potent stimulator of inflammatory responses in alveolar macrophages (AMs), activates several intracellular signaling pathways, including mitogen-activated protein kinases (MAPK). In the present study, we investigated the MAPK pathway in AMs of chronic bronchitis (CB) rats. CB was induced by endotracheal instillation of LPS followed by Bacillus Calmette Guerin injection through the caudal vein 1 week later. Specific inhibitors were used and protein phosphorylations were detected by Western blot. We found that Genistein (PTK inhibitor) could inhibit protein kinase C (PKC), phosphatidylinositol-3 kinase (PI3K)/protein kinase B (Akt or PKB) MAPK signaling pathway with different degrees, LY294002 (PI3K inhibitor) could not only inhibit phospho-PI3K/Akt expression, but also inhibit p38 and c-Jun NH2-terminal kinases (JNK) phosphorylation. Calphostin C (PKC inhibitor) could inhibit phospho-PKC expression and exerted significant effects on extracellular signal-regulated kinases (ERK) phosphorylation, however, it had no impact on p38 and JNK phosphorylation. These results demonstrated that the LPS mediated signaling pathway of MAPK in AMs of CB rats could be described as follows: PTK-PI3K-Akt-JNK/p38 or PTK-PI3K-PKC-ERK, and PI3K may have a negative regulation on the activation of downstream proteins.
Access options
Buy single article
Instant access to the full article PDF.
US$ 39.95
Tax calculation will be finalised during checkout.
Subscribe to journal
Immediate online access to all issues from 2019. Subscription will auto renew annually.
US$ 119
Tax calculation will be finalised during checkout.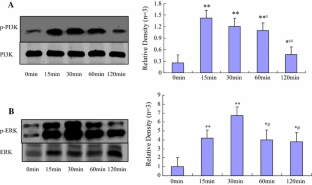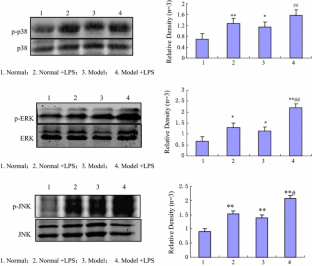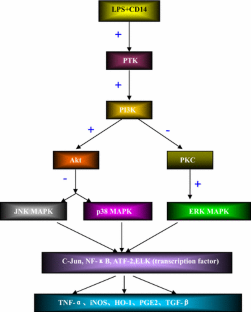 Abbreviations
AMs:

Alveolar macrophages

CB:

Chronic bronchitis

LPS:

Lipopolysaccharide

BCG:

Bacillus Calmette Guerin

MAPK:

Mitogen-activated protein kinases

PKC:

Protein kinase C

PKA:

Protein kinase A

ERK:

Extracellular signal-regulated kinases

JNK:

c-Jun NH2-terminal kinases

FBS:

Fetal bovine serum

CMC:

Carboxymethylcellulose

BALF:

Bronchoalveolar lavage fluid

PI3K:

Phosphatidylinositol-3 kinase

PTK:

Receptor tyrosine kinase
References
1.

Song J, Li J, Zheng SR, Jin Y, Huang Y (2013) Anti-inflammatory and immunoregulatory effects of Yupingfeng powder on chronic bronchitis rats. Chin J Integr Med 19(5):353–359. doi:10.1007/s11655-013-1442-6

2.

Aderem A, Ulevitch RJ (2000) Toll-like receptors in the induction of the innate immune response. Nature 406(6797):782–787

3.

Martin TR (2000) Recognition of bacterial endotoxin in the lungs. Am J Respir Cell Mol Biol 23(2):128–132

4.

Kearns MT, Barthel L, Bednarek JM, Yunt ZX, Henson PM, Janssen WJ (2014) Fas ligand-expressing lymphocytes enhance alveolar macrophage apoptosis in the resolution of acute pulmonary inflammation. Am J Physiol Lung Cell Mol Physiol 307(1):L62–L70. doi:10.1152/ajplung.00273.2013

5.

Nahas N, Molski TF, Fernandez GA, Sha'afi RI (1996) Tyrosine phosphorylation and activation of a new mitogen-activated protein (MAP)-kinase cascade in human neutrophils stimulated with various agonists. Biochem J 318(Pt 1):247–253

6.

Ardeshna KM, Pizzey AR, Devereux S, Khwaja A (2000) The PI3 kinase, p38 SAP kinase, and NF-kappaB signal transduction pathways are involved in the survival and maturation of lipopolysaccharide-stimulated human monocyte-derived dendritic cells. Blood 96(3):1039–1046

7.

Renda T, Baraldo S, Pelaia G, Bazzan E, Turato G, Papi A, Maestrelli P, Maselli R, Vatrella A, Fabbri LM, Zuin R, Marsico SA, Saetta M (2008) Increased activation of p38 MAPK in COPD. Eur Respir J 31(1):62–69

8.

Li H, Hu D, Fan H, Zhang Y, LeSage GD, Caudle Y, Stuart C, Liu Z, Yin D (2014) β-Arrestin 2 negatively regulates TLR4-triggered inflammatory signaling via targeting p38 MAPK and IL-10. J Biol Chem 289(33):23075–23085. doi:10.1074/jbc.M114.591495

9.

Lee YB, Schrader JW, Kim SU (2000) p38 map kinase regulates TNF-alpha production in human astrocytes and microglia by multiple mechanisms. Cytokine 12(7):874–880

10.

Chan ED, Riches DW (2001) IFN-gamma + LPS induction of iNOS is modulated by ERK, JNK/SAPK, and p38(mapk) in a mouse macrophage cell line. Am J Physiol Cell Physiol 280(3):C441–C450

11.

Thorley AJ, Ford PA, Giembycz MA, Goldstraw P, Young A, Tetley TD (2007) Differential regulation of cytokine release and leukocyte migration by lipopolysaccharide-stimulated primary human lung alveolar type II epithelial cells and macrophages. J Immunol 178(1):463–473

12.

Ichikawa T, Zhang J, Chen K, Liu Y, Schopfer FJ, Baker PR, Freeman BA, Chen YE, Cui T (2008) Nitroalkenes suppress lipopolysaccharide-induced signal transducer and activator of transcription signaling in macrophages: a critical role of mitogen-activated protein kinase phosphatase 1. Endocrinology 149(8):4086–4094. doi:10.1210/en.2007-1639

13.

Huang Y, Li J, Cao Q, Yu SC, Lv XW, Jin Y, Zhang L, Zou YH, Ge JF (2006) Anti-oxidative effect of triterpene acids of Eriobotrya japonica (Thunb.) Lindl. leaf in chronic bronchitis rats. Life Sci 78(23):2749–2757

14.

Huang Y, Li J, Wang R, Wu Q, Li YH, Yu SC, Cheng WM, Wang YY (2007) Effect of triterpene acids of Eriobotrya japonica (Thunb.) Lindl. leaf on inflammatory cytokine and mediator induction from alveolar macrophages of chronic bronchitic rats. Inflamm Res 56(2):76–82

15.

Huang Y, Li J, Meng XM, Jiang GL, Li H, Cao Q, Yu SC, Lv XW, Cheng WM (2009) Effect of triterpene acids of Eriobotrya japonica (Thunb.) Lindl. leaf and MAPK signal transduction pathway on inducible nitric oxide synthase expression in alveolar macrophage of chronic bronchitis rats. Am J Chin Med 37(6):1099–1111

16.

Zeng Z, Gong H, Li Y, Jie K, Ding C, Shao Q, Liu F, Zhan Y, Nie C, Zhu W, Qian K (2013) Upregulation of miR-146a contributes to the suppression of inflammatory responses in LPS-induced acute lung injury. Exp Lung Res 39(7):275–282. doi:10.3109/01902148.2013.808285

17.

Choudhry MA, Uddin S, Sayeed MM (1998) Prostaglandin E2 modulation of p59fyn tyrosine kinase in T lymphocytes during sepsis. J Immunol 160(2):929–935

18.

Burnette WN (1981) "Western blotting": electrophoretic transfer of proteins from sodium dodecyl sulfate–polyacrylamide gels to unmodified nitrocellulose and radiographic detection with antibody and radioiodinated protein A. Anal Biochem 112(2):195–203

19.

Peti W, Page R (2013) Molecular basis of MAP kinase regulation. Protein Sci 22(12):1698–1710. doi:10.1002/pro.2374

20.

Cheng Y, Keast JR (2009) Effects of estrogens and bladder inflammation on mitogen-activated protein kinases in lumbosacral dorsal root ganglia from adult female rats. BMC Neurosci 10:156. doi:10.1186/1471-2202-10-156

21.

Mancuso G, Midiri A, Beninati C, Piraino G, Valenti A, Nicocia G, Teti D, Cook J, Teti G (2002) Mitogen-activated protein kinases and NF-kappa B are involved in TNF-alpha responses to group B streptococci. J Immunol 169(3):1401–1409

22.

Guha M, O'Connell MA, Pawlinski R, Hollis A, McGovern P, Yan SF, Stern D, Mackman N (2001) Lipopolysaccharide activation of the MEK-ERK1/2 pathway in human monocytic cells mediates tissue factor and tumor necrosis factor alpha expression by inducing Elk-1 phosphorylation and Egr-1 expression. Blood 98(5):1429–1439

23.

Chen H, Sohn J, Zhang L, Tian J, Chen S, Bjeldanes LF (2014) Anti-inflammatory effects of chicanine on murine macrophage by down-regulating LPS-induced inflammatory cytokines in IkappaBalpha/MAPK/ERK signaling pathways. Eur J Pharmacol 724:168–174. doi:10.1016/j.ejphar.2013.12.016

24.

Boutros T, Chevet E, Metrakos P (2008) Mitogen-activated protein (MAP) kinase/MAP kinase phosphatase regulation: roles in cell growth, death, and cancer. Pharmacol Rev 60(3):261–310. doi:10.1124/pr.107.00106

25.

Pearson G, Robinson F, Beers Gibson T, Xu BE, Karandikar M, Berman K, Cobb MH (2001) Mitogen-activated protein (MAP) kinase pathways: regulation and physiological functions. Endocr Rev 22(2):153–183

26.

Kumar S, Boehm J, Lee JC (2003) p38 MAP kinases: key signalling molecules as therapeutic targets for inflammatory diseases. Nat Rev Drug Discov 2(9):717–726

27.

Clark JE, Sarafraz N, Marber MS (2007) Potential of p38-MAPK inhibitors in the treatment of ischaemic heart disease. Pharmacol Ther 116(2):192–206

28.

Friday BB, Adjei AA (2008) Advances in targeting the Ras/Raf/MEK/Erk mitogen-activated protein kinase cascade with MEK inhibitors for cancer therapy. Clin Cancer Res 14(2):342–346. doi:10.1158/1078-0432.CCR-07-4790

29.

Thompson N, Lyons J (2005) Recent progress in targeting the Raf/MEK/ERK pathway with inhibitors in cancer drug discovery. Curr Opin Pharmacol 5(4):350–356

30.

Chang F, Lee JT, Navolanic PM, Steelman LS, Shelton JG, Blalock WL, Franklin RA, McCubrey JA (2003) Involvement of PI3K/Akt pathway in cell cycle progression, apoptosis, and neoplastic transformation: a target for cancer chemotherapy. Leukemia 17(3):590–603

31.

Fehrenbacher N, Bar-Sagi D, Philips M (2009) Ras/MAPK signaling from endomembranes. Mol Oncol 3(4):297–307. doi:10.1016/j.molonc.2009.06.004

32.

Dong S, Liang D, An N, Jia L, Shan Y, Chen C, Sun K, Niu F, Li H, Fu S (2009) The role of MAPK and FAS death receptor pathways in testicular germ cell apoptosis induced by lead. Acta Biochim Biophys Sin (Shanghai) 41(9):800–807

33.

Kuroda H, Fuentealba L, Ikeda A, Reversade B, De Robertis EM (2005) Default neural induction: neuralization of dissociated Xenopus cells is mediated by Ras/MAPK activation. Genes Dev 19(9):1022–1027

34.

Weidhaas JB, Eisenmann DM, Holub JM, Nallur SV (2006) A conserved RAS/mitogen-activated protein kinase pathway regulates DNA damage-induced cell death postirradiation in Radelegans. Cancer Res 66(21):10434–10438

35.

Strong JE, Wong G, Jones SE, Grolla A, Theriault S, Kobinger GP, Feldmann H (2008) Stimulation of Ebola virus production from persistent infection through activation of the Ras/MAPK pathway. Proc Natl Acad Sci USA 105(46):17982–17987. doi:10.1073/pnas.0809698105
Acknowledgments
This work was supported by the National Science Foundations of China (No. 30572355), Provincial Science Foundation of Anhui (No. 090413134), Outstanding Young Teachers Foundation in Higher Education Institution (No. 2009SQRZ049ZD).
About this article
Cite this article
Huang, Y., Meng, XM., Jiang, GL. et al. Studies on mitogen-activated protein kinase signaling pathway in the alveolar macrophages of chronic bronchitis rats. Mol Cell Biochem 400, 97–105 (2015). https://doi.org/10.1007/s11010-014-2266-1
Received:

Accepted:

Published:

Issue Date:
Keywords
Alveolar macrophages

Chronic bronchitis

Mitogen-activated protein kinase signaling pathway