Abstract
Chemotherapy is a strategy for patients with advanced prostate cancer, especially those with castration-resistant prostate cancer. Prostate cancer stem cells (PCSCs) are believed to be the origin of cancer recurrence following therapy intervention, including chemotherapy. The mechanisms underlying the chemoresistance of PCSCs are still poorly understood. In the present study, fluorescence-activated cell sorting was used to isolate PCSCs from LNCaP and PC3 cell lines. 3-(4,5-Dimethyl-2-thiazolyl)-2,5-diphenyl-2H-tetrazolium bromide was used to measure the cell viability. Quantitative real-time PCR and western blotting were utilized to evaluate the mRNA and protein levels. ShRNA was employed to knock down target gene expression. Chromatin immunoprecipitation (ChIP) was performed to explore the detailed mechanism underlying ABCC1 expression. Our results revealed that the sorted PCSCs showed enhanced chemoresistance ability than matched non-PCSCs. Protein level of activated form of NOTCH1(ICN1) was significantly higher in PCSCs. Inhibition of NOTCH1 with shRNA could decrease ABCC1 expression, and improve chemosensitivity in PCSCs. Finally, ChIP–PCR showed ICN1 could directly bind to the promoter region of ABCC1. In conclusion, NOTCH1 signaling could transactivate ABCC1, resulting in higher chemoresistance ability of PCSCs, which might be one of the important mechanisms underlying the chemoresistance of PCSCs.
Access options
Buy single article
Instant access to the full article PDF.
USD 39.95
Price excludes VAT (USA)
Tax calculation will be finalised during checkout.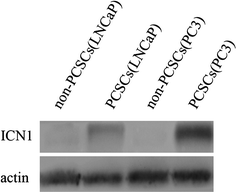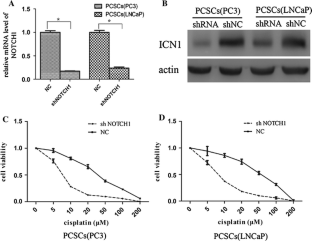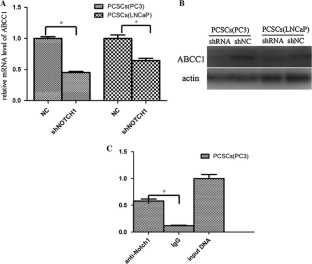 References
Al-Hajj M (2007) Cancer stem cells and oncology therapeutics. Curr Opin Oncol 19:61–64

Polyak K, Hahn WC (2006) Roots and stems: stem cells in cancer. Nat Med 12:296–300

Jordan CT, Guzman ML, Noble M (2006) Cancer stem cells. N Engl J Med 355:1253–1261

Collins AT, Berry PA, Hyde C, Stower MJ, Maitland NJ (2005) Prospective identification of tumorigenic prostate cancer stem cells. Cancer Res 65:10946–10951

Ricci-Vitiani L, Lombardi DG, Pilozzi E et al (2007) Identification and expansion of human colon-cancer-initiating cells. Nature 445:111–115

Marian CO, Shay JW (2009) Prostate tumor-initiating cells: a new target for telomerase inhibition therapy? Biochim Biophys Acta 1792:289–296

Richardson GD, Robson CN, Lang SH, Neal DE, Maitland NJ, Collins AT (2004) CD133, a novel marker for human prostatic epithelial stem cells. J Cell Sci 117:3539–3545

Hu Y, Fu L (2012) Targeting cancer stem cells: a new therapy to cure cancer patients. Am J Cancer Res 2(3):340–356

Radtke F, Raj K (2003) The role of Notch in tumorigenesis: oncogene or tumour suppressor? Nat Rev Cancer 3(10):756–767

Li Y, Hibbs MA, Gard AL, Shylo NA, Yun K (2012) Genome-wide analysis of N1ICD/RBPJ targets in vivo reveals direct transcriptional regulation of Wnt, SHH, and hippo pathway effectors by Notch1. Stem Cells 30(4):741–752

Espinosa L, Cathelin S, D'Altri T et al (2010) The Notch/Hes1 pathway sustains NF-kappaB activation through CYLD repression in T cell leukemia. Cancer Cell 18(3):268–281

McAuliffe SM, Morgan SL, Wyant GA et al (2012) Targeting Notch, a key pathway for ovarian cancer stem cells, sensitizes tumors to platinum therapy. Proc Natl Acad Sci USA 109(43):E2939–E2948

Cho S, Lu M, He X et al (2011) Notch1 regulates the expression of the multidrug resistance gene ABCC1/MRP1 in cultured cancer cells. Proc Natl Acad Sci USA 108(51):20778–20783

Li K, Liu C, Zhou B et al (2013) Role of EZH2 in the growth of prostate cancer stem cells isolated from LNCaP cells. Int J Mol Sci 14(6):11981–11993

Ling H, Jolicoeur P (2013) Notch-1 signaling promotes the cyclinD1-dependent generation of mammary tumor-initiating cells that can revert to bi-potential progenitors from which they arise. Oncogene 32(29):3410–3419

Neradugomma NK, Subramaniam D, Tawfik O et al (2014) Prolactin signaling enhances colon cancer stemness by modulating Notch signaling in a Jak2-STAT3/ERK manner. Carcinogenesis 35(4):795–806

Licciulli S, Avila JL, Hanlon L et al (2013) Notch1 is required for Kras-induced lung adenocarcinoma and controls tumor cell survival via p53. Cancer Res 73(19):5974–5984

Nooter K, Westerman AM, Flens MJ et al (1995) Expression of the multidrug resistance-associated protein (MRP) gene in human cancers. Clin Cancer Res 1(11):1301–1310

Norris MD, Bordow SB, Marshall GM, Haber PS, Cohn SL, Haber M (1996) Expression of the gene for multidrug-resistance-associated protein and outcome in patients with neuroblastoma. N Engl J Med 334(4):231–238

Fan X, Liu S, Su F, Pan Q, Lin T (2012) Effective enrichment of prostate cancer stem cells from spheres in a suspension culture system. Urol Oncol 30(3):314–318

Yang DR, Ding XF, Luo J et al (2013) Increased chemosensitivity via targeting testicular nuclear receptor 4 (TR4)-Oct4-interleukin 1 receptor antagonist (IL1Ra) axis in prostate cancer CD133+ stem/progenitor cells to battle prostate cancer. J Biol Chem 288(23):16476–16483

Prasetyanti PR, Zimberlin CD, Bots M, Vermeulen L, De Sousa EMF, Medema JP (2013) Regulation of stem cell self-renewal and differentiation by Wnt and Notch are conserved throughout the adenoma–carcinoma sequence in the colon. Mol Cancer 12(1):126

Suman S, Das TP, Damodaran C (2013) Silencing NOTCH signaling causes growth arrest in both breast cancer stem cells and breast cancer cells. Br J Cancer 109(10):2587–2596

Domingo-Domenech J, Vidal SJ, Rodriguez-Bravo V et al (2012) Suppression of acquired docetaxel resistance in prostate cancer through depletion of notch- and hedgehog-dependent tumor-initiating cells. Cancer Cell 22(3):373–388

Qiu M, Peng Q, Jiang I et al (2013) Specific inhibition of Notch1 signaling enhances the antitumor efficacy of chemotherapy in triple negative breast cancer through reduction of cancer stem cells. Cancer Lett 328(2):261–270

Jin F, Zhao L, Guo YJ et al (2010) Influence of Etoposide on anti-apoptotic and multidrug resistance-associated protein genes in CD133 positive U251 glioblastoma stem-like cells. Brain Res 1336:103–111

Vesuna F, Lisok A, Kimble B, Raman V (2009) Twist modulates breast cancer stem cells by transcriptional regulation of CD24 expression. Neoplasia 11:1318–1328

Zhu Z, Hao X, Yan M et al (2010) Cancer stem/progenitor cells are highly enriched in CD133+CD44+ population in hepatocellular carcinoma. Int J Cancer 126:2067–2078

Tokar EJ, Qu W, Liu J et al (2010) Arsenic-specific stem cell selection during malignant transformation. J Natl Cancer Inst 102:638–649
Acknowledgments
This work was supported by the National Natural Science Foundation of China (Nos. 81001138, 81101519); Natural Science Foundation of Guangdong Province (Nos. 06021283, 10151008901000024, 10151008901000070, S2011040003777); Science and Technology Development Program of Guangdong Province (Nos. 2008B030301078, 2012B031800081); Young Teacher Foundation of Sun Yat-Sen University (Nos. 11ykpy33, 12ykpy31); and Yat-Sen Scholarship for Young Scientists (B L). Liu Cheng received Grant [2013]163 from Key Laboratory of Malignant Tumor Molecular Mechanism and Translational Medicine of Guangzhou Bureau of Science and Information Technology.
Conflict of interest
The authors declare no conflict of interest.
Additional information
Cheng Liu, Zhuohang Li and Liangkuan Bi have contributed equally to this work.
About this article
Cite this article
Liu, C., Li, Z., Bi, L. et al. NOTCH1 signaling promotes chemoresistance via regulating ABCC1 expression in prostate cancer stem cells. Mol Cell Biochem 393, 265–270 (2014). https://doi.org/10.1007/s11010-014-2069-4
Received:

Accepted:

Published:

Issue Date:

DOI: https://doi.org/10.1007/s11010-014-2069-4
Keywords
Prostate cancer stem cells

Chemoresistance

NOTCH1

ABCC1