Abstract
Maslinic acid (MA) is a natural triterpenoid widely distributed in edible and medicinal plants and has been demonstrated to possess bioactivity. However, its effect on vascular smooth muscle cells (VSMC) has not been explored yet. In this study, we found that heme oxygenase-1 (HO-1) expression was increased in VSMCs treated with MA. Furthermore, MA was found to induce Akt activation in a dose- and time-dependent manner. Wortmannin suppression of Akt was able to abolish HO-1 upregulation in VSMCs, suggesting the requirement of Akt activation for MA effect on HO-1. Further investigation indicated that Akt activation resulted in the elevated expression of Nrf2, a HO-1 promoter, in MA-treated VMSCs. Finally, we found that MA was able to protect VSMCs from oxidative stress induced by H2O2. Blocking the activation of Akt/Nrf2/HO-1 was able to compromise the protective effect of MA on VSMCs. Collectively, we provided evidence that MA protected VMSCs from oxidative stress through Akt/Nrf2/HO-1 pathway.
Access options
Buy single article
Instant access to the full article PDF.
US$ 39.95
Tax calculation will be finalised during checkout.
Subscribe to journal
Immediate online access to all issues from 2019. Subscription will auto renew annually.
US$ 119
Tax calculation will be finalised during checkout.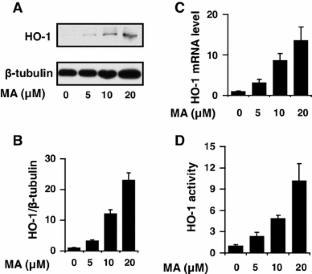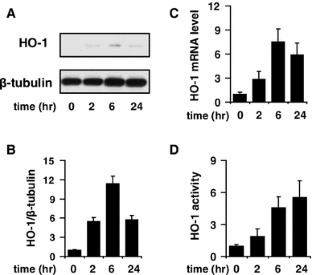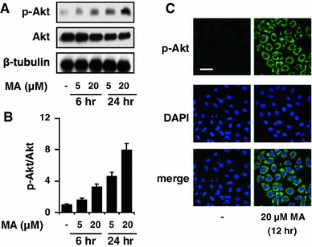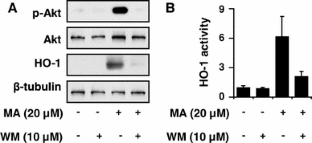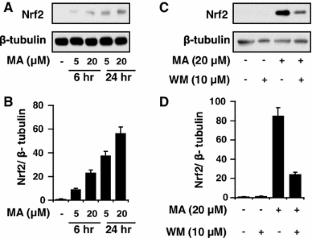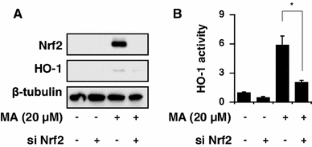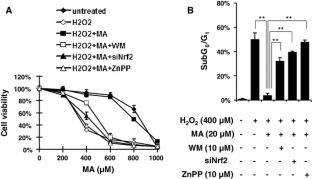 References
1.

Lan TH, Huang XQ, Tan HM (2013) Vascular fibrosis in atherosclerosis. Cardiovasc Pathol 22:401–407

2.

Satoh K, Nigro P, Berk BC (2010) Oxidative stress and vascular smooth muscle cell growth: a mechanistic linkage by cyclophilin A. Antioxid Redox Signal 12:675–682

3.

Selvaraju V, Joshi M, Suresh S, Sanchez JA, Maulik N, Maulik G (2012) Diabetes, oxidative stress, molecular mechanism, and cardiovascular disease–an overview. Toxicol Mech Methods 22:330–335

4.

Du D, Chang S, Chen B, Zhou H, Chen ZK (2007) Adenovirus-mediated heme oxygenase transfer inhibits graft arteriosclerosis in rat aortic transplants. Transpl Proc 39:3446–3448

5.

Yet SF, Layne MD, Liu X, Chen YH, Ith B, Sibinga NE, Perrella MA (2003) Absence of heme oxygenase-1 exacerbates atherosclerotic lesion formation and vascular remodeling. Faseb J 17:1759–1761

6.

Guan J, Wu X, Arons E, Christou H (2008) The p38 mitogen-activated protein kinase pathway is involved in the regulation of heme oxygenase-1 by acidic extracellular pH in aortic smooth muscle cells. J Cell Biochem 105:1298–1306

7.

Loboda A, Jazwa A, Grochot-Przeczek A, Rutkowski AJ, Cisowski J, Agarwal A, Jozkowicz A, Dulak J (2008) Heme oxygenase-1 and the vascular bed: from molecular mechanisms to therapeutic opportunities. Antioxid Redox Signal 10:1767–1812

8.

Cao J, Peterson SJ, Sodhi K, Vanella L, Barbagallo I, Rodella LF, Schwartzman ML, Abraham NG, Kappas A (2012) Heme oxygenase gene targeting to adipocytes attenuates adiposity and vascular dysfunction in mice fed a high-fat diet. Hypertension 60:467–475

9.

Deshane J, Wright M, Agarwal A (2005) Heme oxygenase-1 expression in disease states. Acta Biochim Pol 52:273–284

10.

Parra A, Rivas F, Lopez PE, Garcia-Granados A, Martinez A, Albericio F, Marquez N, Munoz E (2009) Solution- and solid-phase synthesis and anti-HIV activity of maslinic acid derivatives containing amino acids and peptides. Bioorg Med Chem 17:1139–1145

11.

Guan T, Qian Y, Tang X, Huang M, Huang L, Li Y, Sun H (2011) Maslinic acid, a natural inhibitor of glycogen phosphorylase, reduces cerebral ischemic injury in hyperglycemic rats by GLT-1 up-regulation. J Neurosci Res 89:1829–1839

12.

Juan ME, Planas JM, Ruiz-Gutierrez V, Daniel H, Wenzel U (2008) Antiproliferative and apoptosis-inducing effects of maslinic and oleanolic acids, two pentacyclic triterpenes from olives, on HT-29 colon cancer cells. Br J Nutr 100:36–43

13.

Montilla MP, Agil A, Navarro MC, Jimenez MI, Garcia-Granados A, Parra A, Cabo MM (2003) Antioxidant activity of maslinic acid, a triterpene derivative obtained from Olea europaea. Planta Med 69:472–474

14.

Marquez Martin A, de la Puerta Vazquez R, Fernandez-Arche A, Ruiz-Gutierrez V (2006) Supressive effect of maslinic acid from pomace olive oil on oxidative stress and cytokine production in stimulated murine macrophages. Free Radic Res 40:295–302

15.

Huang L, Guan T, Qian Y, Huang M, Tang X, Li Y, Sun H (2011) Anti-inflammatory effects of maslinic acid, a natural triterpene, in cultured cortical astrocytes via suppression of nuclear factor-kappa B. Eur J Pharmacol 672:169–174

16.

Feng J, Zhang P, Chen X, He G (2011) PI3 K and ERK/Nrf2 pathways are involved in oleanolic acid-induced heme oxygenase-1 expression in rat vascular smooth muscle cells. J Cell Biochem 112:1524–1531

17.

Gao AM, Ke ZP, Shi F, Chen H (2013) Chrysin enhances sensitivity of BEL-7402/ADM cells to doxorubicin by suppressing PI3 K/Akt/Nrf2 and ERK/Nrf2 pathway. Chem Biol Interact 206(1):100–108

18.

Kim KC, Kang KA, Zhang R, Piao MJ, Kim GY, Kang MY, Lee SJ, Lee NH, Surh YJ, Hyun JW (2010) Up-regulation of Nrf2-mediated heme oxygenase-1 expression by eckol, a phlorotannin compound, through activation of Erk and PI3 K/Akt. Int J Biochem Cell Biol 42:297–305

19.

Lim HJ, Lee KS, Lee S, Park JH, Choi HE, Go SH, Kwak HJ, Park HY (2007) 15d-PGJ2 stimulates HO-1 expression through p38 MAP kinase and Nrf-2 pathway in rat vascular smooth muscle cells. Toxicol Appl Pharmacol 223:20–27

20.

Dongmo AB, Azebaze AG, Donfack FM, Dimo T, Nkeng-Efouet PA, Devkota KP, Sontia B, Wagner H, Sewald N, Vierling W (2011) Pentacyclic triterpenoids and ceramide mediate the vasorelaxant activity of Vitex cienkowskii via involvement of NO/cGMP pathway in isolated rat aortic rings. J Ethnopharmacol 133:204–212

21.

Allouche Y, Warleta F, Campos M, Sanchez-Quesada C, Uceda M, Beltran G, Gaforio JJ (2011) Antioxidant, antiproliferative, and pro-apoptotic capacities of pentacyclic triterpenes found in the skin of olives on MCF-7 human breast cancer cells and their effects on DNA damage. J Agric Food Chem 59:121–130

22.

Martin R, Carvalho-Tavares J, Ibeas E, Hernandez M, Ruiz-Gutierrez V, Nieto ML (2007) Acidic triterpenes compromise growth and survival of astrocytoma cell lines by regulating reactive oxygen species accumulation. Cancer Res 67:3741–3751

23.

Hwang YP, Jeong HG (2008) The coffee diterpene kahweol induces heme oxygenase-1 via the PI3 K and p38/Nrf2 pathway to protect human dopaminergic neurons from 6-hydroxydopamine-derived oxidative stress. FEBS Lett 582:2655–2662

24.

Xu C, Yuan X, Pan Z, Shen G, Kim JH, Yu S, Khor TO, Li W, Ma J, Kong AN (2006) Mechanism of action of isothiocyanates: the induction of ARE-regulated genes is associated with activation of ERK and JNK and the phosphorylation and nuclear translocation of Nrf2. Mol Cancer Ther 5:1918–1926

25.

Yao P, Nussler A, Liu L, Hao L, Song F, Schirmeier A, Nussler N (2007) Quercetin protects human hepatocytes from ethanol-derived oxidative stress by inducing heme oxygenase-1 via the MAPK/Nrf2 pathways. J Hepatol 47:253–261

26.

Minelli A, Conte C, Grottelli S, Bellezza I, Emiliani C, Bolanos JP (2009) Cyclo(His-Pro) up-regulates heme oxygenase-1 via activation of Nrf2-ARE signalling. J Neurochem 111:956–966

27.

Du Y, Villeneuve NF, Wang XJ, Sun Z, Chen W, Li J, Lou H, Wong PK, Zhang DD (2008) Oridonin confers protection against arsenic-induced toxicity through activation of the Nrf2-mediated defensive response. Environ Health Perspect 116:1154–1161

28.

Gao S, Duan X, Wang X, Dong D, Liu D, Li X, Sun G, Li B (2013) Curcumin attenuates arsenic-induced hepatic injuries and oxidative stress in experimental mice through activation of Nrf2 pathway, promotion of arsenic methylation and urinary excretion. Food Chem Toxicol 59:739–747

29.

Hao E, Lang F, Chen Y, Zhang H, Cong X, Shen X, Su G (2013) Resveratrol alleviates endotoxin-induced myocardial toxicity via the Nrf2 transcription factor. PLoS One 8:e69452

30.

Tanaka A, Hamada N, Fujita Y, Itoh T, Nozawa Y, Iinuma M, Ito M (2010) A novel kavalactone derivative protects against H2O2-induced PC12 cell death via Nrf2/ARE activation. Bioorg Med Chem 18:3133–3139
About this article
Cite this article
Qin, X., Qiu, C. & Zhao, L. Maslinic acid protects vascular smooth muscle cells from oxidative stress through Akt/Nrf2/HO-1 pathway. Mol Cell Biochem 390, 61–67 (2014). https://doi.org/10.1007/s11010-013-1956-4
Received:

Accepted:

Published:

Issue Date:
Keywords
Maslinic acid

VSMC

Nrf2

Oxidative stress