Abstract
Cancer stem cells (CSCs) are believed to be responsible for tumor metastasis, recurrence, and high mortality of cancer patients due to their high tumorigenicity resistance to chemo-radiotherapy. Morusin possesses anti-cancer activity through attenuation of NF-κB activity, which is up-regulated in cancer stem cells. The purpose of this study is to confirm the growth and migration inhibition effect of morusin on human cervical CSCs, and to clarify its partial mechanism of activity. Human cervical CSCs were enriched using non-adhesive culture system. Their stemness characteristics were identified with tumor sphere formation, self-renewal, toluidine blue staining, migration assays, RT-PCR analysis, and immunofluorescence staining of putative stem cell markers, Oct4, SOX2, and ALDH1; the epithelial-to-mesenchymal (EMT) transition markers and relevant transcription factors were evaluated with Western blotting. The growth and migration inhibition effects of morusin on human cervical CSCs were tested by cell proliferation, tumor sphere formation, and transwell assay; apoptotic death of human cervical CSCs in response to morusin was measured with DAPI staining, apoptotic DNA fragmentation; NF-κBp65, Bcl-2, Bax, and caspase-3 protein expressions were detected through Western blotting. Under this non-adhesive culture system, typical tumor spheres appeared within 5–7 days, the tumor sphere formation, self-renewal, and cell migration, expressions of putative stem cell markers, EMT markers, and relevant transcription factors of the tumor sphere cells were increased significantly. After morusin treatment, the proliferation, tumor sphere formation, and migration of human cervical CSCs were decreased significantly, DAPI-stained apoptotic cells increased, apoptotic DNA fragmentations formed evidently; the expression levels of NF-κBp65 and Bcl-2 decreased significantly, Bax, and caspase-3 increased significantly in a dose-dependent manner. Using the non-adhesive culture system, human cervical CSCs were enriched and expanded. Morusin has the potential to target and kill CSCs, and can inhibit human cervical growth and migration through NF-κB attenuation mediated apoptosis induction.
Access options
Buy single article
Instant access to the full article PDF.
USD 39.95
Price includes VAT (USA)
Tax calculation will be finalised during checkout.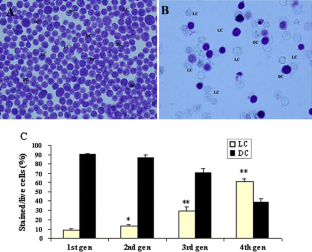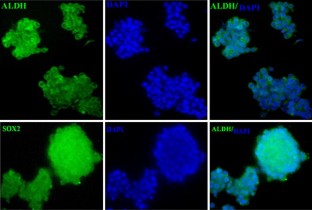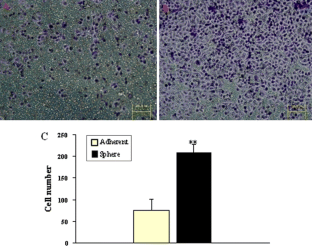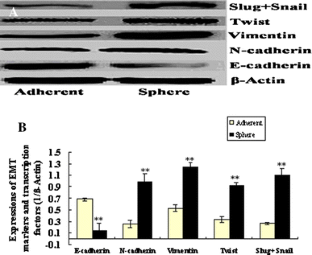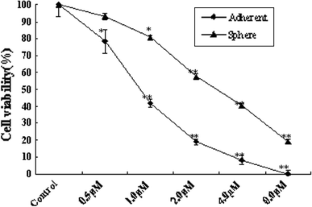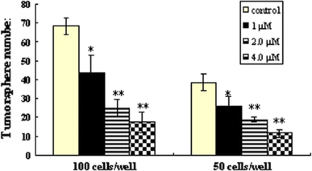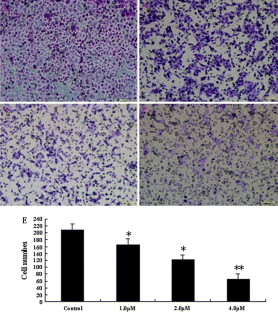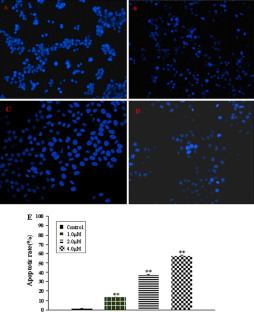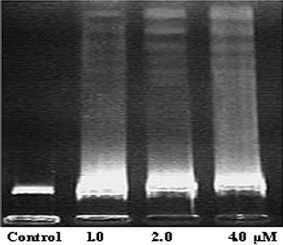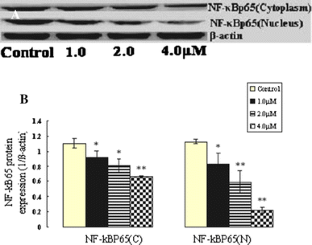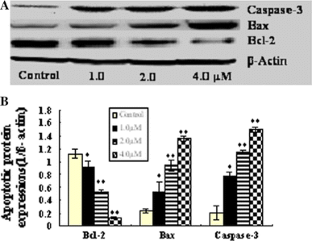 References
1.

Jemal A, Bray F, Center MM, Ferlay J, Ward E, Forman D (2011) Global cancer statistics. CA Cancer J Clin 61:69–90

2.

Lea JS, Lin KY (2012) Cervical cancer. Obstet Gynecol Clin North Am 39:233–253

3.

Green JA, Kirwan JM, Tierney JF, Symonds P, Fresco L, Collingwood M, Williams CJ (2001) Survival and recurrence after concomitant chemo-therapy and radiotherapy for cancer of the uterine cervix: a systematic review and meta-analysis. Lancet 358:781–786

4.

Pectasides D, Kamposioras K, Papaxoinis G, Pectasides E (2008) Chemotherapy for recurrent cervical cancer. Cancer Treat Rev 34:603–613

5.

Ichim CV, Wells RA (2006) First among equals: the cancer cell hierarchy. Leuk Lymphoma 47:2017–2027

6.

Mao XG, Guo G, Wang P, Zhang X, Xue XY, Zhang W, Fei Z, Jiang XF, Yan M (2010) Maintenance of critical properties of brain tumor stem-like cells after cryopreservation. Cell Mol Neurobiol 30:775–786

7.

Iqbal J, Chong PY, Tan PH (2013) Breast cancer stem cells: an update. J Clin Pathol. doi:10.1136/jclinpath-2012-201304

8.

Su YJ, Lai HM, Chang YW, Chen GY, Lee JL (2011) Direct reprogramming of stem cell properties in colon cancer cells by CD44. EMBO J 30:3186–3199

9.

Zhang LL, Jiao M, Li L, Wu DP, Wu KJ, Li X, Zhu GD, Dang Q, Wang XY, Hsieh JT, He DL (2012) Tumorspheres derived from prostate cancer cells possess chemoresistant and cancer stem cell properties. J Cancer Res Clin Oncol 138:675–686

10.

López J, Poitevin A, Mendoza-Martínez V, Pérez-Plasencia C, García-Carrancá A (2012) Cancer-initiating cells derived from established cervical cell lines exhibit stem-cell markers and increased radioresistance. BMC Cancer 12:48. doi:10.1186/1471-2407-12-48

11.

Xu W, Lin H, Zhang Y, Chen X, Hua B, Hou W, Qi X, Pei Y, Zhu X, Zhao Z, Yang L (2011) Compound Kushen Injection suppresses human breast cancer stem-like cells by down-regulating the canonical Wnt/β-catenin pathway. J Exp Clin Cancer Res 30:103

12.

Ko HH, Yu SM, Ko FN, Teng CM, Lin CN (1997) Bioactive constituents of Morus australis and Broussonetia papyrifera. J Nat Prod 60:1008–1011

13.

Ko HH, Wang JJ, Lin HC, Wang JP, Lin CN (1999) Chemistry and biological activities of constituents from Morus australis. Biochim Biophys Acta 1428:293–299

14.

Sohn HY, Son KH, Kwon CS, Kwon GS, Kang SS (2004) Antimicrobial and cytotoxic activity of 18 prenylated flavonoids isolated from medicinal plants: Morus alba L., Morus mongolica Schneider, Broussnetia papyrifera (L.) Vent, Sophora flavescens Ait and Echinosophora koreensis Nakai. Phytomedicine 11:666–672

15.

Lee JC, Won SJ, Chao CL, Wu FL, Liu HS, Ling P, Lin CN, Su CL (2008) Morusin induces apoptosis and suppresses NF-κB activity in human colorectal cancer HT-29 cells. Biochem Biophys Res Commun 372:236–242

16.

Dat NT, Binh PT, le Quynh TP, Van Minh C, Huong HT, Lee JJ (2010) Cytotoxic prenylated flavonoids from Morus alba. Fitoterapia 81:1224–1227

17.

Kuo SH, Chou CH, Cheng AL, Wang CW, Chen YH, Chen RJ (2012) Expression of BCL10 in cervical cancer has a role in the regulation of cell growth through the activation of NF-κB-dependent cyclin D1 signaling. Gynecol Oncol 126:245–251

18.

Hirsch HA, Iliopoulos D, Struhl K (2013) Metformin inhibits the inflammatory response associated with cellular transformation and cancer stem cell growth. Proc Natl Acad Sci U S A 110:972–977

19.

Gu W, Yeo E, McMillan N, Yu C (2011) Silencing oncogene expression in cervical cancer stem-like cells inhibits their cell growth and self-renewal ability. Cancer Gene Ther 18:897–905

20.

Chen SF, Chang YC, Nieh S, Yang CY, Lin YS (2012) Nonadhesive culture system as a model of rapid sphere formation with cancer stem cell properties. PLoS ONE 7:e31864

21.

Ponti D, Costa A, Zaffaroni N, Pratesi G, Petrangolini G, Coradini D, Pilotti S, Pierotti MA, Daidone MG (2005) Isolation and in vitro propagation of tumorigenic breast cancer cells with stem/progenitor cell properties. Cancer Res 65:5506–5511

22.

Cioce M, Gherardi S, Viglietto G, Strano S, Blandino G, Muti P, Ciliberto G (2010) Mammosphere-forming cells from breast cancer cell lines as a tool for the identification of CSC-like- and early progenitor-targeting drugs. Cell Cycle 9(14):2878–2887

23.

van Meerloo J, Kaspers GJ, Cloos J (2011) Cell sensitivity assays: the MTT assay. Methods Mol Biol 731:237–245

24.

Kim MJ, Kim YJ, Park HJ, Chung JH, Leem KH, Kim HK (2006) Apoptotic effect of red wine polyphenols on human colon cancer SNU-C4 cells. Food Chem Toxicol 44:898–902

25.

Li H, Wang P, Liu Q, Cheng X, Zhou Y, Xiao Y (2012) Cell cycle arrest and cell apoptosis induced by Equisetum hyemale extract in murine leukemia L1210 cells. J Ethnopharmacol 144:322–327

26.

Herrmann M, Lorenz HM, Voll R, Grünke M, Woith W, Kalden JR (1994) A rapid and simple method for the isolation of apoptotic DNA fragments. Nucleic Acids Res 22:5506–5507

27.

Gilbert CA, Ross AH (2009) Cancer stem cells: cell culture, markers, and targets for new therapies. J Cell Biochem 1:1031–1038

28.

Hu Y, Fu L (2012) Targeting cancer stem cells: a new therapy to cure cancer patients. Am J Cancer Res 2:340–356

29.

Clarke MF, Dick JE, Dirks PB, Eaves CJ, Jamieson CH (2006) Cancer stem cells –perspectives on current status and future directions: AACR Workshop on cancer stem cells. Cancer Res 66:9339–9344

30.

Kim RK, Kim MJ, Yoon CH, Lim EJ, Yoo KC, Lee GH, Kim YH, Kim H, Jin YB, Lee YJ, Cho CG, Oh YS, Gye MC, Suh Y, Lee SJ (2012) A new 2-pyrone derivative, 5-bromo-3-(3-hydroxyprop-1-ynyl)-2H-pyran-2-one, suppresses stemness in glioma stem-like cells. Mol Pharmacol 82:400–407

31.

Cheng W, Liu T, Wan X, Gao Y, Wang H (2012) MicroRNA-199a targets CD44 to suppress the tumorigenicity and multidrug resistance of ovarian cancer-initiating cells. FEBS J 279:2047–2059

32.

van de Stolpe A (2013) On the origin and destination of cancer stem cells: a conceptual evaluation. Am J Cancer Res 3:107–116

33.

Chen SF, Chang YC, Nieh S, Liu CL, Yang CY, Lin YS (2012) Nonadhesive culture system as a model of rapid sphere formation with cancer stem cell properties. PLoS ONE 7:e31864

34.

Mather JP (2012) In vitro models. Stem Cells 30:95–99

35.

Tirino V, Desiderio V, Paino F, Papaccio G, De Rosa M (2012) Methods for cancer stem cell detection and isolation. Methods Mol Biol 879:513–529

36.

Li JL, Zhou BH (2011) Activation of β-catenin and Akt pathways by twist are critical for the maintenance of EMT associated cancer stem cell-like characters. BMC Cancer 11:49

37.

Gilbert CA, Ross AH (2009) Cancer stem cells: cell culture, markers, and targets for new therapies. J Cell Biochem 1:1031–1038

38.

Chinn SB, Darr OA, Peters RD, Prince ME (2012) The role of head and neck squamous cell carcinoma cancer stem cells in tumorigenesis, metastasis, and treatment failure. Front Endocrinol (Lausanne) 3:90

39.

Zhang SL, Wang YS, Zhou T, Yu XW, Wei ZT, Li YL (2012) Isolation and characterization of cancer stem cells from cervical cancer HeLa cells. Cytotechnology 64:477–484

40.

Karin M, Cao Y, Greten FR, Li ZW (2002) NF-kappaB in cancer: from innocent bystander to major culprit. Nat Rev Cancer 2:301–310

41.

Lin MT, Chang CC, Chen ST, Chang HL, Su JL, Chau YP, Kuo ML (2004) Cyr61 expression confers resistance to apoptosis in breast cancer MCF-7 cells by a mechanism of NF-kappaB-dependent XIAP up-regulation. J Biol Chem 279:24015–24023
Acknowledgments
We thank Ph. D. Pei-Zhi Zhuo, Ju Li and Zheng-Dong Niu for their assistance in this study.
Conflict of interest
The authors declare that there are no conflicts of interest.
Additional information
Li Wang and Huijie Guo contributed equally to this study.
About this article
Cite this article
Wang, L., Guo, H., Yang, L. et al. Morusin inhibits human cervical cancer stem cell growth and migration through attenuation of NF-κB activity and apoptosis induction. Mol Cell Biochem 379, 7–18 (2013). https://doi.org/10.1007/s11010-013-1621-y
Received:

Accepted:

Published:

Issue Date:
Keywords
Cervical cancer

Cancer stem cells

Cancer stem markers

Morusin

Growth inhibition

Apoptosis