Abstract
Mesalamine (5-aminosalicylic acid, 5-ASA) is known to be the first-line medication for treatment of patients with ulcerative colitis. Studies have demonstrated that ulcerative colitis patients treated with 5-ASA have an overall decrease in the risk of developing colorectal carcinoma. However, the mechanisms underlying 5-ASA-mediated anti-inflammatory and anti-cancer effects are yet to be elucidated. Because peroxynitrite has been critically involved in inflammatory stress and carcinogenesis, this study was undertaken to investigate the effects of 5-ASA in peroxynitrite-induced DNA strand breaks, an important event leading to peroxynitrite-elicited cytotoxicity. Incubation of φX-174 plasmid DNA with the peroxynitrite generator 3-morpholinosydnonimine (SIN-1) led to the formation of both single- and double-stranded DNA breaks in a concentration-dependent manner. The presence of 5-ASA at 0.1 and 1.0 mM was found to significantly inhibit SIN-1-induced DNA strand breaks in a concentration-dependent manner. The consumption of oxygen induced by SIN-1 was found to not be affected by 5-ASA at 0.1–50 mM, indicating that 5-ASA at these concentrations is not involved in the auto-oxidation of SIN-1 to form peroxynitrite. It is observed that 5-ASA at 0.1–1 mM showed considerable inhibition of peroxynitrite-mediated luminol chemiluminescence in a dose-dependent fashion, suggesting that 5-ASA is able to directly scavenge the peroxynitrite. Electron paramagnetic resonance (EPR) spectroscopy in combination with spin-trapping experiments, using 5,5-dimethylpyrroline-N-oxide (DMPO) as spin trap resulting in the formation of DMPO-hydroxyl radical adduct from peroxynitrite, and 5-ASA only at higher concentration (1 mM) inhibited the hydroxyl radical adduct while shifting EPR spectra, indicating that 5-ASA at higher concentrations may generate a more stable free radical species rather than acting purely as a hydroxyl radical scavenger. Taken together, these studies demonstrate for the first time that 5-ASA can potently inhibit peroxynitrite-mediated DNA strand breakage, scavenge peroxynitrite, and affect peroxynitrite-mediated radical formation, which may be responsible, at least partially, for its anti-inflammatory and anti-cancer effects.
Access options
Buy single article
Instant access to the full article PDF.
US$ 39.95
Tax calculation will be finalised during checkout.
Subscribe to journal
Immediate online access to all issues from 2019. Subscription will auto renew annually.
US$ 119
Tax calculation will be finalised during checkout.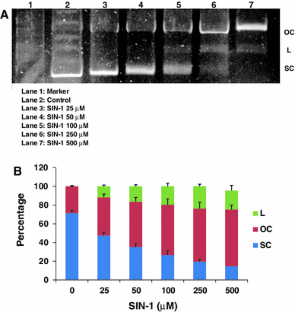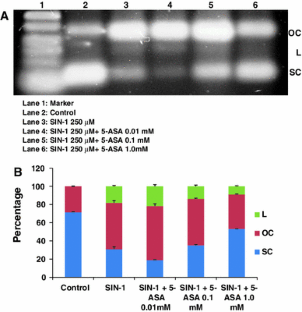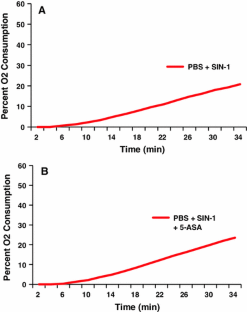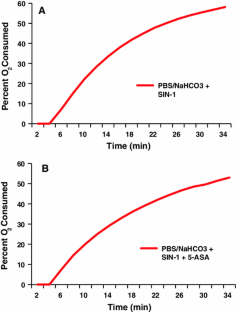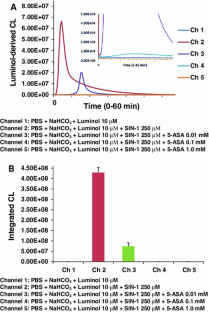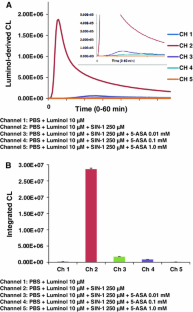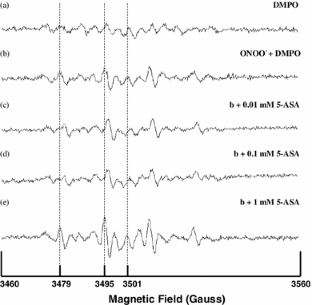 Abbreviations
DMPO:

5,5-Dimethylpyrroline-N-oxide

EPR:

Electron paramagnetic resonance

SIN-1:

3-Morpholinosydnonimine

5-ASA:

5-Aminosalicylic acid (mesalamine)

PBS:

Phosphate-buffered saline

NaHCO3 :

Sodium bicarbonate
References
1.

Choi CH, Kim YH, Kim YS, Ye BD, Lee KM, Lee BI, Jung SA, Kim WH, Lee H (2012) Guidelines for the management of ulcerative colitis. Korean J Gastroenterol 59:118–140

2.

Merchea A, Wolff BG, Dozois EJ, Abdelsattar ZM, Harmsen WS, Larson DW (2012) Clinical features and oncologic outcomes in patients with rectal cancer and ulcerative colitis: a single-institution experience. Dis Colon Rectum 55:881–885

3.

Kulaylat MN, Dayton MT (2010) Ulcerative colitis and cancer. J Surg Oncol 101:706–712

4.

Jemal A, Center MM, DeSantis C, Ward EM (2010) Global patterns of cancer incidence and mortality rates and trends. Cancer Epidemiol Biomarkers Prev 19:1893–1907

5.

Fitzpatrick FA (2001) Inflammation, carcinogenesis and cancer. Int Immunopharmacol 1:1651–1667

6.

Shacter E, Weitzman SA (2002) Chronic inflammation and cancer. Oncology (Williston Park) 16:217–226, 229 discussion 230–212

7.

Tang J, Sharif O, Pai C, Silverman AL (2010) Mesalamine protects against colorectal cancer in inflammatory bowel disease. Dig Dis Sci 55:1696–1703

8.

Lyakhovich A, Gasche C (2010) Systematic review: molecular chemoprevention of colorectal malignancy by mesalazine. Aliment Pharmacol Ther 31:202–209

9.

Velayos FS, Terdiman JP, Walsh JM (2005) Effect of 5-aminosalicylate use on colorectal cancer and dysplasia risk: a systematic review and metaanalysis of observational studies. Am J Gastroenterol 100:1345–1353

10.

Lyakhovich A, Gasche C (2010) Systematic review: molecular chemoprevention of colorectal malignancy by mesalazine. Aliment Pharmacol Ther 31:202–209

11.

Ischiropoulos H, Beckman JS (2003) Oxidative stress and nitration in neurodegeneration: cause, effect, or association? J Clin Invest 111:163–169

12.

Deliconstantinos G, Villiotou V, Stavrides JC, Salemes N, Gogas J (1995) Nitric oxide and peroxynitrite production by human erythrocytes: a causative factor of toxic anemia in breast cancer patients. Anticancer Res 15:1435–1446

13.

Fraszczak J, Trad M, Janikashvili N, Cathelin D, Lakomy D, Granci V, Morizot A, Audia S, Micheau O, Lagrost L, Katsanis E, Solary E, Larmonier N, Bonnotte B (2010) Peroxynitrite-dependent killing of cancer cells and presentation of released tumor antigens by activated dendritic cells. J Immunol 184:1876–1884

14.

Rachmilewitz D, Stamler JS, Karmeli F, Mullins ME, Singel DJ, Loscalzo J, Xavier RJ, Podolsky DK (1993) Peroxynitrite-induced rat colitis—a new model of colonic inflammation. Gastroenterology 105:1681–1688

15.

Beckman JS, Koppenol WH (1996) Nitric oxide, superoxide, and peroxynitrite: the good, the bad, and ugly. Am J Physiol 271:C1424–C1437

16.

Szabo C (2003) Multiple pathways of peroxynitrite cytotoxicity. Toxicol Lett 140–141:105–112

17.

Szabo C, Ohshima H (1997) DNA damage induced by peroxynitrite: subsequent biological effects. Nitric Oxide 1:373–385

18.

Cao Z, Li Y (2004) Potent inhibition of peroxynitrite-induced DNA strand breakage by ethanol: possible implications for ethanol-mediated cardiovascular protection. Pharmacol Res 50:13–19

19.

Shirai K, Okada T, Konishi K, Murata H, Akashi S, Sugawara F, Watanabe N, Arai T (2012) Bicarbonate plays a critical role in the generation of cytotoxicity during SIN-1 decomposition in culture medium. Oxid Med Cell Longev 2012:326731

20.

Li Y, Trush MA (1993) DNA damage resulting from the oxidation of hydroquinone by copper: role for a Cu(II)/Cu(I) redox cycle and reactive oxygen generation. Carcinogenesis 14:1303–1311

21.

Cai L, Klein JB, Kang YJ (2000) Metallothionein inhibits peroxynitrite-induced DNA and lipoprotein damage. J Biol Chem 275:38957–38960

22.

Kim SY, Lee JH, Yang ES, Kil IS, Park JW (2003) Human sensitive to apoptosis gene protein inhibits peroxynitrite-induced DNA damage. Biochem Biophys Res Commun 301:671–674

23.

Pascual C, Reinhart K (1999) Effect of antioxidants on induction time of luminol luminescence elicited by 3-morpholinosydnonimine (SIN-1). Luminescence 14:83–89

24.

Radi RA, Rubbo H, Prodanov E (1989) Comparison of the effects of superoxide dismutase and cytochrome c on luminol chemiluminescence produced by xanthine oxidase-catalyzed reactions. Biochim Biophys Acta 994:89–93

25.

Thorpe GH, Kricka LJ (1986) Enhanced chemiluminescent reactions catalyzed by horseradish peroxidase. Methods Enzymol 133:331–353

26.

Radi R, Cosgrove TP, Beckman JS, Freeman BA (1993) Peroxynitrite-induced luminol chemiluminescence. Biochem J 290(Pt 1):51–57

27.

Szabo C, Ischiropoulos H, Radi R (2007) Peroxynitrite: biochemistry, pathophysiology and development of therapeutics. Nat Rev Drug Discov 6:662–680

28.

Frejaville C, Karoui H, Tuccio B, Le Moigne F, Culcasi M, Pietri S, Lauricella R, Tordo P (1995) 5-(Diethoxyphosphoryl)-5-methyl-1-pyrroline N-oxide: a new efficient phosphorylated nitrone for the in vitro and in vivo spin trapping of oxygen-centered radicals. J Med Chem 38:258–265

29.

Pieper GM, Felix CC, Kalyanaraman B, Turk M, Roza AM (1995) Detection by ESR of DMPO hydroxyl adduct formation from islets of langerhans. Free Radic Biol Med 19:219–225

30.

Stolze K, Udilova N, Nohl H (2000) Spin trapping of lipid radicals with DEPMPO-derived spin traps: detection of superoxide, alkyl and alkoxyl radicals in aqueous and lipid phase. Free Radic Biol Med 29:1005–1014

31.

Jia Z, Zhu H, Vitto MJ, Misra BR, Li Y, Misra HP (2009) Alpha-lipoic acid potently inhibits peroxynitrite-mediated DNA strand breakage and hydroxyl radical formation: implications for the neuroprotective effects of alpha-lipoic acid. Mol Cell Biochem 323:131–138
About this article
Cite this article
Graham, P.M., Li, J.Z., Dou, X. et al. Protection against peroxynitrite-induced DNA damage by mesalamine: implications for anti-inflammation and anti-cancer activity. Mol Cell Biochem 378, 291–298 (2013). https://doi.org/10.1007/s11010-013-1620-z
Received:

Accepted:

Published:

Issue Date:
Keywords
Peroxynitrite

Mesalamine

DNA strand breaks

SIN-1

Anti-inflammation and anti-cancer activity