Abstract
Oxidative stress is triggered by the wound which results in the production of reactive oxygen species (ROS), thereby delaying normal wound repair. Therefore, it is important to reduce the level of ROS to improve healing. A known antioxidant, dehydrozingerone (DHZ) was synthesized and selected for the study. The authors aimed to investigate the wound healing action of topical (100 mg/wound) and systemic (100 mg/kg, p. o.). DHZ on different wound models in normal and dexamethasone (DEX)-suppressed healing. Topical DHZ showed a significant (P < 0.05) rise in tensile strength when compared to control in normal healing. Significant (P < 0.05) wound closure was observed from 3 to 9 days in DHZ oral and gel treated groups. There was a significant (P < 0.05) rise in hydroxyproline content with the DHZ treated groups when compared to control. Systemic DHZ exhibited a significant (P < 0.05) increase in lysyl oxidase (LO) levels of 3.73 ± 0.15 nmol of H2O2 when compared to control. In DEX-suppressed healing, showed good pro-healing activity with respect to the parameters mentioned above. DHZ treatment exhibited a parabolic dose response of ROS inhibition with a plateau effect at 75 μM. There was a steady and constant increase in the % NO inhibition with increasing doses of DHZ. Oral DHZ is effective in accelerating the healing process in both normal and dexamethasone-suppressed wounds. Our study suggests that DHZ (half analog of curcumin) supplementation reduces the steroid-induced delay in wound healing.
Access options
Buy single article
Instant access to the full article PDF.
US$ 39.95
Tax calculation will be finalised during checkout.
Subscribe to journal
Immediate online access to all issues from 2019. Subscription will auto renew annually.
US$ 119
Tax calculation will be finalised during checkout.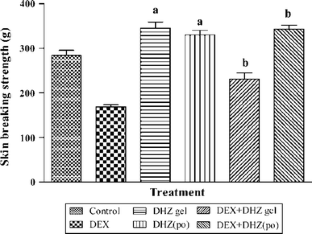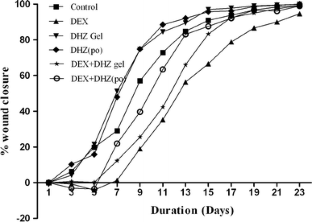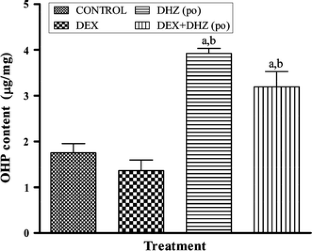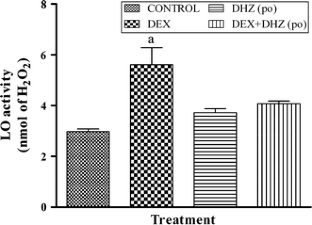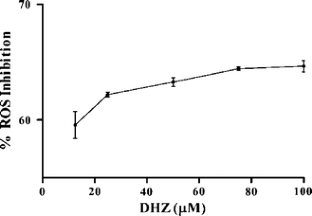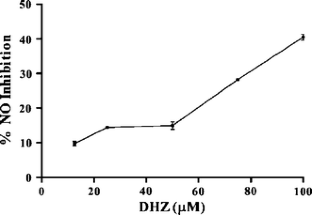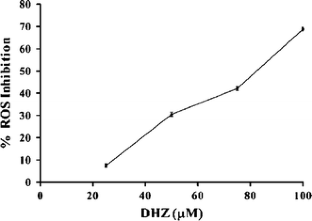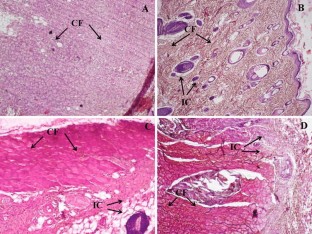 References
1.

Cotran RS, Kumar V, Robbins SL, Schoen FJ (1994) Inflammation and repair. In: Pathologic basis of disease, 5th edn. WB Saunders Company, Philadelphia

2.

Frank S, Kampfer H (2003) Excisional wound healing: an experimental approach. In: DiPietro LA, Burns AL (eds) Methods in molecular biology: wound healing: methods and protocols. Humana Press, Totowa, pp 3–16

3.

Clark RAF (1985) Cutaneous tissue repair: basic biologic considerations. J Am Acad Dermatol 13:701–725

4.

Dissemond J, Goos M, Wagner SN (2002) The role of oxidative stress in the pathogenesis and therapy of chronic wounds. Der Hautzart 53:718–723

5.

Rao CM, George KM, Bairy KL, Somayaji SN (2000) An appraisal of healing profiles of oral and external (gel) metronidazole on partial thickness burn wound. Indian J Pharmacol 32:282–287

6.

Rajakumar DV, Rao MN (1994) Antioxidant properties of dehydrozingerone and curcumin in rat brain homogenates. Mol Cell Biochem 140:73–79

7.

Parihar VK, Dhawan J, Kumar S, Manjula SN, Subramanian G, Unnikrishnan MK, Mallikarjuna Rao C (2007) Free radical scavenging and radioprotective activity of dehydrozingerone against whole body gamma irradiation in Swiss albino mice. Chem Biol Interact 170:49–58

8.

Ehrlich HP, Hunt TK (1969) The effects of cortisone and anabolic steroids on the tensile strength of healing wounds. Ann Surg 170:203–206

9.

Lee KH (1968) Studies on the mechanism of action of salicylates II: retardation of wound healing by aspirin. J Pharm Sci 57:1042–1043

10.

Morton JJ, Malone MH (1972) Evaluation of vulnerary activity by an open procedure in rats. Arch Int Pharmacodyn Ther 196:117–126

11.

Lee KH, Tong TG (1970) Mechanism of action of retinyl compounds on wound healing. II: effect of active retinyl derivatives on granuloma formation. J Pharm Sci 59:1195–1197

12.

Pearson H, Stirling D (2003) DNA extraction from tissue. In: Bartlett JMS, Stirling D (eds) Methods in molecular biology: PCR protocols, 2nd edn. Humana Press, Totowa, pp 33–34

13.

Snyder SH, Hendley ED (1971) Sensitive fluorometric and radiometric assays for monoamine oxidase and diamine oxidase. Methods Enzymol 17B:741–746

14.

Neuman RE, Logan MA (1950) The determination of hydroxyproline. J Biol Chem 186:299–306

15.

Hafer K, Iwamoto KS, Schiestl RH (2008) Refinement of the dichlorofluorescein assay for flow cytometric measurement of reactive oxygen species in irradiated and bystander cell populations. Radiat Res 169:460–468

16.

Kim YK, Kim RG, Park SJ, Ha JH, Choi JW, Park HJ et al (2002) In vitro antiinflammatory activity of kalopanaxsaponin A isolated from Kalopanax pictus in murine macrophage RAW 264.7 cells. Biol Pharm Bull 25:472–476

17.

Kang KA, Zhang R, Piao MJ, Lee KH, Kim BJ, Kim SY et al (2007) Inhibitory effects of glycitein on hydrogen peroxide induced cell damage by scavenging reactive oxygen species and inhibiting c-Jun N-terminal kinase. Free Radic Res 41:720–729

18.

Aebi H (1984) Catalase in vitro. Methods Enzymol 105:121–126

19.

Misra HP, Fridovich I (1972) The role of superoxide anion in the auto-oxidation of epinephrine and a simple assay for superoxide dismutase. J Biol Chem 247:3170–3175

20.

Moran MA, Pierre JWD, Mannervick B (1979) Levels of glutathione, glutathione reductase, glutathione-S-transferase activities in rat liver. Biochim Biophys Acta 582:67–68

21.

Jennson H, Alin P, Mannervik B (1985) Glutathione transferase isoenzymes from rat liver cytosol. Methods Enzymol 113:504–507

22.

Miao LH (1994) Measurement of protein thiol and glutathione in plasma. Methods Enzymol 233:380–385

23.

Niehaus WG Jr, Samuelsson B (1968) Formation of malonaldehyde from phospholipid arachidonate during microsomal lipid peroxidation. Eur J Biochem 6:126–130

24.

Smith PK, Krohn RI, Hermanson GT, Mallia AK, Gartner FH, Provenzano MD et al (1985) Measurement of bicinchoninic acid. Anal Biochem 150:76–85

25.

McManus JFA, Mowry RW (1965) Staining methods. Histological and histochemical. Harper & Row/Evanston, New York, p 423

26.

Wahl LM, Wahl SM, Mergenhagen SE, Martin GR (1974) Collagenase production by endotoxin-activated macrophages. Proc Natl Acad Sci USA 71:3598–3601

27.

Ehrlich HP, Krummel TM (1996) Regulation of wound healing from a connective tissue perspective. Wound Repair Regen 4:203–210

28.

Chinoy MR, Zgleszewski SE, Cilley RE, Krummel TM (2000) Dexamethasone enhances ras-recision gene expression in cultured murine fetal lungs: role in development. J Physiol Lung Cell Mol Physiol 279:312–318
Acknowledgments
Authors are thankful to Department of Pharmacology, Manipal College of Pharmaceutical Sciences, Manipal University for providing the facilities to carry out the project. The authors would also like to acknowledge the financial support offered by the All India Council of Technical Education (AICTE), New Delhi through RPS (Research Promotion Scheme) in purchase of the Biotek luminometer and microplate reader used in this study.
About this article
Cite this article
Rao, M.C., Sudheendra, A.T., Nayak, P.G. et al. Effect of Dehydrozingerone, a half analog of curcumin on dexamethasone-delayed wound healing in albino rats. Mol Cell Biochem 355, 249 (2011). https://doi.org/10.1007/s11010-011-0861-y
Received:

Accepted:

Published:
Keywords
Dehydrozingerone

Dexamethasone

Lysyl oxidase

Hydroxyproline

Superoxide dismutase

Catalase

DNA