Abstract
There is significant number of evidences suggesting the anti-inflammatory properties of gum resin extracts of Boswellia serrata containing 3-O-acetyl-11-keto-β-boswellic acid (AKBA) and their promising potential as therapeutic interventions against inflammatory diseases such as osteoarthritis (OA). Unfortunately, the poor bioavailability of AKBA following oral administration might limit the anti-inflammatory efficacy of standardized Boswellia extract(s). To address this issue, we describe a novel composition called Aflapin, which contains B. serrata extract enriched in AKBA and non-volatile oil portion of B. serrata gum resin. Our observations show that the availability of AKBA in systemic circulation of experimental animals is increased by 51.78% in Aflapin-supplemented animals, in comparison with that of 30% AKBA standardized extract or BE-30 (5-Loxin®). Consistently, Aflapin confers better anti-inflammatory efficacy in Freund's Complete Adjuvant (FCA)-induced inflammation model of Sprague–Dawley rats. Interestingly, in comparison with BE-30, Aflapin® also provides significantly better protection from IL-1β-induced death of human primary chondrocytes and improves glycosaminoglycans production in human chondrocytes. In Tumor necrosis factor alpha (TNFα)-induced human synovial cells, the inhibitory potential of Aflapin (IC50 44.736 ng/ml) on matrix metalloproteinase-3 (MMP-3) production is 14.83% better than that of BE-30 (IC50 52.528 ng/ml). In summary, our observations collectively suggest that both the Boswellia products, BE-30 (5-Loxin®) and Aflapin, exhibit powerful anti-inflammatory efficacy and anti-arthritic potential. In particular, in comparison with BE-30, Aflapin provides more potential benefits in recovering articular cartilage damage or protection from proteolytic degradation due to inflammatory insult in arthritis such as osteoarthritis or rheumatoid arthritis.
Access options
Buy single article
Instant access to the full article PDF.
US$ 39.95
Tax calculation will be finalised during checkout.
Subscribe to journal
Immediate online access to all issues from 2019. Subscription will auto renew annually.
US$ 119
Tax calculation will be finalised during checkout.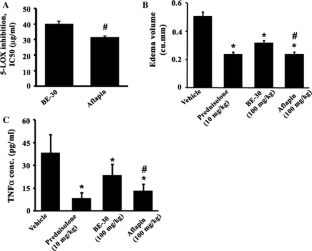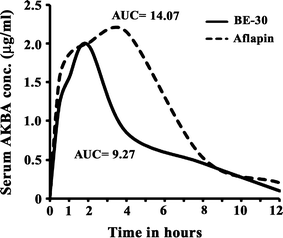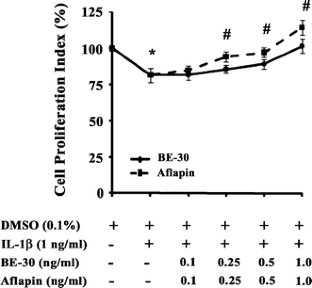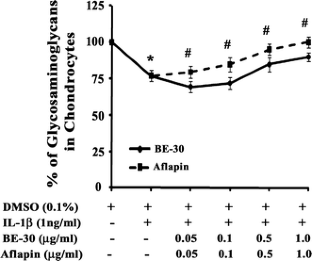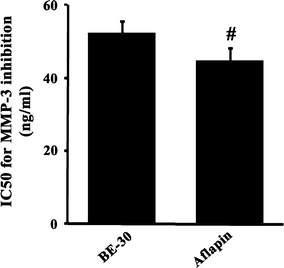 References
1.

Reddy GK, Chandrasekhar G, Dhar SC (1989) Studies on the metabolism of glycosaminoglycans under the influence of new herbal anti-inflammatory agents. Biochem Pharmacol 38:3527–3534

2.

Safayhi H, Mack T, Sabiera J, Anazodo MI, Subramanian LR, Ammon HP (1992) Boswellic acids: novel, specific, nonredox inhibitors of 5-lipoxygenase. J Pharmacol Exp Ther 261:1143–1146

3.

Ammon HP, Safayhi H, Mack T, Sabieraj J (1993) Mechanism of anti-inflammatory actions of curcumin and boswellic acids. J Ethnopharmacol 38:113–119

4.

Safayhi H, Sailer ER, Ammon HP (1995) Mechanism of 5-lipoxygenase inhibition by acetyl-11-keto-beta-boswellic acid. Mol Pharmacol 47:1212–1216

5.

Sailer ER, Subramanian LR, Rall B, Hoernlein RF, Ammon HPT, Safayhi H (1996) Acetyl-11-keto-beta-boswellic acid: structure requirement for binding and 5-lipoxygenase inhibitory activity. Br J Pharmacol 117:615–618

6.

Gupta I, Gupta V, Parihar A, Gupta S, Ludtke R, Safayhi H, Ammon HP (1998) Effect of Boswellia serrata gum resin in patients with bronchial asthma: results of double blind, placebo controlled, 6-week clinical study. Eur J Med Res 3:511–514

7.

Gupta I, Parihar A, Malhotra P, Gupta S, Ludtke R, Safayhi H, Ammon HP (2001) Effect of gum resin of Boswellia serrata in patients with chronic colitis. Planta Med 67:391–395

8.

Kimmatkar N, Thawani V, Hingorani I, Khiyani R (2003) Efficacy and tolerability of Boswellia serrata extract in treatment of osteoarthritis of knee-A randomized double blind placebo controlled trial. Phytomedicine 10:3–7

9.

Gokaraju G, Gokaraju R, Gottumukkala VS, Golakoti T, Pratha S. Process for producing a fraction enriched up to 100% 3-O-acetyl-11-keto-beta boswellic acid from an extract containing a mixture of boswellic acid. Indian Patent # 205269

10.

Roy S, Khanna S, Shah H, Rink C, Phillips C, Preuss HG, Subbaraju GV, Trimurtulu G, Krishnaraju AV, Bagchi M, Bagchi D, Sen CK (2005) Human genome screen to identify the genetic basis of the anti-inflammatory effects of Boswellia in micro vascular endothelial cells. DNA Cell Biol 24:244–255

11.

Roy S, Khanna S, Krishnaraju AV, Subbaraju GV, Yasmin T, Bagchi D, Sen CK (2006) Regulation of vascular responses to inflammation: inducible matrix metalloproteinase-3 expression in human microvascular endothelial cells is sensitive to anti-inflammatory Boswellia. Antiox Redox Signal 3&4:653–660

12.

Sengupta K, Golakoti T, Marasetti A, Tummala T, Ravada S, Krishnaraju A, Siba P, Raychaudhuri SP (2009) 30% 3-O-acetyl-11-keto-β-boswellic acid inhibits TNFα production and blocks MAPK/NFκB activation in lipopolysaccharide induced THP-1 human monocytes. J Food Lipids 16:325–344

13.

Lalithakumari K, Krishnaraju AV, Sengupta K, Subbaraju GV, Chatterjee A (2006) Safety and toxicological evaluation of a novel, standardized 3-O-Acetyl-b-Boswellic Acid (AKBA)-enriched Boswellia serrata extract (5-Loxin®). Toxicol Mech Methods 16:199–226

14.

Sengupta K, Alluri KV, Satish AR, Mishra S, Golakoti T, Sarma KV, Dey D, Raychaudhuri SP (2008) A double blind, randomized, placebo controlled study of the efficacy and safety of 5-Loxin® for treatment of osteoarthritis of the knee. Arthr Res Ther 10(4):R85

15.

Abdel Tawab M, Kaunzinger A, Bahr U, Karas M, Wurglics M, Schubert-Zsilavecz M (2001) Development of a high-performance liquid chromatographic method for the determination of 11-keto-β-boswellic acid in human plasma. J Chromatogr Biomed Appl 761:221–227

16.

Buchele B, Simmet T (2003) Analysis of 12 different pentacyclic triterpenic acids from frankincense in human plasma by high-performance liquid chromatography and photodiode array detection. J Chromatogr B 795:355–362

17.

Sharma S, Thawani V, Hingorani L, Shrivastava M, Bhate VR, Khiyani R (2004) Pharmacokinetic study of 11-keto-β-boswellic acid. Phytomedicine 11:1255–1260

18.

Sterk V, Buchele B, Simmet T (2004) Effect of food intake on the bioavailability of boswellic acids from a herbal preparation in healthy volunteers. Planta Med 70:1155–1160

19.

Kruger P, Daneshfar R, Eckert GP, Klein J, Volmer DA, Bahr U, Muller WE, Karas M, Schubert-Zsilavecz M, Abdel Tawab M (2008) Metabolism of boswellic acids in vitro and in vivo. Drug Metab Depos 36:1135–1142

20.

Lunstrum GP, Keene DR, Weksler NB, Cho YJ, Cornwall M, Horton WA (1999) Chondrocyte differentiation in a rat mesenchymal cell line. J Histochem Cytochem 47(1):1–6

21.

Tyler JA (1985) Articular cartilage cultured with catabolin (pig interleukin 1) synthesizes decreased number of normal proteoglycan molecules. Biochem J 227:869–878

22.

Benton HP, Tyler JA (1988) Inhibition of cartilage proteoglycan synthesis by interleukin-1. Biochem Biophys Res Comm 154:421–428

23.

den Berg WB, de Loo AAJ, Zwarts WA, Otterness IG (1988) Effects of murine recombinant IL-1 intact homologous articular cartilage: quantitative and autoradiographic study. Ann Rheum Dis 47:855–863

24.

Jarvinen TAH, Moilanen T, Jarvinen TLN, Moilanen E (1995) Nitric oxide mediates interleukin-1 induced inhibition of glycosaminoglycan synthesis in rat articular cartilage. Mediat Inflamm 4:107–111

25.

Safayhi H, Rall B, Sailer ER, Ammon HPT (1997) Inhibition by boswellic acids of human leukocyte elastase. J Pharmacol Exp Ther 281:460–463

26.

Syrovets T, Buchele B, Krauss C, Laumonnier Y, Simmet T (2005) Acetyl-boswellic acids inhibit lipopolysaccharide-mediated TNF-α induction in monocytes by direct interaction with IkB kinases. J Immunol 174:498–506

27.

Poeckel D, Werz O (2006) Boswellic acids: biological actions and molecular targets. Curr Med Chem 13:3359–3369

28.

Mitrovic DM, Quintero M, Stankovic A, Ruckeweart A (1983) Cell density of adult human femoral condylar articular cartilage: joints with normal and fibrillated surfaces. Lab Invest 49:309–316

29.

Bendele AM, White SL (1987) Early histopathologic and ultrastructural alterations in femorotibial joints of partial medial meniscectomized guinea pigs. Vet Pathol 24:436–443

30.

Hashimoto S, Ochs RL, Komiya S, Lotz M (1998) Linkage of chondrocytes apoptosis and cartilage degradation in human osteoarthritis. Arthr Rheum 41:1632–1638

31.

Blanco FJ, Guitian R, Vazquez-Martul E, de Toro FJ, Galdo F (1998) Osteoarthritis chondrocytes die by apoptosis: a possible pathway for osteoarthritis pathology. Arthr Rheum 41:284–289

32.

Stadler J, Stefanovic-Racic M, Billiar TR, Curran RD, McIntyre LA, Georgescu HI, Simmons RL, Evans CH (1991) Articular chondrocytes synthesize nitric oxide in response to cytokines and lipopolysaccharide. J Immunol 147:3915–3920

33.

Mosmann T (1983) Rapid colorimetric assay for cellular growth and survival: application to proliferation and cytotoxicity assays. J Immunol Methods 65:55–63

34.

van de Loosdrecht AA, Beelen RH, Ossenkoppele GJ, Broekhoven MG, Langenhuijsen MM (1994) A tetrazolium based colorimetric MTT assay to quantitate human monocytes mediated cytotoxicity against leukemic cells from cell lines and patients with acute myeloid leukemia. J Immunol Methods 174:311–320

35.

Benton HP, Tyler JA (1988) Inhibition of cartilage proteoglycan synthesis by interleukin-1. Biochem Biophys Res Commun 154:421–428

36.

Martel-Pelletier J, Pelletier JP (1996) Wanted-The collagenase responsible for the destruction of the collagen network in human cartilage!. Br J Rheumatol 35:818–820

37.

Billinghurst RC, Dahlberg L, Ionescu M, Reiner A, Bourne R, Rorabeck C et al (1997) Enhanced cleavage of type II collagen by collagenases in osteoarthritic articular cartilage. J Clin Invest 99:1534–1545

38.

Poole AR (1997) Arthritis and allied conditions. In: Koopman WJ (ed) A textbook of rheumatology. Williams and Wilkins, Baltimore, pp 255–308

39.

Arend WP, Dayer JM (1990) Cytokines and cytokine inhibitors antagonists in rheumatoid arthritis. Arthr Rheum 33:305–315
Acknowledgments
We sincerely thank Sri G Ganga Raju, Chairman; Mr. G Rama Raju, Director; and Mr. B. Kiran, CEO of Laila Group of Industries, India for their generous support and encouragements. We also thank Mr. K Gopal Rao for his help in analyzing serum samples for the bio-availability study. This study was supported by Laila Nutraceuticals, Vijayawada, India.
Competing interests
The authors declare there are no competing interests.
About this article
Cite this article
Sengupta, K., Kolla, J.N., Krishnaraju, A.V. et al. Cellular and molecular mechanisms of anti-inflammatory effect of Aflapin: a novel Boswellia serrata extract. Mol Cell Biochem 354, 189–197 (2011). https://doi.org/10.1007/s11010-011-0818-1
Received:

Accepted:

Published:

Issue Date:
Keywords
3-O-acetyl-11-keto-β-boswellic acid

Aflapin

Boswellia serrata

Chondrocytes

Matrix metalloproteinase-3

Osteoarthritis