Abstract
Ultraviolet (UV) B radiation can cause skin-tanning via the synthesis of melanin which is synthesized by specific tyrosinase and tyrosinase-related enzymes expressed in melanocytes. It is reported that several melanogenic factors are released from keratinocytes and other cells surrounding melanocytes in the skin following UV radiation. Some of them are reported to up-regulate tyrosinase gene expression through a different pathway, but most regulate tyrosinase via microphthalmia-associated transcription factor (MITF). It is unknown whether an NO-induced pathway regulates melanogenesis via MITF in vitro. In this study, we investigated this problem because it is important for our understanding of how to enhance the coat color of alpaca. We set up three groups for experiments using alpaca melanocytes: the control cultures were allowed a total of 5 days growth; the UV group cultures were also allowed 5 days of growth like the control group, but were then irradiated once everyday with 312 mJ/cm2 of UVB; the UV + L-NAME group was the same as the UV group, but with the addition of 300 μM L-NAME every 6 h. To determine the NO inhibition effect, NO product was measured. To determine the effect of NO on MITF, the expression levels of the MITF gene and protein were measured by immunofluorescence, quantitative real-time PCR and western immunoblotting. To determine the influence of NO on MITF phosphorylation, phosphorylated MITF protein (p-MITF) was measured by western immunoblotting. To determine the effect of NO on melanogenesis, the melanin content was measured. The results provide exciting new evidence that NO can enhance melanogenesis in alpaca skin melanocytes by stimulating MITF phosphorylation.
Access options
Buy single article
Instant access to the full article PDF.
USD 39.95
Price includes VAT (USA)
Tax calculation will be finalised during checkout.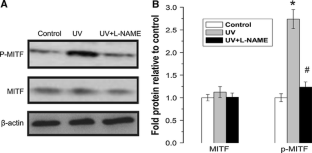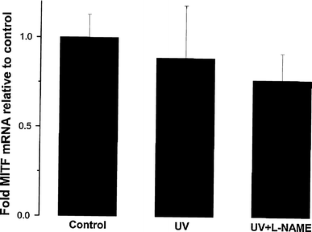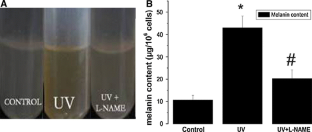 References
1.

Slominski A, Tobin DJ, Shibahara S, Wortsman J (2004) Melanin pigmentation in mammalian skin and its hormonal regulation. Phys Rev 84:1155–1228

2.

Eller MS, Yaar M, Gilchrest BA (1994) DNA damage and melanogenesis. Nature 372:413–414

3.

Hemesath TJ, Price ER, Takemoto C, Badalian T, Fisher DE (1998) MAP kinase links the transcription factor Microphthalmia to c-Kit signalling in melanocytes. Nature 391:298–301

4.

Levy C, Khaled M, Fisher DE (2006) MITF: master regulator of melanocyte development and melanoma oncogene. Trends Mol Med 12:406–414

5.

Aberdam E, Bertolotto C, Sviderskaya EV, de Thillot V, Hemesath TJ, Fisher DE, Bennett DC, Ortonne JP, Ballotti R (1998) Involvement of microphthalmia in the inhibition of melanocyte lineage differentiation and of melanogenesis by agouti signal protein. J Biol Chem 273:19560–19565

6.

Bertolotto C, Abbe P, Hemesath TJ, Bille K, Fisher DE, Ortonne JP, Ballotti R (1998) Microphthalmia gene product as a signal transducer in cAMP-induced differentiation of melanocytes. J Cell Biol 142:827–835

7.

Abdel-Malek Z, Swope VB, Suzuki I, Akcali C, Harriger MD, Boyce ST, Urabe K, Hearing VJ (1995) Mitogenic and melanogenic stimulation of normal human melanocytes by melanotropic peptides. Proc Natl Acad Sci USA 92:1789–1793

8.

Hunt G, Donatien PD, Lunec J, Todd C, Kyne S, Thody AJ (1994) Cultured human melanocytes respond to MSH peptides and ACTH. Pigment Cell Res 7:217–221

9.

Hunt G, Todd C, Cresswell JE, Thody AJ (1994) Alpha-melanocyte stimulating hormone and its analogue Nle4DPhe7 alpha-MSH affect morphology, tyrosinase activity and melanogenesis in cultured human melanocytes. J Cell Sci 107:205–211

10.

Suzuki I, Cone RD, Im S, Nordlund J, Abdel-Malek ZA (1996) Binding of melanotropic hormones to the melanocortin receptor MC1R on human melanocytes stimulates proliferation and melanogenesis. Endocrinology 137:1627–1633

11.

De Luca M, Siegrist W, Bondanza S, Mathor M, Cancedda R, Eberle AN (1993) Alpha melanocyte stimulating hormone (alpha MSH) stimulates normal human melanocyte growth by binding to high-affinity receptors. J Cell Sci 105:1079–1084

12.

Romero-Graillet C, Aberdam E, Biagoli N, Massabni W, Ortonne JP, Ballotti R (1996) Ultraviolet B radiation acts through the nitric oxide and cGMP signal transduction pathway to stimulate melanogenesis in human melanocytes. J Biol Chem 271:28052–28056

13.

Sasaki M, Horikoshi T, Uchiwa H, Miyachi Y (2000) Up-regulation of tyrosinase gene by nitric oxide in human melanocytes. Pigment Cell Res 13:248–252

14.

Alderton WK, Cooper CE, Knowles RG (2001) Nitric oxide synthases: structure, function and inhibition. Biochem J 357:593–615

15.

McDonald LJ, Murad F (1996) Nitric oxide and cyclic GMP signaling. Proc Soc Exp Biol Med 211:1–6

16.

Michel T, Feron O (1997) Nitric oxide synthases: which, where, how, and why? J Clin Invest 100:2146–2152

17.

Novellino L, d'Ischia M, Prota G (1998) Nitric oxide-induced oxidation of 5,6-dihydroxyindole and 5,6-dihydroxyindole-2-carboxylic acid under aerobic conditions: non-enzymatic route to melanin pigments of potential relevance to skin (photo) protection. Biochim Biophys Acta 1425:27–35

18.

Velardez MO, Benitez AH, Cabilla JP, Bodo CC, Duvilanski BH (2003) Nitric oxide decreases the production of inositol phosphates stimulated by angiotensin II and thyrotropin-releasing hormone in anterior pituitary cells. Eur J Endocrinol 148:89–97

19.

Komalavilas P, Lincoln TM (1996) Phosphorylation of the inositol 1,4,5-trisphosphate receptor. Cyclic GMP-dependent protein kinase mediates cAMP and cGMP dependent phosphorylation in the intact rat aorta. J Biol Chem 271:21933–21938

20.

Schlossmann J, Ammendola A, Ashman K, Zong X, Huber A, Neubauer G, Wang GX, Allescher HD, Korth M, Wilm M (2000) Regulation of intracellular calcium by a signalling complex of IRAG, IP3 receptor and cGMP kinase Iβ. Nature 404:197–201

21.

Bai Rui, Sen Aritro, Zhihui Yu, Yang Gang, Wang Haidong, Fan Ruiwen, Lihua Lv, Lee Kyung-Bon, Smith GeorgeW, Dong Changsheng (2010) Validation of methods for isolation and culture of alpaca melanocytes: a novel tool for in vitro studies of mechanisms controlling coat color[J]. Asian Aust J Anim Sci 23(4):430–436

22.

Dong Y, Cao J, Wang H, Zhang J, Zhu Z, Bai R, Hao H, Xiaoyan He, Fan R, Dong C (2010) Nitric oxide enhances the sensitivity of alpaca melanocytes to respondto a-melanocyte-stimulating hormone by up-regulating melanocortin-1 receptor. Biochem Biophys Res Commun 396:849–853

23.

Lee TH, Lee MS, Lu M-Y (1972) Effects of or-MSH on melanogenesis and lyrosinase of B-16 melanoma. Endocrinology VI:1180–1188

24.

Romero-Graillet C, Aberdam E, Clement M, Ortonne JP, Ballotti R (1997) Nitric oxide produced by ultraviolet-irradiated keratinocytes stimulates melanogenesis. J Clin Investig 99:635–642

25.

Bertolotto C, Bille K, Ortonne JP, Ballotti R (1998) In B16 melanoma cells, the inhibition of melanogenesis by TPA results from PKC activation and diminution of microphthalmia binding to the M-box of the tyrosinase promoter. Oncogene 16:1665–1670

26.

Lin CB, Babiarz L, Liebel F, Price ER, Kizoulis M, Gendimenico GJ, Fisher DE, Seiberg M (2002) Modulation of microphthalmia-associated transcription factor gene expression alters skin pigmentation. J Investig Dermatol 119:1330–1340

27.

Saito H, Yasumoto KI, Takeda K, Takahashi K, Yamamoto H, Shibahara S (2003) Microphthalmia-associated transcription factor in the Wnt signaling pathway. Pigment Cell Res 16:261–265

28.

Shibahara S, Takeda K, Yasumoto K, Udono T, Watanabe K, Saito H, Takahashi K (2001) Microphthalmia-associated transcription factor (MITF): multiplicity in structure, function, and regulation. J Investig Dermatol Symp Proc 6:99–104

29.

Widlund HR, Fisher DE (2003) Microphthalamia-associated transcription factor: a critical regulator of pigment cell development and survival. Oncogene 22:3035–3041
Acknowledgment
This research was sponsored by the China National Natural Science Foundation (Grant No. 30571070 and 30671512).
About this article
Cite this article
Dong, Y., Wang, H., Cao, J. et al. Nitric oxide enhances melanogenesis of alpaca skin melanocytes in vitro by activating the MITF phosphorylation. Mol Cell Biochem 352, 255–260 (2011). https://doi.org/10.1007/s11010-011-0761-1
Received:

Accepted:

Published:

Issue Date:
Keywords
Nitric oxide

Alpaca

Melanocyte

Microphthalmia-associated transcription factor

Melanogenesis