Abstract
Curcumin, an active ingredient of Curcumin longa mediates its anti-inflammatory effects through inhibition of NFkB. Several pathways including toll-like receptors (TLR) induce NFkB leading to inflammation. In this study, we investigated the effects of curcumin on the expression of TLR-4 and MyD88, the upstream signaling pathway in experimental colitis induced in the Sprague-Dawley male rats by intra-rectal administration of trinitrobenzenesulfonic acid (TNBS). The animals which received TNBS were divided into two groups: Group 1, received aqueous suspension of curcumin (100 mg/Kg body weight) 2 h prior to inducing colitis, and the treatment was repeated every day for 5 days, and Group 2 and non-colitis (Group 3) animals received phosphate buffered saline (PBS) in a similar fashion. Non-colitis animals (Group 4) received curcumin and served as controls. Animals were sacrificed on day 5 post-TNBS by cervical dislocation, colon was taken out, and cleaned with PBS. Levels of TLR-4, MyD88, and NFkB proteins were measured using ECL Western blot analysis, and TLR-4 mRNA by a competitive RT-PCR method. Colitis was confirmed histologically by measuring myeloperoxidase (MPO) activity and malondialdehyde (MDA) levels in the colonic tissues. TNBS-induced increase in the level of MPO activity and MDA concentrations was reversed by curcumin treatment, whereas the same dose of curcumin did not affect their levels in the non-colitis animals. Increases in the levels of TLR-4, MyD88, and NFkB proteins in inflamed tissue were also suppressed significantly by curcumin treatment. The level of TLR-4 mRNA remained unchanged in the colitis animals. These findings demonstrate that signaling pathway of curcumin-induced inhibition of inflammation involves TLR-4 and MyD88, and therefore may serve as an important therapeutic target in IBD.
This is a preview of subscription content, log in to check access.
Access options
Buy single article
Instant access to the full article PDF.
US$ 39.95
Price includes VAT for USA
Subscribe to journal
Immediate online access to all issues from 2019. Subscription will auto renew annually.
US$ 199
This is the net price. Taxes to be calculated in checkout.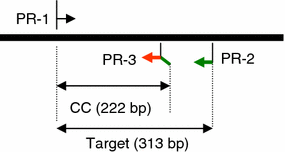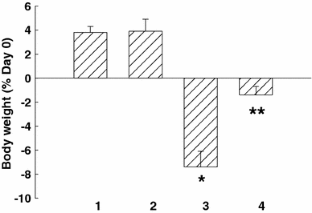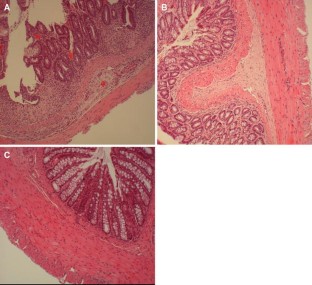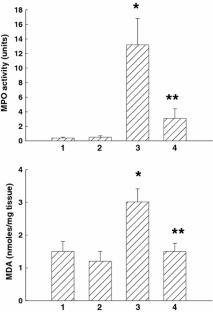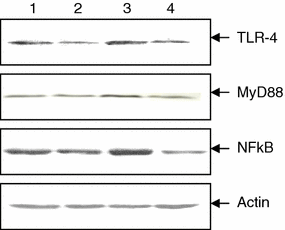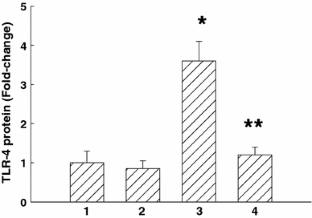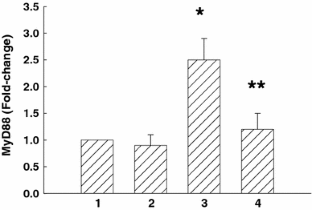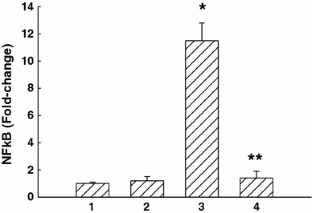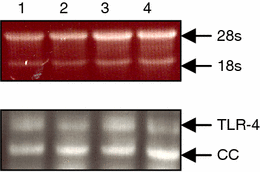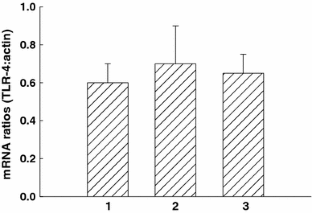 References
1.

Schmidt C, Stallmach A (2005) Etiology and pathogenesis of inflammatory bowel disease. Minerva Gastroenterol Dietol 51(2):127–145

2.

Fiocchi C (1998) Inflammatory bowel disease: etiology and pathogenesis. Gastroenterology 115:182–205

3.

Atreya I, Atreya R, Neurath MF (2008) NF-kappaB in inflammatory bowel disease. J Intern Med 263(6):591–596. doi:10.1111/j.1365-2796.2008.01953.x (Review)

4.

Kaser A, Tilg H (2008) Novel therapeutic targets in the treatment of IBD. Expert Opin Ther Targets 12(5):553–563. doi:10.1517/14728222.12.5.553

5.

Hanauer SB (1996) Inflammatory bowel disease. N Engl J Med 334(13):841–848. doi:10.1056/NEJM199603283341307 (Review)

6.

Pari L, Tewas D, Eckel J (2008) Role of curcumin in health and disease. Arch Physiol Biochem 114(2):127–149. doi:10.1080/13813450802033958 (Review)

7.

Kozuch PL, Hanauer SB (2008) Treatment of inflammatory bowel disease: a review of medical therapy. World J Gastroenterol 14(3):354–377. doi:10.3748/wjg.14.354 (Review)

8.

Billerey-Larmonier C, Uno JK, Larmonier N, Midura AJ, Timmermann B, Ghishan FK, Kiela PR (2008) Protective effects of dietary curcumin in mouse model of chemically induced colitis are strain dependent. Inflamm Bowel Dis 14(6):780–793. doi:10.1002/ibd.20348

9.

Holt PR, Katz S, Kirshoff R (2005) Curcumin therapy in inflammatory bowel disease: a pilot study. Dig Dis Sci 50(11):2191–2193. doi:10.1007/s10620-005-3032-8

10.

Boone DL, Ma A (2003) Connecting the dots from toll-like receptors to innate immune cells and inflammatory bowel disease. J Clin Invest 111(9):1284–1286

11.

Medzhitov R (2002) Innate immune recognition. Annu Rev Immunol 20:197–216. doi:10.1146/annurev.immunol.20.083001.084359

12.

Bou-Fersen AM, Anim JT, Khan I (2008) Experimental colitis is associated with ultrastructural changes in inflamed and uninflamed regions of the gastrointestinal tract. Med Princ Pract 17(3):190–196. doi:10.1159/000117791

13.

Al-Jarallah A, Khan I, Oriowo MA (2008) Role of Ca2+-sensitization in attenuated carbachol-induced contraction of the colon in a rat model of colitis. Eur J Pharmacol 579(1–3):365–373. doi:10.1016/j.ejphar.2007.10.069

14.

Morris GP, Beck PL, Herridge MS, Depew WT, Szewczuk MR, Wallace JL (1989) Hapten-induced model of chronic inflammation and ulceration in the rat colon. Gastroenterology 96(3):795–803

15.

Khan I, Oriowo MA, Anim JT (2005) Amelioration of experimental colitis by Na–H exchanger-1 inhibitor amiloride is associated with reversal of IL-1ss and ERK mitogen-activated protein kinase. Scand J Gastroenterol 40(5):578–585. doi:10.1080/00365520510012352

16.

Khan I (2002) Antisense inhibition of cyclooxygenase-2 causes a selective suppression of the Na+–H+ exchanger isoform 3 in rat kidney in experimental colitis. Nephron 91(1):120–128. doi:10.1159/000057613

17.

Bradley PP, Priebat DA, Christensen RD, Rothstein G (1982) Measurement of cutaneous inflammation: estimation of neutrophil content with an enzyme marker. J Invest Dermatol 78(3):206–209. doi:10.1111/1523-1747.ep12506462

18.

Khan I, Al-Awadi FM, Thomas N (2001) In vivo inhibition of cyclooxygenase-2 by a selective phosphorothioated oligonucleotide. Antisense Nucleic Acid Drug Dev 11(4):199–207. doi:10.1089/108729001317022205

19.

Wang K, Wan YJ (2008) Nuclear receptors and inflammatory diseases. Exp Biol Med (Maywood) 233(5):496–506. doi:10.3181/0708-MR-231 (Review)

20.

Hogaboam CM, Vallance BA, Kumar A, Addison CL, Graham FL, Gauldie J, Collins SM (1997) Therapeutic effects of interleukin-4 gene transfer in experimental inflammatory bowel disease. J Clin Invest 100(11):2766–2776. doi:10.1172/JCI119823

21.

Arranz A, Juarranz Y, Leceta J, Gomariz RP, Martínez C (2008) VIP balances innate and adaptive immune responses induced by specific stimulation of TLR2 and TLR4. Peptides 29(6):948–956. doi:10.1016/j.peptides.2008.01.019

22.

Arranz A, Abad C, Juarranz Y, Torroba M, Rosignoli F, Leceta J, Gomariz RP, Martínez C (2006) Effect of VIP on TLR2 and TLR4 expression in lymph node immune cells during TNBS-induced colitis. Ann N Y Acad Sci 1070:129–134. doi:10.1196/annals.1317.001

23.

Araki A, Kanai T, Ishikura T, Makita S, Uraushihara K, Iiyama R, Totsuka T, Takeda K, Akira S, Watanabe M (2005) MyD88-deficient mice develop severe intestinal inflammation in dextran sodium sulfate colitis. J Gastroenterol 40:16–23. doi:10.1007/s00535-004-1492-9
For further reading
24.

Hanai H, Iida T, Takeuchi K, Watanabe F, Maruyama Y, Andoh A, Tsujikawa T, Fujiyama Y, Mitsuyama K, Sata M, Yamada M, Iwaoka Y, Kanke K, Hiraishi H, Hirayama K, Arai H, Yoshii S, Uchijima M, Nagata T, Koide Y (2006) Curcumin maintenance therapy for ulcerative colitis: randomized, multicenter, double-blind, placebo-controlled trial. Clin Gastroenterol Hepatol 4(12):1502–1506

25.

Bremner P, Heinrich M (2002) Natural products as targeted modulators of the nuclear factor-kappaB pathway. J Pharm Pharmacol 54(4):453–472 (Review)

26.

Jian YT, Wang JD, Mai GF, Zhang YL, Lai ZS (2004) Modulation of intestinal mucosal inflammatory factors by curcumin in rats with colitis. Di Yi Jun Yi Da Xue Xue Bao 24(12):1353–1358 (Chinese)

27.

Fukata M, Abreu MT (2007) TLR4 signalling in the intestine in health and disease. Biochem Soc Trans 35(Pt 6):1473–1478 (Review)

28.

Zhang R, Li Y, Beck PL, McCafferty DM (2007) Toll-like receptor 4 regulates colitis-associated adenocarcinoma development in interleukin-10-deficient (IL-10(-/-) mice. Biochem Soc Trans 35(Pt 5):1375–1376 (Review)

29.

Cario E (2008) Therapeutic impact of toll-like receptors on inflammatory bowel diseases: a multiple-edged sword. Inflamm Bowel Dis 14(3):411–421 (Review)

30.

Santin I, Castellanos-Rubio A, Hualde I, Castaño L, Vitoria JC, Bilbao JR (2007) Toll-like receptor 4 (TLR4) gene polymorphisms in celiac disease. Tissue Antigens 70(6):495–498

31.

Browning BL, Huebner C, Petermann I, Gearry RB, Barclay ML, Shelling AN, Ferguson LR (2007) Has toll-like receptor 4 been prematurely dismissed as an inflammatory bowel disease gene? Association study combined with meta-analysis shows strong evidence for association. Am J Gastroenterol 102(11):2504–2512

32.

Kullberg BJ, Ferwerda G, de Jong DJ, Drenth JP, Joosten LA, Van der Meer JW, Netea MG (2008) Crohn's disease patients homozygous for the 3020insC NOD2 mutation have a defective NOD2/TLR4 cross-tolerance to intestinal stimuli. Immunology 123(4):600–605

33.

Heimesaat MM, Fischer A, Jahn HK, Niebergall J, Freudenberg M, Blaut M, Liesenfeld O, Schumann RR, Göbel UB, Bereswill S (2007) Exacerbation of murine ileitis by toll-like receptor 4 mediated sensing of lipopolysaccharide from commensal Escherichia coli. Gut 56(7):941–948

34.

Ishihara S, Rumi MA, Ortega-Cava CF, Kazumori H, Kadowaki Y, Ishimura N, Kinoshita Y (2006) Therapeutic targeting of toll-like receptors in gastrointestinal inflammation. Curr Pharm Des 12(32):4215–4228 (Review)

35.

Barton GM, Medzhitov R (2003) Toll-like receptor signaling pathways. Science 300:1524–1525

36.

Baumgart DC, Dignass AU (2004) Current biological therapies for inflammatory bowel disease. Curr Pharm Des 10:4127–4147

37.

Beutler B (2002) TLR-4 as the mammalian endotoxin sensor. Curr Top Microbiol Immunol 270:109–120

38.

Furrie E, Macfarlane S, Thomson G, Macfarlane GT (2005) Toll-like receptors-2, -3, and -4 expression patterns on human colon and their regulation by mucosal-associated bacteria. Immunology 115:565–574

39.

Guslandi M (2005) Antibiotics for inflammatory bowel disease: do they work? Eur J Gastroenterol Hepatol 17:145–147

40.

Ukil A, Maity S, Karmakar S, Datta N, Vedasiromoni JR, Das PK (2003) Curcumin, the major component of food flavour turmeric, reduces mucosal injury in trinitrobenzene sulphonic acid-induced colitis. Br J Pharmacol 139(2):209–218

41.

Iwasaki A, Medzhitov R (2004) Toll-like receptor control of the adaptive immune responses. Nat Immunol 5:987–995

42.

Kirschning CJ, Schumann RR (2002) TLR-2: cellular sensor for microbial and endogenous molecular patterns. Curr Top Microbiol Immunol 270:121–144

43.

Kuhl AA, Loddenkemper C, Westermann J, Hoffmann JC (2002) Role of gamma delta T cells in inflammatory bowel disease. Pathobiology 70:150–155
Acknowledgments
Financial support from the Kuwait University Research Administration through a graduate student research grant # MY06/06, and Miss Amna Al-Shamali for technical assistance.
About this article
Cite this article
Lubbad, A., Oriowo, M.A. & Khan, I. Curcumin attenuates inflammation through inhibition of TLR-4 receptor in experimental colitis. Mol Cell Biochem 322, 127–135 (2009). https://doi.org/10.1007/s11010-008-9949-4
Received:

Accepted:

Published:

Issue Date:
Keywords
Inflammatory bowel disease

Toll-like receptor

MPO

MDA

MyD88

NFkB

Colitis