Abstract
Ubiquitous protein kinase CK2 participates in a variety of key cellular functions. We have explored CK2 involvement in angiogenesis. As shown previously, CK2 inhibition reduced endothelial cell proliferation, survival and migration, tube formation, and secondary sprouting on Matrigel. Intraperitoneally administered CK2 inhibitors significantly reduced preretinal neovascularization in a mouse model of proliferative retinopathy. In this model, CK2 inhibitors had an additive effect with somatostatin analog, octreotide, resulting in marked dose reduction for the drug to achieve the same effect. CK2 inhibitors may thus emerge as potent future drugs aimed at inhibiting pathological angiogenesis. Immunostaining of the retina revealed predominant CK2 expression in astrocytes. In human diabetic retinas, mRNA levels of all CK2 subunits decreased, consistent with increased apoptosis. Importantly, a specific CK2 inhibitor prevented recruitment of bone marrow-derived hematopoietic stem cells to areas of retinal neovascularization. This may provide a novel mechanism of action of CK2 inhibitors on newly forming vessels.
This is a preview of subscription content,
to check access.
Access this article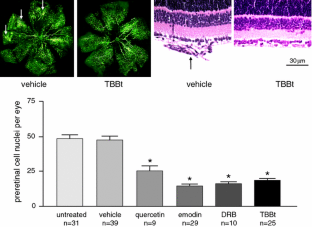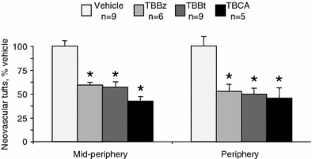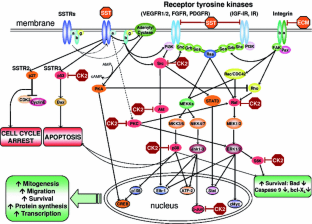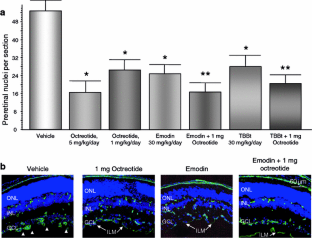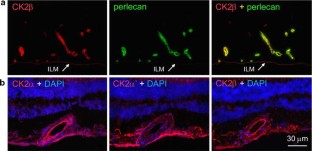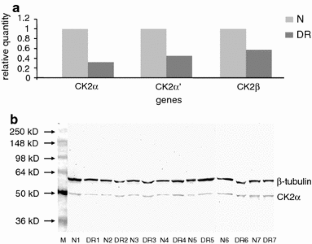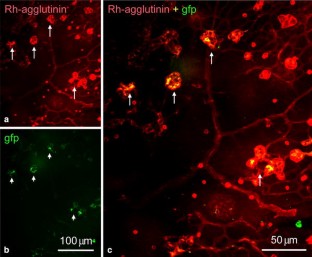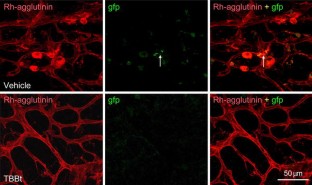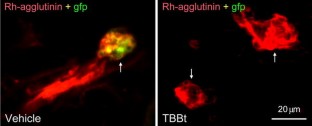 References
Meggio F, Pinna LA (2003) One-thousand-and-one substrates of protein kinase CK2? FASEB J 17:349–368

Unger GM, Davis AT, Slaton JW et al (2004) Protein kinase CK2 as regulator of cell survival: implications for cancer therapy. Curr Cancer Drug Targets 4:77–84

Ahmad KA, Wang G, Slaton J et al (2005) Targeting CK2 for cancer therapy. Anticancer Drugs 16:1037–1043

Sarno S, Salvi M, Battistutta R, Zanotti G, Pinna LA (2005) Features and potentials of ATP-site directed CK2 inhibitors. Biochim Biophys Acta 1754:263–270

Canton DA, Litchfield DW (2006) The shape of things to come: an emerging role for protein kinase CK2 in the regulation of cell morphology and the cytoskeleton. Cell Signal 18:267–275

Afzal A, Shaw LC, Ljubimov AV et al (2007) Retinal and choroidal microangiopathies: therapeutic opportunities. Microvasc Res 74:131–144

Duncan JS, Litchfield DW (2008) Too much of a good thing: the role of protein kinase CK2 in tumorigenesis and prospects for therapeutic inhibition of CK2. Biochim Biophys Acta 1784:33–47

Ruzzene M, Penzo D, Pinna LA (2002) Protein kinase CK2 inhibitor 4, 5, 6, 7-tetrabromobenzotriazole (TBB) induces apoptosis and caspase-dependent degradation of haematopoietic lineage cell-specific protein 1 (HS1) in Jurkat cells. Biochem J 364(Pt 1):41–47

Wang G, Unger G, Ahmad KA et al (2005) Downregulation of CK2 induces apoptosis in cancer cells–a potential approach to cancer therapy. Mol Cell Biochem 274:77–84

Yde CW, Frogne T, Lykkesfeldt AE et al (2007) Induction of cell death in antiestrogen resistant human breast cancer cells by the protein kinase CK2 inhibitor DMAT. Cancer Lett 256:229–237

Hamacher R, Saur D, Fritsch R et al (2007) Casein kinase II inhibition induces apoptosis in pancreatic cancer cells. Oncol Rep 18:695–701

Grant MB, Guay C (1991) Plasminogen activator production by human retinal endothelial cells of nondiabetic and diabetic origin. Invest Ophthalmol Vis Sci 32:53–64

Castellon R, Hamdi HK, Sacerio I et al (2002) Effects of angiogenic growth factor combinations on retinal endothelial cells. Exp Eye Res 74:523–535

Castellon R, Caballero S, Hamdi HK et al (2002) Effects of tenascin-C on normal and diabetic retinal endothelial cells in culture. Invest Ophthalmol Vis Sci 43:2758–2766

Ljubimov AV, Caballero S, Aoki AM et al (2004) Involvement of protein kinase CK2 in angiogenesis and retinal neovascularization. Invest Ophthalmol Vis Sci 45:4583–4591

Smith LE, Wesolowski E, McLellan A et al (1994) Oxygen-induced retinopathy in the mouse. Invest Ophthalmol Vis Sci 35:101–111

Zień P, Bretner M, Zastapiło K et al (2003) Selectivity of 4, 5, 6, 7-tetrabromobenzimidazole as an ATP-competitive potent inhibitor of protein kinase CK2 from various sources. Biochem Biophys Res Commun 306:129–133

Kramerov AA, Saghizadeh M, Pan H et al (2006) Expression of protein kinase CK2 in astroglial cells of normal and neovascularized retina. Am J Pathol 168:1722–1736

Pagano MA, Meggio F, Ruzzene M et al (2004) 2-Dimethylamino–4, 5, 6, 7-tetrabromo–1H-benzimidazole: a novel powerful and selective inhibitor of protein kinase CK2. Biochem Biophys Res Commun 321:1040–1044

Mishra S, Pertz V, Zhang B et al (2007) Treatment of P190 Bcr/Abl lymphoblastic leukemia cells with inhibitors of the serine/threonine kinase CK2. Leukemia 21:178–180

Pagano MA, Poletto G, Di Maira G et al (2007) Tetrabromocinnamic acid (TBCA) and related compounds represent a new class of specific protein kinase CK2 inhibitors. Chembiochem 8:129–139

Golub AG, Yakovenko OY, Prykhod'ko AO et al (2008) Evaluation of 4, 5, 6, 7-tetrahalogeno–1H-isoindole–1, 3(2H)-diones as inhibitors of human protein kinase CK2. Biochim Biophys Acta 1784:143–149

Ljubimov AV (2008) Growth factor synergy in angiogenesis. In: Penn JS (ed) Retinal and Choroidal Angiogenesis. Springer Science+Business Media B.V., p 289

Hammes HP, Federoff HJ, Brownlee M (1995) Nerve growth factor prevents both neuroretinal programmed cell death and capillary pathology in experimental diabetes. Mol Med 1:527–534

Pichiule P, Chavez JC, LaManna JC et al (2004) Hypoxic regulation of angiopoietin–2 expression in endothelial cells. J Biol Chem 279:12171–12180

Simó R, Carrasco E, García-Ramírez M et al (2006) Angiogenic and antiangiogenic factors in proliferative diabetic retinopathy. Curr Diabetes Rev 2:71–98

Nomi M, Miyake H, Sugita Y et al (2006) Role of growth factors and endothelial cells in therapeutic angiogenesis and tissue engineering. Curr Stem Cell Res Ther 1:333–343

Folkman J (2007) Is angiogenesis an organizing principle in biology and medicine? J Pediatr Surg 42:1–11

Jo N, Mailhos C, Ju M et al (2006) Inhibition of platelet-derived growth factor B signaling enhances the efficacy of anti-vascular endothelial growth factor therapy in multiple models of ocular neovascularization. Am J Pathol 168:2036–2053

Dorrell MI, Aguilar E, Scheppke L et al (2007) Combination angiostatic therapy completely inhibits ocular and tumor angiogenesis. Proc Natl Acad Sci USA 104:967–972

Lynch SS, Cheng CM (2007) Bevacizumab for neovascular ocular diseases. Ann Pharmacother 41:614–625

Tabruyn SP, Griffioen AW (2007) Molecular pathways of angiogenesis inhibition. Biochem Biophys Res Commun 355:1–5

Maloney SC, Godeiro KD, Odashiro AN et al (2007) Current and emerging concepts in the management of neovascular age-related macular degeneration. Cardiovasc Hematol Agents Med Chem 5:147–154

Pagano MA, Cesaro L, Meggio F et al (2006) Protein kinase CK2: a newcomer in the 'druggable kinome'. Biochem Soc Trans 34(Pt 6):1303–1306

Hessenauer A, Montenarh M, Götz C (2006) Inhibition of CK2 activity provokes different responses in hormone-sensitive and hormone-refractory prostate cancer cells. Int J Oncol 22:1263–1270
Acknowledgments
The authors thank Dr. Raquel Castellon for in vitro experiments conducted under the NIH grant EY12605 (to AVL), and to Ms. Annette Aoki for excellent technical assistance. Helpful suggestions by Dr. Leon Fine (Cedars-Sinai Medical Center) are gratefully acknowledged. This work is supported by the NIH EY12605 and EY13431 (AVL), EY07739 and EY12601, Juvenile Diabetes Research Foundation International (MBG), Skirball Program in Molecular Ophthalmology, seed grants from the Department of Surgery, Cedars-Sinai Medical Center, Winnick Family Foundation Research Scholar award, and M01 RR00425 (AVL), and grant PBZ-MIN 014/P05/2004 (MB).
About this article
Cite this article
Kramerov, A.A., Saghizadeh, M., Caballero, S. et al. Inhibition of protein kinase CK2 suppresses angiogenesis and hematopoietic stem cell recruitment to retinal neovascularization sites. Mol Cell Biochem 316, 177–186 (2008). https://doi.org/10.1007/s11010-008-9831-4
Received:

Accepted:

Published:

Issue Date:

DOI: https://doi.org/10.1007/s11010-008-9831-4
Keywords