Abstract
Objective
Obesity is closely linked to the incidence of type II diabetes. It is found that effective management of body weight and changes to nutritional habits especially with regard to the carbohydrate content and glycemic index of the diet have beneficial effects in obese subjects with glucose intolerance. Previously we have shown that ketogenic diet is quite effective in reducing body weight. Furthermore, it favorably alters the cardiac risk factors even in hyperlipidemic obese subjects. In this study the effect of ketogenic diet in obese subjects with high blood glucose level is compared to those with normal blood glucose level for a period of 56 weeks.
Materials and methods
A total of 64 healthy obese subjects with body mass index (BMI) greater than 30, having high blood glucose level and those subjects with normal blood glucose level were selected in this study. The body weight, body mass index, blood glucose level, total cholesterol, LDL-cholesterol, HDL-cholesterol, triglycerides, urea and creatinine were determined before and at 8, 16, 24, 48, and 56 weeks after the administration of the ketogenic diet.
Results
The body weight, body mass index, the level of blood glucose, total cholesterol, LDL-cholesterol, triglycerides, and urea showed a significant decrease from week 1 to week 56 (P < 0.0001), whereas the level of HDL-cholesterol increased significantly (P < 0.0001). Interestingly these changes were more significant in subjects with high blood glucose level as compared to those with normal blood glucose level. The changes in the level of creatinine were not statistically significant.
Conclusion
This study shows the beneficial effects of ketogenic diet in obese diabetic subjects following its long-term administration. Furthermore, it demonstrates that in addition to its therapeutic value, low carbohydrate diet is safe to use for a longer period of time in obese diabetic subjects.
This is a preview of subscription content, log in to check access.
Access options
Buy single article
Instant access to the full article PDF.
US$ 39.95
Price includes VAT for USA
Subscribe to journal
Immediate online access to all issues from 2019. Subscription will auto renew annually.
US$ 199
This is the net price. Taxes to be calculated in checkout.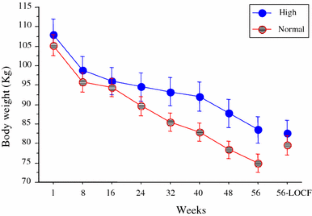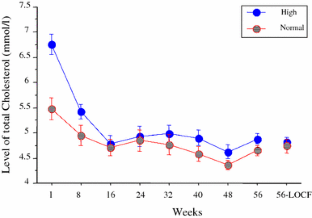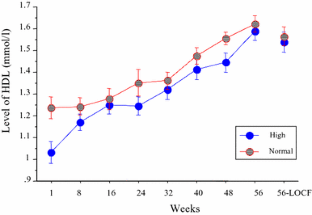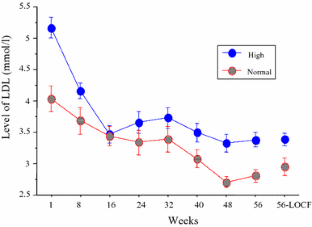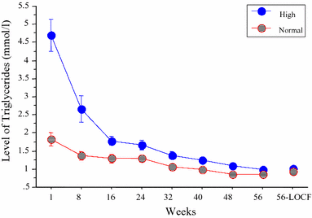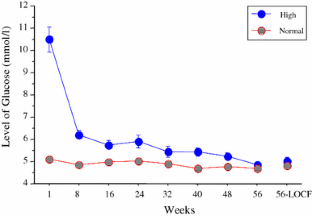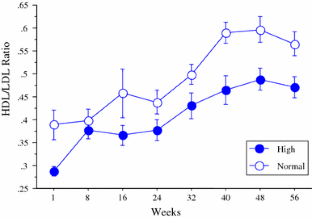 References
1.

Bray GA (1976) The risks and disadvantages of obesity. The obese patient. Saunders, Philadelphia, pp 215–251

2.

Pi-Sunyer FX (1993) Medical hazards of obesity. Ann Intern Med 119: 655–660

3.

Ogden CL, Carroll MD, Curtin LR, McDowell MA, Tabak CJ, Flegal KM (2006) Prevalence of overweight and obesity in the United States, 1999–2004. JAMA 295:1549–1555

4.

Al-Isa AN (2003) Are Kuwaitis getting fatter?. Nutr Health 17(3): 185–197

5.

Al-Isa AN, Thalib L (2006) Body mass index of Kuwaiti children aged 3–9 years: reference percentiles and curves. J R Soc Health 126(1):41–46

6.

National Diabetes Commission (1976) Report of the National Diabetes Commission on Diabetes to the Congress of the United States. Washington, DC, U.S. Govt. Printing Office, (DHEW publ. no. 1:1019)

7.

Colditz GA (1995) The Nurses' Health Study: a cohort of US women followed since 1976. J Am Med Women's Assoc 50:40–44

8.

Harder H, Dinesen B, Astrup A (2004) The effect of a rapid weight loss on lipid profile and glycemic control in obese type 2 diabetic subjects. Int J Obes Relat Metab Disord 28(1): 180–182

9.

Hossain P, Kawar B, Nahas M-El (2007) Obesity and Diabetes in the Developing World -A Growing Challenge. N Engl J Med 356(3): 213–215

10.

Ford ES, Giles W (2003) A comparison of the prevalence of the metabolic syndrome using two proposed definitions. Diabetes Care 26:575–581

11.

Kissebah AH, Freedman DS, Peiris AN (1989) Health risks of obesity. Med Clin North Am; 73:111–138

12.

Bray GA (2004) Medical consequences of obesity. J Clin Endocrinol Metab; 89:2583–2589

13.

Molavi B, Rasouli N, Kern PA (2006) The prevention and treatment of metabolic syndrome and high-risk obesity Curr Opin Cardiol 21:479–485

14.

Knowler WC, Barrett-Connor E, Fowler SE, Hamman RF, Lachin JM, Walker EA, Nathan DM (2002) The Diabetes Prevention Program Research Group: Reduction in the incidence of type 2 diabetes with lifestyle intervention or metformin. N Engl J Med 346:393–403

15.

Tuomilehto J, Lindstrom J, Eriksson JG, Valle TT, Hamalainen H, Ilanne-Parikka P, Keinanen-Kiukaanniemi S, Laasko M, Louheranta A, Rastas M, Salminen V, Uusitupa M (2001) Prevention of type 2 diabetes mellitus by changes in lifestyle among subjects with impaired glucose tolerance. N Engl J Med 344:1343–1350

16.

Dashti HM, Bo-Abbas YY, Mathew TC, Hussein T, Behbehani A, Khoursheed M, Al-Sayer HM, Al-Zaid NS (2003) Ketogenic Diet Modifies the Risk Factors for Heart Disease in Obese Patients. Nutrition 19: 901–902

17.

Dashti HM, Mathew TC, Hussein T, Asfar SK, Behbehani AI, Al-Sayer HM, Al-Zaid NS. (2004) Long term effects of ketogenic diet in obese subjects. Exp Clin Cardiol 9(3): 200–205

18.

Dashti HM, Al-Zaid NS, Mathew TC, Al- Mouzawi M, Talib H, Asfar SK, Behbehani AI. (2006) Long term effects of ketogenic diet in obese subjects with high cholesterol level. Mol Cellular Biochem 286: 1–9

19.

Yancy WS Jr, Olsen MK, Guyton JR, Bakst RP, Westman EC (2004) A low-carbohydrate, ketogenic diet versus a low-fat diet to treat obesity and hyperlipidemia: a randomized, controlled trial. Ann Intern Med 140(10):769–777

20.

Westman EC, Mavropoulos J, Yancy WS, Volek JS (2003) A review of low carbohydrate ketogenic diets. Curr Atheroscler Rep 5(6):476–483

21.

Kwiterovich PO Jr, Vining EP, Pyzik P, Skolasky R Jr, Freeman JM (2003) Effect of a high-fat ketogenic diet on plasma levels of lipids, lipoproteins, and apolipoproteins in children. JAMA 290(7):912–920

22.

Sharman MJ, Kraemer WJ, Love DM, Avery NG, Gomez AL, Scheett TP, Volek JS (2002) A ketogenic diet favorably affects serum biomarkers for cardiovascular disease in normal-weight men. J Nutr 132(7):1879–1885

23.

Lofgren IE, Herron KL, West KL, Zern TL, Patalay M, Koo SI, Fernandez ML (2005) Carbohydrate intake is correlated with biomarkers for coronary heart disease in a population of overweight premenopausal women. J Nutr Biochem 16(4):245–250

24.

Boden G, Sargrad K, Homko C, Mozzoli M, Stein TP (2005) Effect of a low-carbohydrate diet on appetite, blood glucose levels, and insulin resistance in obese patients with type 2 diabetes. Ann Intern Med 142(6):403–411

25.

Ezenwaka CE, Kalloo R (2005) Carbohydrate-induced hypertriglyceridaemia among West Indian diabetic and non-diabetic subjects after ingestion of three local carbohydrate foods. Indian J Med Res 121(1): 23–31

26.

Taubes G (2001) Nutrition: the soft science of dietary fat. Science 291:2536–2545

27.

Zammit VA, Waterman IJ, Topping D, McKay G (2001) Insulin stimulation of hepatic triacylglycerol secretion and the etiology of insulin resistance. J Nutr 131:2074–2077

28.

Veech RL (2004) The therapeutic implications of ketone bodies: the effects of ketone bodies in pathological conditions: ketosis, ketogenic diet, redox states, insulin resistance, and mitochondrial metabolism. Prostaglandins Leukotrienes and Essential Fatty Acids 70:309–319

29.

Rabast U, Vornberger KH, Ehl M (1981) Loss of weight, sodium and water in obese persons consuming a high- or lowcarbohydrate diet. Ann Nutr Metab 25:341–349

30.

Rabast U, Schonborn J, Kasper H (1979) Dietetic treatment of obesity with low and high-carbohydrate diets: comparative studies and clinical results. Int J Obes 3:201–211

31.

Rabast U, Kasper H, Schonborn J (1978) Comparative studies in obese subjects fed carbohydrate-restricted and high carbohydrate 1,000-calorie formula diets. Nutr Metab 22:269–277

32.

Yang MU, Van Italie TB (1976) Composition of weight lost during short-term weight reduction. J Clin Invest 58:722–730

33.

Young CM, Scanlan SS, Im HS, Lutwak L (1971) Effect on body composition and other parameters in obese young men of carbohydrate level of reduction diet. Am J Clin Nutr 24:290–296

34.

Vazquez JA, Adibi SA (1992) Protein sparing during treatment of obesity: ketogenic versus nonketogenic very low calorie diet. Metabolism 41:406–414

35.

Battino M, Ferreiro MS (2004) Ageing and the Mediterranean diet: a review of the role of dietary fats. Public Health Nutr 7(7):953–958

36.

La Vecchia C (2004) Mediterranean diet and cancer. Public Health Nutr (7):965–968

37.

Shahtahmasebi S, Shahtahmasebi S (2004) A case follow-up report: possible health benefits of extra virgin olive oil. Scientific World J 4:853–858

38.

Nordmann AJ, Nordmann A, Briel M, Keller U, Yancy WS Jr, Brehm BJ, Bucher HC (2006) Effects of low-carbohydrate vs low-fat diets on weight loss and cardiovascular risk factors: a meta-analysis of randomized controlled trials. Arch Intern Med 166: 285–293

39.

Malik VS, Hu FB. (2007) Popular weight-loss diets: from evidence to practice. Nat Clin Pract Cardiovasc Med 4(1):34–41

40.

Volek JS, Sharman MJ, Love DM, Avery NG, Gomez AL, Scheett TP, Kraemer WJ (2002) Body composition and hormonal responses to a carbohydrate-restricted diet. Metabolism 51:864–870

41.

Kasper H, Thiel H, Ehl M (1973) Response of body weight to a low carbohydrate, high fat diet in normal and obese subjects. Am J Clin Nutr 26:197–204

42.

Benoit FL, Martin RL, Watten RH (1965) Changes in body composition during weight reduction in obesity. Ann Intern Med 63:604–612

43.

Willi SM, Oexmann MJ, Wright NM, Collop NA, Lyndon L (1998) The effects of a high-protein, low-fat, ketogenic diet on adolescents with morbid obesity: body composition, blood chemistries, and sleep abnormalities. Pediatrics 101:61–67

44.

Volek JS, Gómez AL, Kraemer WJ (2000) Fasting and postprandial lipoprotein responses to a low-carbohydrate diet supplemented with n-3 fatty acids. J Am Coll Nutr 19:383–391

45.

Cutler DL, Gray CG, Park SW, Hickman MG, Bell JM, Kolterman OG (1995) Low-carbohydrate diet alters intracellular glucose metabolism but not overall glucose disposal in exercise-trained subjects. Metabolism 44:1264–1270

46.

Bisschop PH, de Metz J, Ackermans MT, Endert E, Pijl H, Kuipers F, Meijer AJ, Sauerwein HP, Romijn JA (2001) Dietary fat content alters insulin-mediated glucose metabolism in healthy men. Am J Clin Nutr 73:554–559

47.

Bisschop PH, Pereira Arias AM, Ackermans MT, Endert E, Pijl H, Kuipers F, Meijer AJ, Sauerwein HP, Romijn JA (2000) The effects of carbohydrate variation in isocaloric diets on glycogenolysis and gluconeogenesis in healthy men. J Clin Endocrinol Metab 85:1963–1967
Acknowledgment
We would like to thank Mrs. Elizabeth Mathew, Department of Anatomy for expert technical advice and assistance.
About this article
Cite this article
Dashti, H.M., Mathew, T.C., Khadada, M. et al. Beneficial effects of ketogenic diet in obese diabetic subjects. Mol Cell Biochem 302, 249–256 (2007). https://doi.org/10.1007/s11010-007-9448-z
Received:

Accepted:

Published:

Issue Date:
Keywords
Obesity

Blood glucose

Cholesterol

LDL

HDL

Triglycerides

Low-carbohydrate diet

Ketogenic diet