Abstract
The aim of the current study was to elucidate the potential therapeutic effect of Ganoderma lucidum polysaccharide peptide (GL-PP) in rheumatoid arthritis (RA). The effects of GL-PP on cell proliferation and cytokine production were studied in RA synovial fibroblasts (RASF). GL-PP significantly inhibited the proliferation of RASF. Following the incubation with GL-PP, production of interleukin (IL)-6 and monocyte chemoattractant protein (MCP)-1 in RASF were significantly increased as expressed as percentage change from basal values. However, the actual effects were minimal due to the low basal values. When RASF were activated by IL-1β or lipopolysaccharides, IL-8 and MCP-1 production increased many folds. GL-PP significantly suppressed their productions. The inhibitory effects of GL-PP on cytokine production in RASF were at least in part, by inhibiting the nuclear factor-kappa B (NF-κB) transcription pathway. Our results demonstrated that GL-PP had the unique ability to modulate cytokine production in RASF and warrants further investigation into its mechanism of action.
Access options
Buy single article
Instant access to the full article PDF.
US$ 39.95
Tax calculation will be finalised during checkout.
Subscribe to journal
Immediate online access to all issues from 2019. Subscription will auto renew annually.
US$ 119
Tax calculation will be finalised during checkout.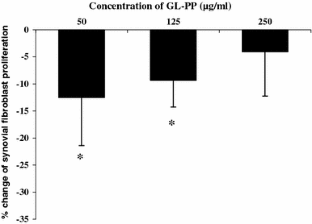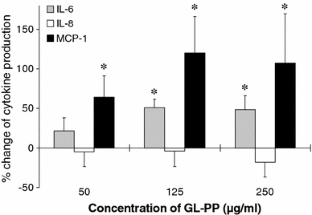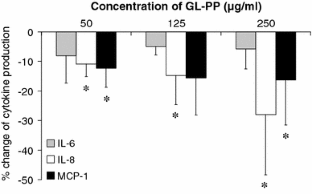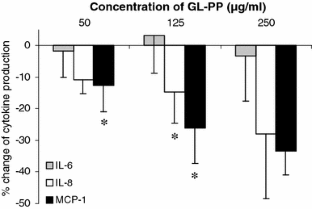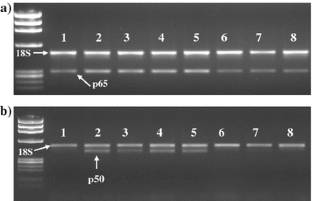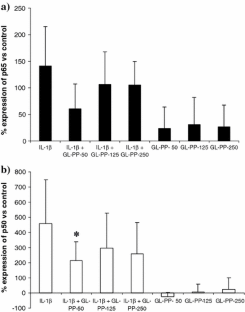 References
1.

Kim SS, Kim YS (1990) Korean mushrooms. Yupoong Pub, Seoul, pp 298–299

2.

Wasser SP, Weis AL (1999) Therapeutic effects of substances occurring in higher Basidiomycetes mushrooms: a modern perspective. Crit Rev Immunol Review 19:65–96

3.

Lakshmi B, Ajith TA, Sheena N, Gunapalan N, Janardhanan KK (2003) Antiperoxidative, anti-inflammatory, and antimutagenic activities of ethanol extract of the mycelium of Ganoderma lucidum occurring in South India. Terato Carcinog Mutagen Suppl 1 1:85–97

4.

Lin ZB (2005) Cellular and molecular mechanisms of immuno-modulation by Ganoderma lucidum. J Pharmacol Sci Review 99:144–153

5.

Wang SY, Hsu ML, Hsu HC, Tzeng CH, Lee SS, Shiao MS (1997) The anti-tumor effect of Ganoderma lucidum is mediated by cytokines released from activated macrophages and T lymphocytes. Int J Cancer 70:699–705

6.

Arnett FC, Edworthy SM, Bloch DA, McShane DJ, Fries JF, Cooper NS (1988) The American Rheumatism Association 1987 revised criteria for the classification of rheumatoid arthritis. Arthritis Rheum 31:315–324

7.

Harigai M, Kitani A, Hara M, Hirose T, Norioka K, Suzuki K et al (1988) Rheumatoid adherent synovial cells produce B cell differentiation factor activity neutralizable by antibody to B cell stimulatory factor-2 interleukin 6. J Rheumatol 15:1616–1622

8.

You YH, Lin ZB (2002) Protective effects of Ganoderma lucidum polysaccharides peptide on injury of macrophages induced by reactive oxygen species. Acta Pharmacol Sin 23:787–791

9.

Gruendker C, Schulz K, Guenthert Andreas R, Emons G (2000) Luteinizing hormone-releasing hormone induces nuclear factor kappaB-activation and inhibits apoptosis in ovarian cancer cells. J Clin Endocrinol Metab 85:3815–3820

10.

Shibuta K, Begum NA, Mori M, Shimoda K, Akiyoshi T, Barnard GF (1997) Reduced expression of the CXC chemokine hIRH/SDF-1alpha mRNA in hepatoma and digestive tract cancer. Int J Cancer 73:656–662

11.

Guerne PA, Zuraw BL, Vaughan JH, Carson DA, Lotz M (1989) Synovium as a source of interleukin 6 in vitro. Contribution to local and systemic manifestations of arthritis. J Clin Invest 83:585–592

12.

Volin MV, Campbell PL, Connors MA, Woodruff DC, Koch AE (2002) The effect of sulfasalazine on rheumatoid arthritic synovial tissue chemokine production. Exp Mol Pathol 73:84–92

13.

Rao JK, Mihaliak K, Kroenke K, Bradley J, Tierney WM, Weinberger M (1999) Use of complementary therapies for arthritis among patients of rheumatologists. Ann Intern Med 131:409–416

14.

Lai NS, Lin RH, Lai RS, Kun UC, Leu SC (2001) Prevention of autoantibody formation and prolonged survival in New Zealand Black/New Zealand White F1 mice with an ancient Chinese herb, Ganoderma tsugae. Lupus 10:461–465

15.

Tasaka K, Mio M, Izushi K, Akagi M, Makino T (1998) Anti-allergic constituents in the culture medium of Ganoderma lucidum. (II). The inhibitory effect of cyclooctasulfur on histamine release. Agents Actions 23:157–160

16.

Kino K, Sone T, Watanabe J, Yamashita A, Tsuboi H, Miyajima H (1991) Immunomodulator, LZ-8, prevents antibody production in mice. Int J Immunopharmacol 13:1109–1115

17.

Tao J, Feng KY (1990) Experimental and clinical studies on inhibitory effect of ganoderma lucidum on platelet aggregation. J Tongji Med Univ 10:240–243

18.

Kim RS, Kim HW, Kim BK (1997) Suppressive effects of Ganoderma lucidum on proliferation of peripheral blood mononuclear cells. Mol Cells 7:52–57

19.

Mauri C, Gray D, Mushtaq N, Londei M (2003) Prevention of arthritis by interleukin 10-producing B cells. J Exp Med 197:489–501

20.

Yssel H, De Waal Malefyt R, Roncarolo MG, Abrams JS, Lahesmaa R, Spits H et al (1992) IL-10 is produced by subsets of human CD4+ T cell clones and peripheral blood T cells. J Immunol 149:2378–2384

21.

Chomarat P, Banchereau J, Miossec P (1995) Differential effects of interleukins 10 and 4 on the production of interleukin-6 by blood and synovium monocytes in rheumatoid arthritis. Arthritis Rheum 38:1046–1054

22.

Schwachula A, Riemann D, Kehlen A, Langner J (1994) Characterization of the immunophenotype and functional properties of fibroblast-like synoviocytes in comparison to skin fibroblasts and umbilical vein endothelial cells. Immunobiology 190:67–92

23.

Brennan FM, Field M, Chu CQ, Feldmann M, Maini RN (1991) Cytokine expression in rheumatoid arthritis. Br J Rheumatol 30 Suppl 1:76–80 Review

24.

Koch AE, Kunkel SL, Strieter RM (1995) Cytokines in rheumatoid arthritis. J Investig Med Review 43:28–38

25.

Gilman SC, Chang J, Zeigler PR, Uhl J, Mochan E (1988) Interleukin-1 activates phospholipase A2 in human synovial cells. Arthritis Rheum 31:126–130

26.

Schumacher RH (1993) Primer on the rheumatic diseases, 10th edn. Arthritis Foundation, Atlanta, GA, pp 1–50

27.

Roshak A, Mochan E, Marshall LA (1996) Suppression of human synovial fibroblast 85 kDa phospholipase A2 by antisense reduces interleukin-1 beta induced prostaglandin E2. J Rheumatol 23:420–427

28.

Gao XX, Wang BX, Fei XF, Zhang J, Gong YJ, Minami M et al (2000) Effects of polysaccharides (F10-c) from mycelium of Ganoderma tsugae on proinflammatory cytokine production by THP-1 cells and human PBMC(II). Acta Pharmacol Sin 21:1186–1192

29.

Georganas C, Liu H, Perlman H, Hoffmann A, Thimmapaya B, Pope RM (2000) Regulation of IL-6 and IL-8 expression in rheumatoid arthritis synovial fibroblasts: the dominant role for NF-kappa B but not C/EBP beta or c-Jun. J immunol 165:7199–7206

30.

Loetscher P, Dewald B, Baggiolini M, Seitz M (1994) Monocyte chemoattractant protein 1 and interleukin 8 production by rheumatoid synoviocytes. Effects of anti-rheumatic drugs. Cytokine 6:162–170
Acknowledgment
This study was supported by University Grants Council of Hong Kong.
About this article
Cite this article
Ho, Y.W., Yeung, J.S.L., Chiu, P.K.Y. et al. Ganoderma lucidum polysaccharide peptide reduced the production of proinflammatory cytokines in activated rheumatoid synovial fibroblast. Mol Cell Biochem 301, 173–179 (2007). https://doi.org/10.1007/s11010-006-9409-y
Received:

Accepted:

Published:

Issue Date:
Keywords
Ganoderma lucidum

Rheumatoid arthritis

Synovial fibroblast

Cytokines

NF-κB

Inflammation