Abstract
In the present paper a family of discrete distributions is introduced through the probability generating function of any discrete distribution (generator). The properties of the family are systematically studied when the generator belongs to well-known families of discrete distributions (power series distributions, Bernoulli mixtures, Panjer family, Phase-type distributions). Applications are also provided in problems arising from the areas of reliability theory and start-up demonstration testing, which highlight the beneficial use of the family in order statistics related models.
Access options
Buy single article
Instant access to the full article PDF.
USD 39.95
Price includes VAT (USA)
Tax calculation will be finalised during checkout.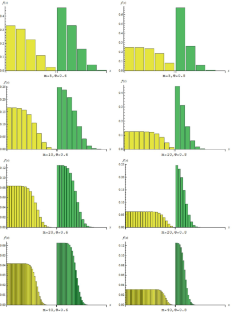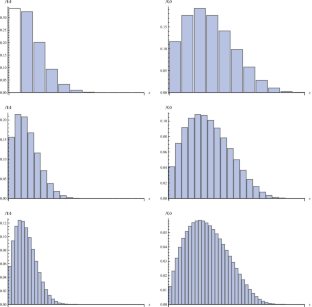 References
Balakrishnan N, Koutras MV (2002) Runs and scans with applications. Wiley, New York

Balakrishnan N, Koutras MV, Milienos FS (2014) Start-up demonstration tests: models, methods and applications, with some unifications. Appl Stoch Model Bus 30:373–413

Boutsikas MV, Koutras MV (2002) Modeling claim exceedances over thresholds. Insurance Math Econom 30:67–83

Boutsikas MV, Koutras MV (2006) On the asymptotic distribution of the discrete scan statistic. J Appl Probab 43:1137–1154

Chakraborty S (2015) Generating discrete analogues of continuous probability distributions-A survey of methods and constructions. J Stat Distrib Appl 2: 6.  https://doi.org/10.1186/s40488-015-0028-6

Dafnis SD, Makri FS, Koutras MV (2021) Generalizations of runs and patterns distributions for sequences of binary trials. Methodol Comput Appl Prob. https://doi.org/10.1007/s11009-020-09810-0

Eisele K-T (2006) Recursions for compound phase distributions. Insurance Math Econom 38:149–156

Eryilmaz S (2010) Start-Up demonstration tests under Markov dependence. Pak J Stat 26:637–647

Eryilmaz S (2011) Joint distribution of run statistics in partially exchangeable processes. Statist Probab Lett 81:163–168

Eryilmaz S, Chakraborty S (2008) On start-up demonstration tests under exchangeability. IEEE Trans Reliab 57:627–632

Eryilmaz S, Devrim Y (2019) Reliability and optimal replacement policy for a k-out-of-n system subject to shocks. Reliab Eng Syst Saf 188:393–7

Eryilmaz S, Kan C (2019) Reliability and optimal replacement policy for an extreme shock model with a change point. Reliab Eng Syst Saf 190:106513

Fu JC, Wu T-L, Lou WW (2012) Continuous, discrete, and conditional scan statistics. J Appl Probab 49:199–209

Glaz J, Pozdnyakov V, Wallenstein S (2009) Scan Statistics: Methods and Applications. Birkhäuser, Boston

Grandell J (1997) Mixed poisson processes. Chapman & Hall, London

Guegan D, Hassani B (2009) A modified Panjer algorithm for operational risk capital calculations J Operational Risk 4:53–72

Hahn GJ, Gage JB (1983) Evaluation of a start-up demonstration test. J Qual Technol 15:103–106

He Q-M (2014) Fundamentals of Matrix-Analytic Methods. Springer, New York

Hess KT, Liewald A, Schmidt KD (2002) An extension of Panjer's recursion. ASTIN Bull 32:283–297

Johnson NL, Kemp AW, Kotz S (2005) Univariate Discrete Distributions. Wiley, New York

Klugman SA, Panjer HH, Willmot GE (2012) Loss Models: From Data to Decisions. Wiley, New York

Koutras MV (1996) On a waiting time distribution in a sequence of Bernoulli trials. Ann Inst Statist Math 48:789–806

Koutras MV, Eryilmaz S (2017) Compound geometric distribution of order k. Methodol Comput Appl Prob 19:377–393

Koutras VM, Koutras MV (2020) Exact distribution of random order statistics and applications in Risk Management. Methodol Comput Appl Prob 22:1539–1558

Koutras VM, Koutras MV, Yalcin F (2016) A simple compound scan statistic useful for modeling insurance and risk management problems. Insurance Math Econom 69:202–209

Koutras MV, Milienos F (2017) A flexible family of transformation cure rate models. Stat Med 36:2559–2575

McNeil AJ, Frey R, Embrechts P (2005) Quantitative risk management: Concepts, techniques and tools. Princeton University Press, New Jersey

Makri FS, Philippou AN, Psillakis ZM (2007) Success run statistics defined on an urn model. Adv Appl Probab 39:991–1019

Makri FS, Psillakis ZM (2011) On success runs of length exceeded a threshold. Methodol Comput Appl Prob 13:269–305

Panjer HH (1981) Recursive evaluation of a family of compound distributions. ASTIN Bull 12:22–26

Philippou AN, Georghiou C, Philippou GN (1983) A generalized geometric distribution and some of its properties. Statist Probab Lett 1:171–175

Puig P, Valero J (2007) Characterization of count data distributions involving additivity and binomial subsampling. Bernoulli 13:544–555

Wiuf, C, Stumph MPH (2006) Binomial Subsampling. Proc. R. Soc. 462:1181–1195

Zhao X, Cai K, Wang X, Song Y (2018) Optimal replacement policies for a shock model with a change point. Comput Ind Eng 118:383–93
Acknowledgements
The authors wish to thank the referees for the thorough reading, useful comments and suggestions.
Funding
Work funded by National Matching Funds 2016-2017 of the Greek Government, and more specifically by the General Secretariat for Research and Technology (GSRT), related to EU project "ISMPH: Inference for a Semi-Markov Process (GA No 329128).
Additional information
Work done while VMK and SDD were postgraduate students at the Department of Statistics and Insurance Science, Greece.
About this article
Cite this article
Koutras, V.M., Koutras, M.V. & Dafnis, S.D. A Family of Induced Distributions. Methodol Comput Appl Probab (2021). https://doi.org/10.1007/s11009-021-09887-1
Received:

Revised:

Accepted:

Published:
Keywords
Bernoulli mixtures

Binomial-type distributions

Panjer family

Phase-type distributions

Power series distributions

reliability

Start-up demonstration testing
Mathematics Subject Classification