We propose a unified approach to the determination of hardness of the materials based on the its estimation of hardness according to the ratio of the load to the size of an indent (area, projection, or volume) and deduce relations for the evaluation of the surface, projection, and volume hardness. We analyze the character of changes in hardness as the load increases by using indenters of various shapes and illustrate the advantages (efficiency and versatility) of the developed numerical methods.
Access options
Buy single article
Instant access to the full article PDF.
US$ 39.95
Tax calculation will be finalised during checkout.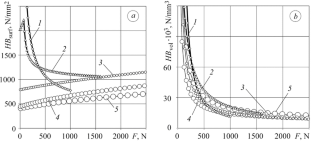 References
1.

B. N. Arzamasov, V. I. Makarova, G. G. Mukhin, et al., Materials Science. A Textbook for Higher Schools [in Russian], Bauman State Technical University, Moscow (2002).

2.

V. I. Bol'shakov, O. Yu. Bereza, and V. I. Kharchenko, Applied Materials Science. A Textbook for Higher Schools [in Ukrainian], Dnipro-VAL, Dnipropetrovs'k (2000).

3.

А. M. Dal'skii, Т. M. Barsukova, L. N. Bukharkin, et al., Technology of Structural Materials. Textbook for Students of Mechanical Engineering Specialties of Higher Schools [in Russian], Mashinostroenie, Moscow (2004).

4.

H. O'Neill, Hardness Measurement of Metals and Alloys, Chapman & Hall, London (1967).

5.

Testing of Metallic Materials – Universal Hardness Test. Part 1: Test Method: DIN 50359-1 (1997).

6.

Metallic Materials. Instrumented Indentation Test for Hardness and Materials Parameters. Part 1: Test Method: ISO 14577, ISO Central Secretariat, Switzerland (2002).

7.

S. I. Bulychev and V. P. Alekhin, Testing of Materials by Continuous Indentation [in Russian], Mashinostroenie, Moscow (1990).

8.

W. C. Oliver and G. M. Pharr, "An improved technique for determining hardness and elastic modulus using load and displacement sensing indentation experiments," J. Mater. Res., 7, No. 6, 1564–1583 (1992).

9.

V. I. Moshchenok, I. E. Kukhareva, and A. V. Moshchenok, Method for Determination of Hardness [in Ukrainian], Patent of Ukraine No. 53640, MPK G01N 3/00, G01N 3/40, Publ. on 11.10.2010; Bull. No. 19.

10.

K. Sangwal, "Review: Indentation size effect, indentation cracks and microhardness measurement of brittle crystalline solids—some basic concepts and trends," Cryst. Res. Technol., 44, No. 10, 1019–1037 (2009).

11.

O. Sahin, O. Uzun, U. Kolemen, et al., "Indentation size effect and microhardness study of β-Sn single crystals," Chin. Phys. Lett., 22, No. 12, 3138–3140 (2005).
Additional information
Translated from Fizyko-Khimichna Mekhanika Materialiv, Vol. 49, No. 2, pp. 65–68, March–April, 2013.
About this article
Cite this article
Moshchenok, V.I. Verification of the Methods Aimed at the Evaluation of Hardness of the Materials. Mater Sci 49, 206–210 (2013). https://doi.org/10.1007/s11003-013-9600-8
Received:

Published:

Issue Date:
Keywords