Abstract
Deceptive advertising, or advertising that intends to mislead consumers by false claims or incomplete disclosure, is ubiquitous in the marketplace. Though prior research has shown that consumers generally view companies' deceptive communication as unethical and react to it negatively, anecdotal evidence suggests that some consumers are more accepting of such misleading tactics than others. Delving deeper into this phenomenon, this research examines the role of self-construal on consumers' responses toward deceptive advertising. Three studies provide converging evidence that interdependent (vs. independent) consumers are more tolerant of deceptive advertising, which is mediated by their attribution styles. Moreover, we further demonstrate the self-construal effect on lie acceptability decreases as the firm becomes smaller, when it is easier for consumers to pinpoint who should be responsible for the misconduct and thus are more likely to make internal attribution.
Access options
Buy single article
Instant access to the full article PDF.
USD 39.95
Price includes VAT (USA)
Tax calculation will be finalised during checkout.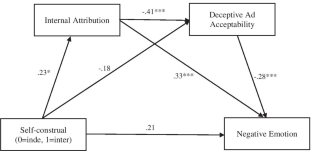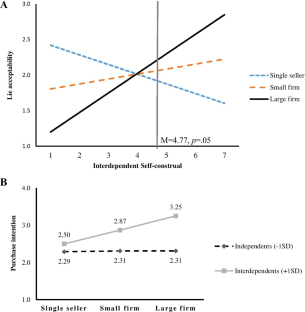 Notes
1.

Following Spiller et al. (2013), we further conducted a floodlight analysis using the Johnson-Neyman technique. This analysis revealed a significant negative effect of the dishonest ad on lie acceptability for those who scored 5.19 (B=−1.01, SE=.52, p=.05) or below on the self-construal scale but not for those who scored above 5.19 on the interdependent self-construal. These results confirm our expectations by demonstrating that participants with low interdependent self-construal were less likely to accept a firm's dishonest ad.

2.

We conducted an additional study to rule out alternative mechanisms (e.g., perceived controllability, perceived intention, sense of entitlement) as well as to examine the effects of other cultural dimensions (e.g., long-term orientation, power-distance, uncertainty avoidance, masculinity) on lie acceptability (see Appendix A in MDA for more detail).

3.

Please see Appendix C in MDA for more detail.
References
Alnuaimi, O. A., Robert, L. P., & Maruping, L. M. (2010). Team size, dispersion, and social loafing in technology-supported teams: A perspective on the theory of moral disengagement. Journal of Management Information Systems, 27(1), 203–230.

Aune, R. K., & Waters, L. L. (1994). Cultural differences in deception: Motivations to deceive in Samoans and North Americans. International Journal of Intercultural Relations, 18(2), 159–172.

Baum, J. R., & Wally, S. (2003). Strategic decision speed and firm performance. Strategic Management Journal, 24(11), 1107–1129.

Brewer, M. B., & Gardner, W. (1996). Who is this "We"? Levels of collective identity and self representations. Journal of Personality and Social Psychology, 71(1), 83–93.

Chen, C. Y. (2009). Who I am and how I think: The impact of self-construal on the roles of internal and external reference prices in price evaluations. Journal of Consumer Psychology, 19(3), 416–426.

Choi, I., Nisbett, R. E., & Norenzayan, A. (1999). Causal attribution across cultures: Variation and universality. Psychological Bulletin, 125(1), 47–63.

Cojuharenco, I., Shteynberg, G., Gelfand, M., & Schminke, M. (2012). Self-construal and unethical behavior. Journal of Business Ethics, 109(4), 447–461.

Darke, P. R., & Ritchie, R. J. B. (2007). The defensive consumer: Advertising deception, defensive processing, and distrust. Journal of Marketing Research, 44(1), 114–127.

DePaulo, B. M., Kashy, D. A., Kirkendol, S. E., Wyer, M. M., & Epstein, J. A. (1996). Lying in everyday life. Journal of Personality and Social Psychology, 70(5), 979–995.

Dunbar, N. E., Gangi, K., Coveleski, S., Adams, A., Bernhold, Q., & Giles, H. (2016). When is it acceptable to lie? Interpersonal and intergroup perspectives on deception. Communication Studies, 67(2), 129–146.

Eberly, M. B., Holley, E. C., Johnson, M. D., & Mitchell, T. R. (2011). Beyond internal and external: A dyadic theory of relational attributions. Academy of Management Review, 36(4), 731–753.

Feldman, R. S., & Rosen, F. P. (1978). Diffusion of responsibility in crime, punishment, and other adversity. Law and Human Behavior, 2(4), 313–322.

Feng, C., Deshpande, G., Liu, C., Gu, R., Luo, Y. J., & Krueger, F. (2016). Diffusion of responsibility attenuates altruistic punishment: A functional magnetic resonance imaging effective connectivity study. Human Brain Mapping, 37(2), 663–677.

Fonseca, A., Brauer, M., Moisuc, A., & Nugier, A. (2013). Cognitive load causes people to react ineffectively to others' norm transgressions. Journal of Applied Social Psychology, 43(7), 1518–1527.

Gaudine, A., & Thorne, L. (2001). Emotion and ethical decision-making in organizations. Journal of Business Ethics, 31, 175–187.

Gollwitzer, M., & Bücklein, K. (2007). Are "we" more punitive than "me"? Self-construal styles, justice-related attitudes, and punitive judgments. Social Justice Research, 20(4), 457–478.

Hayes, A. F. (2013). Methodology in the social sciences. Introduction to mediation, moderation, and conditional process analysis: A regression-based approach. Guilford Press.

Hook, J. N., Worthington, E. L., & Utsey, S. O. (2009). Collectivism, forgiveness, and social harmony. The Counseling Psychologist, 37(6), 821–847.

Hoyt, C. L., & Price, T. L. (2013). Ethical decision making and leadership: Merging social role and self-construal perspectives. Journal of Business Ethics, 126(4), 531–539.

Kühnen, U., Hannover, B., & Schubert, B. (2001). The semantic-procedural interface model of the self: The role of self-knowledge for context-dependent versus context-independent modes of thinking. Journal of Personality and Social Psychology, 80(3), 397–409.

Lalwani, A. K., Shavitt, S., & Johnson, T. (2006). What is the relation between cultural orientation and socially desirable responding?. Journal of Personality and Social Psychology, 90(1), 165–178.

Lapinski, M. K., & Levine, T. R. (2000). Culture and information manipulation theory: The effects of self-construal and locus of benefit on information manipulation. Communication Studies, 51(1), 55–73.

Lammers, J., Stapel, D. A., & Galinsky, A. D. (2010). Power increases hypocrisy: Moralizing in reasoning, immorality in behavior. Psychological Science, 21(5), 737–744.

Levine, T. R., Lapinski, M. K., Banas, J., Wong, N. C. H., Hu, A. D. S., Baum, K. L., & Anders, L. N. (2002). Self-construal, self and other benefit, and the generation of deceptive messages. Journal of Intercultural Communication Research, 31(1), 29–47.

Levine, T. R., McCornack, S. A., & Avery, P. B. (1992). Sex differences in emotional reactions to discovered deception. Communication Quarterly, 40(3), 289–296.

Markus, H. R., & Kitayama, S. (1991). Culture and the self: Implications for cognition, emotion, and motivation. Psychological Review, 98(2), 224–253.

Mealy, M., Stephan, W., & Urrutia, C. (2007). The acceptability of lies: A comparison of Ecuadorians and Euro-Americans. International Journal of Intercultural Relations, 31(6), 689–702.

Menon, T., Morris, M. W., Chiu, C. Y., & Hong, Y. Y. (1999). Culture and the construal of agency: Attribution to individual versus group dispositions. Journal of Personality and Social Psychology, 76(5), 701–717.

Morris, M. W., & Peng, K. (1994). Culture and cause: American and Chinese attributions for social and physical events. Journal of Personality and Social Psychology, 67(6), 949–971.

Oliveira, C. M., & Levine, T. R. (2008). Lie acceptability: A construct and measure. Communication Research Reports, 25(4), 282–288.

Paharia, N., Keinan, A., Avery, J., & Schor, J. B. (2011). The underdog effect: The marketing of disadvantage and determination through brand biography. Journal of Consumer Research, 37(5), 775–790.

Seiter, J. S., Bruschke, J., & Bai, C. (2002). The acceptability of deception as a function of perceivers' culture, deceiver's intention, and deceiver-deceived relationship. Western Journal of Communication, 66(2), 158–180.

Singelis, T. M. (1994). The measurement of independent and interdependent self-construal. Personality and Social Psychology Bulletin, 20(5), 580–591.

Sinha, J., & Lu, F. C. (2016). "I" value justice, but "we" value relationships: Self-construal effects on post-transgression consumer forgiveness. Journal of Consumer Psychology, 26(2), 265–274.

Spiller, S. A., Fitzsimons, G. J., Lynch, J. G., & McClelland, G. H. (2013). Spotlights, floodlights, and the magic number zero: Simple effects tests in moderated regression. Journal of Marketing Research, 50(2), 277–288.

Tipton, M. M., Bharadwaj, S. G., & Robertson, D. C. (2009). Regulatory exposure of deceptive marketing and its impact on firm value. Journal of Marketing, 73(6), 227–243.

Udayasankar, K. (2008). Corporate social responsibility and firm size. Journal of Business Ethics, 83(2), 167–175.

Valdesolo, P., & DeSteno, D. (2007). Social groups and the flexibility of virtue. Psychological Science, 18(8), 689–690.

Vincent, L. C., Emich, K. J., & Goncalo, J. A. (2013). Stretching the moral gray zone: Positive affect, moral disengagement, and dishonesty. Psychological Science, 24(4), 595–599.

Wuerthele, M. (2016). Corporate culture, haste reportedly at core of Samsung mishandling of Note 7 situation. Retrieved from https://appleinsider.com/articles/16/10/12/corporate-culture-haste-reportedly-at-core-of-samsung-mishandling-of-note-7-situation. Accessed 5 July 2020.
Funding
This research was supported by a Hong Kong SAR General Research Fund (HKBU12501617) awarded to the first author, the Start-up Research Fund awarded by Southwestern University of Finance and Economics, and Fundamental Research Funds for the Central Universities (#JBK2001068; #JBK2107164) to the second author.
Ethics declarations
Conflict of interest
The authors declare no competing interests.
Additional information
Publisher's note
Springer Nature remains neutral with regard to jurisdictional claims in published maps and institutional affiliations.
Sohyun Bae, Xiaoyan Liu and Sharon Ng contributed equally to this paper.
Supplementary Information
Below is the link to the electronic supplementary material.
About this article
Cite this article
Bae, S., Liu, X. & Ng, S. We are more tolerant than I: self-construal and consumer responses toward deceptive advertising. Mark Lett (2021). https://doi.org/10.1007/s11002-021-09593-5
Keywords
Deceptive advertising

Lie acceptability

Self-construal

Causal attribution

Firm size