Abstract
The appearance of songs including featured artists on Billboard's Hot 100 music charts has increased exponentially in the past two decades. This particular type of creative collaboration involves one artist integrating another artist's contribution, either instrumentally or vocally, into their work and publicizing it with a "featuring" credit. According to broad literature in sociology on categorical boundaries, artists who deviate from existing genres are expected to be penalized for violating collective expectations and norms. We find songs featuring other artists actually have a greater likelihood of making it into the top 10 than songs not featuring other artists. Additionally, consistent with theorizing about congruency in the co-branding literature, we observe that the greater the difference (cultural distance) between the genres of the artists involved, the more likely the song is to reach the top of the charts. We argue that by combining the expertise of specialists in each genre, as well as comingling audiences while still maintaining each collaborator's original positioning, artists who feature artists from other genres are able to produce more successful songs.
Access options
Buy single article
Instant access to the full article PDF.
US$ 39.95
Tax calculation will be finalised during checkout.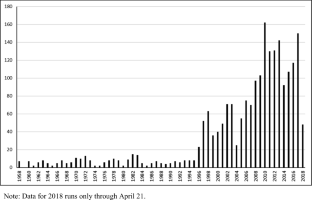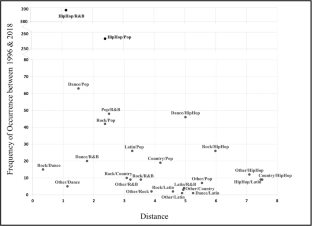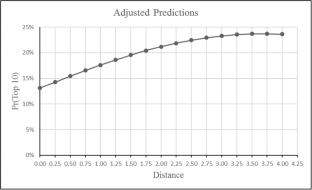 Notes
1.

As of February 2017, Lil Wayne had accumulated the most Billboard Hot 100 appearances among solo artists, appearing 86 times as a featured artist, and 47 times alone or featuring another artist. Drake had appeared 50 times as a featured artist and 82 times alone or featuring another artist. Of course, some artists' appearances are more skewed; Ray Charles appeared on the charts 74 times, but only two times as a featured artist. In contrast, 31 of T-Pain's 46 appearances on the Hot 100 have been as a featured artist.

2.

On iTunes, hip-hop/rap form a single genre as do R&B/soul.

3.

We report the linear components for simplicity; note the curvatures are as expected.
References
Askin, N., & Mauskapf, M. (2017). What makes popular culture popular? Product features and optimal differentiation in music. American Sociological Review, 82(5), 910–944.

Bear, J. B., & Woolley, A. W. (2011). The role of gender in team collaboration and performance. Interdisciplinary Science Reviews, 36(2), 146–153.

Bhattacharjee, S., Gopal, R. D., Lertwachara, K., Marsden, J. R., & Telang, R. (2007). The effect of digital sharing technologies on music markets: a survival analysis of albums on ranking charts. Management Science, 53(9), 1359–1374.

Bourdieu, P. (1993). The Field of Cultural Production: Essays on Art and Literature. Cambridge, UK: Polity Press.

Bradlow, E. T., & Fader, P. S. (2001). A bayesian lifetime model for the "Hot 100" Billboard songs. Journal of the American Statistical Association, 96(454), 368–381.

Crandall, D., Cosley, D., Huttenlocher, D., Kleinberg, J., Suri, S. (2008). Feedback effects between similarity and social influence in online communities. Proceedings of the 14th ACM SIGKDD international conference on knowledge discovery and data mining, KDD '08 (pp. 160–168). New York: ACM.

Desai, K. K., & Keller, K. L. (2002). The effects of ingredient branding strategies on host brand extendibility. Journal of Marketing, 66, 73–96.

DiMaggio, P. (1987). Classification in art. American Sociological Review, 52(4), 440–455.

Fernandes, C.R., Polzer, J.T. (2015). Diversity in groups. In Scott, R., Kosslyn, S. (eds) Emerging trends in the social and behavioral sciences. New York: John Wiley & Sons.

Goldberg, A., Hannan, M. T., & Kovács, B. (2016). What does it mean to span cultural boundaries? Variety and atypicality in cultural consumption. American Sociological Review, 81(2), 215–241.

Haampland, O. (2017). Power laws and market shares: cumulative advantage and the Billboard Hot 100. Journal of New Music Research, 46(4), 356–380.

Hannan, M. T. (2010). Partiality of memberships in categories and audiences. American Review of Sociology, 36, 159–181.

Hannan, M. T., Pólos, L., & Carroll, G. R. (2007). Logics of organization theory: audiences, codes, and ecologies. Princeton: Princeton University Press.

Hanneman, R.A., Riddle, M. (2005). Introduction to social network methods (online at http://faculty.ucr.edu/~hanneman/nettext). Accessed 28 Jan 2018.

Hesbacher, P., Anderson, B., Snyderman, P., & Koppel, R. (1982). Record world and billboard charts compared: singles hits, 1970–1979. Popular Music and Society, 8, 101–112.

Hülsheger, U. R., Anderson, N., & Salgado, J. F. (2009). Team-level predictors of innovation at work: a comprehensive meta-analysis spanning three decades of research. Journal of Applied Psychology, 94(5), 1128–1145.

Kovács, B., & Hannan, M. T. (2015). The space of categories and the consequences of category spanning. Sociological Science, 2, 252–286.

Lanseng, E. J., & Olsen, L. E. (2012). Brand alliances: the role of brand concept consistency. European Journal of Marketing, 46(9), 1108–1126.

Lena, J. C., & Peterson, R. A. (2008). Classification as culture: types and trajectories of music genres. American Sociological Review, 73(5), 697–718.

Mattsson, J. T., Peltoniemi, M., & Parvinne, P. M. T. (2010). Genre-deviating artist entry: the role of authenticity and fuzziness. Management Decision, 48(9), 1355–1364.

Molanphy, C. (2015). Feat. don't fail me now: the rise of the featured rapper in pop music. Slate.com, Culturebox, Arts, Entertainment and More. Published July, 31, 2015 at http://www.slate.com/articles/arts/culturebox/2015/07/the_history_of_featured_rappers_and_other_featured_artists_in_pop_songs.html

Murphy, G. L. (1988). Comprehending complex concepts. Cognitive Science, 12(4), 529–562.

Murray, F. (2010). The oncomouse that roared: hybrid exchange strategies as a source of productive tension at the boundary of overlapping institutions. American Journal of Sociology, 116(2), 341–388.

Negro, G., Hannan, M. T., & Rao, H. (2011). Category reinterpretation and defection: modernism and tradition in Italian winemaking. Organization Science, 22(6), 1449–1463.

Negus, K. (1998). Cultural production and the corporation: musical genres and the strategic management of creativity in the US recording industry. Media, Culture and Society, 20(3), 359–379.

Newmeyer, C.E., Venkatesh, R., Ruth, J.A., Chatterjee, R. (2018). A typology of brand alliances and consumer awareness of brand alliance integration. Marketing Letters, 29(3), 275–289.

Østergaard, C. R., Timmermans, B., & Kristinsson, K. (2011). Does a different view create something new? The effect of employee diversity on innovation. Research Policy, 40, 500–509.

Park, C. W., Jun, S. Y., & Shocker, A. D. (1996). Composite branding alliances: an investigation of extension and feedback effects. Journal of Marketing Research, 18(2), 453–466.

Peterson, R. A. (1992). Understanding audience segmentation: from elite and mass to omnivore and univore. Poetics, 21, 243–258.

Rao, A. R., & Ruekert, R. W. (1994). Brand alliances as signals of product quality. Sloan Management Review, 36(2), 87–89.

Rose, T. (1994). Black noise: rap music and black culture in contemporary America. Hanover: University Press of New England.

Rossi, P. (2014). Even the rich can make themselves poor: a critical examination of the use of IV methods in marketing. Marketing Science, 33(5), 655–672.

Shepard, R.N. (1987). Toward a Universal Law of Generalization for Psychological Science. Science, 237(4820), 1317–1323.

van Venrooij, A. (2009). The aesthetic discourse space of popular music: 1985-86 and 2004-05. Poetics, 37, 315–332.

Walchli, S. B. (2007). The effects of between-partner congruity on consumer evaluation of co-branded products. Psychology and Marketing, 24(11), 947–973.

Ward, M. K., Goodman, J. K., & Irwin, J. R. (2014). The same old song: the power of familiarity in music choice. Marketing Letters, 25, 1–11.

Washburn, J. H., Till, B. D., & Priluck, R. (2000). Co-branding: brand equity and trial effects. Journal of Consumer Marketing, 17(7), 591–604.

Wernerfelt, B. (1988). Umbrella branding as a signal of new product quality: an example of signalling by posting a bond. The Rand Journal of Economics, 19(3), 458–466.

Wooldridge, J.M. (2010). Econometric analysis of cross section and panel data. 2nd edn. Cambridge, MA: MIT Press.
Additional information
Publisher's Note
Springer Nature remains neutral with regard to jurisdictional claims in published maps and institutional affiliations.
Andrea Ordanini is a BNP Paribas Professor of Marketing and Service Analytics at Bocconi University. Joseph C. Nunes is a holder of the Joseph A. DeBell Endowed Professorship in Business Administration and Professor of Marketing at University of Southern California. Anastasia Nanni is Ph.D. student in Marketing at Bocconi University.
About this article
Cite this article
Ordanini, A., Nunes, J.C. & Nanni, A. The featuring phenomenon in music: how combining artists of different genres increases a song's popularity. Mark Lett 29, 485–499 (2018). https://doi.org/10.1007/s11002-018-9476-3
Keywords
Music

Genre

Category boundaries

Hot 100

Featuring

Artist

Co-branding