Abstract
Buying impulsiveness is frequently triggered by point-of-sale information. In order to impact consumer behavior, this information must be visually noticed. In this study, researchers propose that consumers' level of buying impulsiveness impacts their visual attention to point-of-sale information (i.e., signs, displays). Specifically, individuals scoring high on the buying impulsiveness scale (BIS) fixate less on point-of-sale information. This was tested in two experiments where participants' task was to rate their purchase likelihood for ornamental plants. Both experiments demonstrate that consumers with high BIS fixate less on in-store signs but more on displays than low BIS consumers. High BIS participants' visual attention to informational signs positively impacts their purchasing behavior while their visual attention to the displays does not. Theoretical contributions to consumer behavior literature and implications for retail marketing efforts are discussed.
Access options
Buy single article
Instant access to the full article PDF.
USD 39.95
Price excludes VAT (USA)
Tax calculation will be finalised during checkout.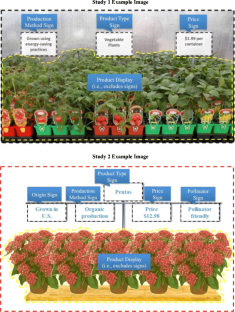 Notes
All experimental procedures and processes were approved by the research institution's IRB.
References
Applebaum, W. (1951). Studying consumer behavior in retail stores. Journal of Marketing, 16, 172–178.

Behe, B. K., Fernandez, R. T., Huddleston, P. T., Getter, K. L., Jones, A. M., & Minahan, S. (2013a). Practical field use of eye tracking for consumer research in the retail environment. HortTechnology, 23(4), 517–524.

Behe, B. K., Campbell, B. L., Hall, C. R., Khachatryan, H., Dennis, J. H., & Yue, C. (2013b). Consumer preferences for local and sustainable plant production characteristics. Hortscience, 48(2), 209–215.

Büttner, O. B., Florack, A., Leder, H., Paul, M. A., Serfas, B. G., & Schulz, A. M. (2014). Hard to ignore: impulsive buyers show an attentional bias in shopping situations. Social Psychological and Personality Science, 5(3), 343–351.

Clover, V. T. (1950). Relative importance of impulse buying in retail stores. Journal of Marketing, 25(1), 66–70.

Field, M., & Eastwood, B. (2005). Experimental manipulation of attentional bias increases the motivation to drink alcohol. Psychopharmacology, 183(3), 350–357.

Goldenson, R. M. (1984). Longman dictionary of psychology and psychiatry. New York: Longman.

Hausman, A. (2000). A multi-method investigation of consumer motivations in impulse buying behavior. Journal of Consumer Marketing, 17(5), 403–426.

Hubrechts, L. & Koktürk, B. (2012). Effects of visual merchandising on young consumers' impulse buying behavior. Dissertation, Halmstad University.

Kalla, S. M., & Arora, A. P. (2011). Impulse buying: a literature review. Global Business Review, 12(1), 145–157.

Khachatryan, H., Rihn, A., Campbell, B., Yue, C., Hall, C., & Behe, B. (2017). Visual attention to eco-labels predicts consumer preferences for pollinator friendly plants. Sustainability, 9(10), 1743.

Lee, J., & Ahn, J. (2012). Attention to banner ads and their effectiveness: an eye-tracking approach. International Journal of Electronic Commerce, 17(1), 119–137.

Liang, G., & Meng, X. (2008). Consumer knowledge and its consequences: an international comparison. International Journal of Consumer Studies, 32(3), 260–268.

Long, S., & Freese, J. (2006). Regression models for categorical dependent variables using Stata. College Station: Stata Press.

Mogelonsky, M. (1998). Keep candy in the aisles. American Demographics, 20(1), 32.

Nanda, A. (2015). Analysing multiple dimensions of impulse buying. MERC Global's International Journal of Management, 3(3), 105–115.

Nordfält, J., & Lange, F. (2013). In-store demonstrations as a promotion tool. Journal of Retailing and Consumer Services, 20, 20–25.

Pennings, M. C., Striano, T., & Oliverio, S. (2014). A picture tells a thousand words: impact of an educational nutrition booklet on nutrition label gazing. Marketing Letters, 25(4), 355–360.

Pieters, R., Warlop, L., & Wedel, M. (2002). Breaking through the clutter: benefits of advertisment originality and familiarity for brand attention and memory. Management Science, 48(6), 765–781.

Pieters, R., Wedel, M., & Batra, R. (2010). The stopping power of advertising: measures and effects of visual complexity. Journal of Marketing, 74(5), 48–60.

Piron, F. (1991). Defining impulse purchasing. Advances in Consumer Research, 18, 509–514.

Punj, G. (2011). Impulse buying and variety seeking: similarities and differences. Journal of Business Research, 64(7), 745–748.

Rihn, A., Khachatryan, H., Campbell, B., Hall, C., & Behe, B. (2016). Consumer preferences for organic production methods and origin promotions on ornamental plants: evidence from eye tracking experiments. Agricultural Economics, 47(6), 599–608.

Rook, D. W., & Fisher, R. J. (1995). Normative influences on impulsive buying behavior. Journal of Consumer Research, 22, 305–313.

Rostocks, L. (2003). Tapping into the shopper impulse. Canadian Grocer, 117(8).

Serfas, B. G., Büttner, O. B., & Florack, A. (2014). Eyes wide shopped: shopping situations trigger arousal in impulsive buyers. PLoS One, 9(12), 1–9.

Shi, S. W., Wedel, M., & Pieters, F. G. M. (2013). Information acquisition during online decision making: a model-based exploration using eye-tracking data. Management Science, 59(5), 1009–1026.

Ståhlberg, M., & Maila, V. (Eds.). (2010). Shopper marketing: how to increase purchase decisions at the point of sale. Philadelphia: Kogan Page Publishers.

Wedel, M., & Pieters, R. (2008). Eye tracking for visual marketing. Foundations and Trends in Marketing, 1(4), 231–320.

Wolman, B. (1973). Dictionary of behavioral science. New York: Van Nostrand Reinhold Company.
Funding
This research was supported by the Specialty Crop Block Grant Program of the Florida Department of Agricultural and Consumer Services (Contract Number 020707) and Federal-State Marketing Improvement Program (Contract Number 02085) of the Agricultural Marketing Service, U.S. Department of Agriculture.
About this article
Cite this article
Khachatryan, H., Rihn, A., Behe, B. et al. Visual attention, buying impulsiveness, and consumer behavior. Mark Lett 29, 23–35 (2018). https://doi.org/10.1007/s11002-018-9446-9
Published:

Issue Date:

DOI: https://doi.org/10.1007/s11002-018-9446-9
Keywords
Eye tracking

In-store signs

Point-of-sale

Product displays