Abstract
This article examines how salient traces left by previous owners on used goods influence product evaluations. Based on the concept of psychological ownership, we propose the ownership distance effect in the context of buying used goods. We argue that when there are salient traces left by previous owners on a used good, it will widen the ownership distance between the potential buyers and the product. As a consequence, buyers will tend to evaluate the product less positively. Four experimental studies were conducted, and the results support this prediction. Buyers preferred used goods with salient traces left by a previous owner less (studies 1 and 2) due to the ownership distance effect. In addition, perceived psychological ownership mediates the ownership distance effect (studies 2 and 4). However, this negative effect decreased when specific situations (e.g., free housecleaning service) lessened the ownership distance, or when people believed that a previous owner's trace would benefit them in obtaining their consumption goal (studies 3 and 4). The analysis of actual transactions from eBay.com also confirms this effect (study 5). We conclude with a discussion of the substantive theoretical and managerial implications of this research.
Access options
Buy single article
Instant access to the full article PDF.
USD 39.95
Price excludes VAT (USA)
Tax calculation will be finalised during checkout.
References
Argo, J. J., Dahl, D. W., & Morales, A. C. (2006). Consumer contamination: how consumers react to products touched by others. Journal of Marketing, 70(2), 81–94.

Argo, J. J., Dahl, D. W., & Morales, A. C. (2008). Positive consumer contagion: responses to attractive others in a retail context. Journal of Marketing Research, 45(6), 690–701.

Arora, N., Neslin, S., & Sajeesh, S. (2008). Putting one-to-one marketing to work: personalization, customization, and choice. Marketing Letters, 19(3/4), 305–321.

Bagozzi, R. P., & Dholakia, U. (1999). Goal setting and goal striving in consumer behavior. Journal of Marketing, 63, 19–32.

Belk, R. W. (1995). Collecting as luxury consumption: effects on individuals and households. Journal of Economic Psychology, 16(3), 477–490.

Belk, R. W., Sherry, J. F., & Wallendorf, M. (1988). A naturalistic inquiry into buyer and seller behavior at a swap meet. Journal of Consumer Research, 14(4), 449–470.

Brough, A. R., & Isaac, M. S. (2012). Finding a home for products we love: how buyer usage intent affects the pricing of used goods. Journal of Marketing, 76(4), 78–91.

Dahl, D. W., & Hoeffler, S. (2004). Visualizing the self: exploring the potential benefits and drawbacks for new product evaluation. Journal of Product Innovation Management, 21(4), 259–267.

Doorn, J. V., & Hoekstra, J. C. (2013). Customization of online advertising: the role of intrusiveness. Marketing Letters, 24(4), 339–351.

Florack, A., Kleber, J., Busch, R., & Stöhr, D. (2014). Detaching the ties of ownership: the effects of hand washing on the exchange of endowed products. Journal of Consumer Psychology, 24(2), 284–289.

Gabbott, M. (1991). The role of product cues in assessing risk in second-hand markets. European Journal of Marketing, 25(9), 38–50.

Hoorens, V., & Todorova, E. (1988). The name letter effect: attachment to self or primacy of own name writing? European Journal of Social Psychology, 18(4), 365–368.

Kim, J., & Kim, J. (2016). The influence of hedonic versus utilitarian consumption situations on the compromise effect. Marketing Letters, 27(2), 382–401.

Kim, J., Rao, R., Kim, K. H., & Rao, A. (2011). More or less: a model and empirical evidence on preferences for under and over-payment in trade-in transactions. Journal of Marketing Research, 48(1), 157–171.

Knetsch, J. L. (1989). The endowment effect and evidence of nonreversible indifference curves. The American Economic Review, 79(5), 1277–1284.

Lastovicka, J., & Fernandez, K. (2005). Three paths to disposition: the movement of meaningful possessions to strangers. Journal of Consumer Research, 31(4), 813–823.

Morales, A. C., & Fitzsimons, G. J. (2007). Product contagion: changing consumer evaluations through physical contact with "disgusting" products. Journal of Marketing Research, 44(2), 272–283.

Newman, G. E., Diesendruck, G., & Bloom, P. (2011). Celebrity contagion and the value of objects. Journal of Consumer Research, 38(2), 215–228.

Nuttin, J. M. (1987). Affective consequences of mere ownership: the name letter effect in twelve European languages. European Journal of Social Psychology, 17(4), 381–402.

Peck, J., & Shu, S. B. (2009). The effect of mere touch on perceived ownership. Journal of Consumer Research, 36(3), 434–447.

Pierce, J. L., Kostova, T., & Dirks, K. T. (2001). Toward a theory of psychological ownership in organizations. Academy of Management Review, 26(2), 298–310.

Preacher, K. J., & Hayes, A. F. (2008). Asymptotic and resampling strategies for assessing and comparing indirect effects in multiple mediator models. Behavior Research Methods, 40(3), 879–891.

Rozin, P., Millman, L., & Nemeroff, C. (1986). Operation of the laws of sympathetic magic in disgust and other domains. Journal of Personality and Social Psychology, 50(4), 703–712.

Shiv, B., & Huber, J. (2000). The impact of anticipating satisfaction on consumer choice. Journal of Consumer Research, 27(2), 202–216.

Shu, S. B., & Peck, J. (2011). Psychological ownership and affective reaction: emotional attachment process variables and the endowment effect. Journal of Consumer Psychology, 21(4), 439–452.

Trope, Y., & Liberman, N. (2010). Construal-level theory of psychological distance. Psychological Review, 117(2), 440–463.

Yin, S., Ray, S., Gurnani, H., & Animesh, A. (2010). Durable products with multiple used goods markets: product upgrade and retail pricing implications. Marketing Science, 29(3), 540–560.

Zervas G., Proserpio D., & Byers, J. W. (2017). The rise of the sharing economy: estimating the impact of Airbnb on the hotel industry. Journal of Marketing Research Forthcoming.
Acknowledgments
This work was supported by the National Research Foundation of Korea Grant funded by the Korean Government (NRF-2014S1A5A2A03065829).
Appendix
Appendix
1.1

The experimental stimuli for studies 1, 2, and 3
1.1.1

Stimuli of study 1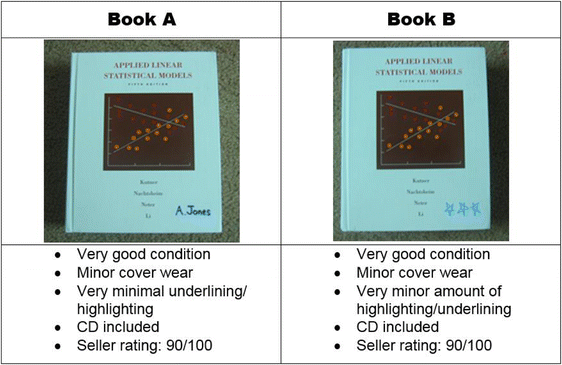 1.1.2

Stimuli of studies 2 and 3

When a house has highly salient traces left by previous owners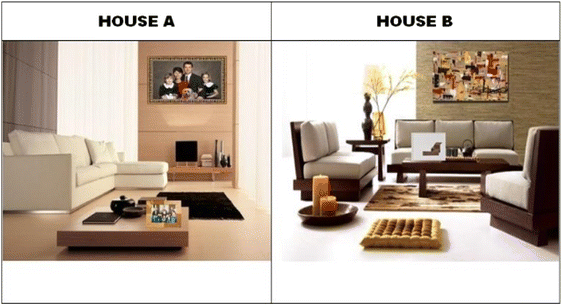 About this article
Cite this article
Kim, J. The ownership distance effect: the impact of traces left by previous owners on the evaluation of used goods. Mark Lett 28, 591–605 (2017). https://doi.org/10.1007/s11002-017-9432-7
Published:

Issue Date:

DOI: https://doi.org/10.1007/s11002-017-9432-7
Keywords
Ownership distance effect

Psychological ownership

Contagion effect

Owner's trace

Used goods