Abstract
The human tendency to recognize patterns even when none exist is shown to have applications in consumer behavior. The current research demonstrates that as one's personal need for structure (PNS) increases (i.e., requiring predictability and disfavoring uncertainty), false consumer pattern perceptions emerge. Construal level moderates this relationship such that as abstract mindsets (high construal) seek out underlying explanations and enhance, concrete mindsets (low construal) evaluate consumer-related stimuli in terms of its contextual elements and therefore attenuate the effect. Types of consumer patterns are characterized by false expectations about the performance of a cellular phone (study 1), the association of human characteristics toward personal computers (study 2), and the development of beliefs in corporate conspiracy theories (study 3). This research has implications for practitioners and academics as it expands on the literature related to false pattern perceptions by investigating it through the lens of consumer decision-making.
This is a preview of subscription content, log in to check access.
Access options
Buy single article
Instant access to the full article PDF.
US$ 39.95
Price includes VAT for USA
Subscribe to journal
Immediate online access to all issues from 2019. Subscription will auto renew annually.
US$ 99
This is the net price. Taxes to be calculated in checkout.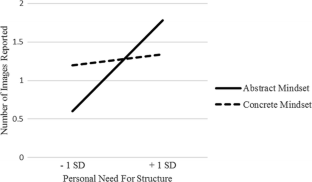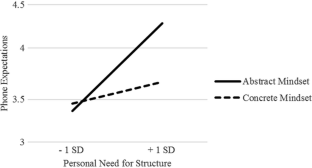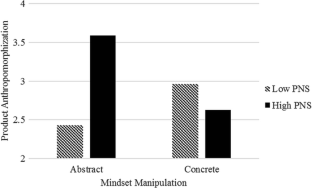 References
Aviv, R. (2014). A valuable reputation. New York: The New Yorker.

Baudrillard, J. (1994). Simulacra and simulation. Ann Arbor: University of Michigan Press.

Eyal, T., Sagristano, M. D., Trope, Y., Liberman, N., & Chaiken, S. (2009). When values matter: expressing values in behavioral intentions for the near vs. distant future. Journal of Experimental Social Psychology, 45(1), 35–43.

Freitas, A. L., Clark, S. L., Kim, J. Y., & Levy, S. R. (2009). Action-construal levels and perceived conflict among ongoing goals: implications for positive affect. Journal of Research in Personality, 43(5), 938–941.

Fujita, K., & Han, H. A. (2009). Moving beyond deliberative control of impulses the effect of construal levels on evaluative associations in self-control conflicts. Psychological Science, 20(7), 799–804.

Fujita, K., Trope, Y., Liberman, N., & Levin-Sagi, M. (2006). Construal levels and self-control. Journal of Personality and Social Psychology, 90(3), 351.

Kay, A. C., Laurin, K., Fitzsimons, G. M., & Landau, M. J. (2014). A functional basis for structure-seeking: exposure to structure promotes willingness to engage in motivated action. Journal of Experimental Psychology General, 143(2), 486.

Kim, H., & John, D. R. (2008). Consumer response to brand extensions: construal level as a moderator of the importance of perceived fit. Journal of Consumer Psychology, 18(2), 116–126.

Nenkov, G. Y. (2012). It's all in the mindset: effects of varying psychological distance in persuasive messages. Marketing Letters, 23(3), 615–628.

Neuberg, S. L., & Newsom, J. T. (1993). Personal need for structure: individual differences in the desire for simpler structure. Journal of Personality and Social Psychology, 65(1), 113.

Sagan, C. (1995). Science as a candle in the dark. The demon-haunted world. New York: Random House.

Shermer, M. (2011). The believing brain: from ghosts and gods to politics and conspiracies—how we construct beliefs and reinforce them as truths. New York: Macmillan.

Vallacher, R. R., & Wegner, D. M. (1989). Levels of personal agency: individual variation in action identification. Journal of Personality and Social Psychology, 57(4), 660.

Waytz, A., Morewedge, C. K., Epley, N., Monteleone, G., Gao, J. H., & Cacioppo, J. T. (2010). Making sense by making sentient: effectance motivation increases anthropomorphism. Journal of Personality and Social Psychology, 99(3), 410.

Whitson, J. A., & Galinsky, A. D. (2008). Lacking control increases illusory pattern perception. Science, 322(5898), 115–117.

Wright, S., Manolis, C., Brown, D., Guo, X., Dinsmore, J., Chiu, C. Y. P., & Kardes, F. R. (2012). Construal-level mind-sets and the perceived validity of marketing claims. Marketing Letters, 23(1), 253–261.

Zusne, L., & Jones, W. H. (2014). Anomalistic psychology: a study of magical thinking. Hillsdale: Psychology Press.
About this article
Cite this article
Davidson, A., Laroche, M. Connecting the dots: how personal need for structure produces false consumer pattern perceptions. Mark Lett 27, 337–350 (2016). https://doi.org/10.1007/s11002-014-9332-z
Keywords
False pattern perceptions

Personal need for structure

Construal level

Product anthropomorphism

Corporate conspiracy theory