Abstract
The importance of names has been demonstrated for decision making related to individuals as well as companies. While previous researchers have focused on traits such as the fluency of names, we present three studies that focus on the role of the "hard e" or [ē] sound in relation to helping behavior. Because pronunciation of the [ē] sound requires a facial movement that mimics a smile particularly when the sound occurs at the end of a name, our research complements previous findings generated by the theory of embodied cognition in which biting on a pencil or chopstick evoked behavioral and mood changes. Study 1 finds that participants are more likely to help someone whose name ends with the [ē] sound while study 2 utilizes a broader set of contrasting sounds and finds a basic preference for the [ē] sound that is specific to women. Study 3 shows that women are significantly more likely to recall addressing their parents as Mommy or Daddy when soliciting help rather than Mom or Dad. Our findings complement previous research concerning motherese and highlight a phonetic cue for prosocial behavior that appears to offer insights for marketing and management. Just as the current studies are important in understanding interpersonal interactions, the findings have direct relevance for marketing campaigns that focus on consumer engagement.
We're sorry, something doesn't seem to be working properly.
Please try refreshing the page. If that doesn't work, please contact support so we can address the problem.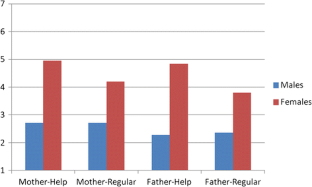 References
Alter, A. L., & Oppenheimer, D. M. (2006). Predicting short-term stock fluctuations by using processing fluency. Proceedings of the National Academy of Sciences, 103, 9369–9372.

Barsalow, L. W. (1999). Perceptual symbol systems. Behavioral and Brain Sciences, 22, 577–660.

Baxter, S., Ilicic, J., & Kulczynski, A. (2014). What's in a name? Examining the effect of phonetic fit between spokesperson name and product attribute on source credibility. Marketing Letters. doi:10.1007/s11002-014-9287-0.

Bertrand, M., & Mullainathan, S. (2004). Are Emily and Greg more employable than Lakisha and Jamal? A field experiment on labor market discrimination. The American Economic Review, 94, 991–1013.

Caporael, L. R. (1981). The paralanguage of caregiving: baby talk to the institutionalized aged. Journal of Personality and Social Psychology, 40, 876–884.

Caporael, L. R., Lukaszewski, M. P., & Culbertson, G. H. (1983). Secondary baby talk: judgments by institutionalized elderly and their caregivers. Journal of Personality and Social Psychology, 44, 746–754.

Cialdini, R. (2008). Influence: science and practice. New York: Allyn and Bacon.

Cotton, J. L., O'Neill, B. S., & Griffin, A. (2007). The "Name Game": affective and hiring reactions to first names. Journal of Managerial Psychology, 23, 18–39.

Cutler, A., McQueen, J., & Robinson, K. (1990). Elizabeth and John: sound patterns of men's and women's names. Journal of Linguistics, 26, 471–482.

De Saussure, F., Baskin, W., Meisel, P., & Saussy, H. (2011). Course in general linguistics. New York: Columbia University Press.

De Waal, F. (1997). Good natured: the origins of right and wrong. Cambridge: Harvard University Press.

Fryer, R., & Levitt, S. (2004). The causes and consequences of distinctively black names. The Quarterly Journal of Economics, 119, 767–805.

Green, T. C., & Jame, R. (2013). Company name fluency, investor recognition, and firm value. Journal of Financial Economics, 109, 813–834.

Grieser, D. L., & Kuhl, P. K. (1988). Maternal speech to infants in a tonal language: support for universal prosodic features in motherese. Developmental Psychology, 24, 14–20.

Griskevicius, V., Goldstein, N. J., Mortensen, C. R., Sundie, J. M., Cialdini, R. B., & Kenrick, D. T. (2009). Fear and loving in Las Vegas: evolution, emotion, and persuasion. Journal of Marketing Research, 46, 384–395.

Guéguen, N., Pichot, N., & Dreff, G. (2005). Similarity and helping behavior on the Web: the impact of the convergence of surnames between a solicitor and a subject in a request made by e‐mail. Journal of Applied Social Psychology, 35, 423–429.

Haig, D. (1993). Genetic conflicts in human pregnancy. Quarterly Review of Biology, 68, 495–532.

Hornik, J. (1992). Effects of physical contact on customers' shopping time and behavior. Marketing Letters, 3, 49–55.

Jones, J. T., Pelham, B. W., Mirenberg, M. C., & Hetts, J. J. (2002). Name letter preferences are not merely mere exposure: implicit egotism as self-regulation. Journal of Experimental Social Psychology, 38, 170–177.

Kardes, F. R., Cronley, M. L., & Kim, J. (2006). Construal-level effects on preference stability, preference-behavior correspondence, and the suppression of competing brands. Journal of Consumer Psychology, 16, 135–144.

Klink, R. R. (2000). Creating brand names with meaning: the use of sound symbolism. Marketing Letters, 11, 5–20.

Klink, R. R. (2009). Gender differences in new brand name response. Marketing Letters, 20, 313–326.

Klink, R. R., & Athaide, G. A. (2012). Creating brand personality with brand names. Marketing Letters, 23, 109–117.

Kniffin, K. M. (2009). Evolutionary perspectives on salary dispersion within firms. Journal of Bioeconomics, 11, 23–42.

Kniffin, K. M., & Wansink, B. (2012). It's Not Just Lunch: Extra-pair commensality can trigger sexual jealousy. PLoS ONE, 7, e40445.

Kniffin, K. M., & Wilson, D. S. (2004). The effect of nonphysical traits on the perception of physical attractiveness: three naturalistic studies. Evolution and Human Behavior, 25, 88–101.

Kniffin, K. M., & Wilson, D. S. (2005). Utilities of gossip across organizational levels. Human Nature, 16, 278–292.

Kniffin, K. M., & Wilson, D. S. (2010). Evolutionary perspectives on workplace gossip: How and why gossip can be good. Group & Organization Management, 35, 150–176.

Kraft, T. L., & Pressman, S. D. (2012). Grin and bear it: the influence of manipulated facial expression on the stress response. Psychological Science, 23, 1372–1378.

Kulig, J. W. (2013). What's in a name? Our false uniqueness. British Journal of Social Psychology, 52, 173–179.

Laham, S. M., Koval, P., & Alter, A. L. (2012). The name-pronunciation effect: why people like Mr. Smith more than Mr. Colquhoun. Journal of Experimental Social Psychology, 48, 752–756.

Landau, M. J., Meier, B. P., & Keefer, L. A. (2010). A metaphor-enriched social cognition. Psychological Bulletin, 136, 1045–1067.

Leirer, V. O., Hamilton, D. L., & Carpenter, S. (1982). Common first names as cues for inferences about personality. Personality and Social Psychology Bulletin, 8, 712–718.

Lowery, T. M., & Shrum, L. J. (2007). Phonetic symbolism and brand name preference. Journal of Consumer Research, 34, 406–414.

Maglio, S. J., & Trope, Y. (2011). Scale and construal: how larger measurement units shrink length estimates and expand mental horizons. Psychonomic Bulletin & Review, 18, 165–170.

Maglio, S. J., Rabaglia, C. D., Feder, M. A., Krehm, M., & Trope, Y. (2014). Vowel sounds in words affect mental construal and shift preferences for targets. Journal of Experimental Psychology: General, 143, 1082–1096.

Mehrabian, A., & Piercy, M. (1993). Affective and personality characteristics inferred from length of first names. Personality and Social Psychology Bulletin, 19, 755–758.

Miller, G. (2009). Spent: sex, evolution, and consumer behavior. New York: Penguin.

Morwitz, V. G. (2014). Insights from the animal kingdom. Journal of Consumer Psychology, 24, 572–585.

Nuttin, J. M., Jr. (1985). Narcissism beyond gestalt and awareness: the name letter effect. European Journal of Social Psychology, 15, 353–361.

Ohala, J. J., Hinton, L., & Nichols, J. (1994). Sound symbolism. New York: Cambridge University Press.

Pogacar, R., Plant, E., Rosulek, L. F., & Kouril, M. (2014). Sounds good: phonetic sound patterns in top brand names. Marketing Letters. doi:10.1007/s11002-014-9288-z.

Saad, G. (2007). The evolutionary bases of consumption. Mahwah: Lawrence Erlbaum Associates.

Silberzahn, R., & Uhlmann, E. L. (2013). It pays to be Herr Kaiser: Germans with more noble-sounding surnames more often work as managers than as employees. Psychological Science, 24, 2437–2444.

Strack, F., Martin, L. L., & Stepper, S. (1988). Inhibitimg and facilitating conditions of human smile. A nonobtrusive test of the facial feedback hypothesis. Journal of Personality and Social Psychology, 54, 768–777.

Wilson, D. S., & Kniffin, K. M. (2003). Altruism from an evolutionary perspective. In S. G. Post, B. Johnson, M. E. McCullough, and J. P. Schloss (Eds.), Research on Altruism and Love: An annotated bibliography of major studies in sociology, evolutionary biology, and theology. (pp. 117–136). Radnor, PA: Templeton Foundation Press.

Wiltermuth, S. S., & Heath, C. (2009). Synchrony and cooperation. Psychological Science, 20, 1–5.

Wright, S., Manolis, C., Brown, D., Guo, X., Dinsmore, J., Chiu, C.-Y. P., & Kardes, F. R. (2012). Construal-level mind-sets and the perceived validity of marketing claims. Marketing Letters, 23, 253–261.

Yorkston, E., & Menon, G. (2004). A sound idea: phonetic effects of brand names on consumer judgments. Journal of Consumer Research, 31, 43–51.
Acknowledgments
The authors would like to thank participants in the three studies as well as two anonymous reviewers for generous feedback. For helpful communications on related topics, the authors are grateful to Geoff Colon and Michael Ditchkofsky. With the standard disclaimer that any errors of omission or commission are ours, the authors are also thankful for research assistance from Kale Smith.
About this article
Cite this article
Kniffin, K.M., Shimizu, M. Sounds that make you smile and share: a phonetic key to prosociality and engagement. Mark Lett 27, 273–283 (2016). https://doi.org/10.1007/s11002-014-9328-8
Published:

Issue Date:

DOI: https://doi.org/10.1007/s11002-014-9328-8
Keywords
Marketing

Brand names

Sounds

Cooperation

Engagement