Abstract
The sales of books, DVDs, and music albums frequently increase substantially after the death of an artist. Yet, the mechanism behind this stylized fact remains unclear. In this paper, we examine whether after-death sales increases reflect primarily an affective reaction of existing customers or informative advertising for previously uninformed new customers. In our main study, we use weekly sales data for 446 music albums of 77 artists who died between 1992 and 2010. We show that album sales increase on average by 54.1 % after death and that the relative increase in sales is higher for the artist's better albums. This suggests that death-related publicity serves primarily as informational advertising that attracts new customers who buy the artist's best albums after death. Complementary evidence from a survey study with more than 2,000 participants confirms this interpretation and shows that information-based motives are relatively more important for after-death consumption than affect-based motives.
Access options
Buy single article
Instant access to the full article PDF.
US$ 39.95
Tax calculation will be finalised during checkout.
Subscribe to journal
Immediate online access to all issues from 2019. Subscription will auto renew annually.
US$ 79
Tax calculation will be finalised during checkout.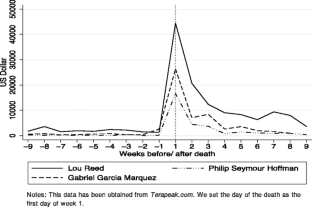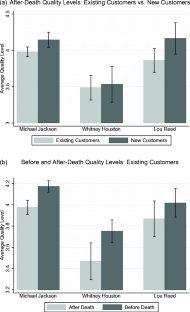 Notes
1.

In Section 5, we provide empirical evidence that this is indeed the case.

2.

When technologies differ, there might be utility from owning an album twice. For example, a consumer who owns a specific album on vinyl might later buy the same album in compact disk format. However, after-death sales increases are not restricted to artists whose albums became available in additional formats over time. For example, no technological change occurred between when singer Amy Winehouse released her first album in October 2003 and her death in 2011. Still, she sold 110,000 albums in the US during the 8 days that followed her death. In comparison, she moved 58,000 in all of 2010, and 44,000 in 2011 before her death. (Billboard.com 2012)

3.

The reason for this restriction was financial.

4.

We emphasize that the findings illustrated in Table 2 are robust when performing several sensitivity tests, such as a change in the treatment window (i.e., using 2 or 6 months before and after death), and the exclusion of potential suicides (Elliot Smith, Epic Soundtrack), bands (Beat Farmers, Brainiac, Coil, Silkworm, The Bee Gee's, and The Grateful Dead), and superstars (2Pac, Aaliyah, Michael Jackson, Notorious B.I.G., Ray Charles). The results are available from the authors.

5.

Due to a coding mistake, a small number of participants was able to complete the survey multiple times (at most three times). We were able to filter multiple entries by means of the unique Amazon Mechanical Turk WorkerId.

6.

For Michael Jackson and Lou Reed, we also included all studio albums and some Best-of compilations for the Jackson Five and the Velvet Underground, respectively.

7.

The marginal effects for Information, Affect, and BDPurchase are 0.078, 0.061, and 0.162, respectively. When running separate analyses for each artist, we always find positive, statistically significant effects from Information and Affect on after-death purchases. For Michael Jackson und Lou Reed, we also find that the effect from Information is significantly larger than the effect from Affect (p < 0.10 in both cases). The detailed results are available from the authors.
References
Bagwell, K. (2005). The economic analysis of advertising. In M. Armstrong & P. Porter (Eds.), Handbook of industrial organization (Vol. 3, pp. 1701–1844). Amsterdam: North-Holland.

Barrett, F. S., Grimm, K. J., Robins, R. W., Wildschut, T., Sedikides, C., & Janata, P. (2010). Music-evoked nostalgia: Affect, memory, and personality. Emotion, 10, 390–403.

Berger, J., Sorensen, A. T., & Rasmussen, S. J. (2010). Positive effects of negative publicity: When negative reviews increase sales. Marketing Science, 29, 815–827.

Bikhchandani, S., Hirshleifer, D., & Welch, I. (1998). Learning from the behavior of others: Conformity, fads, and informational cascades. Journal of Economic Perspectives, 12, 151–170.

Billboard.com (2009) Michael Jackson by numbers: Record buzz drives record sales, Billboard.com, http://bit.ly/1a9kgmb. Accessed October 23, 2013

Billboard.com (2012). Amy Winehouse's death led to surge in sales, chart moves, Billboard.com, http://bit.ly/1p4vS45. Accessed August 4, 2014

Cai, H., Chen, Y., & Fang, H. (2009). Observational learning: Evidence from a randomized natural field experiment. American Economic Review, 99, 864–882.

Cialdini, R. B. (2008). Influence: Science and practice. Boston: Allyn and Bacon.

Coulter, K. S., & Punj, G. (1999). Influence of viewing context on the determinants of attitude toward the ad and the brand. Journal of Business Research, 45, 47–58.

Ekelund, R. B., Ressler, R. W., & Watson, J. K. (2000). The "death-effect" in art prices: A demand side exploration. Journal of Cultural Economics, 24, 283–300.

Goldberg, M. E., & Gorn, G. J. (1987). Happy and sad TV programs: How they affect reactions to commercials. Journal of Consumer Research, 14, 387–403.

Greenberg, J., Pyszczynski, T., & Sheldon, S. (1986). The causes and consequences of a need for self-esteem: A terror management theory. In R. F. Baumeister (Ed.), Public Self and Private Self (pp. 189–192). New York: Springer-Verlag.

Hauser, J. R. (1978). Testing the accuracy, usefulness, and significance of probabilistic choice models: An information–theoretic approach. Operations Research, 26, 406–421.

Hendricks, K., & Sorensen, A. (2009). Information and the skewness of music sales. Journal of Political Economy, 117, 324–369.

Holak, S. L., & Havlena, W. J. (1998). Feelings, fantasies, and memories: An examination of the emotional components of nostalgia. Journal of Business Research, 42, 217–226.

Meyers–Levy, J., & Tybout, A. M. (1997). Context effects at encoding and judgment in consumption settings: The role of cognitive resources. Journal of Consumer Research, 24, 1–14.

Moe, W. W., & Fader, P. S. (2001). Modeling hedonic portfolio products: A joint segmentation analysis of music compact disc sales. Journal of Marketing Research, 38, 376–385.

Moe, W. W., & Fader, P. S. (2002). Using advance purchase orders to forecast new product sales. Marketing Science, 21, 347–364.

Moretti, E. (2011). Social learning and peer effects in consumption: Evidence from movie sales. Review of Economic Studies, 78, 356–393.

Nedungadi, P. (1990). Recall and consumer consideration sets: Influencing choice without altering brand evaluations. Journal of Consumer Research, 17, 263–276.

Nelson, P. H. (1974). Advertising as information. Journal of Political Economy, 81, 729–745.

Radford, S. K., & Bloch, P. M. (2013). Consumers' online responses to the death of a celebrity. Marketing Letters, 24, 43–55.

Reinstein, D. A., & Snyder, C. M. (2005). The influence of expert reviews on consumer demand for experience goods: A case of movie critics. Journal of Industrial Economics, 53, 27–50.

Routledge, C., Arndt, J., Sedikides, C., & Wildschut, T. (2008). A blast from the past: The terror management function of nostalgia. Journal of Experimental Social Psychology, 44, 132–140.

Stigler, G. J. (1961). The economics of information. Journal of Political Economy, 69, 213–225.

Ursprung, H. W., & Wiermann, C. (2011). Reputation, price, and death: An empirical analysis of art price formation. Economic Inquiry, 49, 697–715.

Weiss, R. S. (1988). Loss and recovery. Journal of Social Issues, 44, 37–52.

Wildschut, T., Sedikides, C., Arndt, J., & Routledge, C. (2006). Nostalgia: Content, triggers, functions. Journal of Personality and Social Psychology, 91, 975–993.

Zhang, J. (2010). The sound of silence: Observational learning in the U.S. kidney market. Marketing Science, 29, 315–335.

Zhu, F., & Zhang, X. (2010). Impact of online consumer reviews on sales: The moderating role of product and consumer characteristics. Journal of Marketing, 74, 133–148.
About this article
Cite this article
Brandes, L., Nüesch, S. & Franck, E. Death-related publicity as informational advertising: evidence from the music industry. Mark Lett 27, 143–157 (2016). https://doi.org/10.1007/s11002-014-9322-1
Keywords
Death-related effects

Advertising

Context effect

Publicity

Cultural markets