Abstract
The level of congruity is determined by the degree of match or mismatch between an object and its associated attribute. Product evaluations are positively influenced when there is moderate incongruity between a product and its association; this finding is termed the moderate schema incongruity effect (Mandler 1982). The purpose of the current study was to investigate the influence of incongruity between a product and one of its extrinsic cues on consumers' product evaluations. Furthermore, we examined the moderating role of consumers' level of product knowledge. Incongruity was created by partnering a product with a sponsor. We found that consumers who were highly knowledgeable of the product gave the highest taste evaluations to the moderately incongruent product–sponsor pairing, whereas taste evaluations for consumers with low product knowledge did not differ across product–sponsor pairings. The results of our study have important practical implications for marketers, namely that product–sponsor fit can enhance consumers' consumption experiences.
Access options
Buy single article
Instant access to the full article PDF.
USD 39.95
Price excludes VAT (USA)
Tax calculation will be finalised during checkout.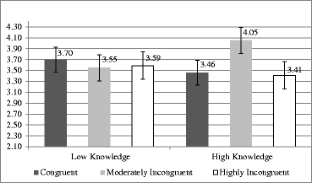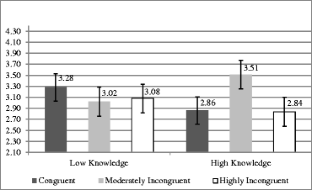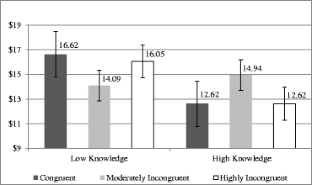 Notes
Different degrees of freedom are reported due to sphericity assumptions and log transformation. For taste evaluations, sphericity is assumed; however, for willingness to buy, sphericity is not assumed and therefore the Greenhouse–Geisser correction is reported. For willingness to buy, given that some participants reported that they were willing to pay $0 for a bottle, this data was set as missing values when the raw data was log transformed and was not included in the analysis.
References
Agence France-Presse (2013). Angelina Jolie and Brad Pitt to launch Rose wine. ABS-CBN Interactive. http://www.abs-cbnnews.com/lifestyle/02/20/13/angelina-jolie-and-brad-pitt-launch-rose-wine. Accessed: 20 February 2013.

Allen, M. W., Gupta, R., & Monnier, A. (2008). The interactive effect of cultural symbols and human values on taste evaluation. Journal of Consumer Research, 35, 294–308.

Cohen, C. E., & Ebbesen, E. B. (1979). Observational goals and schema activation: a theoretical framework for behavior perception. Journal of Experiment Social Psychology, 15(4), 305–329.

Collins, A. M., & Loftus, E. F. (1975). A spreading-activation theory of semantic processing. Psychological Review, 82(6), 407–428.

Collins, A. M., & Quillian, M. R. (1972). How to make a language user. In E. Tulving & W. Donaldson (Eds.), Organization of memory. New York: Academic.

Fiske, S. T. (1982). Schema-triggered affect: applications to social perception. In M. S. Clark & S. T. Fiske (Eds.), Affect and cognition: The 17th Annual Carnegie Symposium on Cognition (pp. 55–78). Hillsdale: Erlbaum.

Holbrook, M. B., & Hirschman, E. C. (1982). The experiential aspects of consumption: consumer fantasies, feelings, and fun. Journal of Consumer Research, 9(2), 132–140.

Hughson, A. L., & Boakes, R. A. (2001). Perceptual and cognitive aspects of wine expertise. Australian Journal of Psychology, 53(2), 103–108.

Kahle, L. R., & Homer, P. M. (1985). Physical attractiveness of the celebrity endorser: a social adaptation perspective. Journal of Consumer Research, 11(4), 954–961.

Kamins, M. A. (1990). An investigation into the "Match-Up" hypothesis in celebrity advertising: when beauty may be only skin deep. Journal of Advertising, 19(1), 4–13.

Latour, K. A., & Latour, M. S. (2010). Bridging aficionados' perceptual and conceptual knowledge to enhance how they learn from experience. Journal of Consumer Research, 37(December), 688–697.

Lockshin, L. S., & Rhodus, W. T. (1993). The effect of price and oak flavor on perceived wine quality. International Journal of Wine Marketing, 5(2/3), 13–25.

Mandler, G. (1982). The structure of value: accounting for taste. In M. S. Clarke & S. T. Fiske (Eds.), Perception, cognition and development: interactional analysis (pp. 3–36). Hillsdale: Erlbaum.

Meenaghan, T. (2001). Understanding sponsorship effects. Psychology and Marketing, 18(2), 95–122.

Meyers-Levy, J., & Tybout, A. M. (1989). Schema congruity as a basis for product evaluation. Journal of Consumer Research, 16, 39–54.

Mitchell, D. J., Kahn, B. E., & Knasko, S. C. (1995). There's something in the air: effects of congruent or incongruent ambient odor on consumer decision making. Journal of Consumer Research, 22(2), 229–238.

Newman, J. W., & Werbel, R. A. (1973). Multivariate analysis of brand loyalty for major household appliances. Journal of Marketing Research, 10, 404–409.

Olson, J.C., & Jacoby, J. (1972). Cue utilization in the quality perception process. In: Proceedings of the Third Annual Conference of the Association for Consumer Research, Association for Consumer Research, 167–79.

Peck, J., & Childers, T. L. (2008). If it tastes, smells, sounds, and feels like a duck, then it must be a… : effects of sensory factors on consumer behaviors. Handbook of Consumer Psychology: Marketing and Consumer Psychology Series (pp. 193–219). New York: Erlbaum.

Peracchio, L. A., & Tybout, A. M. (1996). The moderating role of prior knowledge in schema-based product evaluation. Journal of Consumer Research, 23, 177–192.

Rao, A. R., & Monroe, K. B. (1988). The moderating effect of prior knowledge on cue utilization in product evaluations. Journal of Consumer Research, 15(2), 253–264.

Ross, C. F., & Weller, K. (2007). Sensory evaluation of suspected Harmonia axyridis tainted red wine using untrained panelists. Journal of Wine Research, 18(3), 187–193.

Sanbonmatsu, D. M., Mazur, D., Pfeiffer, B. E., Kardes, F. R., & Posavac, S. S. (2012). The less the public knows the better? The effects of increased knowledge on celebrity evaluations. Basic and Applied Social Psychology, 34(6), 499–507.

Siegrist, M., & Cousin, M.-E. (2009). Expectations influence sensory experience in a wine tasting. Appetite, 52(3), 762–765.

Stayman, D. M., Alden, D. L., & Smith, K. H. (1992). Some effect of schematic processing on consumer expectations and disconfirmation judgements. Journal of Consumer Research, 19(September), 240–255.

Wilcox, K., Roggeveen, A. L., & Grewal, D. (2011). Shall i tell you now or later? Assimilation and contrast in the evaluation of experiential products. Journal of Consumer Research, 38(4), 763–773.

Wszelaki, A. L., Delwiche, J. F., Walker, S. D., Liggett, R. E., Miller, S. A., & Kleinhenz, M. D. (2005). Consumer liking and descriptive analysis of six varieties of organically grown edamame-type soybean. Food Quality and Preference, 16(8), 651–658.
About this article
Cite this article
Clemente, S., Dolansky, E., Mantonakis, A. et al. The effects of perceived product-extrinsic cue incongruity on consumption experiences: The case of celebrity sponsorship. Mark Lett 25, 373–384 (2014). https://doi.org/10.1007/s11002-013-9257-y
Published:

Issue Date:

DOI: https://doi.org/10.1007/s11002-013-9257-y
Keywords