Abstract
Most charitable organizations cannot accomplish their missions without asking for money. This is paradoxical because recent research suggests that mentioning money primes a self-sufficient mindset, thus undermining the very behaviors these organizations desire to elicit. We offer an important qualification to this problematic effect. We find that priming cash concepts reduces willingness to help others, while activating credit card concepts reverses these effects. To explain our findings, in three studies we show that priming cash concepts makes costs associated with donating time or money more salient in the decision context, thereby reducing willingness to give help and to receive it. However, priming credit card concepts makes the benefits of donation more salient.
Access options
Buy single article
Instant access to the full article PDF.
US$ 39.95
Tax calculation will be finalised during checkout.
Subscribe to journal
Immediate online access to all issues from 2019. Subscription will auto renew annually.
US$ 79
Tax calculation will be finalised during checkout.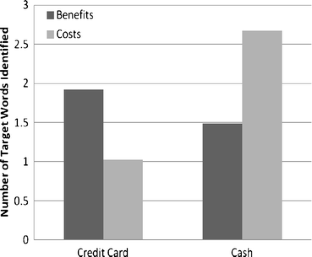 References
Aunel, R. K., & Basil, M. D. (1994). A relational obligations approach to the foot-in-the-mouth effect. Journal of Applied Social Psychology, 24(6), 546–556.

Bargh, J. A., & Chartrand, T. L. (2000). The mind in the middle: A practical guide to priming and automaticity research. In Handbook of research methods in social and personality psychology (pp. 253–285). Cambridge: Cambridge University Press.

Belk, R. W., & Wallendorf, M. (1990). The sacred meanings of money. Journal of Economic Psychology, 11(1), 35–67.

Bloom, P. N., & Novelli, W. D. (1981). Problems and challenges in social marketing. Journal of Marketing, 45(2), 79–88.

Briers, B., Pandelaere, M., Dewitte, S., & Warlop, L. (2006). Hungry for money. Psychological Science, 17(11), 939.

Chatterjee, P., & Rose, R. L. (2012). Do payment mechanisms change the way consumers perceive products? Journal of Consumer Research, 38(6), 1129–39.

Cialdini, R. B., & Ascani, K. (1976). Test of a concession procedure for inducing verbal, behavioral, and further compliance with a request to give blood. Journal of Applied Psychology, 61(3), 295–300.

Dunn, E. W., Aknin, L. B., & Norton, M. I. (2008). Spending money on others promotes happiness. Science, 319(5870), 1687–1688.

Feinberg, R. A. (1986). Credit cards as spending facilitating stimuli: A conditioning interpretation. Journal of Consumer Research, 13(3), 348–356.

Liu, W., & Aaker, J. (2008). The happiness of giving: The time-ask effect. Journal of Consumer Research, 35, 543–557.

Mendoza, N. A., & Pracejus, J. W. (1997). Buy now, pay later: Does a future temporal orientation affect credit overuse? Advances in Consumer Research, 24, 499–503.

McSweeney, F. K., & Bierley, C. (1984). Recent developments in classical conditioning. Journal of Consumer Research, 11, 619–631.

Preacher, K. J., & Hayes, A. F. (2008). Asymptotic and resampling procedures for assessing and comparing indirect effects in multiple mediator models. Behavioral Research, 40(3), 879–891.

Prelec, D., & Loewenstein, G. (1998). The red and the black: Mental accounting of savings and debt. Marketing Science, 17(1), 4–28.

Prelec, D., & Simester, D. (2001). Always leave home without it: A further investigation of the credit-card effect on willingness to pay. Marketing Letters, 12(1), 5–12.

Reingen, P. H. (1978). On inducing compliance with requests. Journal of Consumer Research, 5(2), 96.

Shimp, T. A., & Moody, M. (2000). In search of a theoretical explanation for the credit card effect. Journal of Business Research, 48(1), 17–23.

Small, D. A., & Loewenstein, G. (2003). Helping a victim or helping the victim: Altruism and identifiability. Journal Risk Uncertainty, 26(1), 5–16.

Soman, D. (2001). Effects of payment mechanism on spending behavior: The role of rehearsal and immediacy of payments. Journal of Consumer Research, 27(4), 460–474.

Thomas, M., Desai, K., & Seenivasan, S. (2011). How credit card payments increase unhealthy food purchases: Visceral regulation of vices. Journal of Consumer Research, 38(1), 126–139.

Vohs, K. D., Mead, N. L., & Goode, M. R. (2006). The psychological consequences of money. Science, 314(5802), 1154.

Vohs, K. D., Mead, N. L., & Goode, M. R. (2008). Merely activating the concept of money changes personal and interpersonal behavior. Current Directions Psychology Science, 17(3), 208.

Weyant, J. M., & Smith, S. L. (1987). Getting more by asking for less: The effects of request size on donations of charity. Journal of Applied Social Psychology, 17(4), 392–400.

Zelizer, V. A. R. (1997). The social meaning of money: Pin money, paychecks, poor relief, and other currencies. Princeton: Princeton University Press.

Zhou, X., Vohs, K. D., & Baumeister, R. F. (2009). The symbolic power of money. Psychology Science, 20(6), 700.

Zhao, X., Lynch, J. G., & Chen, Q. (2010). Reconsidering Baron and Kenny: Myths and truths about mediation analysis. Journal of Consumer Research, 37(6), 197–206.
Additional information
All authors contributed equally and their names are mentioned in an alphabetical order. The authors thank Himanshu Mishra for his helpful comments on previous version of this paper.
This article has been retracted at the suggestion of journal Editors-in-Chief, Peter N. Golder and Joel H. Steckel. The article's authors unanimously requested retraction of Study 3 based on unexplained anomalies in the data and coding errors. As a result, the editors deem it appropriate to retract the entire article.
An erratum to this article can be found online athttp://dx.doi.org/10.1007/s11002-016-9401-6.
An erratum to this article is available at http://dx.doi.org/10.1007/s11002-016-9401-6.
About this article
Cite this article
Chatterjee, P., Rose, R.L. & Sinha, J. RETRACTED ARTICLE: Why money meanings matter in decisions to donate time and money. Mark Lett 24, 109–118 (2013). https://doi.org/10.1007/s11002-012-9215-0
Keywords
Money

Priming

Charity

Donation

Helping

Credit