Abstract
Six submarine canyons are distributed along the active margin off SW Taiwan. Using multi-beam bathymetric data and reflection seismic profiles to determine canyon head locations with respect to shelf edge, five of these canyons were classified into the following three types: 1. river-connected; 2. shelf-indenting; and 3. slope-confined. The remaining canyon was re-interpreted as a sea valley. Type 1 canyon, the Kaoping Canyon, is directly connected to the Kaoping River and supplied with terrestrial sediment. The canyon head segment tends to generate hyperpycnal flows during flooding, causing intense erosion of seafloor across the shelf and slope and forming a major sediment conduit. The Penghu, Kaohsiung and Fangliao canyons are of type 2 and incise into the shelf, forming a V-shaped head segment with abundant slumping features. Without continuous sediment supply from rivers, the canyon head receives sediments mainly from local slope failures on canyon walls and is unable to generate intense erosive sediment flows, resulting in an indentation into the shelf over a short distance. Oceanographic/hydrodynamic measurements close to the canyons are still not available for the region, despite they could shed light on the on-going sediment dynamics in the area. The Shoushan Canyon is a type 3 canyon characterized by limited sediment input from the Kaoping Shelf and weak canyon erosion, especially during sea-level highstands, resulting in a relatively straight canyon course confined to the upper slope. These submarine canyons share common regional tectonics, sea-level changes and climatic conditions. However, they evolved via local processes mainly controlled by sediment input directly related to head location, resulting in distinct morphologies and sizes. These canyons have remained active during the present-day sea-level highstand. Frequent earthquake and flooding events are the major triggering factors for sediment failures and generation of subsequent turbidity currents, resulting in substantial incision into the canyon. The results of the present study indicate that the SW Taiwan margin is characterized by canyons of type 1 and type 2 (n = 4) with only one type 3 canyon. This represents large percentages of type 1 and type 2 canyons compared to other regions of the world. Narrow shelf and abundant sediment supply are the two main controls for the presence of river-connecting and shelf-incising canyons on the active Taiwan margin.
Access options
Buy single article
Instant access to the full article PDF.
US$ 39.95
Tax calculation will be finalised during checkout.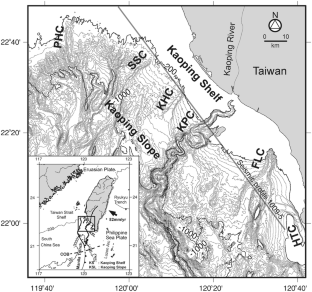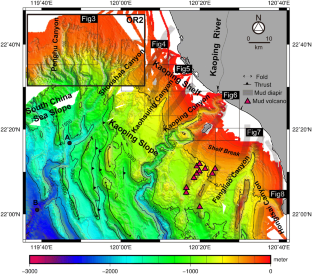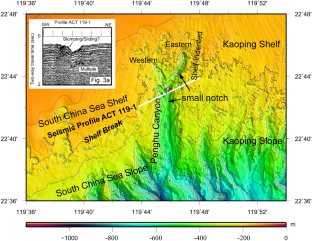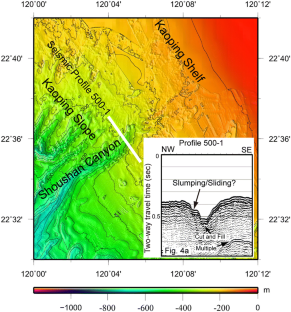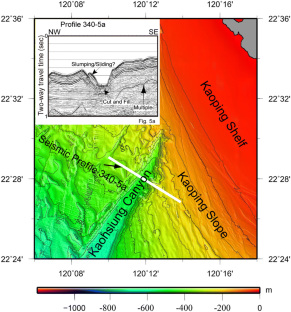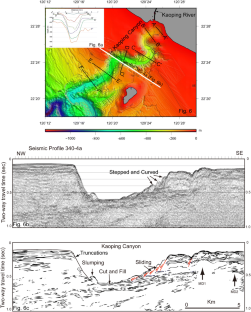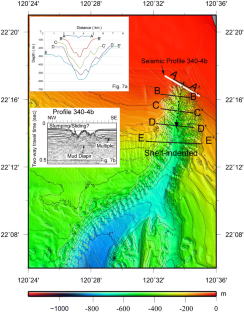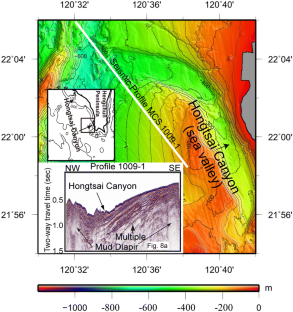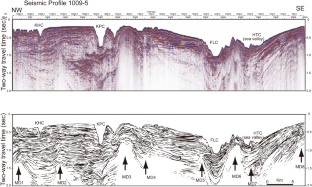 References
Bernhardt A, Melnick D, Jara-Muñoz J, Argandoña B, González J, Strecker MR (2015) Controls on submarine canyon activity during sea-level highstands: the Biobío canyon system offshore Chile. Geosphere 11:1226–1255

Boggs SJ, Wang WC, Lewis FS, Chen JC (1979) Sediment properties and water characteristics of the Taiwan shelf and slope. Acta Oceanogr Taiwan 10:10–49

Bouma AH (1990) Naming of undersea features. Geo-Mar Lett 10:119–125

Canals M, Puig P, Durrieu de Madron X, Heussner S, Palanques A, Fabres J (2006) Flushing submarine canyons. Nature 444:354–357

Carlson PR, Karl HA (1988) Development of large submarine canyons in Bering Sea, indicated by morphologic, seismic and sedimentologic characteristics. Geol Soc Am Bull 100:1594–1615

Carter L, Milliman JD, Talling PJ, Gavey R, Wynn RB (2012) Near-synchronous and delayed initiation of long run-out submarine sediment flows from a record-breaking river flood, offshore Taiwan. Geophy Res Lett 39:L12603

Carter L, Gavey R, Talling PJ, Liu JT (2014) Insights into submarine geohazards from breaks in subsea telecommunication cables. Oceanography 27:58–67

Chen WS, Ridgway KD, Hong CS, Chen YK, Shea KS, Yeh MG (2001) Stratigraphic architecture, magnetostratigraphy and incised-valley systems of the Pliocene-Pleistocene collisional marine foreland basin of Taiwan. Geol Soc Am Bull 113:1249–1271

Chen SC, Hsu SK, Wang YS, Chung SH, Chen PC, Tsai CH, Liu CS, Lin HS, Lee YW (2014) Distribution and characters of the mud diapirs and mud volcanoes off southwest Taiwan. J Asian Earth Sci 92:201–214

Chen SC, Tsai CH, Hsu SK, Yeh YC, Liu CS, Chung SH, Wei CY (2018) Fangliao Slide—a large slope failure in the upper Kaoping Slope off southwest Taiwan. Terr Atmos Ocean Sci 29:17–30

Chiang CS, Yu HS (2006) Morphotectonics and incision of the Kaoping submarine canyon, SW Taiwan orogenic wedge. Geomorphology 80:199–213

Chiang CS, Yu HS (2008) Evidence of hyperpycnal flows at the head of the meandering Kaoping Canyon off SW Taiwan. Geo-Mar Lett 28:161–169

Chiang CS, Yu HS (2011) Sedimentary erosive processes and sediment dispersal in Kaoping submarine canyon. Sci China Earth Sci 54:259–271

Chiang CS, Yu HS, Noda A, TuZino T, Su CC (2012) Avulsion of the Fangliao submarine canyon off southwestern Taiwan as revealed by morphological analysis and numerical simulation. Geomorphology 177–178:26–37

Chiu JK, Tseng WH, Liu CS (2006) Distribution of gassy sediments and mud volcanoes offshore southwestern Taiwan. Terr Atmos Ocean Sci 17:703–722

Chuang CY, Yu HS (2002) Morphology and canyon forming processes of upper reach of the Penghu submarine canyon off southwestern Taiwan. Terr Atmos Ocean Sci 13:91–108

Covey M (1984) Lithofacies analysis and basin reconstruction, Plio-Pleistocene western Taiwan foredeep. Petro Geol Taiwan 20:53–83

Covey M (1986) The evolution of foreland basins to steady state: evidence from the western Taiwan foreland basin. In: Allen PA, Homewood P, (eds) Foreland Basins, vol. 8. Blackwell Scientific, Special Publication—International Association of Sedimentologist, pp 77–90

Cui Y, Shao L, Qiao P, Pei J, Zhang D, Tran H (2019) Upper Miocene–Pliocene provenance evolution of the Central Canyon in northwestern South China Sea. Mar Geophys Res 40:223–235

Dadson SJ, Hovious N, Chen H, Dade WB, Hsieh ML, Willett SD, Hu JC, Horng MJ, Chen MC, Stark CP, Lague D, Lin JC (2003) Links between erosion, runoff variability and seismicity in the Taiwan orogen. Nature 426:648–651

Dadson SJ, Hovious N, Chen H, Dade WB, Lin JC, Hsu ML, Lin CW, Horng MJ, Chen TC, Milliman J, Stark CP (2004) Earthquake-triggered increase in sediment delivery from an active mountain belt. Geology 32:733–736

Deffontaines B, Liu CS, Han HH (2016) Structure and deformation of the Southern Taiwan accretionary prism: the active Fangliao fault zone offshore west Hengchun Peninsula. Tectonophysics 692:227–240

Doo WB, Hsu SK, Lo CL, Chen SC, Tsai CH, Lin JI, Huang YP, Huang YH, Chiu SD, Ma YF (2015) Gravity anomalies of the active mud diapirs off southwest Taiwan. Geophys J Int 203:2089–2098

Emery KO, Nino H, Sullivan B (1971) Post-Pleistocene levels of the East China Sea. Woods Hole Oceanographic Institute, Woods Hole, pp 381–390

Gavey R, Carter L, Liu JT, Talling PJ, Hsu R, Pope E, Evans G (2017) Frequent sediment density flows during 2006 to 2015, triggered by competing seismic and weather events: observations from subsea cable breaks off southern Taiwan. Mar Geol 384:147–158

Hale R, Nittrouer C, Liu JT, Keil R, Ogston A (2012) Effect of a major typhoon on sediment accumulation in Fangliao canyon, SW Taiwan. Mar Geol 326:116–130

Harris PT, Whiteway T (2011) Global distribution of large submarine canyons: geomorphic differences between active and passive continental margins. Mar Geol 285:69–86

Harris PT, Macmillan-Lawler M, Rupp J, Baker EK (2014) Geomorphology of the oceans. Geomorphology 352:4–24

Ho CS (1988) An introduction to the geology of Taiwan: explanatory text of the geologic map of Taiwan. Central Geological Survey, Ministry of Economic Affairs, Taipei

Hsiung KH, Yu HS (2013) Sediment dispersal system in the Taiwan-South China Sea collision zone along a convergent margin: a comparison with the Papua New Guinea collision zone of the western Solomon Sea. J Earth Sci 62:295–307

Hsiung KH, Su CC, Yu HS, Chang JH (2015) Morphology, seismic characteristics and development of the sediment dispersal system along the Taiwan-Luzon convergent margin. Mar Geophys Res 36:293–308

Hsiung KH, Yu HS, Chiang CS (2018) The modern Kaoping transient fan offshore SW Taiwan: morphotectonics and development. Geomorphology 300:151–163

Hsu SK, Kuo J, Lo CL, Tsai CH, Doo WB, Ku CY, Sibuet JC (2008) Turbidity currents, submarine landslides and the 2006 Pingtung earthquake off SW Taiwan. Terr Atmos Ocean Sci 19:767–772

Hui G, Li S, Wang P, Zhu J, Guo L, Wang Q, Somervill ID (2018) Neotectonic implications and regional stress field constraints on mud volcanoes in offshore southwestern Taiwan. Mar Geol 403:109–122

Huh CA, Lin HL, Lin S, Huang YW (2009) Modern accumulation rates and a budget of sediment off the Gaoping (Kaoping) River, SW Taiwan: a tidal and flood dominated depositional environment around a submarine canyon. J Mar Syst 76:405–416

Jan S (2018) Regional oceanography of Taiwan. National Taiwan University Press, Taipei, p 485

Jobe ZR, Lowe DR, Uchytil SJ (2011) Two fundamentally different submarine canyons along the continental margin of Equatorial Guinea. Mar Petrol Geol 28:843–860

Kao CY, Hong E, Yu HS, Wong S (2013) Stratigraphic architecture and lithofacies analysis: evidence for development of the Pliocene-Holocene Taichung foreland basin, Central Taiwan. Terr Atmos Ocean Sci 24:41–58

Lallemand SE, Tsien HH (1997) An introduction to arc-continent collision in Taiwan. Tectonophysics 274:1–4

Laursen J, Normark WR (2002) Late quaternary of the San Antonio submarine canyon in the central Chile forearc (~ 35 S). Mar Geol 188:365–390

Lee TY, Hsu YY, Tang CH (1995) Structural geology of the deformed front between 22 N and 23 N and migration of the Penghu canyon, offshore southwestern Taiwan arc-continent collision zone. International Conference and Third Sino-French Symposium on Active Collision in Taiwan, extended abstract, pp 219–227

Lee IH, Lien RC, Liu J, Chuang WS (2009) Turbulent mixing and internal tides in Gaoping (Kaoping) submarine canyon, Taiwan. J Mar Syst 76:383–396

Lewis KB, Barnes PM (1999) Kaikoura Canyon, New Zealand: active conduit from near-shore zones to trench-axis channel. Mar Geol 162:39–69

Leynaud D, Mulder T, Hanquiez V, Gonthier E, Régert A (2017) Sediment failure types, preconditions and triggering factors in the Gulf of Cadiz. Landslides 14:233–248

Lin AT, Liu CS, Lin CC, Schnürle P, Chen GY, Liao WZ, Teng LS, Chuang HJ, Wu MS (2008) Tectonic features associated with the overriding of an accretionary wedge on top of a rifted continental margin: an example from Taiwan. Mar Geol 255:186–203

Liu CS, Huang IL, Teng LS (1997) Structural features offshore southwestern Taiwan. Mar Geol 137:305–316

Liu CS, Liu SY, Lallemand SE (1998) Digital elevation model offshore Taiwan and its implications. Terr Atmos Ocean Sci 9:705–738

Liu JT, Hsu RT, Hung JJ, Chang YP, Wang HY, Rendle-Buhring RH, Lee CL, Huh CA, Yang RJ (2016) From the highest to the deepest: the Gaoping River-Gaoping Submarine Canyon dispersal system. Earth-Sci Rev 153:274–300

McGregor BA (1981) Ancestral head of Wilmington Canyon. Geology 9:254–257

Milliman JD, Lin SW, Kao SJ, Liu JP, Liu CS, Chiu JK, Lin YC (2007) Short-term changes in seafloor character due to flood-derived hyperpycnal discharge: Typhoon Mindulle, Taiwan, July 2004. Geology 35:779–782

Mountjoy JJ, Howarth JD, Orpin AR, Barnes PM, Bowden DA, Rowden AA, Schimet ACG, Holden C, Horgan HJ, Nodder SD, Patton JR, Lamarche G, Gerstenberger M, Micallf A, Pallentin A, Kane T (2018) Earthquakes drive large-scale submarine canyon development and sediment supply to deep-ocean basins. Sci Adv 4:3478

Nittrouer CA, Wright LD (1994) Transport of particles across continental shelves. Rev Geophys 32:85–113

Normark WR, Carlson PR (2003) Giant submarine canyons: is size any clue to their importance in rock records? In: Chan MA, Archer AW (eds) Extreme depositional environments: mega end members in geological time. Geol Soc Am Spec Pap 370:175–190

Obelcz J, Brothers D, Chaytor J, Brink UT, Ross SW, Brooke S (2014) Geomorphic characterization of four shelf-sourced submarine canyons along the U.S. Mid-Atlantic continental margin. Deep-Sea Res II 104:106–119

Puig P, Palanques A, Martin J (2014) Contemporary sediment-transport processes in submarine canyons. Annu Rev Mar Sci 6:53–77

Shepard FP (1981) Submarine canyons: multiple causes and long-time persistence. AAPG Bull 65:1062–1077

Shepard FP, Dill RF (1966) Submarine canyons and other sea valleys. Rand McNally, Chicago

Sømme TO, Helland-Hansen W, Martinsen OJ, Thurmond JB (2009) Relationships between morphological and sedimentological parameters in source-to-sink systems: a basis for predicting semi-quantitative characteristics in subsurface systems. Basin Res 21:361–387

Su CC, Tseng JY, Hsu HH, Chiang CS, Yu HS, Lin S, Liu JT (2012) Records of submarine natural hazards off SW Taiwan. Geol Soc Lond Spec Publ 361:41–60

Su CC, Hsu ST, Hsu HH, Lin JY, Dong JJ (2018) Sedimentological characteristics and seafloor failure offshore SW Taiwan. Terr Atmos Ocean Sci 29:65–76

Sun SC, Liu CS (1993) Mud diapirs and submarine channel deposits offshore Kaohsiung-Hengchun, southwest Taiwan. Petrol Geol Taiwan 28:1–14

Suppe J (1981) Mechanics of mountain building and metamorphism in Taiwan. Mem Geol Soc China 4:67–89

Suppe J (1984) Kinematics of arc-continent collision, flipping of subduction, and back-arc spreading near Taiwan. In: Tsan SF (ed) A Special volume dedicated to Chun-Sun Ho on the occasion of his retirement. Mem Geol Soc China 6:21–33

Suppe J (1988) Tectonics of arc-continent collision on both sides of the South China Sea: Taiwan and Mindoro. Acta Geol Taiwan 26:1–18

Walsh JP, Nittrouer CA (2003) Contrasting styles of off-shelf sediment accumulation in New Guinea. Mar Geol 196:105–125

Yin SR, Wang LL, Guo YQ, Zhong GF (2015) Morphology, sedimentary characteristics and origin of the Dongsha submarine canyon in the northeastern continental slope in the South China Sea. Sci China: Earth Sci 58:971–985

Yu HS (2004) An under-filled foreland basin in the northern South China Sea off southwest Taiwan: incipient collision and foreland sedimentation. In: Clift P, Kuhnt W, Wang P, Hayes D (eds) Continent-ocean interactions within east Asian marginal seas. Geophys Monogr Am Geophys Union 149:159–173

Yu HS, Chang JF (2002) The Penghu submarine canyon off southwestern Taiwan: morphology and origin. Terr Atmos Ocean Sci 13:547–562

Yu HS, Chang TY (2009) Links among slope morphology, canyon types and tectonics on passive and active margins in the northernmost South China Sea. J Earth Sci 20:77–84

Yu HS, Chiang CS (1995) Morphology and origin of the Hongtsai submarine canyon west of the Hengchun Pennisula,Taiwan. J Geol Soc China 38:81–93

Yu HS, Chiang CS (1996) Seismic and morphological characteristics of the Kaohsiung submarine canyon, southwestern Taiwan. J Geol Soc China 39:73–86

Yu HS, Chiang CS (1997) Kaoping shelf: morphology and tectonic significance. J Asian Earth Sci 15:9–18

Yu HS, Chuang CY (2002) Morphology and canyon forming processes of upper reach of the Penghu Canyon off southwestern Taiwan. Terr Atmos Ocean Sci 13:91–108

Yu HS, Hong E (2006) Shifting submarine canyons and development of a foreland basin in SW Taiwan: Controls of foreland sedimentation and longitudinal transport. J Asian Earth Sci 27:922–932

Yu HS, Huang EC (1998) Morphology and origin of the Shoushan submarine canyon off southwestern Taiwan. J Geol Soc China 41:565–579

Yu HS, Huang ZY (2009) Morphotectonics and sedimentation in convergent margin basins: an example from juxtaposed marginal sea basin and foreland basin, Northern South China Sea. Tectonophysics 466:241–254

Yu HS, Lee CT (1993) The multi-head Penghu submarine canyon off southwestern Taiwan: morphology and origin. Acta Oceanogr Taiwan 30:10–21

Yu HS, Lu JC (1995) Development of the shale diapir-controlled Fangliao Canyon on the continental slope off southwestern Taiwan. J Asian Earth Sci 4:265–276

Yu HS, Huang CS, Ku JW (1991) Morphology and possible origin of the Kaoping submarine canyon head off southwest Taiwan. Acta Oceanogr Taiwan 27:40–50

Yu HS, Liu CS, Lee JT (1992) The Kaohsiung submarine canyon: a modern aborted canyon and its morphology and echo character. Acta Oceanogr Taiwan 28:19–31

Yu HS, Chiang CS, Shen SM (2009) Tectonically active sediment dispersal system in SW Taiwan margin with emphasis on the Gaoping (Kaoping) Submarine Canyon. J Mar Syst 76:369–382

Yu SW, Tasi LL, Talling PJ, Lin AT, Mii HS, Chung SH, Horng CS (2017) Sea level and climatic controls on turbidite occurrence for the past 26 kyr on the flank of the Gaoping Canyon off SW Taiwan. Mar Geol 392:140–150
Acknowledgements
We would like to thank the captain and crew of the R/V Ocean Research I, II and V who helped to collect the multi-beam bathymetric data and reflection seismic profiles for this study. This study is mainly supported by Central Geological Survey, Taiwan, under grants from the National Science Council, Taiwan. We acknowledge the two anonymous reviewers for their comments and suggestions that have improved the manuscript. We also appreciate the scientific input and language improvements by the journal editors. Funding was provided by Ministry of Science and Technology, Taiwan (107-2611-M-178-002 ).
Additional information
Publisher's Note
Springer Nature remains neutral with regard to jurisdictional claims in published maps and institutional affiliations.
About this article
Cite this article
Chiang, CS., Hsiung, KH., Yu, HS. et al. Three types of modern submarine canyons on the tectonically active continental margin offshore southwestern Taiwan. Mar Geophys Res 41, 4 (2020). https://doi.org/10.1007/s11001-020-09403-z
Received:

Accepted:

Published:
Keywords
Canyon types

Canyon head location

Sediment input

Tectonics

Taiwan margin