Abstract
Green Canyon Lease Block 600 is a well-documented cold seep site characterized by near-perennial oil and gas slicks large enough to reach the sea surface and to be detected on satellite imagery. This site has been selected by the Ecosystem Impact of Oil and Gas Inputs to the Gulf consortium to study the impacts of natural hydrocarbon seepage versus anthropogenic inputs of hydrocarbons into the Gulf of Mexico ecosystem following the Deepwater Horizon oil spill disaster that occurred in 2010. Here we present the first high-resolution characterization of the site. We investigated the seafloor and shallow subsurface combining autonomous underwater vehicle-borne seismo-acoustics with photo data. Our records show vigorous hydrocarbon flux occurring over a wide area of the complex seafloor morphology. Several mounds, which are the most prominent features of the site, are aligned along a ridge structure and are actively venting hydrocarbons. Detailed bathymetry of the mound's surface highlights the presence of numerous pockmarks, cones, and micro-mounds of variable sizes and shapes. High reflectivity seafloor backscatter characterizes the entire ridge surface; ground-truthing photo surveys confirm the presence of authigenic carbonate hardgrounds, gas hydrates, and chemosynthetic communities. The shallow stratigraphy indicates that the ridge represents the seafloor expression of normal faults, probably rooted to a deep salt body. Salt tectonics generated a complex network of normal faults, many of which displace the upper part of the Holocene sediments up to the seafloor, forming long linear scars. Acoustic anomalies, interpreted as active migration pathways, underlie mounds and venting structures, suggesting a link between the deep hydrocarbon reservoir and seafloor expulsion features.
This is a preview of subscription content, log in to check access.
Access options
Buy single article
Instant access to the full article PDF.
US$ 39.95
Price includes VAT for USA
Subscribe to journal
Immediate online access to all issues from 2019. Subscription will auto renew annually.
US$ 99
This is the net price. Taxes to be calculated in checkout.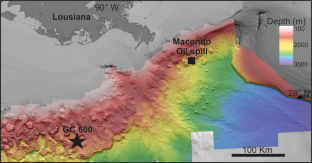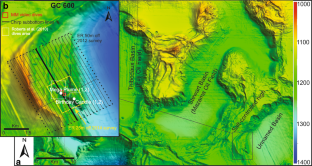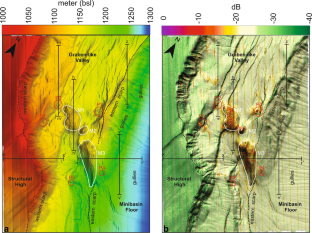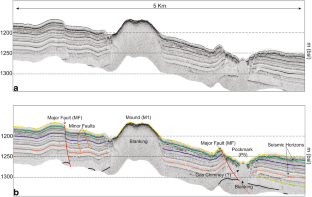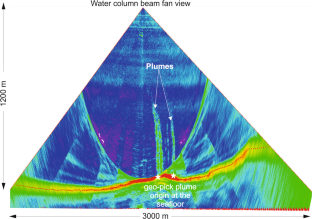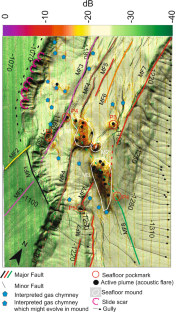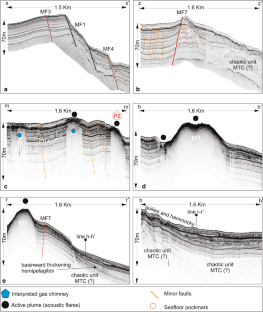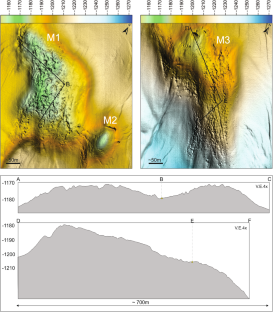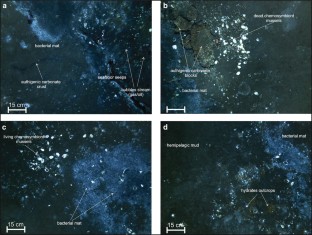 References
Andresen KJ (2012) Fluid flow features in hydrocarbon plumbing systems: What do they tell us about the basin evolution? Mar Geol 332–334:89–108. https://doi.org/10.1016/j.margeo.2012.07.006. Hydrocarbon leakage through focused fluid flow systems in continental margins

Bahk JJ, Kim DH, Chun JH, Son BK, Kim JH, Ryu BJ, Schultheiss P (2013) Gas hydrate occurrences and their relation to host sediment properties: results from Second Ulleung Basin gas hydrate drilling expedition, East Sea. Mar Pet Geol 47:21–29

Bird DE, Burke K, Hall SA, Casey JF (2005) Gulf of Mexico tectonic history: hotspot tracks, crustal boundaries, and early salt distribution. AAPG Bull 89(3):311–328

Brown CJ, Todd BJ, Kostylev VE, Pickrill RA (2011) Image-based classification of multibeam sonar backscatter data for objective surficial sediment mapping of Georges Bank, Canada. Cont Shelf Res 31(2):S110–S119

Casalbore D, Ridente D, Bosman A, Chiocci FL (2017) Depositional and erosional bedforms in Late Pleistocene-Holocene pro-delta deposits of the Gulf of Patti (southern Tyrrhenian margin, Italy). Mar Geol 385:216–227

Casalbore D, Falcini F, Martorelli E, Morelli E, Bosmand A, Calarco M, Chiocci FL (2018) Characterization of overbanking features on the lower reach of the Gioia Mesima canyon-channel system (southern Tyrrhenian Sea) through integration of morpho-stratigraphic data and physical modelling. Prog Oceanogr 169:66–78

Chatterjee S, Bhatnagar G, Dugan B, Dickens GR, Chapman WG, and G. J.Hirasaki (2014) The impact of lithologic heterogeneity and focused fluid flow upon gas hydrate distribution in marine sediments. J Geophys Res Solid Earth 119:6705–6732

Chiocci FL, Casalbore D (2011) Submarine gullies on Italian upper slopes and their relationship with volcanic activity: a 20 years later revisitation of a Bill Normark pioneer work. Geosphere 7:1284–1293

Conti A, D'Emidio M, Macelloni L, Lutken C, Asper V, Woolsey M, Highsmith RC (2016) Morpho-acoustic characterization of natural seepage features near the Macondo Wellhead (ECOGIG site OC26, Gulf of Mexico). Deep Sea Res Part II Top Stud Oceanogr 129:53–65

Crutchley GJ, Berndt C, Geiger S, Klaeschen D, Papenberg C, Klaucke I, Maier C (2013) Drivers of focused fluid flow and methane seepage at south Hydrate Ridge, offshore Oregon, USA. Geology 41(5):551–554

Daneshgar Asl S, Amos J, Woods P, Garcia-Pineda O, MacDonald IR (2016) Chronic, anthropogenic hydrocarbon discharges in the Gulf of Mexico. Deep Sea Res Part II Top Stud Oceanogr 129:187–195. https://doi.org/10.1016/j.dsr2.2014.12.006

Diegel FA, Karlo JF, Schuster DC, Shoup RC, Tauvers PR (1995) Cenozoic structural evolution and tectono-stratigraphic framework of the northern Gulf Coast continental margin. In: Jackson MPA, Roberts DG, Snelson S (eds), Salt tectonics: a global perspective: AAPG Memoir 65, pp 109–151

Diercks A, Asper VL, Williams JL, Woolsey M (2009) Advanced technology in motion: NIUST's AUV fleet. In: OCEANS 2009, MTS/IEEE Biloxi-marine technology for our future: global and local challenges. IEEE, pp 1–5

Diercks AR, Asper VL, Woolsey M, Jarnagin R, Dike C, D'Emidio M, Tidwell S, Conti A (2013) Site reconnaissance surveys for oil spill research using deep-sea AUVs, in: Proc. Oceans Conf

Fang J, Abrajano TA, Comet PA, Brooks JM, Sassen R, MacDonald IR (1993) Gulf of Mexico hydrocarbon seep communities: XI. Carbon isotopic fractionation during fatty acid biosynthesis of seep organisms and its implication for chemosynthetic processes. Chem Geol 109(1–4):271–279

Fonseca L, Mayer L (2007) Remote estimation of surficial seafloor properties through the application angular range analysis to multibeam sonar data. Mar Geophys Res 28:119–126. https://doi.org/10.1007/s11001-007-9019-4

Fonseca L, Brown C, Calder B, Mayer L, Rzhanov Y (2009) Angular range analysis of acoustic themes from Stanton Banks Ireland: a link between visual interpretation and multibeam echosounder angular signatures. Appl Acoust 70(10):1298–1304

Fort X, Brun JP (2012) Kinematics of regional salt flow in the northern Gulf of Mexico. Geol Soc 363(1):265–287

Garcia-Pineda O, MacDonald I, Zimmer B, Shedd B, Roberts H (2010) Remote-sensing evaluation of geophysical anomaly sites in the outer continental slope, northern Gulf of Mexico. Deep Sea Res Part II Top Stud Oceanogr Gulf Mexico Cold Seeps 57:1859–1869. https://doi.org/10.1016/j.dsr2.2010.05.005

Garcia-Pineda O, MacDonald I, Shedd W (2014) Analysis of oil-volume fluxes of hydrocarbon-seep formations on the Green Canyon and Mississippi Canyon: a study with 3D-Seismic attributes in combination with satellite and acoustic data. SPE Reserv Eval Eng 17:430–435. https://doi.org/10.2118/169816-PA

Garcia-Pineda O, MacDonald I, Silva M, Shedd W, Asl SD, Schumaker B (2016) Transience and persistence of natural hydrocarbon seepage in Mississippi Canyon, Gulf of Mexico. Deep Sea Res Part II Top Stud Oceanogr 129:119–129. https://doi.org/10.1016/j.dsr2.2015.05.011

Gartrell A, Zhang Y, Lisk M, Dewhurst D (2003) Enhanced hydrocarbon leakage at fault intersections: an example from the Timor Sea, Northwest Shelf, Australia. J Geochem Explor 78–79:361–365

Gartrell A, Zhang Y, Lisk M, Dewhurst D (2004) Fault intersections as critical hydrocarbon leakage zones: integrated field study and numerical modelling of an example from The Timor Sea, Australia. Mar Petrol Geol 21:1165–1179

Hammerstad E (1994) Backscattering and sonar image reflectivity: EM12/950/1000 Technical Note, 10p

Hood KC, Wenger LM, Gross OP, Harrison SC (2002) Hydrocarbon systems analysis of the northern Gulf of Mexico: delineation of hydrocarbon migration pathways using seeps and seismic imaging. Surface exploration case histories: applications of geochemistry, magnetics, and remote sensing. AAPG Stud Geol 48:25–40

Jackson DR, Winebrenner DP, Ishimaru A (1986) Application of the composite roughness model to high-frequency bottom backscattering. J Acoust Soc Am 79:1410–1422. https://doi.org/10.1121/1.393669

Johansen C, Todd AC, MacDonald IR (2017) Time series video analysis of bubble release processes at natural hydrocarbon seeps in the northern Gulf of Mexico. Mar Pet Geol 82:21–34

Joye SB, MacDonald IR, Montoya JP, Peccini MB (2005) Geophysical and geochemical signatures of Gulf of Mexico seafloor brines. Biogeosciences 2(3):295–309

Kennicutt MC, Brooks JM, Denoux GJ (1988) Leakage of deep, reservoir petroleum to the near surface on the Gulf of Mexico continental slope. Mar Chem 24(1):39–59

Ligtenberg JH (2005) Detection of fluid migration pathways in seismic data: implications for fault seal analysis. Basin Res 17(1):141–153

Liu X, Flemings PB (2007) Dynamic multiphase flow model of hydrate formation in marine sediments. J Geophys Res 112:B03101. https://doi.org/10.1029/2005JB004227

Løseth H, Gading M, Wensaas L (2009) Hydrocarbon leakage interpreted on seismic data. Mar Pet Geol 26(7):1304–1319

MacDonald IR, Guinasso NL, Ackleson SG, Amos JF, Duckworth R, Sassen R, Brooks JM (1993) Natural oil slicks in the Gulf of Mexico visible from space. J Geophys Res Oceans 98:16351–16364. https://doi.org/10.1029/93JC01289

MacDonald IR, Guinasso NL, Sassen R, Brooks JM, Lee L, Scott KT (1994) Gas hydrate that breaches the sea floor on the continental slope of the Gulf of Mexico. Geology 22(8):699–702

MacDonald IR, Garcia-Pineda O, Beet A, Daneshgar Asl S, Feng L, Graettinger G, French-McCay D, Holmes J, Hu C, Huffer F, Leifer I, Muller-Karger F, Solow A, Silva M, Swayze G (2015) Natural and unnatural oil slicks in the Gulf of Mexico. J Geophys Res Oceans 120:8364–8380. https://doi.org/10.1002/2015JC011062

Macelloni L, Simonetti A, Knapp JH, Knapp CC, Lutken CB, Lapham LL (2012) Multiple resolution seismic imaging of a shallow hydrocarbon plumbing system, Woolsey Mound, Northern Gulf of Mexico. J Mar Pet Geol 38:128–142

Macelloni L, Lutken CB, Garg S, Simonetti A, D'Emidio M, Wilson RM, Sleeper K, Lapham L, Lewis T, Pizzi M, Knapp J, Knapp C, Brooks J, McGee TM (2015) Heat-flow regimes and the hydrate stability zone of a transient, thermogenic, fault-controlled hydrate system (Woolsey Mound northern Gulf of Mexico). Mar Pet Geol 59:(2015) 491–504

Macelloni L, Lutken CB, Ingrassia M, D'Emidio M, Pizzi M (2016) Mesoscale biogeophysical characterization of Woolsey Mound (northern Gulf of Mexico), a new attribute of natural marine hydrocarbon seeps architecture. Mar Geol 380:330–344

Madof AS, Christie-Blick N, Anders MH (2009) Stratigraphic controls on a salt-withdrawal intraslope minibasin, north-central Green Canyon, Gulf of Mexico: implications for misinterpreting sea level change. AAPG bulletin 93(4):535–561

Maier KL, Brothers DS, Paull CK, McGann M, Caress DW, Conrad JE (2016) Records of continental slope sediment flow morphodynamic responses to gradient and active faulting from integrated AUV and ROV data, offshore Palos Verdes, southern California Borderland. Mar Geol https://doi.org/10.1016/j.margeo.2016.10.001

Mallarino G, Beaubouef RT, Droxler AW, Abreu V, Labeyrie L (2006) Sea level influence on the nature and timing of a minibasin sedimentary fill (northwestern slope of the Gulf of Mexico). AAPG Bull 90(7):1089–1119

McHugh CM, Damuth JE, Mountain GS (2002) Cenozoic mass-transport facies and their correlation with relative sea-level change, New Jersey continental margin. Mar Geol 184(3–4):295–334

Mitchell GA, Orange DL, Gharib JJ, Kennedy P (2018) Improved detection and mapping of deepwater hydrocarbon seeps: optimizing multibeam echosounder seafloor backscatter acquisition and processing techniques. Mar Geophys Res 39:323–347

Neurauter TW, Bryant WR (1990) Seismic expression of sedimentary volcanism on the continental slope, northern Gulf of Mexico. Geo Mar Lett 10(4):225–231

Roberts HH, Aharon P (1994) Hydrocarbon-derived carbonate buildups of the northern Gulf of Mexico continental slope: a review of submersible investigations. Geo Mar Lett 14:135–148. https://doi.org/10.1007/BF01203725

Roberts HH, Carney RS (1997) Evidence of episodic fluid, gas, and sediment venting on the northern Gulf of Mexico continental slope. Econ Geol 92:863–879. https://doi.org/10.2113/gsecongeo.92.7-8.863

Roberts HH, Shedd W, Hunt J Jr (2010) Dive site geology: DSV ALVIN (2006) and ROV JASON II (2007) dives to the middle-lower continental slope, northern Gulf of Mexico. Deep Sea Res Part II Top Stud Oceanogr Gulf of Mexico Cold Seeps 57, 1837–1858. https://doi.org/10.1016/j.dsr2.2010.09.001

Rzhanov Y, Fonseca L, Mayer L (2012) Construction of seafloor thematic maps from multibeam acoustic backscatter angular response data. Comput Geosci 41:181–187. https://doi.org/10.1016/j.cageo.2011.09.001

Serié C, Huuse M, Schødt NH (2012) Gas hydrate pingoes: deep seafloor evidence of focused fluid flow on continental margins. Geology 40:207–210. https://doi.org/10.1130/G32690.1

Serié C, Huuse M, Schødt NH, Brooks JM, Williams A (2017) Subsurface fluid flow in the deep-water Kwanza Basin, offshore Angola. Basin Res 29:149–179

Simonetti A, Knapp JH, Sleeper K, Lutken CB, Macelloni L, Knapp CC (2013) Spatial distribution of gas hydrates from high-resolution seismic and core data, Woolsey Mound, Northern Gulf of Mexico. Mar Pet Geol 44:21–33

Wang H, Crutchley GJ, Stern T (2017) Gas hydrate formation in compressional, extensional and un-faulted structural settings—examples from New Zealand's Hikurangi margin. Mar Pet Geol 88:69–80

Weber TC, Mayer L, Beaudoin J, Jerram K, Malik M, Shedd B, Rice G (2012) Mapping gas seeps with the deepwater multibeam echosounder on Okeanos Explorer. Oceanography 25 (1-Supplement)

Wilson RM, Macelloni L, Simonetti A, Lapham L, Lutken C, Sleeper K, … Chanton J (2014) Subsurface methane sources and migration pathways within a gas hydrate mound system, Gulf of Mexico. Geochem Geophys Geosyst 15(1):89–107

Woolsey M, Woolsey A (2016) Using MB-System and Matlab to generate geographical mosaics from seafloor images. In: Oceans 2016 Monterey, Monterey, pp 1–10

Woolsey M, Asper VL, Diercks AR, McLetchie K (2010) Enhancing NIUST's seabed class AUV, Mola Mola. In: Autonomous underwater vehicles (AUV), 2010 IEEE/OES. IEEE, pp 1–5
Acknowledgements
We thank the science parties and the ship's crews of the RV Pelican and the RV Falkor. Carol B. Lutken is greatly appreciated for reviewing the document and for providing insightful comments. We also are deeply grateful to IHS Kingdom for granting the Academic License of Kingdom Suite 8.8. This work was supported by the NOAA Award NA07AR4300464 to the National Institute for Undersea Science and Technology and by a grant from The Gulf of Mexico Research Initiative to support the ECOGIG-2 research consortium. Data are publicly available through the Gulf of Mexico Research Initiative Information & Data Cooperative (GRIIDC) at https://data.gulfresearchinitiative.org [https://doi.org/10.7266/N72V2D45, https://doi.org/10.7266/N7Z31WP7].
Additional information
Publisher's Note
Springer Nature remains neutral with regard to jurisdictional claims in published maps and institutional affiliations.
About this article
Cite this article
Diercks, A., Macelloni, L., D'Emidio, M. et al. High-resolution seismo-acoustic characterization of Green Canyon 600, a perennial hydrocarbon seep in Gulf of Mexico deep water. Mar Geophys Res 40, 357–370 (2019). https://doi.org/10.1007/s11001-018-9374-3
Received:

Accepted:

Published:

Issue Date:
Keywords
Gulf of Mexico

Cold seeps

Seafloor mounds

Hydrocarbon plumbing system

Shallow faults

Seafloor morphology