Abstract
The aim of this work is to describe the morpho-dynamic processes of coastal and submarine areas based on morpho-bathymetric data and sub-bottom acoustic profiles from the Calabrian Ionian margin (from Capo Spartivento to Capo Rizzuto). We describe some of the most significant geo-hazard features and show some examples of their complex interactions and related potential risk. The relationship between these geo-hazard features and the active tectonics and some severe historical earthquakes and tsunamis is also discussed. The studied area is characterized by several well developed canyon systems. The retrogressive erosion of the canyon heads affects the continental shelf and interacts with the coastal morpho-sedimentary processes, evidencing the intense geomorphic activity of this sector of Ionian margin. The widespread evidence of mass wasting processes and slope instability, together with the historical seismicity, makes this area also an ideal case study for investigating on the possible relationship between earthquakes and landslide-triggered tsunamis and assessing the potential risk.
Access options
Buy single article
Instant access to the full article PDF.
US$ 39.95
Tax calculation will be finalised during checkout.
Subscribe to journal
Immediate online access to all issues from 2019. Subscription will auto renew annually.
US$ 79
Tax calculation will be finalised during checkout.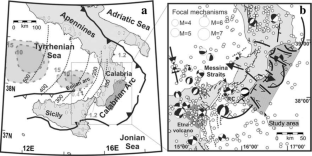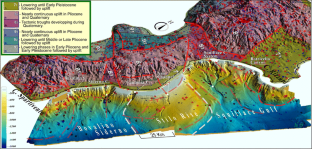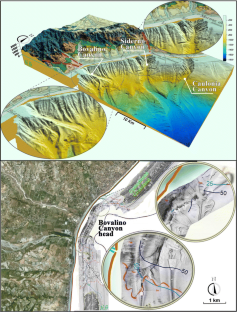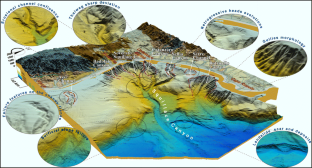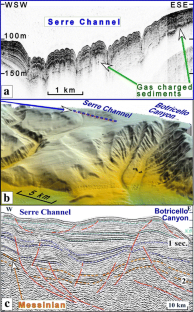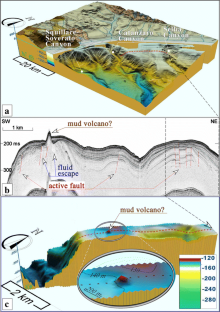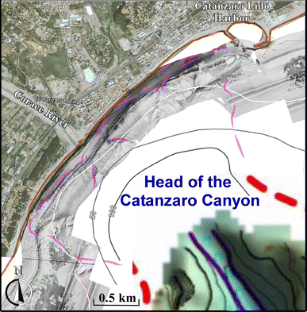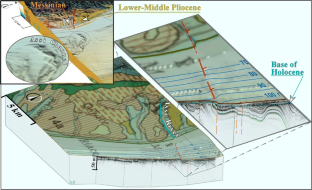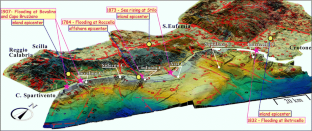 References
Ambrosetti P, Bartolini C, Bosi C, Carraro F, Ciaranfi N, Panizza M, Papani G, Vezzani L, Zanferrari A (1987) Neotectonic map of Italy (Scale 1:500.000). C.N.R., P. F. Geodinamica

Bordoni P, Valensise G (1998) Deformation of the 125 ka marine terrace in Italy; tectonic implications. In: Stewart I, Vita-Finzi C (eds) Late quaternary coastal tectonics. Geol Soc Spec Publ Lond 146:71–110

Canals M, Lastras G, Urgeles R, Casamor JL, Mienert J, Cattaneo A, De Batist M, Haflidason H, Imbo Y, Laberg JS (2004) Slope failure dynamics and impacts from seafloor and shallow sub-seafloor geophysical data: case studies from the COSTA project. Mar Geol 213(1–4):9–72

Canu M, Trincardi F (1989) Controllo eustatico e tettonico sui sistemi deposizionali nel bacino di Paola (Plio-Quaternario), margine tirreno orientale. Giornale di Geologia 3(51/2):41–61

Casero P, Roure R, Endignoux L, Moretti I, Muller C, Sage L, Vially R (1992) Neogene geodynamic evolution of Southern Apennines. Mem Soc Geol Ital 41:109–120

Castello B, Olivieri M, Selvaggi G (2007) Local and duration magnitude determination for the Italian earthquake catalogue (1981–2002). Bull Seismolog Soc Am 97(1B):128–139

Cochonat P, Bourillet JF, Savoye B, Dodd L (1993) Geotechnical characteristics and instability of submarine slope sediments, the Nice slope (NW Mediterranean Sea). Mar Georesour Geotechnol 11:131–151

Colantoni P, Gennesseaux M, Vanney JR, Ulzega A, Melegari G, Trombetta A (1992) Processi dinamici del canyon sottomarino di Gioia Tauro (Mare Tirreno). Gionale di Geologia 3(54/2):199–213

Colizza E, Cuppari A, Fanucci F, Morelli D, Fonda G, Melis R, Accettella D, Wardell N (2008) Morfostrutture e processi sedimentari nei fondali dell'area compresa fra Punta Stilo e Capo Rizzuto (Calabria Ionica), zona a potenziale rischio geoambientale. In: Oggiano G et al. (eds) Rend online Society Geological Italian. Proceedings of 84th congress SGI, 15–17th Sept 2008, Sassari vol 3, pp 248–249

Cuppari A, Colizza E, Fanucci F, Morelli D (2004) Morphology and evolution of the Siderno and Bovalino Canyons: there relationship with the tectonics of the Calabrian Arc (Calabrian Ionian Margin). Quaternaria Nova VIII:29–44

Cuppari A, Fanucci F, Morelli D, Colizza E, Lenaz D, Accettella D, Wardell N (2007) Morphostructural features and sedimentary processes of the Ionian Calabrian inner margin.). In: Consiglio di Presidenza della FIST (eds) Epitome 02.864, Geoitalia 2007, 12–14th Sept 2007, Rimini

Dai Pra G, Miyauchi T, Anselmi B, Galletti M, Paganin G (1993) Età dei depositi a Strombus Bubonius di Vibo Valentia Marina (Italia Meridionale). II Quaternario 6(1):139–144

De Blasio FV, Elverhøi A, Engvik LE, Issler D, Gauer P, Harbitz C (2006) Understanding the high mobility of subaqueous debris flows. Norvegian J Geol 86/3:275–284

Del Ben A, Barnaba C, Toboga A (2008) Strike-slip systems as the main tectonic features in the Plio-Quaternary kinematics of the Calabrian Arc. Mar Geophys Res 29:1–12. doi:10.1007/s11001-007-9041-6

Doglioni C, Mongelli F, Pieri P (1994) The Puglia uplift (SE Italy)-an anomaly in the foreland of the Apenninic subduction due to buckling of a thick continental lithosphere. Tectonics 13(5):1309–1321

Faccenna C, Becker TW, Lucente FP, Jolivet L, Rossetti F (2001) History of subduction and back-arc extension in the central Mediterranean. Geophys J Int 145:809–820

Ferranti L, Monaco C, Antonioli F, Maschio L, Kershaw S, Verrubbi V (2007) The contribution of regional uplift and coseismic slip to the vertical crustal motion in the Messina Straits, southern Italy: evidence from raised Late Holocene shorelines. J Geophys Res 112:B06401. doi:10.1029/2006JB004473

Ferranti L, Santore E, Mazzella ME, Monaco C, Morelli D (2009) Active transpression in the northern Calabria Apennines, southern Italy. Tecthonophysics 476:226–251

Ghisetti F (1979) Relazioni tra strutture e fasi trascorrenti e distensive lungo i sistemi Messina-Fiumefreddo, Tindari-Letojanni e Alia-Malvagna (Sicilia nord-orientale): uno studio microtettonico. Geol Rom 18:23–58

Gueguen E, Doglioni C, Fernandez M (1998) On the post-25 Ma geodynamic evolution of the western Mediterranean. Tectonophysics 298:259–269

Lorito S, Tiberti MM, Basili R, Piatanesi A, Valensise G (2008) Earthquake-generated tsunamis in the Mediterranean sea: scenarios of potential threats to southern Italy. J Geophys Res 113:B01301. doi: 10.1029/2007jb004943

Malinverno A, Ryan WBF (1986) Extension in the Tyrrhenian sea and shortening in the Appennines as result of arc migration driven by sinking of the lithosphere. Tectonics 5:227–245

McAdoo BG, Pratson LF, Orange DL (2000) Submarine landslide geomorphology, US continental slope. Mar Geol 169:103–136

Migeon S, Cattaneo A, De Lepinay BM, Corradi N, Larroque C, the Malisar team (2007) Quaternary and recent submarine landslides on the Ligurian margin (North-Western Mediterranean): distribution and triggering mechanisms. Malisar project—3rd international symposium

Monaco C, Tortorici L (2000) Active faulting in the Calabrian arc and eastern Sicily. J Geodyn 29:407–424. doi:10.1016/S0264-3707(99)00052-6

Monaco C, Tortorici L, Nicolich R, Cernobori L, Costa M (1996) From collisional to rifted basins: an example from the southern Calabrian arc (Italy). Tectonophysics 266:233–249

Morelli D (2008) La Cartografia marina: ricerche ed applicazioni orientate ai rischi geologico-ambientali in aree campione. Unpublished PhD thesis, University of Trieste, Italy, p 118

Patacca E, Scandone P (2001) Late thrust propagation and sedimentary response in the thrust belt-foredeep system of the southern Apennines (Pliocene–Pleistocene). In: Vai GB, Martini IP (eds) Anatomy of an orogen: the Apennines and adjacent Mediterranean basins. Kluwer Academic Publishers, London, pp 401–440

Patacca E, Sartori R, Scandone P (1990) Tyrrhenian basin and Appenninic arcs: kinematic relations since late Tortonian times: Memorie della Società Geologica Italiana 45:425–451

Tansi C, Muto F, Critelli S, Iovine G (2007) Neogene–quaternary strike-slip tectonics in the central Calabrian Arc (southern Italy). J Geodyn 43:393–414

Tinti S, Maramai A, Graziani L (2004) The new catalogue of Italian tsunamis. Nat Hazards 33(3):439–465

Tinti S, Maramai A, Graziani L (2007) The Italian Tsunami Catalogue (ITC), Version 2. http://www.ingv.it/servizi-e-risorse/BD/catalogo-tsunami/catalogo-degli tsunami-italiani

Van Dijk JP, Bello M, Brancaleoni GP, Cantarella G, Costa V, Frixa A, Golfetto F, Merlini S, Riva M, Torricelli S, Toscano C, Zerilli A (2000) A regional structural model for the northern sector of the Calabrian Arc (southern Italy). Tectonophysics 324:267–320

Westaway R (1990) Present-day kinematics of the plate boundary zone between Africa and Europe from the Azores to the Aegean. Earth Planet Sci Lett 96:393–406
Acknowledgments
This work was supported by University of Trieste (Department of GeoSciences; Resp. F. Fanucci and E. Colizza). We are grateful to the support of Project MaGIC (Marine Geohazard along the Italian Coasts; Resp. F.L. Chiocci) funded by the Italian Civil Protection Department and coordinated by the Institute of Environmental Geology and Geoengineering of the Italian National Research Council (IGAG-CNR). The marine geophysical data were acquired in the framework of the MESC-05 project (Morphology and Evolution of the Submarine Canyons in the Ionian Margin of Calabria; Resp. E. Colizza), on board of the R/V OGS-EXPLORA and supported by the Department for the Development of Marine Technology and Research of the Osservatorio Geofisico Sperimentale (Trieste; Resp. R. Ramella). The Side-Scan Sonar data were collected by the Italian Department of the Environment and of the Territory Management. (SI.DI.MAR). L. Ferranti (University of Naples—FedericoII) is thanked for his helpful suggestions. We are also grateful to D. Ridente (IGAG-CNR) and of an anonymous reviewer for their careful review and to F.L. Chiocci for editorial guidance.
About this article
Cite this article
Morelli, D., Cuppari, A., Colizza, E. et al. Geomorphic setting and geohazard-related features along the Ionian Calabrian margin between Capo Spartivento and Capo Rizzuto (Italy). Mar Geophys Res 32, 139–149 (2011). https://doi.org/10.1007/s11001-011-9130-4
Received:

Accepted:

Published:

Issue Date:
Keywords
Marine geo-hazard

Submarine landslide

Submarine canyon

Active tectonics

Marine morphology

Marine cartography

Ionian Calabrian margin