Abstract
Truncated tetrahedra are the fundamental building blocks of hyperbolic 3-manifolds with geodesic boundary. The study of their geometric properties (in particular, of their volume) has applications also in other areas of low-dimensional topology, like the computation of quantum invariants of 3-manifolds and the use of variational methods in the study of circle packings on surfaces. The Lobachevsky–Schläfli formula neatly describes the behaviour of the volume of truncated tetrahedra with respect to dihedral angles, while the dependence of volume on edge lengths is worse understood. In this paper we prove that, for every \(\ell <\ell _0\), where \(\ell _0\) is an explicit constant, the regular truncated tetrahedron of edge length \(\ell \) maximizes the volume among truncated tetrahedra whose edge lengths are all not smaller than \(\ell \). This result provides a fundamental step in the computation of the ideal simplicial volume of an infinite family of hyperbolic 3-manifolds with geodesic boundary.
This is a preview of subscription content, log in to check access.
Access options
Buy single article
Instant access to the full article PDF.
US$ 39.95
Tax calculation will be finalised during checkout.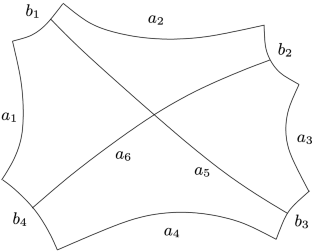 References
1.

A. Basmajian, The orthogonal spectrum of a hyperbolic manifold. Am. J. Math. 115(5), 1139–1159 (1993)

2.

M. Bridgeman, J. Kahn, Hyperbolic volume of manifolds with geodesic boundary and orthospectra. Geom. Funct. Anal. 20, 1210–1230 (2010)

3.

J. Brandts, S. Korotov, M. Krízek, J. Solc, On nonobtuse simplicial partitions. SIAM Rev. 51, 317–335 (2009)

4.

M. Bridgeman, Orthospectra of geodesic laminations and dilogarithm identities on moduli space. Geom. Topol. 15, 707–733 (2011)

5.

M. Bridgeman, S.P. Tan, Moments of the boundary hitting function for the geodesic flow on a hyperbolic manifold. Geom. Topol. 18(1), 491–520 (2014)

6.

M. Bridgeman, S.P. Tan, Handbook of Teichmüller Theory. IRMA lectures in mathematics and theoretical physics, identities on hyperbolic manifolds, vol. 26 (European Mathematical Society, Zürich, 2016) (pp. 19–53)

7.

D. Calegari, Chimneys, leopard spots and the identities of Basmajian and Bridgeman. Algebraic Geom. Topol. 10(2010), 1857–1863 (2010)

8.

D. Calegari, Bridgeman's orthospectrum identity. Topol. Proc. 38, 173–179 (2011)

9.

F. Costantino, F. Guéritaud, R. van der Veen, On the volume conjecture for polyhedra. Geom. Dedic. 179, 385–409 (2015)

10.

Q. Chen, J. Murakami, Asymptotics of quantum \(6j-\)symbols. arXiv:1706.04887

11.

F. Costantino, J. Murakami, On the \(sl(2,\mathbb{C})\) quantum \(6j-\)symbols and their relation to the hyperbolic volume. Quantum Topol. 4, 303–351 (2013)

12.

F. Costantino, \(6j-\)symbols, hyperbolic structures and the volume conjecture. Geom. Topol. 11, 1831–1854 (2007)

13.

R. Frigerio, M. Moraschini, The ideal simplicial volume of manifolds with boundary. Int. Math. Res. Not. IMRN (to appear)

14.

R. Frigerio, B. Martelli, C. Petronio, Small hyperbolic 3-manifolds with geodesic boundary. Exp. Math. 13, 171–184 (2004)

15.

R. Frigerio, C. Petronio, Construction and recognition of hyperbolic \(3\)-manifolds with geodesic boundary. Trans. Am. Math. Soc. 356, 3243–3282 (2003)

16.

R. Guo, Calculus of generalized hyperbolic tetrahedra. Geom. Dedic. 153, 139–149 (2011)

17.

H. Hadwiger, Ungelöste probleme. Elem. Math. 11, 109–110 (1956)

18.

Á.G. Horváth, Formulas on hyperbolic volumes. Aequat. Math. 83, 97–116 (2012)

19.

R. Kellerhals, On the volume of hyperbolic polyhedra. Math. Ann. 245, 541–569 (1989)

20.

R. Kellerhals, The Dilogarithm and Volumes of Hyperbolic Polytopes, Mathematical Surveys and Monographs, vol. 37 (Americal Mathematical Society, New York, 1991), pp. 301–336

21.

R. Kellerhals, Volumes in hyperbolic 5-space. Geom. Funct. Anal. 5, 640–667 (1995)

22.

S. Kojima, Y. Miyamoto, The smallest hyperbolic 3-manifolds with totally geodesic boundary. J. Differ. Geom. 34, 175–192 (1991)

23.

A. Kolpakov, J. Murakami, Volume of a doubly truncated hyperbolic tetrahedron. Aequat. Math. 85, 449–463 (2013)

24.

S. Kojima, Polyhedral decomposition of hyperbolic manifolds with boundary. Proc. Work. Pure Math. 10, 37–57 (1990)

25.

S. Kojima, Polyhedral decomposition of hyperbolic 3-manifolds with totally geodesic boundary, aspects of low-dimensional manifolds. Adv. Stud. Pure Math. 20, 93–112 (1992)

26.

F. Luo, A combinatorial curvature flow for compact 3-manifolds with boundary. Electron. Res. Announc. Am. Math. Soc. 11, 12–20 (2005)

27.

F. Luo, T. Yang, Volume and rigidity of hyperbolic polyhedral 3-manifolds. J. Topol. 11, 1–29 (2018)

28.

J.W. Milnor, The Schläfli Differential Formula, Collected Papers, vol. 1 (Geometry, Publish or Perish Inc, Houston, 1994), pp. 281–295

29.

Y. Miyamoto, On the volume and surface area of hyperbolic polyhedra. Geom. Dedic. 40, 223–236 (1991)

30.

Y. Miyamoto, Volumes of hyperbolic manifolds with geodesic boundary. Topology 33, 613–629 (1994)

31.

E. Molnár, Projective metrics and hyperbolic volume. Ann. Univ. Sci. Budapest. Eötvös Sect. Math. 32, 127–157 (1989)

32.

J. Murakami, A. Ushijima, A volume formula for hyperbolic tetrahedra in terms of edge lengths. J. Geom. 83, 153–163 (2005)

33.

A. Przeworski, An upper bound on density for packings of collars about hyperplanes in \(\mathbb{H}^n\). Geom. Dedic. 163, 193–213 (2013)

34.

I. Rivin, Volumes of degenerating polyhedra—on a conjecture of J. W. Milnor. Geom. Dedic. 131, 73–85 (2008)

35.

J.M. Schlenker, Hyperideal polyhedra in hyperbolic manifolds. arXiv:math/0212355

36.

J.-M. Schlenker, Hyperideal circle patterns. Math. Res. Lett. 12, 85–102 (2005)

37.

J.-M. Schlenker, Circle patterns on singular surfaces. Discrete Comput. Geom. 40, 47–102 (2008)

38.

B.A. Springborn, A variational principle for weighted Delaunay triangulations and hyperideal polyhedra. J. Differ. Geom. 78, 333–367 (2008)

39.

J. Szirmai, Hyperball packings in hyperbolic 3-space. Mat. Vesn. 70(3), 211–222 (2018)

40.

K. Tschirpke, The dissection of five-dimensional simplices into orthoschemes. Beitr. Algebra Geom. 35, 1–11 (1994)

41.

A. Ushijima, A Volume Formula for Generalised Hyperbolic Tetrahedra, Non-Euclidean Geometries. Mathematics Application, vol. 581 (Springer, New York, 2006), pp. 249–265
About this article
Cite this article
Frigerio, R., Moraschini, M. On volumes of truncated tetrahedra with constrained edge lengths. Period Math Hung 79, 32–49 (2019). https://doi.org/10.1007/s10998-018-00277-8
Keywords
Truncated tetrahedron

Schläfli formula

Hyperbolic manifold

Geodesic boundary

Dilogarithm
Mathematics Subject Classification
Primary: 52A55

Secondary: 52A38

52B10

57M50