Abstract
European anti-money laundering (AML) law obliges both financial and non-financial private companies to contribute to combatting money laundering. Since the financial sector has implemented largely effective AML in the meantime, money launderers are increasingly moving their activities to the non-financial sector (non-FS). This study examines how AML obligations are implemented in the German non-FS. We intend to systemize different implementations of these obligations to provide a basis for improving future AML implementations, guidance, and research in the non-FS. The German setting is especially suited for this research, because its AML law is stricter than European AML law with respect to non-FS obligations, and because Germany has a large and interconnected economy. We use Grounded Theory to collect and analyze rich data from semi-structured interviews with 13 managers from eight multinational companies. Our result is a theory which systemizes the identified AML implementations. This helps explain how these various AML approaches emerge, and identifies ways in which the identified non-compliance and unaddressed AML risks can be mitigated. Another key observation is that guidance by the regulatory authorities is lacking. For both practice and regulators, the findings imply that the non-FS should follow a systematic AML process and that the regulatory authorities should support this approach through additional guidance. We also close some gaps in the literature, which has largely neglected the non-FS and rarely collected original data of actual AML implementation. The developed theory contributes to a better understanding of how AML effectiveness can be assessed and enhanced.
This is a preview of subscription content, log in to check access.
Access options
Buy single article
Instant access to the full article PDF.
US$ 39.95
Price includes VAT for USA
Subscribe to journal
Immediate online access to all issues from 2019. Subscription will auto renew annually.
US$ 99
This is the net price. Taxes to be calculated in checkout.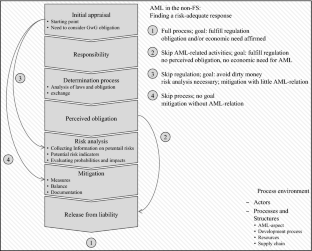 Notes
1.

EU AML law only obliges PTIG to conduct AML, when they have cash transactions above 10,000 Euros, cf. Sect. 2.

2.

This development process is our (grounded) theory. The outcome of a research project which applies Grounded Theory is generally termed a theory and can take different forms, e.g. a framework, a process, or a model (Corbin and Strauss 2015, cf. Section 3.1).

3.

AML deficiencies (or implementation deficiencies) cover non-compliance with AML laws and a failure to identify risks in the context of money laundering systematically, and respond to them effectively. Deficiencies in AML enforcement (e.g. p. 5) mean that regulatory and supervisory authorities do not provide enough guidance in combination with supervision, which then fails to result in sufficient pressure to make companies set up AML systems which are compliant with AML laws.

4.

While this supervision and the cash threshold mentioned below only apply to PTIG, other non-FS companies face the same or more AML requirements and supervision compared to PTIG.

5.

The fourth AML Directive was issued in 2015 and amended in 2018. It had not been transposed into national German law when the research on hand was conducted. Therefore, it was conducted based on the prior, third AML Directive. However, changes of the fourth AML Directive which have not been anticipated by the German legislator and were thus not yet in place in Germany when the study was conducted, merely influence the study context, but neither its results nor their interpretation and applicability. The most severe change is the reduction of the cash transaction threshold for which PTIG have to conduct customer due diligence from 15,000 Euros to 10,000 Euros. Although this does not change the mechanism of this regulation, during the research, all questions relating to this regulation were asked using the benchmark of 10,000 Euros.

6.

Indeed, we believe that agency theory fits well to risk-based AML regulation and implementation, as they fulfill the three problem characteristics of agency theory of Eisenhardt (1989): (1) Substantial goal conflict: While the regulator aims for maximally effective AML, obliged companies generally aim for profit and therefore for the lowest possible AML costs. (2) Sufficient outcome uncertainty: As money laundering risks without AML are uncertain, the risk-reduction achieved through AML is also uncertain. (3) Team-oriented jobs for which behavior evaluation is impossible: While an AML system can be evaluated, the implementation of this system is a team effort by the entire firm which is, if possible at all, very costly to evaluate.

7.

Note that agency theory is well-known in economics, while Grounded Theory is a methodology which results in the development of a novel theory based on inductive interpretations of original data. The two are distinct and our Grounded Theory approach provides tools that ensure an appropriate separation during the course of the research (cf. Sect. 3).

8.

Examples of jurisdictions outside Europe which neglect PTIG completely are Australia, Japan, and the USA. Australia does not oblige any PTIG (Sect. 6 of the Australian Anti-Money Laundering and Counter-Terrorism Financing Act 2006) and Japan and the USA only oblige dealers of precious goods to adhere to money laundering rules (Art. 2 of the Japanese Act on Prevention of Transfer of Criminal Proceeds (Act No. 22 of 2007), and Title 31, Parts 1020-1030 US Code of Federal Regulations, and Title 31, Paragraph 5312 United States Code). Conversely, Switzerland is stricter than EU laws, because it obliges all PTIG who accept cash to adhere to money laundering laws (Art. 2 Par. 1b Swiss Anti-Money Laundering Act).

9.

Considering PTIG, German laws are hence stricter than those of other European jurisdictions, such as France and Italy, which basically define obligated parties just like the EU AML directive (Art. L.561-2 of the French Monetary and Financial Code (Code monétaire et financier) and Art. 3 of the Italian decreto legislativo 2007, n. 231, amended by Art. 1 decreto legislativo 2017, n. 90). Similarly, in the UK, most AML regulations only apply to entities which are also obligated by the EU AML directive (so-called regulated sector, Provision 3 of the UK Money Laundering Regulations 2007).

10.

At the time when the interviews were conducted, to the best of our knowledge, this was the only comprehensive guide and the only one to focus on PTIG. It was far more extensive than any guidance or combination of guidance provided by regulators, supervisors or other authorities.

11.

For the other interview, a protocol was written during the interview. The transcripts/protocol were later sent to the participants for confirmation. Only minor changes were needed.

12.

This researcher was also present at all interviews. The other researcher (who was only present at one interview) and the consultants (of the two consultants, at least one was present at each interview) reviewed the coding. Hence, for each interview, at least one person who was not present at the respective interview reviewed the coding. Minor changes in wording resulted.

13.

Only one interviewer was heavily involved in the development of the interview guide and therefore likely to be influenced by the a priori expectations mentioned above. The other interviewers all had different backgrounds which prevented the interview questions from being biased by a single group of preconceptions.

14.

We classify a company as large if both its employees and its revenue are in the middle or upper category of Table 2 (i.e. 20,000 or more employees, € 5 bn. or more revenue) and as small otherwise. We term the opposite of "listed" as "private". To assure anonymity, we did not include the industry of the company in brackets. However, where it is important to provide an appropriate context, we explain before or after the comment how the industry specifics or the participant's individual background may have influenced what is expressed in the comment.

15.

As is inherent to constructivist Grounded Theory, the categorization of these four cases is not the only possible classification. However, we chose this alternative because the main separator of these four cases relates to the core category of our theory, i.e. finding a risk-adequate response to challenges in the context of AML in the non-FS. For Case 1, this response is to fulfill the GwG very carefully and the risk is affirmed as being large enough to complete the full process. For Case 2, the response is also to fulfill the GwG, but the risk is perceived as negligible, which is why no mitigation is implemented. For Case 3, the response does not relate to laws but only to perceived business risks that stem from dirty money. For Case 4, the response is missing completely. All other characteristics of these cases are then based on the concepts and properties and dimensions grounded in the data collected from the interviews which belong to the respective cases. This is described in more detail in the following subsections.
References
Abel, A. S., & MacKay, I. A. (2016). Money laundering: Combating a global threat. Journal of Accountancy,222(3), 45–49.

an der Brügge, B. (2012). Friseur wegen Geldwäsche zu vier Jahren Haft verurteilt. (2012, Westdeutsche Allgemeine Zeitung.

Asia/Pacific Group on Money Laundering (2012). APG typology report on trade based money laundering. http://www.fatf-gafi.org/media/fatf/documents/reports/Trade_Based_ML_APGReport.pdf. Accessed August 3, 2018.

Basel Institute on Governance (2016). Basel AML index 2016 report. https://index.baselgovernance.org/sites/index/documents/Basel_AML_Index_Report_2016.pdf. Accessed August 3, 2018.

Bausch, O., & Voller, T. (2014). Geldwäsche-Compliance für Güterhändler. Wiesbaden: Springer Fachmedien.

Braithwaite, J. (2013). Flipping markets to virtue with qui tam and restorative justice. Accounting, Organizations and Society,38(6–7), 458–468.

Bundeskriminalamt (2014). Jahresbericht 2014 Financial Intelligence Unit (FIU) Deutschland. https://www.bka.de/SharedDocs/Downloads/DE/Publikationen/JahresberichteUndLagebilder/FIU/Jahresberichte/fiuJahresbericht2014.html?nn=28276. Accessed August 3, 2018.

Bundesrat (2012). Drucksache 701/1/12 - Empfehlungen der Ausschüsse Fz - Wi zu Punkt ….. der 904. Sitzung des Bundesrates am 14. Dezember 2012 Gesetz zur Ergänzung des Geldwäschegesetzes (GwGErgG). http://www.bundesrat.de/SharedDocs/drucksachen/2012/0701-0800/701-1-12.pdf?__blob=publicationFile&v=1. Accessed July 6, 2018.

Bussmann, K. -D. (2015). Dark figure study on the prevalence of money laundering in Germany and the risks of money laundering in individual economic sectors: Summary. https://www.schleswig-holstein.de/DE/Fachinhalte/M/marktueberwachung/Downloads/Geldwaesche/dunkelfeldstudie_geldwaesche_Dtld.pdf?__blob=publicationFile&v=1. Accessed August 3, 2018.

Bussmann, K.-D., Nestler, C., & Salvenmoser, S. (2016). Wirtschaftskriminalität in der analogen und digitalen Wirtschaft 2016 PricewaterhouseCoopers AG Wirtschaftsprüfungsgesellschaft. Halle: Martin-Luther-Universität Halle-Wittenberg.

Bussmann, K.-D., & Vockrodt, M. (2016). Geldwäsche-Compliance im Nicht-Finanzsektor: Ergebnisse aus einer Dunkelfeldstudie. Compliance-Berater,5, 138–143.

Camdessus, M. (1998). Money laundering: The importance of international countermeasures. http://www.imf.org/external/np/speeches/1998/021098.htm. Accessed August 3, 2018.

Cappel, A. (2017). Prävention gegen Geldwäsche ausgeweitet. (2017, 04/08/2017). Frankfurt: Börsen-Zeitung.

Charmaz, K. (2014). Constructing Grounded Theory (2nd ed.). London: Sage.

Chong, A., & Lopez-De-Silanes, F. (2015). Money laundering and its regulation. Economics and Politics,27(1), 78–123.

Choo, K.-K. R. (2013). New payment methods: A review of 2010-2012 FATF mutual evaluation reports. Computers & Security,36, 12–26.

Choo, K.-K. R. (2014). Designated non-financial businesses and professionals: A review and analysis of recent financial action task force on money laundering mutual evaluation reports. Security Journal,27(1), 1–26.

Committee of Sponsoring Organizations of the Treadway Commission. (2004). Enterprise risk management: Integrated framework—executive summary. Montvale: Committee of Sponsoring Organizations of the Treadway Commission.

Committee of Sponsoring Organizations of the Treadway Commission. (2017). enterprise risk management: Integrating with strategy and performance—executive summary. Montvale: Committee of Sponsoring Organizations of the Treadway Commission.

Corbin, J., & Strauss, A. (2015). Basics of qualitative research (4th ed.). Los Angeles: Sage.

Dalla Pellegrina, L., & Masciandaro, D. (2009). The risk-based approach in the New European anti-money laundering legislation: A law and economics view. Review of Law & Economics,5(2), 931–952.

Davies, M. (2017). DA Will Lay criminal charges against SAP, Gupta-linked CAD house amid R100 M Kickback Claims. (2017, 17/07/2017). New York City: Huffington Post.

Delston, R. S., & Walls, S. C. (2012). Strengthening our security: A new international standard on trade-based money laundering is needed now. Case Western Reserve Journal of International Law,44(3), 737–746.

Demetis, D. S. (2018). Fighting money laundering with technology: A case study of Bank X in the UK. Decision Support Systems,105, 96–107.

Department of the Treasury (2015). National Money Laundering Risk Assessment 2015. https://www.treasury.gov/resource-center/terrorist-illicit-finance/Documents/National%20Money%20Laundering%20Risk%20Assessment%20%E2%80%93%2006-12-2015.pdf. Accessed August 3, 2018.

Eisenhardt, K. M. (1989). Agency theory: An assessment and review. Academy of Management Review,14(1), 57–74.

Federal Financial Supervisory Authority (BaFin, 2017). Prevention of money laundering. https://www.bafin.de/EN/Aufsicht/Uebergreifend/Geldwaeschebekaempfung/geldwaeschebekaempfung_node_en.html;jsessionid=5CD6C92A8F9525D831FE1AD488248FE2.1_cid381. Accessed August 3, 2018.

Ferwerda, J. (2009). The economics of crime and money laundering: Does anti-money laundering policy reduce crime? Review of Law & Economics,5(2), 903–929.

Ferwerda, J., Kattenberg, M., Chang, H.-H., Unger, B., Groot, L., & Bikker, J. A. (2013). Gravity models of trade-based money laundering. Applied Economics,45(22), 3170–3182.

Financial Action Task Force (FATF) (2006). Trade Based Money Laundering. http://www.fatf-gafi.org/media/fatf/documents/reports/Trade%20Based%20Money%20Laundering.pdf. Accessed August 3, 2018.

Financial Action Task Force (FATF) (2012). International standards on combating money laundering and the financing of terrorism & proliferation: The FATF recommendations. http://www.fatf-gafi.org/media/fatf/documents/recommendations/pdfs/FATF_Recommendations.pdf. Accessed August 3, 2018.

Financial Action Task Force (FATF) (2015). Mutual evaluations: Mutual Evaluation Germany. http://www.fatf-gafi.org/topics/mutualevaluations/documents/mutualevaluationofgermany.html. Accessed August 3, 2018.

Gelemerova, L. (2009). On the frontline against money-laundering: The regulatory minefield. Crime, Law and Social Change,52(1), 33–55.

German Banking Industry Committee (2014). Auslegungs- und Anwendungshinweise der DK zur Verhinderung von Geldwäsche, Terrorismusfinanzierung und "sonstigen strafbaren Handlungen". https://die-dk.de/media/files/DK-HinweiseStand_Februar2014.pdf. Accessed August 3, 2018.

Gilmour, N. (2016). Understanding the practices behind money laundering: A rational choice interpretation. International Journal of Law, Crime and Justice,44, 1–13.

Glaser, B. G., & Strauss, A. L. (1967). The discovery of grounded theory: Strategies for qualitative research. New York: Aldine.

Gregor, S. (2006). The nature of theory in information systems. MIS Quarterly,30(3), 611–642.

Herzog, F. (2014). Einleitung. In F. Herzog & O. Achtelik (Eds.), Geldwäschegesetz (2nd ed.). Munich: Beck.

Horton, J., Macve, R., & Struyven, G. (2004). Qualitative research: Experiences in using semi-structured interviews. In C. Humphrey & B. Lee (Eds.), The real life guide to accounting research: A behind-the-scenes view of using qualitative research methods (pp. 339–357). Oxford: Elsevier.

Joint Committee of the European Supervisory Authorities (2017). Joint opinion on the risks of money laundering and terrorist financing affecting the Union's financial sector. https://www.eba.europa.eu/documents/10180/1759750/ESAS+Joint+Opinion+on+the+risks+of+money+laundering+and+terrorist+financing+affecting+the+Union%E2%80%99s+financial+sector+%28JC-2017-07%29.pdf. Accessed August 3, 2018.

Keesoony, S. (2016). International anti-money laundering laws: The problems with enforcement. Journal of Money Laundering Control,19(2), 130–147.

Kirk, N., & van Staden, C. (2001). The use of grounded theory in accounting research. Meditari Accounting Research,9(1), 175–197.

McCarthy, K. J., van Santen, P., & Fiedler, I. (2015). Modeling the money launderer: Microtheoretical arguments on anti-money laundering policy. International Review of Law and Economics,43, 148–155.

Naheem, M. A. (2018). Illicit financial flows: HSBC case study. Journal of Money Laundering Control,21(2), 231–246.

OECD (2009). Money laundering awareness handbook for tax examiners and tax auditors. http://www.oecd-ilibrary.org/docserver/download/2309141e.pdf?expires=1511518072&id=id&accname=oid016923&checksum=40829091C9B2A78EF4183AB92074D9FE. Accessed August 3, 2018.

Omar, N., Johari, R. J., Azam, M. A. M., & Hakim, N. O. (2015). Mitigating money laundering: The role of designated non-financial businesses and professions in Southeast Asian Countries. In H. G. Djajadikerta & Z. Zhang (Eds.), A new paradigm for international business (pp. 285–294). Singapore: Springer.

Pol, R. F. (2018). Anti-money laundering effectiveness: Assessing outcomes or ticking boxes? Journal of Money Laundering Control,21(2), 215–230.

Prinsloo, L. (2017). U.S. Authorities Probe Germany's SAP as Gupta Scandal Escalates. (2017, 10/26/2017). New York City: Bloomberg.

Quedenfeld, R. (2017). Grundlagen der Geldwäschebekämpfung. In R. Quedenfeld (Ed.), Handbuch Bekämpfung der Geldwäsche und Wirtschaftskriminalität (4th ed., pp. 19–60). Berlin: Erich Schmidt Verlag.

Stralau, M. (2017). Autohändler muss ins Gefängnis. (2017, 08/23/2017). Frankfurt: Märkische Oderzeitung.

Turner, S., & Bainbridge, J. (2018). An anti-money laundering timeline and the relentless regulatory response. The Journal of Criminal Law,82(3), 215–231.

Unger, B., & den Hertog, J. (2012). Water always finds its way: Identifying new forms of money laundering. Crime, Law and Social Change,57(3), 287–304.

Unger, B., Siegel, M., Ferwerda, J., de Kruijf, W., Busuioic, M., Wokke, K., et al. (2006). The amounts and the effects of money laundering. http://www.ftm.nl/wp-content/uploads/2014/02/witwassen-in-nederland-onderzoek-naar-criminele-geldstromen.pdf. Accessed August 3, 2018.

United Nations Office on Drugs and Crime (UNODC) (2018). Money-laundering and globalization. https://www.unodc.org/unodc/en/money-laundering/globalization.html. Accessed August 3, 2018.

United States Department of State (2016). International narcotics control strategy report: Volume II—money laundering and financial crimes. https://www.state.gov/documents/organization/253983.pdf. Accessed August 3, 2018.
Acknowledgements
We thank Christopher Humphrey, Charles Bailey and Participants of the 4th Transatlantic Conference of Accounting, Auditing, Financial Control and Cost Control in Lyon, France for their valuable feedback on earlier versions of this paper.
Ethics declarations
Conflict of Interest
The authors declare that they have no conflict of interest.
Ethical approval
This article does not contain any studies with human participants or animals performed by any of the authors.
Additional information
Publisher's Note
Springer Nature remains neutral with regard to jurisdictional claims in published maps and institutional affiliations.
Appendix: interview guide
Appendix: interview guide
Note : The following questions only provide an orientation. The interview is designed openly and should develop freely.
A.

Basic questions

1.

Is your company aware of the topic "money laundering risk"? To what extent? Is the responsibility for that topic clearly assigned?

2.

What money laundering risks does your company face?
B.

GwG-obligations met or planned

3.

Does your company meet all GwG-obligations?

a.

Do you regard your regulatory authority/lawmakers as supportive for anti-money-laundering (AML)?
If yes:
4.

What triggered your company to implement AML?

5.

What information sources were used?

6.

Did you or do you have external support for the implementation of AML?

7.

What implementation barriers did you face?

8.

Do you have an AML-officer (internal or external)?

9.

How do you meet the internal control requirements of the GwG?

10.

Do you conduct a structured risk assessment considering money laundering risks?

11.

Are there any AML safeguards?

12.

How do you meet documentation and archiving requirements?

13.

What gaps do you see in your AML?

14.

What success factors belong to and lead to good AML?
If no:
15.

Is the topic unknown?

16.

Is it known, but there were other reasons for not meeting the GwG?

17.

What basic measures do you have in place which mitigate money laundering risk?

18.

How well developed are your internal controls?

19.

Do you have a Compliance Management System?

20.

What further control/monitoring elements do you have in place?
C.

Other

21.

Is there the willingness to set common regulatory standards in your industry/market?

22.

Do you (want to) know something about AML of your competitors/contract partners?

23.

Do you prepare an AML-report?

24.

Next to the GwG, are there international/other national AML-laws which are relevant to your company?
Backgrounds (only for the researcher, not provided to the participant)
Introduction: Intro to research (questions), anonymity, voice recording
1.

Money laundering definition known? Laws known?

Risks for the company known, especially sanctions?

Action required? (Who, if no clear responsibility?)

2.

Are these defined formally – if yes, by whom and on what foundation?

3.

Who is a "person trading in goods"? Is your company?

a.

Regularoty authorities: Do you know each other?

Do you contact each other? If yes, how did the contact look like?

4.

Triggers

5.

Know-How, also in general! Ongoing updates?

6.

Possibly some duties performed by external consultants?

If yes, by whom and for what topics?

7.

Position in the company/hierarchy? Funding?

Known to authorities?

Mandatory (authority's general ruling) or voluntary?

8.

General processes and identification process

risk-based approach incl. lawmakers black/white-list and simplified/enhanced CDDs?

9.

If yes, who does it, how often and who is responsible for measures derived from its analysis?

10.

Organizational instructions

Employee trainings

Transaction monitoring (business partners)

Coordination of all measures?

11.

Compliance-Gaps: Compliance-measures without AML-coverage

12.

Success factors

13.

Company capable of AML?

What are know-how defeciencies?

14.

What barriers/implementation difficulties?

Do company characteristics play a role?

15.

Does it contain elements with potential to mitigate money laundering risk?

16.

Do they have controls/monitoring and corresponding systems at all?

If so, how efficient are these systems? Are there efficiency efforts?

17.

Risks? (after explaining ML) Is ML considered as far-fetched?

Do they have cash transactions? How do they respond to that?

ML-typologies likely for the company? (after interviewer's indication)

Even extant cases of ML?

Assessment of the risk of getting sanctioned?

18.

Standard setting within the industry or spanning several industries?

Do they already have experience?

What are possible exchange platforms?

19.

Has it ever been necessary?

Processes (internal/external STRs; Forms)?

20.

If yes, what laws and how are they met?
FINAL QUESTION: What would you like to share with us that we did not talk about at all or sufficiently?
About this article
Cite this article
Friedrich, C., Quick, R. An analysis of anti-money laundering in the German non-financial sector. J Manag Gov 23, 1099–1137 (2019). https://doi.org/10.1007/s10997-019-09453-5
Keywords
Money laundering

AML Directive

Grounded Theory

Non-financial sector

Designated non-financial businesses and professions (DNFBP)