Abstract
How do companies to be listed deal with the voluntary disclosure of their business model? Is it true that firms with greater intellectual capital resources and technological innovation endowments are less prone to full disclosure? This paper aims to examine the choices of voluntary disclosure of the business model made by three Italian manufacturing companies in initial public offering prospectuses. The objective is to explore whether any differences exist and may be related to the type of innovation underlying the firms' business model. A series of interviews with the top management allows to deeply understand the business model of each company. A content analysis allows to measure the level of disclosure and identify the strategic concepts of the business model and their relevance. The study provides evidence that companies with a business model based on technology-push and design-driven innovation have a lower propensity to the full disclosure of their intangible resources, particularly of those based on knowledge as some could be also invisible. The paper contributes to the ongoing debate on the role of business and financial reporting.
This is a preview of subscription content, log in to check access.
Access options
Buy single article
Instant access to the full article PDF.
US$ 39.95
Price includes VAT for USA
Subscribe to journal
Immediate online access to all issues from 2019. Subscription will auto renew annually.
US$ 99
This is the net price. Taxes to be calculated in checkout.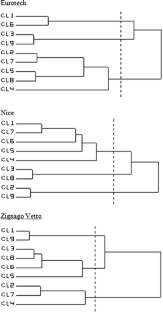 Notes
1.

The prospectus must be published before the shares issuance and should include a description of the economics and financial position to the most recent date, as well as the characteristics of the public offering and other essential information about the issuing company (Art. 94, comma 2, d.lgs.58/1998).

2.

For example, a manager could announce that a new customer has been acquired but exercise discretion over whether to disclose the specific terms of the contract such as the negotiated price or the minimum contracted volume.

3.

4.

Either manually or by using text analysis software.

5.

For example, the words "spoken" and "speaking" would both appear under the lemma "speak".

6.

We opted for a cluster analysis given our primary goal to isolate the concepts exclusively referred to the construct under investigation: the business model.

7.

For instance, the cluster "corporate governance" for Eurotech is populated by the following concepts: board, ownership, director, Barazza, structure, committee, executive, Siagri…etc.

8.

We considered only the concepts that show an association coefficient greater than 20 %.

9.

These represent part of the text corresponding to one or more sentences in which the presence of a concept is detected. Their analysis allows us to avoid, for example, confusing nouns (i.e. "prodotto"/"product") with verb forms (i.e. "prodotto"/"produced").

10.

The associated concepts are represented in each table following a decreasing order of the value of the association coefficient. We use bold to highlight those concepts considered as highly frequent (i.e. showing a frequency value at least equal to 35). We then use capital letters for those concepts previously identified as "common and frequent" and "frequent and exclusive".

11.

The 30 interviews are divided as follows: 5 with the Chairman and MD of Eurotech, 3 with the CFO and 3 with the Investor Relator manager; 5 with the Chairman and MD of Nice and 3 with the CFO; 5 with the Chairman of Zignago Vetro, 3 with the MD and 3 with the CFO and Investor Relator manager.

12.

The Italian IPO prospectus consists of two sections preceded by the following paragraphs: "Definitions and Glossary", "Company risk factors" and "Summary Note". For our purpose, the analysis is limited to the first section, particularly the first nineteen chapters that show a narrative structure.

13.

Freq. E, N, Z indicate the occurences (i.e. how many times) with which a single lemma appears within the corpus.

14.

The concepts are derived from the T-Lab cluster analysis for the grouping "business model". The list do not sum up to the total number of concepts in the cluster as we applied the frequency and commonness criteria to discriminate them.

15.

Note that the concept "Commercial" appears in two different columns as a result of its double attribution to two of the business model components: suppliers and customers. Indeed, depending on the company to be considered it may take different meaning. For instance, in the case of Nice the concept is mainly referred to the distribution activity and commercial presence of the company to reach the customers and thus creating value. In the case of Eurotech, the concept has a direct link to the relations with major industrial and commercial partners. Based on the same rationale, we also split the most associated terms into the appropriate columns.

16.

Structural capital represents the skeleton of an organisation and has been described as what is left behind after employees have left the organisation. It is owned by an organization and comprises the infrastructure that supports human capital. Structural capital includes information systems, proprietary databases, laboratories, market intelligence and intellectual property such as brand and patents (Edvinsson and Malone 1997).
References
Accounting Standards Board. (2006). Reporting statement: Operating and financial review. London: ASB.

AICPA. (1994). Improving business reporting. A customer focus: Meeting the information needs of investors and creditors. Comprehensive report of the special committee on financial reporting. New York, NY: American Institute of Certified Public Accountants.

Ashton, R. H. (2005). Intellectual capital and value creation: A review. Journal of Accounting Literature, 24(1), 53–134.

Bagnoli, C. (2009). L'evoluzione delle strategie di disclosure volontaria delle imprese quotate italiane in un contesto di accresciuta incertezza ambientale. [The evolution of voluntary disclosure strategies in a context of increased environmental uncertainty]. Finanza, Marketing e Produzione, 17(3), 104–132.

Bagnoli, C., & Mantovani, G. (2012). Voluntary disclosure strategies and the cost of capital of Italian blue chips. Journal of Business, Economics and Finance, 1(4), 49–94.

Beattie, V. (1999). Business reporting: The inevitable change. Edinburgh: The Institute of Chartered Accountants of Scotland, ICAS.

Beattie, V., & Smith, S. (2013). Value creation and business models: Refocusing the intellectual capital debate. The British Accounting Review, 45(4), 243–254.

Beattie, V., & Thomson, S. (2007). Lifting the lid on the use of content analysis to investigate intellectual capital disclosures. Accounting Forum, 31(2), 129–163.

Bozzolan, S., Favotto, F., & Ricceri, F. (2003). Italian annual intellectual capital disclosure: An empirical analysis. Journal of Intellectual Capital, 4(4), 543–558.

Brennan, N. (2001). Reporting intellectual capital in annual reports: Evidence from Ireland. Accounting, Audit and Accountability Journal, 14(4), 423–436.

Bromley, D. B. (1986). The case-study method in psychology and related disciplines. New York: Wiley.

Bukh, P. N., Johansen, M. R., Meca, E. G., Mouritsen, J. (2002). IPO prospectuses as intellectual capital reports: A comparison of Danish and Spanish reporting practices. Working paper, The Aarhus School of Business, Denmark.

Bukh, P. N., Larsen, H. T., Gormsen, P., Mouritsen, J. (2001). Disclosure of intellectual capital indicators in Danish IPO prospectus. Working paper, The Aarhus School of Business, Denmark.

Bukh, P. N., Nielsen, C., Gormsen, P., & Mouritsen, J. (2005). Disclosure of information on intellectual capital in Danish IPO prospectuses. Accounting, Auditing & Accountability Journal, 18(6), 713–732.

Chavent, M., Ding, Y., Fu, L., Stolowy, H., & Wang, H. (2006). Disclosure and determinants studies: An extension using the divisive clustering method (DIV). European Accounting Review, 15(2), 181–218.

CICA. (2001). Management's discussion and analysis. Guidance on preparation and disclosure. Review draft. Toronto: Canadian Institute of Chartered Accountants.

Cordazzo, M. (2007). Intangibles and Italian IPO prospectuses: A disclosure analysis. Journal of Intellectual Capital, 8(2), 288–305.

Daily, C. M., Certo, S. T., Dalton, D. R., & Roengpitya, R. (2003). IPO underpricing: A meta-analysis and research synthesis. Entrepreneurship Theory and Practice, 27(3), 271–295.

Eccles, R. G., Herz, R. H., Keegan, E. M., & Phillips, D. M. (2001). The value reporting revolution: Moving beyond the earnings game. New York: Wiley.

Edvinsson, L., & Malone, M. S. (1997). Intellectual capital: Realizing your company's true value by finding its hidden brainpower. New York: HarperBusiness.

EFRAG. (2010). The role of the business model in financial reporting. Project plan. Brussels: European Financial Reporting Advisory Group.

Eisenhardt, K. M., & Martin, J. A. (2000). Dynamic capabilities: What are they. Strategic Management Journal, 21(1), 1105–1121.

FASB. (2001). Improving business reporting: Insights into enhancing voluntary disclosure. Business reporting research project. Norwalk, CT: Financial Accounting Standards Board.

Financial Reporting Council. (2010). The UK corporate governance code. London: FRC.

Flyvbjerg, B. (2006). Five misunderstandings about case-study research. Qualitative Inquiry, 12(2), 219–245.

Francis, J. R., Khurana, K. I., & Pereira, R. (2005). Disclosure incentives and effects on cost of capital around the world. The Accounting Review, 80(4), 1125–1162.

Francis, J., & Shipper, K. (1999). Have financial statements lost their relevance? Journal of Accounting Research, 37(2), 319–352.

Gioia, D. A., Corley, K. G., & Fabbri, T. (2002). Revising the past (while thinking in the future perfect tense). Journal of Organizational Change Management, 15(6), 622–634.

Govindarajan, V., & Gupta, A. K. (2001). Strategic innovation: A conceptual road map. Business Horizon, 44(4), 3–12.

Graham, J. R., Campbell, R., & Rajgopal, S. (2005). The economic implications of corporate financial reporting. Journal of Accounting and Economics, 40(1), 3–73.

Guthrie, J., & Mathews, M. R. (1985). Corporate social accounting in Australasia. Research in Corporate Social Performance and Policy, 7(1), 251–277.

Guthrie, J., & Petty, R. (2000). Intellectual capital: Australian annual reporting practices. Journal of Intellectual Capital, 1(3), 241–251.

Guthrie, J., Petty, R., & Ricceri, F. (2006). The voluntary reporting of intellectual capital: Comparing evidence from Hong Kong and Australia. Journal of Intellectual Capital., 7(2), 254–271.

Guthrie, J., Petty, R., Yongvanich, K., & Ricceri, F. (2004). Using content analysis as a research method to inquire into intellectual capital reporting. Journal of Intellectual Capital, 5(2), 282–293.

Healy, P. M., & Palepu, K. G. (2001). Information asymmetry, corporate disclosure and the capital market: A review of the empirical disclosure literature. Journal of Accounting and Economics, 31(1), 405–440.

IASB. (2009). International accounting standards board. IFRS 09 Financial Instruments. London.

ICAEW. (2010). Business models in accounting: The theory of the firm and financial reporting. London: Institute of Chartered Accountants of England and Wales.

Jenkinson, T., & Ljungquist, A. (2001). Going public: The theory and evidence on how companies raise equity finance. Oxford: Oxford University Press.

Krippendorff, K. (1980). Content analysis. An introduction to its methodology. London: The Sage Commtext, Sage Publications Ltd.

Lancia, F. (2004). Strumenti per l'analisi dei testi. Introduzione all'uso di T-lab. [Tools for text analysis. Introduction to T-lab]. Milano: Franco Angeli.

Leitner, K. H. (2011). The effect of intellectual capital on product innovativeness in SMEs. International Journal of Technology Management, 53(1), 1–18.

Markides, C. (1997). Strategic Innovation. Sloan Management Review, 39(3), 31–42.

Mather, P., Ramsay, A., & Steen, A. (2000). The use and representational faithfulness of graphs in Australian IPO prospectuses. Accounting, Audit and Accountability Journal, 13(1), 65–83.

Nielsen, C., & Bukh, P. N. (2011). What constitutes a business model: The perception of financial analysts. International Journal of Learning and Intellectual Capital, 8(3), 256–271.

Olsson, B. (2001). Annual reporting practices: Information about human resources in corporate annual reports in major Swedish companies. Journal of Human Resources Costing and Accounting, 6(1), 39–52.

Page, M. (2012). Business models as basis for regulation of financial reporting. Journal of Management and Governance, 18(3), 683–695.

Ravasi, D., Rindova, V., & Dalpiaz, E. (2012). The cultural side of value creation. Strategic Organization, 10(3), 231.

Roslender, R., & Fincham, R. (2004). Intellectual capital accounting in the UK: A field study perspective. Accounting, Audit and Accountability Journal, 17(2), 178–209.

Santos, F. M., & Eisenhardt, K. (2009). Constructing markets and shaping boundaries: Entrepreneurial power in nascent fields. Academy of Management Journal, 52(4), 643–671.

Schrand, C., & Verrecchia, R. E. (2005). Information disclosure and adverse selection explanations for IPO underpricing. Working paper, The Wharton School, University of Pennsylvania.

Singleton-Green, B. (2012). Should financial reporting reflect firm's business models? What accounting can learn from the economic theory of the firm. Journal of Management and Governance, 18(3), 697–706.

Stoecker, R. (1991). Evaluating and rethinking the case study. The Sociological Review, 39(1), 88–112.

Striukova, L., Unerman, J., & Guthrie, J. (2008). Corporate reporting of intellectual capital: Evidence from UK companies. The British Accounting Review, 40(4), 297–313.

Subramaniam, M., & Venkatraman, N. (2001). Determinants of transnational new product development capability: Testing the influence of transferring and deploying tacit overseas knowledge. Strategic Management Journal, 22(4), 359–378.

Subramaniam, M., & Youndt, M. A. (2005). The influence of intellectual capital on the types of innovative capabilities. Academy of Management Journal, 48(3), 450–463.

Teece, D. J. (2010). Business models, business strategy and innovation. Long Range Planning, 43(2), 172–194.

Upton, W. S. (2001). Special report. Financial Accounting Standards Board. Business and financial reporting: Challenges from the new economy.

Verganti, R. (2008). Design, meanings and radical innovation: A metamodel and a research agenda. The Journal of Production, Innovation and Management, 25(5), 436–456.

Verrecchia, R. E. (2001). Essays on disclosure. Journal of Accounting and Economics, 32(1), 97–180.

Yin, R. K. (2009). Case study research: Design and methods. Thousand Oaks, CA: Sage publications.

Zambon, S. (2003). Study on the measurement of intangible assets and associated reporting practices. Study prepared for the Commission of the European Communities Enterprise Directorate General, Brussels.
Appendix
Appendix
In-depth interview on business model

Mission and vision
What is the purpose for which your company exist?

Which are your assumptions about the dynamics of the external environment?

Which values characterized your vision?

Do you adopt a strategy focused towards productivity (efficiency gains by reducing direct and indirect costs) or growth (promote revenue growth with appropriate policies)?

What are your choices at the corporate level?

What is your business perspective in the medium-long term? What are your ambitions for the future?
Economic value
What about your current economic and financial performance?

How are your costs structured? Are them fixed or variable?

How do you set the prices?

How would you described your revenue model?
Suppliers
Who are your key suppliers?

What kind of relationship do you have with them? Do you have bargaining power?

Are you integrated with your key suppliers?

Which resources and core competencies do you acquired from them?

To what extent are your mission and goals aligned with those of your suppliers/partners?

What kind of competitive advantage the relationship with suppliers generate?

Do the supply channels allow you to gather the resources you need when required?
Resources
What kind of resources do you possess? (Tangible: financial, physical, or intangible: relational capital, reputational, structural, human…)

Do the resources used belong to your own or to external parties?

How well do they complement and support each other?

To what extent the core competencies allow you to offer benefits to the buyers?

How unique is your resource base? And how difficult is it for competitors to imitate it?
Processes
Which are the main processes that characterize your company? (Production, distribution…)

Does your industry include companies that enjoy significant cost advantages deriving from their experience in performing some activities?

Which are your most critical processes (the processes that create more value for customers and have a high degree of specialization)?
Product
What kind of product do you offer? (commodity, good, service, experience…)

How do you characterize your value proposition? (Price, reliability, availability, performance, quality, technology, safety, image, style, customization…)

Is your product a standard one?

What architecture does your product have? And how is it designed?

What is the final destination of your product?

What is the role of each of your products in the range offer?

What is the level of financial feasibility of each of your products?

Which factors affect competition for substitute products?

How important are R&D activity and product innovation? And what is the role of technological progress within your industry?
Customers
What value or benefit do you distribute to customers?

What is your target market? Is it segmented? And which are the segmentation variables that you use?

What is the rate of growth of each market segment?

Do some buyers have bargaining power due to a high volume of purchase?

What kind of relationships do you establish with customers? (Price, benefit offered, confidence, know-how possessed…)

Which communication channels do you use?

Which distribution channels do you use? Do you have a strong network of distributors and dealers?
About this article
Cite this article
Bagnoli, C., Redigolo, G. Business model in IPO prospectuses: insights from Italian Innovation Companies. J Manag Gov 20, 261–294 (2016). https://doi.org/10.1007/s10997-015-9325-1
Keywords
Voluntary disclosure

Business model

Initial public offering

Intangibles

Innovation