Abstract
Objectives
This study examines the contributions of social support and depressive symptoms on sensitive parenting behaviors, parenting attitudes and parenting stress among first-time young mothers. Additionally, the study tests the moderating role of depression in associations between various types and sources of social support and parenting outcomes.
Methods
Young (M = 17.4 years), low-income, African American mothers (n = 192) were interviewed and video-recorded interacting with their 4-month-old infants.
Results
Regression analyses showed that depressive symptoms (CES-D) were associated with less sensitivity observed during mother–infant interactions, less sensitive attitudes (AAPI) and greater parenting stress (PSI), but the role of social support was more nuanced. Direct infant care support from the mother's parent figure (typically her own mother) was related to more sensitive parenting behaviors and attitudes, while general support and direct infant care support from the father of the baby were related to reduced parenting stress. Depressive symptoms moderated the relationship between general support from the parent figure and parenting outcomes. Specifically, higher levels of general support contributed to more sensitive maternal behaviors and attitudes only when depressive symptoms were low.
Conclusions for Practice
For young mothers, their parent figure and the father of the baby can be important sources of support in promoting positive parenting and reducing parenting stress. Young mothers with depression, however, are at risk for problematic parenting and may have difficulty taking advantage of the support offered by their parent figure.
Access options
Buy single article
Instant access to the full article PDF.
USD 39.95
Price excludes VAT (USA)
Tax calculation will be finalised during checkout.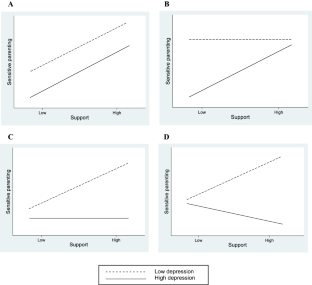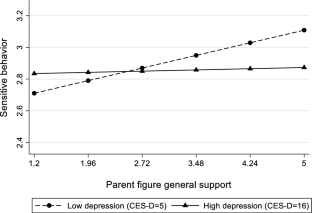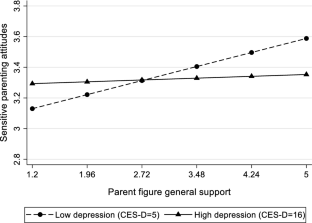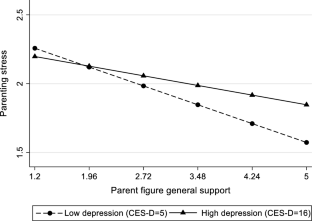 References
Abidin, R. R. (1983). The Parenting Stress Index manual. Charlottesville, VA: Pediatric Psychology Press.

Apfel, N. H., & Seitz, V. (1991). Four models of adolescent mother-grandmother relationships in Black inner-city families. Family Relations,40, 421–429.

Bavolek, S. J. (1984). Handbook of the AAPI. Eau Claire, Wisconsin: Family Development Resources.

Bellamy, J. L., Thullen, M., & Hans, S. (2015). Effect of low-income unmarried fathers' presence at birth on involvement. Journal of Marriage and Family,77(3), 647–661.

Campbell, S. B., Cohn, J. F., Flanagan, C., Popper, S., & Meyers, T. (1992). Course and correlates of postpartum depression during the transition to parenthood. Development and Psychopathology,4, 29–47.

Chase-Lansdale, P. L., Brooks-Gunn, J., & Zamsky, E. S. (1994). Young African-American multigenerational families in poverty: Quality of mothering and grandmothering. Child Development,65, 373–393.

Clemmens, D. (2003). Adolescent motherhood: a meta-synthesis of qualitative studies. MCN: The American Journal of Maternal and Child Nursing,28(2), 93–99.

Cochran, M., & Niego, S. (2002). Parenting and social networks. In M. H. Bornstein (Ed.), Handbook of parenting. Applied parenting (2nd ed., Vol. 4, pp. 123–148). Mahwah, NJ: Erlbaum.

Coley, R. L., & Chase-Lansdale, P. L. (1998). Adolescent pregnancy and parenthood: Recent evidence and future directions. American Psychologist,53(2), 152–166.

Colletta, N. D. (1981). Social support and the risk of maternal rejection by adolescent mothers. Journal of Psychology,109, 191–197.

Contreras, J. M. (2004). Parenting behaviors among mainland Puerto Rican adolescent mothers: The role of grandmother and partner involvement. Journal of Research on Adolescence,14(3), 341–368.

Cost, K. T., Plomondon, A., Unternaehrer, E., Meaney, M., Steiner, M., & Fleming, A. S. (2016). The more things change, the more things stay the same: Maternal attitudes 3 to 18 months postpartum. Acta Paediatrica,105(7), e320–e327.

Crnic, K. A., Greenberg, M. T., Robinson, N. M., & Ragozin, A. S. (1984). Maternal stress and social support: Effects on the mother–infant relationship from birth to eighteen months. American Journal of Orthopsychiatry,54(2), 224–235.

Crockenberg, S. (1987). Predictors and correlates of anger toward and punitive control of toddlers by adolescent mothers. Child Development,58, 964–975.

Crockenberg, S. (1988). Social support and parenting. In H. E. Fitzgerald, B. M. Lester, & M. W. Yogman (Eds.), Theory and research in behavioral pediatrics (Vol. 4, pp. 141–174). New York: Plenum Press.

Cutrona, C. E., & Troutman, B. R. (1986). Social support, infant temperament, and parenting self-efficacy: A mediation model of postpartum depression. Child Development,57(6), 1507–1518.

DeVito, J. (2007). Self-perceptions of parenting among adolescent mothers. Journal of Perinatal Education,16(1), 16–23.

Dix, T., & Moed, A. (2019). Parenting and depression. In M. H. Bornstein (Ed.), Handbook of parenting: Social conditions and applied parenting (3rd ed., Vol. 4, pp. 449–482). New York: Routledge.

Edwards, R. C., Thullen, M. J., Isarowong, N., Shiu, C.-S., Henson, L., & Hans, S. L. (2012). Supportive relationships and the trajectory of depressive symptoms among young African American mothers. Journal of Family Psychology,26, 585–594.

Erfina, E., Widyawati, W., McKenna, L., Reisenhofer, S., & Ismail, D. (2019). Adolescent mothers' experiences of the transition to motherhood: An integrative review. International Journal of Nursing Sciences.,6, 221–228.

Ertel, K. A., Rich-Edwards, J. W., & Koenen, K. C. (2011). Maternal depression in the United States: Nationally representative rates and risk. Journal of Women's Health,11, 1609–1617.

Field, T. (2010). Postpartum depression effects on early interactions, parenting, and safety practices: A review. Infant Behavior and Development,33(1), 1–6.

Field, T., Sandberg, D., Garcia, R., Vega-Lahr, N., Goldstein, S., & Guy, L. (1985). Pregnancy problems, postpartum depression, and early mother–infant interactions. Developmental Psychology,21(6), 1152–1156.

Gelfand, D. M., Teti, D. M., & Fox, C. E. (1992). Sources of parenting stress for depressed and nondepressed mothers of infants. Journal of Clinical Child Psychology,21(3), 262–272.

Goodman, S. H., & Garber, J. (2017). Evidence-based interventions for depressed mothers and their young children. Child Development,88(2), 368–377.

Hans, S. L. (2006). Mothering and depression. In S. E. Romans & M. V. Seeman (Eds.), Women's mental health (pp. 311–320). Philadelphia, PA: Lippincott, Williams & Wilkins.

Hans, S. L., & Thullen, M. J. (2009). The relational context of adolescent motherhood. In C. H. Zeanah Jr. (Ed.), Handbook of infant mental health (3rd ed., pp. 214–229). New York: Guilford Press.

Hans, S. L., Thullen, M., Henson, L. G., Lee, H., Edwards, R. C., & Bernstein, V. J. (2013). Promoting positive mother–infant relationships: A randomized trial of community doula support for young mothers. Infant Mental Health Journal, 34(5), 446–457. https://doi.org/10.1002/imhj.21400.

Harmon, D. K., & Perry, A. R. (2018). Fathers' unaccounted contributions: Paternal involvement and maternal stress. Families in Society,92(2), 176–182.

House, J. S., Umberson, D., & Landis, K. R. (1988). Structures and processes of social support. Annual Review of Sociology,14, 293–318.

Ko, J. Y., Rockhill, K. M., Tong, V. T., Morrow, B., & Farr, S. L. (2017). Trends in postpartum depressive symptoms—27 states, 2004, 2008, and 2012. MMWR. Morbidity and Mortality Weekly Report,66(6), 153.

Leadbeater, B. J. R. (2014). Growing up fast: Re-visioning adolescent mothers' transitions to young adulthood (2nd ed.). New York: Psychology Press.

Lee, H. Y., & Hans, S. L. (2015). Prenatal depression and young low-income mothers' perception of their children from pregnancy through early childhood. Infant Behavior and Development,40, 183–192.

Letourneau, N. L., Stewart, M. J., & Barnfather, A. K. (2004). Adolescent mothers: Support needs, resources, and support education interventions. Journal of Adolescent Health,35(6), 509–525.

Lovejoy, C. M., Graczyk, P. A., O'Hare, E., & Neuman, G. (2000). Maternal depression and parenting behavior: A meta-analytic review. Clinical Psychology Review,20(5), 561–592.

Mathews, A., & MacLeod, C. (2005). Cognitive vulnerability to emotional disorders. Annual Review of Clinical Psychology,1, 167–195.

NICHD Early Child Care Research Network. (1997). The effects of infant child care on infant-mother attachment security: Results of the NICHD study of early child care NICHD early child care research network. Child Development,68(5), 860–879.

Nomaguchi, K., Brown, S. L., & Leyman, T. M. (2017). Fathers' participation in parenting and maternal parent stress: Variation by relationship status. Journal of Family Issues,38(8), 1132–1156.

Obeidallah, D. A., & Burton, L. M. (1999). Affective ties between mothers and daughters in adolescent childbearing families. In M. J. Cox & J. Brooks-Gunn (Eds.), Conflict and cohesion in families: Causes and consequences (pp. 37–49). Mahwah, NJ: Erlbaum.

Oberlander, S. E., Black, M. M., & Starr, R. H. (2007). African American adolescent mothers and grandmothers: A multigenerational approach to parenting. American Journal of Community Psychology,39(1–2), 37–46.

Oberlander, S. E., Shebl, F. M., Magder, L. S., & Black, M. M. (2009). Adolescent mothers leaving multigenerational households. Journal of Clinical Child & Adolescent Psychology,38(1), 62–74.

Oyserman, D., Radin, N., & Saltz, E. (1994). Predictors of nurturant parenting in teen mothers living in three generational families. Child Psychiatry and Human Development,24, 215–230.

Pinzon, J. L., & Jones, V. F. (2012). Care of adolescent parents and their children. Pediatrics,130(6), e1743–e1756.

Radloff, L. S. (1977). The CES-D scale: A self-report depression scale for research in the general population. Applied Psychological Measurement,1(3), 385–401.

Reid, V., & Meadows-Oliver, M. (2007). Postpartum depression in adolescent mothers: An integrative review of the literature. Journal of Pediatric Health Care,21(5), 289–298.

Sellers, K., Black, M. M., Boris, N. W., Oberlander, S. E., & Myers, L. (2011). Adolescent mothers' relationships with their own mothers: Impact on parenting outcomes. Journal of Family Psychology,25(1), 117.

Spencer, M. S., Kalil, A., Larson, N. C., Spieker, S. J., & Gilchrist, L. D. (2002). Multigenerational coresidence and childrearing conflict: Links to parenting stress in teenage mothers across the first two years postpartum. Applied Developmental Science,6(3), 157–170.

StataCorp. (2017). Stata statistical software: Release 15. College Station, TX: StataCorp LLC.

Taraban, L., Shaw, D. S., Leve, L. D., Wilson, M. N., Dishion, T. J., Natsuaki, M. N., et al. (2017). Maternal depression and parenting in early childhood: Contextual influence of marital quality and social support in two samples. Developmental Psychology,53(3), 436–449.

Tronick, E., & Reck, C. (2009). Infants of depressed mothers. Harvard Review of Psychiatry,17(2), 147–156.

Unger, D., & Wandersman, L. (1985). Social support and adolescent mothers: Action research contributions to theory and application. Journal of Social Issues,41, 29–45.

Voight, J. D., Hans, S. L., & Bernstein, V. J. (1996). Support networks of adolescent mothers: Effects on parenting experience and behavior. Infant Mental Health Journal,17, 58–73.

Wakschlag, L. S., Chase-Lansdale, P. L., & Brooks-Gunn, J. (1996). Not Just "Ghosts in the Nursery": 1 Contemporaneous intergenerational relationships and parenting in young African-American families. Child Development,67(5), 2131–2147.

Wiemann, C. M., Rickert, V. I., Berenson, A. B., & Volk, R. J. (2005). Are pregnant adolescents stigmatized by pregnancy? Journal of Adolescent Health,36(4), 352-e1.

Williams, C. W. (1991). Black teenage mothers: Pregnancy and child rearing from their perspective. Lexington, MA: Lexington Books Inc.
Additional information
Publisher's Note
Springer Nature remains neutral with regard to jurisdictional claims in published maps and institutional affiliations.
About this article
Cite this article
Lee, H.Y., Edwards, R.C. & Hans, S.L. Young First-Time Mothers' Parenting of Infants: The Role of Depression and Social Support. Matern Child Health J 24, 575–586 (2020). https://doi.org/10.1007/s10995-019-02849-7
Published:

Issue Date:

DOI: https://doi.org/10.1007/s10995-019-02849-7
Keywords