Abstract
Introduction Comprehension of healthcare terminology across diverse populations is critical to patient education and engagement. Methods Women in Oahu, Hawai'i with a recent delivery were interviewed about their understanding of ten common obstetric terms. Health literacy was assessed by the rapid estimate of adult literacy in medicine (REALM). Multivariable models predicted total terms comprehended by demographic factors. Results Of 269 participants, self-reported primary race was 20.5% Japanese, 19.0% Native Hawaiian, 19.0% White, 16.7% Filipino, 11.5% other Asian, 9.7% other Pacific Islander, and 3.7% other race/ethnicity; 12.7% had low health literacy. On average, participants understood 6.0 (SD: 2.2) of ten common obstetric terms. Comprehension varied by term, ranging from 97.8% for "Breastfeeding" to 27.5% for "VBAC routinely available." Models showed (1) being Filipino, Japanese, Native Hawaiian, or other Pacific Islander (vs. white); (2) having low (vs. adequate) health literacy; (3) having a high school (vs. a college) degree; and (4) being under 25-years-old (vs. 35 +) were significantly associated with less comprehension. Discussion Participants were unfamiliar with common obstetrics terminology. Comprehension struggles were more common among populations with maternal health disparities, including Asian and Pacific Islander subgroups, and those with low health literacy.
Access options
Buy single article
Instant access to the full article PDF.
USD 39.95
Price excludes VAT (USA)
Tax calculation will be finalised during checkout.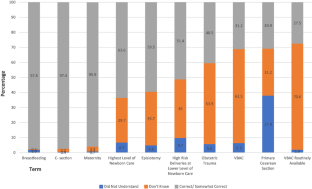 References
Abbott, D., Atere-Roberts, N., Williams, A., Oteng-Ntim, E., & Chappell, L. (2010). Obstetric anal sphincter injury. British Medical Journal. https://doi.org/10.1136/bmj.c4256.

Albright, C., Steffen, A., Novotny, R., Nigg, C., Wilkens, L., Saiki, K., et al. (2012). Baseline results from Hawaii's Nā Mikimiki project: A physical activity intervention tailored to multiethnic postpartum women. Women & Health, 52, 265–291. https://doi.org/10.1080/03630242.2012.662935.

Baby Center (2017). Choosing a hospital. Resource document. Retrieved from http://www.babycenter.com/0_choosing-a-hospital_1148.bc.

Becerra, M. B., Becerra, B. J., Daus, G. P., & Martin, L. R. (2015). Determinants of low helath literacy among Asian American and Pacific Islanders in California. Journal of Racial and Ethnic Health Disparities, 2(2), 267–273.

Bennett, I., Chen, J., Soroui, J., & White, S. (2009). The contribution of health literacy to disparities in self-rated health status and preventive health behaviors in older adults. The Annals of Family Medicine, 7, 204–211.

Bryant, A., Worjoloh, A., Caughey, A., & Washington, A. (2010). Racial/ethnic disparities in obstetric outcomes and care: Prevalence and determinants. American Journal of Obstetrics & Gynecology, 202, 335–343.

Center for Plain Language. (2016). What is plain language?. Center for Plain Language. Retrieved from http://centerforplainlanguage.org.

Chang, A., Hurwitz, E., Miyamura, J., Kaneshiro, B., & Sentell, T. (2015). Maternal risk factors and perinatal outcomes among Pacific Islander groups in Hawaii: A retrospective cohort study using statewide hospital data. BMC Pregnancy and Childbirth, 15, 239. https://doi.org/10.1186/s12884-015-0671-4.

Chew, L. D., Bradley, K. A., & Boyko, E. J. (2004). Brief questions to identify patients with inadequate health literacy. Family Medicine, 36(8), 588–594.

Davis, T., Long, S., Jackson, R., Mayeaux, E., George, R., Murphy, P., & Crouch, M. (1993). Rapid estimate of adult literacy in medicine: A shortened screening instrument. Family Medicine, 25, 391–395.

Fuller, S., Koester, K., Guinness, R., & Steward, W. (2017). Patients' perceptions and experiences of shared decision-making in primary HIV care clinics. Journal of the Association of Nurses in AIDS Care, 28, 75–84. https://doi.org/10.1016/j.jana.2016.08.010.

Goetz, M., Müller, M., Matthies, L. M., Hansen, J., Doster, A., Szabo, A., et al. (2017). Perceptions of patient engagement applications during pregnancy: A qualitative assessment of the patient's perspective. JMIR mHealth and uHealth, 5(5), e73. https://doi.org/10.2196/mhealth.7040.

Gün, İ, Doğan, B., & Özdamar, Ö (2016). Long- and short-term complications of episiotomy. Turkish Journal of Obstetrics and Gynecology, 13(3), 144–148. https://doi.org/10.4274/tjod.00087.

Henkemans, B.O.A., Rogers, W., Fisk, A., Neerincx, M., Lindenberg, J., & van der Mast, C. (2008). Usability of an adaptive computer assistant that improves self-care and health literacy of older adults. Methods of Information in Medicine, 47, 82–88.

Hughes, D. L. (2002). Quality of health care for Asian Americans. Pub #525. The Commonwealth Fund. Accessed from http://www.commonwealthfund.org/~/media/files/publications/other/2002/mar/quality-of-health-care-for-asian-americans--a-fact-sheet/hughes_factsheetasam-pdf.pdf.

Kelly, P., & Haidet, P. (2007). Physician overestimation of patient literacy: A potential source of health care disparities. Patient Education and Counseling, 66, 119–122.

Kickbusch, I., Pelikan, J., Apfel, F., & Tsouros, A. (Eds.). (2013). Health literacy—The solid facts. Resource document. World Health Organization. Retrieved from http://www.euro.who.int/__data/assets/pdf_file/0008/190655/e96854.pdf.

Kilbridge, K., Fraser, G., Krahn, M., Nelson, E., Conaway, M., Bashore, R., et al. (2009). Lack of comprehension of common prostate cancer terms in an underserved population. Journal of Clinical Oncology, 27, 2015–2021. https://doi.org/10.1200/JCO.2008.17.3468.

Kilfoyle, K. A., Vitko, M., O'Conor, R., & Bailey, S. C. (2016). Health literacy and women's reproductive health: A systematic review. Journal of Women's Health, 25(12), 1237–1255.

Koh, H. (2010). National action plan to improve health literacy. Resource document. U.S. Department of Health and Human Services, Office of Disease Prevention and Health Promotion. Retrieved from https://health.gov/communication/HLActionPlan/pdf/Health_Literacy_Action_Plan.pdf.

Mazor, K., Calvi, J., Cowan, R., Costanza, M., Han, P., Greene, S., et al. (2010). Media messages about cancer: What do people understand. Journal of Health Communication, 15, 126–145. https://doi.org/10.1080/10810730.2010.499983.

Moy, E., Greenberg, L., & Borsky, A. (2008). Community variation: Disparities in health care quality between Asian and white Medicare beneficiaries. Health Affairs, 27, 538–549.

Revicky, V., Muralidhar, A., Mukhopadhyay, S., & Mahmood, T. (2012). A case series of uterine rupture: Lessons to be learned for future clinical practice. Journal of Obstetrics and Gynaecology of India, 62(6), 665–673. https://doi.org/10.1007/s13224-012-0328-4.

Robinson, L., Calmes, D., & Bazargan, M. (2008). The impact of literacy enhancement on asthma-related outcomes among underserved children. Journal of the National Medical Association, 100, 892–896.

Ryan, C., & Bauman, K. (2015). Educational attainment in the United States: 2015. U.S. Department of Commerce, United States Census Bureau. Retrieved from https://www.census.gov/content/dam/Census/library/publications/2016/demo/p20-578.pdf.

Seidman, J. (2010). Health literacy & meaningful use of health IT. Department of Health and Human Services, Office of the National Coordinator for Health Information Technology. Retrieved from http://www.nationalacademies.org/hmd/~/media/1973CA1C16614BA3A213C78F40E61CFA.ashx.

Sentell, T., Baker, K., Onaka, A., & Braun, K. (2011). Low health literacy and poor health status in Asian Americans and Pacific Islanders in Hawai'i. Journal of Health Communication, 16, Suppl 3. https://doi.org/10.1080/10810730.2011.604390.

Sentell, T., & Braun, K. (2012). Low health literacy, limited English proficiency, and health status in Asians, Latinos, and other racial/ethnic groups in California. Journal of Health Communication, 17(Suppl 3), 82–99. https://doi.org/10.1080/10810730.2012.712621.

Shen, J., Tymkow, C., & MacMullen, N. (2005). Disparities in maternal outcomes among four ethnic populations. Ethnicity & Disease, 15, 492–497.

Shieh, C., Mays, R., McDaniel, A., & Yu, J. (2009). Health literacy and its association with the use of information sources and with barriers to information seeking in clinic-based pregnant women. Health Care for Women International, 30, 971–988.

StataCorp. (2011). Stata statistical software: Release 12. College Station: StataCorp LP.

The American College of Obstetricians and Gynecologists. (2016). ACOG Committee Opinion No. 585: Health literacy. Obstetrics and Gynecology, 123(2), 380–383. https://doi.org/10.1097/01.AOG.0000443277.06393.32.

The Center for Medicaid & CHIP Services. (2017). 2018 Core set of maternal and perinatal health measures for Medicaid and CHIP (Maternity Core Set). Centers for Medicare & Medicaid Service. Accessed from https://www.medicaid.gov/medicaid/quality-of-care/downloads/performance-measurement/2018-maternity-core-set.pdf.

Weiss, B., Hart, G., McGee, D., & d'Estelle, S. (1992). Health status of illiterate adults: Relation between literacy and health status among persons with low literacy skills. The Journal of the American Board of Family Medicine, 5, 257–264.

Wolf, M., Davis, T., Tilson, H., Bass, P., & Parker, R. (2006). Misunderstanding of prescription drug warning labels among patients with low literacy. American Journal of Health-System Pharmacy, 63, 1048–1055.
Acknowledgements
This project was supported by Agency for Healthcare Research and Quality (AHRQ) Grant R21 HS021903.
Ethics declarations
Conflict of interest
The authors declare that they have no conflict of interest.
Electronic supplementary material
Below is the link to the electronic supplementary material.
About this article
Cite this article
Guo, M., Quensell, M., Chang, A. et al. Understanding of Key Obstetric Quality Terminology by Asian and Pacific Islander Subgroups: Implications for Patient Engagement and Health Equity. Matern Child Health J 22, 1543–1549 (2018). https://doi.org/10.1007/s10995-018-2597-8
Published:

Issue Date:

DOI: https://doi.org/10.1007/s10995-018-2597-8
Keywords
Patient communication

Obstetrics

Pacific Islanders

Asians

Health disparities