Abstract
Objectives This study investigated the association between maternal pregravid body mass index (BMI) and breastfeeding discontinuation at 4–6 months postpartum in Hawaii and Puerto Rico participants from the Special Supplemental Nutrition Program for Women, Infants, and Children (WIC). Methods A secondary data analysis was conducted from a text message-based intervention in WIC participants in Hawaii and Puerto Rico. The analysis included 87 women from the control group who initiated breastfeeding and whose breastfeeding status was known at the end of the study when infants were 4–6 months old. Pregravid BMI and breastfeeding discontinuation were assessed using questionnaires. Results The association between pregravid BMI and breastfeeding discontinuation was not significant in the unadjusted model or in the adjusted model. Native Hawaiian or Other Pacific Islander (NHOPI) participants showed significantly increased odds of discontinuing breastfeeding (adjusted odds ratio [AOR] 7.12; 95% CI 1.34, 37.97; p = .02) compared to all the other racial/ethnic participants, as did older women ages 32–39 years versus women who were 25–31 years old (AOR 4.21; 95% CI 1.13, 15.72; p = .03). Women who took vitamins while breastfeeding had decreased odds of discontinuing breastfeeding (AOR 0.15; 95% CI 0.05, 0.46; p = .0009). Conclusions for Practice Pregravid BMI was not significantly associated with breastfeeding discontinuation at 4–6 months postpartum in women from Hawaii and Puerto Rico WIC, but NHOPIs and women who were older had higher odds of discontinuing breastfeeding. The results of this study may inform strategies for breastfeeding promotion and childhood obesity prevention but should be further investigated in larger studies. ClinicalTrials.gov Identifier: NCT02903186.
Access options
Buy single article
Instant access to the full article PDF.
USD 39.95
Price includes VAT (USA)
Tax calculation will be finalised during checkout.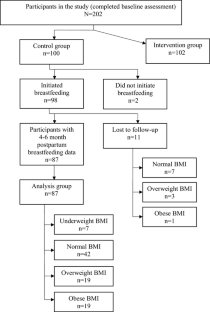 References
Banna, J., Campos, M., Gibby, C., Graulau, R. E., Meléndez, M., Reyes, A., … Palacios, C. (2017). Multi-site trial using short mobile messages (SMS) to improve infant weight in low-income minorities: Development, implementation, lessons learned and future applications. Contemporary Clinical Trials, 62, 56–60.

Barcelona de Mendoza, V., Harville, E., Theall, K., Buekens, P., & Chasan-Taber, L. (2016). Acculturation and intention to breastfeed among a population of predominantly Puerto Rican women. Birth, 43(1), 78–85. https://doi.org/10.1111/birt.12199.

Birch, L. L., & Davison, K. K. (2001). Family environmental factors influencing the developing behavioral controls of food intake and childhood overweight. Pediatric Clinics of North America, 48(4), 893–907.

Brownell, E., Howard, C. R., Lawrence, R. A., & Dozier, A. M. (2012). Delayed onset lactogenesis II predicts the cessation of any or exclusive breastfeeding. The Journal of Pediatrics, 161(4), 608–614. https://doi.org/10.1016/j.jpeds.2012.03.035.

Catalano, P. M., Farrell, K., Thomas, A., Huston-Presley, L., Mencin, P., de Mouzon, S. H., & Amini, S. B. (2009). Perinatal risk factors for childhood obesity and metabolic dysregulation. The American Journal of Clinical Nutrition, 90(5), 1303–1313. https://doi.org/10.3945/ajcn.2008.27416.

Centers for Disease Control and Prevention. (2011). Hospital support for breastfeeding: Preventing obesity begins in hospitals. Vital Signs. Retrieved August 2011, from https://www.cdc.gov/VitalSigns/pdf/2011-08-vitalsigns.pdf.

Centers for Disease Control and Prevention. (2017, August 1). National Immunization Survey. Retrieved August 29, 2017, from https://www.cdc.gov/breastfeeding/data/nis_data/index.htm.

Chen, Y. C., Wu, Y.-C., & Chie, W.-C. (2006). Effects of work-related factors on the breastfeeding behavior of working mothers in a Taiwanese semiconductor manufacturer: A cross-sectional survey. BMC Public Health, 6, 160. https://doi.org/10.1186/1471-2458-6-160.

Dodgson, J. E., Codier, E., Kaiwi, P., Oneha, M. F. M., & Pagano, I. (2007). Breastfeeding patterns in a community of Native Hawaiian mothers participating in WIC. Family & Community Health, 30(2 Suppl), 46–58. https://doi.org/10.1097/01.FCH.0000264880.96310.9a.

Franks, A. J., & Jurgensen, C. (1985). Nutrition and health in the first year of life on a Pacific atoll. Observations on Abemama Atoll, Central Pacific. Transactions of the Royal Society of Tropical Medicine and Hygiene, 79(5), 681–684.

Hawaii IBIS Query Builder Hawaii's Pregnancy Risk Assessment Monitoring System Data. (n.d.). Retrieved September 19, 2017, from http://ibis.hhdw.org/ibisph-view/query/builder/prams/BFAnyGE8WksInit/BFAnyGE8WksInit_ST.html.

Hawaii State Department of Health. (2010). PRAMS breastfeeding fact sheet. Retrieved from http://health.hawaii.gov/mchb/files/2013/05/breastfeeding2010.pdf.

Jansen, A. A. (1979). Malnutrition and child-feeding practices among Solomon Islanders in Honiara and Nggela-Sandfly. The Journal of Tropical Pediatrics and Environmental Child Health, 25(1), 15–22.

Kugyelka, J. G., Rasmussen, K. M., & Frongillo, E. A. (2004). Maternal obesity is negatively associated with breastfeeding success among Hispanic but not black women. The Journal of Nutrition, 134(7), 1746–1753.

Li, C., Kaur, H., Choi, W. S., Huang, T. T.-K., Lee, R. E., & Ahluwalia, J. S. (2005). Additive interactions of maternal prepregnancy BMI and breastfeeding on childhood overweight. Obesity Research, 13(2), 362–371. https://doi.org/10.1038/oby.2005.48.

Liu, J., Smith, M. G., Dobre, M. A., & Ferguson, J. E. (2010). Maternal obesity and breast-feeding practices among white and black women. Obesity, 18(1), 175–182. https://doi.org/10.1038/oby.2009.182.

Losing Weight, Body Mass Index. (n.d.). Retrieved October 26, 2016, from http://www.nhlbi.nih.gov/health/educational/lose_wt/BMI/bmi_dis.htm.

McKechnie, A. C., Tluczek, A., & Henriques, J. B. (2009). Maternal variables influencing duration of breastfeeding among low-income mothers. Infant, Child & Adolescent Nutrition, 1(3), 126–132. https://doi.org/10.1177/1941406409334379.

Nommsen-Rivers, L. A., Chantry, C. J., Peerson, J. M., Cohen, R. J., & Dewey, K. G. (2010). Delayed onset of lactogenesis among first-time mothers is related to maternal obesity and factors associated with ineffective breastfeeding. The American Journal of Clinical Nutrition, 92(3), 574–584. https://doi.org/10.3945/ajcn.2010.29192.

Novotny, R., Coleman, P., Tenorio, L., Davison, N., Camacho, T., Ramirez, V., … Tudela, M. D. (2007). Breastfeeding is associated with lower body mass index among children of the Commonwealth of the Northern Mariana Islands. Journal of the American Dietetic Association, 107(10), 1743–1746. https://doi.org/10.1016/j.jada.2007.07.018.

Novotny, R., Hla, M. M., Kieffer, E. C., Park, C.-B., Mor, J., & Thiele, M. (2000). Breastfeeding duration in a multiethnic population in Hawaii. Birth, 27(2), 91–96. https://doi.org/10.1046/j.1523-536x.2000.00091.x.

Okihiro, M., Davis, J., White, L., & Derauf, C. (2012). Rapid growth from 12 to 23 months of life predicts obesity in a population of Pacific Island children. Ethnicity & Disease, 22(4), 439–444.

Oshiro, C., Novotny, R., Grove, J., & Hurwitz, E. (2015). Race/ethnic differences in birth size, infant growth, and body mass index at age five years in children in Hawaii. Childhood Obesity, 11(6), 683–690. https://doi.org/10.1089/chi.2015.0027.

Pan, L., Blanck, H. M., Sherry, B., Dalenius, K., & Grummer-Strawn, L. M. (2012). Trends in the prevalence of extreme obesity among US preschool-aged children living in low-income families, 1998–2010. JAMA, 308(24), 2563–2565. https://doi.org/10.1001/jama.2012.108099.

Rasmussen, K. M., & Kjolhede, C. L. (2004). Prepregnant overweight and obesity diminish the prolactin response to suckling in the first week postpartum. Pediatrics, 113(5), e465–e471.

Sewell, M. F., Huston-Presley, L., Super, D. M., & Catalano, P. (2006). Increased neonatal fat mass, not lean body mass, is associated with maternal obesity. American Journal of Obstetrics and Gynecology, 195(4), 1100–1103. https://doi.org/10.1016/j.ajog.2006.06.014.

Spatz, D. (2014). Preventing obesity starts with breastfeeding. The Journal of Perinatal & Neonatal Nursing, 28(1), 41–50. https://doi.org/10.1097/JPN.0000000000000009.

Swinburn, B. A., Ley, S. J., Carmichael, H. E., & Plank, L. D. (1999). Body size and composition in Polynesians. International Journal of Obesity and Related Metabolic Disorders, 23(11), 1178–1183.

Taveras, E., Gillman, M., Kleinman, K., Rich-Edwards, J., & Rifas-Shiman, S. (2010). Racial/ethnic differences in early-life risk factors for childhood obesity. Pediatrics, 125(4), 686–695. https://doi.org/10.1542/peds.2009-2100.

Thorn, B., Tadler, C., Huret, N., Ayo, E., & Trippe, C. (2015, November). WIC participant and program characteristics final report. Retrieved October 23, 2016, from http://www.fns.usda.gov/sites/default/files/ops/WICPC2014.pdf.

US Census Bureau. (n.d.). Race. Retrieved August 1, 2017, from https://www.census.gov/topics/population/race/about.html.

US Department of Health and Human Services, Office of Disease Prevention and Health Promotion. (2010). Healthy People 2020. Retrieved from https://www.healthypeople.gov/2020/topics-objectives/topic/maternal-infant-and-child-health/objectives.

WHO expert consultation. (2004). Appropriate body-mass index for Asian populations and its implications for policy and intervention strategies. The Lancet, 363(9403), 157–163. https://doi.org/10.1016/S0140-6736(03)15268-3.

Wojcicki, J. M. (2011). Maternal prepregnancy body mass index and initiation and duration of breastfeeding: A review of the literature. Journal of Women's Health, 20(3), 341–347. https://doi.org/10.1089/jwh.2010.2248.

Woo Baidal, J. A., Locks, L. M., Cheng, E. R., Blake-Lamb, T. L., Perkins, M. E., & Taveras, E. M. (2016). Risk factors for childhood obesity in the first 1,000 days: A systematic review. American Journal of Preventive Medicine, 50(6), 761–779. https://doi.org/10.1016/j.amepre.2015.11.012.

World Health Organization. (2006). WHO Child Growth Standards: Length/Height-for-Age, Weight-for-Age, Weight-for-Length, Weight-for-Height and Body Mass Index-for-Age: Methods and development. Geneva, Switzerland. Retrieved from http://www.cdc.gov/mmwr/preview/mmwrhtml/rr5909a1.htm.
Acknowledgements
This study was supported by the National Institute on Minority Health and Health Disparities (NIMHD) of the National Institutes of Health under award number U54MD008149 and in part by grant U54MD007584 (RMATRIX). Infrastructure support was also provided in part by the NIMHD RCMI Grant: 8G12MD007600. The authors acknowledge Linda Chock (Branch Chief), Iris Takahashi (Clinic Operations Section Chief), Laura Morihara (Wahiawa WIC Coordinator), Wendy Baker (Wahiawa WIC Office Assistant), Jean Kanda (Leeward WIC Coordinator), Dawn Fujimoto-Redoble (Leeward WIC Nutritionist), and Christina Mariano (Pearl City WIC Coordinator) from the Hawaii Department of Health WIC Services Branch. They also acknowledge the Puerto Rico WIC Program, including Dana Miró (Executive Director), Blanca Sastre (Interim supervisor of Nutrition and Lactation Division), Alexandra Reyes (Nutrition Education Coordinator), Iris Roldan (Breastfeeding Coordinator), Ivelisse Bruno (Breastfeeding Peer Support Coordinator), Sherley M. Panell (Nutrition Supervisor in Plaza las Americas WIC Clinic) and her team, and Marta Meaux (Nutrition Supervisor in Trujillo Alto WIC Clinic) and her team. They also thank the WIC participants and undergraduate and graduate research assistants.
Ethics declarations
Conflict of interest
The authors declare that they have no conflict of interest.
Electronic supplementary material
Below is the link to the electronic supplementary material.
About this article
Cite this article
Gibby, C.L.K., Palacios, C., Campos, M. et al. Breastfeeding Discontinuation Not Associated with Maternal Pregravid BMI But Associated with Native Hawaiian or Other Pacific Islander Race in Hawaii and Puerto Rico WIC Participants. Matern Child Health J 23, 19–29 (2019). https://doi.org/10.1007/s10995-018-2587-x
Keywords
Pregravid

BMI

Breastfeeding

WIC

Low income