Abstract
Introduction In Mexico the breastfeeding rate is low and the obesity rate is high. Body image concerns, particularly prevalent in obese women, are associated with low breastfeeding rate; however, this association has never been examined in Mexican women. To fill this need, we examined the association between body image dissatisfaction (BID) and breastfeeding across levels of maternal weight status in Mexican women. Methods A cross-sectional study was used, utilizing data from the Mexican National Health and Nutrition Survey (ENSANUT) for 2012. The breastfeeding (Never or breastfed less than 30 days, Still breastfeeding, Ever breastfed) of the last child (age ≤ 3 years), BID (Stunkard Figure Rating Scale), anthropometric (Body Mass Index, BMI), and associated characteristics were collected. Weighted-multinomial logistic regression models were utilized to examine the adjusted association between BID and breastfeeding and the effect modification of maternal weight status. Results Overall, 2422 women aged 20–49 years met the eligibility criteria. Of these, 247 (10.8%) had never breastfed or breastfed less than 30 days, 826 (32%) were still breastfeeding, and 1349 (57.2%) had breastfed. A total of 38.2% were overweight (25 ≤ BMI < 30 kg m2) and 26.2% were obese (BMI ≥ 30 kg m2). In the adjusted model, while stratifying by maternal weight status levels, a greater BID was associated with a lower odds of sill breastfeeding (OR 0.58, 95% CI 0.45–0.75) and having breastfed (OR 0.65, 95% CI 0.50–0.83) only among women with BMI ≥ 30 kg m2. Discussion The results highlight the potential relationship between body image concerns and breastfeeding in Mexican women with obesity. However, the causality of such relationship needs further investigation, ideally using a longitudinal study design.
This is a preview of subscription content, log in to check access.
Access options
Buy single article
Instant access to the full article PDF.
US$ 39.95
Price includes VAT for USA
Subscribe to journal
Immediate online access to all issues from 2019. Subscription will auto renew annually.
US$ 99
This is the net price. Taxes to be calculated in checkout.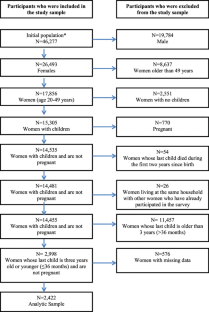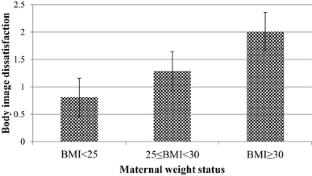 References
Amir, L. H., & Donath, S. (2007). A systematic review of maternal obesity and breastfeeding intention, initiation and duration. BMC Pregnancy and Childbirth, 7, 9-2393-7-9.

Barnes, J., Stein, A., Smith, T., & Pollock, J. I. (1997). Extreme attitudes to body shape, social and psychological factors and a reluctance to breast feed. ALSPAC study team avon longitudinal study of pregnancy and childhood. Journal of the Royal Society of Medicine, 90(10), 551–559.

Barquera, S., Hernandez-Barrera, L., Campos-Nonato, I., et al. (2009). Energy and nutrient consumption in adults: Analysis of the Mexican National Health and Nutrition Survey 2006. Salud Publica de Mexico, 51, S562–S573.

Bartok, C. J., Schaefer, E. W., Beiler, J. S., & Paul, I. M. (2012). Role of body mass index and gestational weight gain in breastfeeding outcomes. Breastfeeding Medicine: The Official Journal of the Academy of Breastfeeding Medicine, 7(6), 448–456. https://doi.org/10.1089/bfm.2011.0127.

Brown, A., Rance, J., & Warren, L. (2015). Body-image concerns during pregnancy are associated with a shorter breast feeding duration. Midwifery, 31(1), 80–89. https://doi.org/10.1016/j.midw.2014.06.003.

Center for Disease Control and Prevention, CDC. (2012). Breastfeeding among U.S. children born 2002–2012, CDC national immunization survey. http://www.cdc.gov/breastfeeding/data/nis_data/.

Chavez Hernandez, I. M., Saucedo-Molina Tde, J., Irecta, P. A., & Santoncini, U. C. (2015). Eating disorders associated risk factors: Trends from 2007 to 2010. Revista Investiagcion Clinica, 67(1), 54–63.

Coker, E., & Abraham, S. (2015). Body weight dissatisfaction before, during and after pregnancy: A comparison of women with and without eating disorders. Eating and Weight Disorders: EWD, 20(1), 71–79. https://doi.org/10.1007/s40519-014-0133-4.

Fagerland, M. W. (2012). A generalized Hosmer-Lemeshow goodness-of-fit test for multinomial logistic regression models. Stata Journal, 12(3), 447.

Fallon, E. A., Harris, B. S., & Johnson, P. (2014). Prevalence of body dissatisfaction among a United States adult sample. Eating Behaviors, 15(1), 151–158. https://doi.org/10.1016/j.eatbeh.2013.11.007.

Foster, S. F., Slade, P., & Wilson, K. (1996). Body-image, maternal fetal attachment, and breast feeding. Journal of Psychosomatic Research, 41(2), 181–184.

Gonzalez de Cossio, T., Escobar-Zaragoza, L., Gonzalez-Castell, D., Reyes-Vazquez, H., & Rivera-Dommarco, J. A. (2013). Breastfeeding in Mexico was stable, on average, but deteriorated among the poor, whereas complementary feeding improved: results from the 1999 to 2006 National Health and Nutrition Surveys. The Journal of Nutrition, 143(5), 664–671. https://doi.org/10.3945/jn.112.163097.

Gordon, K. H., Castro, Y., Sitnikov, L., & Holm-Denoma, J. M. (2010). Cultural body shape ideals and eating disorder symptoms among White, Latina, and Black college women. Cultural Diversity and Ethnic Minority Psychology, 16(2), 135–143. https://doi.org/10.1037/a0018671.

Grogan, S. (2006). Body-image and health: Contemporary perspectives. Journal of Health Psychology, 11(4), 523–530.

Hauff, L. E., & Demerath, E. W. (2012). Body-image concerns and reduced breastfeeding duration in primiparous overweight and obese women. American Journal of Human Biology: The Official Journal of the Human Biology Council, 24(3), 339–349. https://doi.org/10.1002/ajhb.22238.

Hauff, L. E., Leonard, S. A., & Rasmussen, K. M. (2014). Associations of maternal obesity and psychosocial factors with breastfeeding intention, initiation, and duration. The American Journal of Clinical Nutrition, 99(3), 524–534. https://doi.org/10.3945/ajcn.113.071191.

Holmqvist, K., & Frisen, A. (2010). Body dissatisfaction across cultures: Findings and research problems. European Eating Disorders Review: The Journal of the Eating Disorders Association, 18(2), 133–146. https://doi.org/10.1002/erv.965.

Huang, H. C., Wang, S. Y., & Chen, C. H. (2004). Body-image, maternal-fetal attachment, and choice of infant feeding method: A study in Taiwan. Birth (Berkeley. Calif.), 31(3), 183–188. https://doi.org/10.1111/j.0730-7659.2004.00303.x.

Li, R., Scanlon, K. S., & Serdula, M. K. (2005). The validity and reliability of maternal recall of breastfeeding practice. Nutrition Reviews, 63(4), 103–110.

Mancini, K. (2017). Body-image, eating attitudes and breastfeeding intention: Implications for mental health and maternal child nurses. Issues in Mental Health Nursing, 38(9), 750–755. https://doi.org/10.1080/01612840.2017.1324928.

Marshall, C., Lengyel, C., & Utioh, A. (2012). Body dissatisfaction among middle-aged and older women. Canadian Journal of Dietetic Practice Research, 73(2), e241–e247. https://doi.org/10.3148/73.2.2012.e241.

Meedya, S., Fahy, K., & Kable, A. (2010). Factors that positively influence breastfeeding duration to 6 months: A literature review. Women Birth, 23(4), 135–145. https://doi.org/10.1016/j.wombi.2010.02.002.

Perez-Gil, R. S., & Romero, J. G. (2010). Women's body-image in three rural areas in Mexico: Perception and desire. Salud Publica Mex, 52(2), 111–118.

Prior, E., Santhakumaran, S., Gale, C., Philipps, L. H., Modi, N., & Hyde, M. J. (2012). Breastfeeding after cesarean delivery: A systematic review and meta-analysis of world literature. The American Journal of Clinical Nutrition, 95(5), 1113–1135. https://doi.org/10.3945/ajcn.111.030254.

Rasmussen, K. M. (2007). Association of maternal obesity before conception with poor lactation performance. Annual Review of Nutrition, 27, 103–121. https://doi.org/10.1146/annurev.nutr.27.061406.093738.

Romero-Martinez, M., Shamah-Levy, T., Franco-Nunez, A., Villalpando, S., Cuevas-Nasu, L., Gutierrez, J. P., & Rivera-Dommarco, J. A. (2013). National health and nutrition survey 2012: Design and coverage. [Encuesta Nacional de Salud y Nutricion 2012: diseno y cobertura]. Salud Publica De Mexico, 55(Suppl 2), 332–340.

Rossing, M. A., Voigt, L. F., Wicklund, K. G., & Daling, J. R. (2000). Reproductive factors and risk of papillary thyroid cancer in women. American Journal of Epidemiology, 151(8), 765–772.

Rtveladze, K., Marsh, T., Barquera, S., Sanchez Romero, L. M., Levy, D., Melendez, G., … Brown, M. (2014). Obesity prevalence in Mexico: Impact on health and economic burden. Public Health Nutrition, 17(1), 233–239. https://doi.org/10.1017/S1368980013000086.

Silveira, M. L., Ertel, K. A., Dole, N., & Chasan-Taber, L. (2015). The role of body-image in prenatal and postpartum depression: A critical review of the literature. Archives of Women's Mental Health, 18(3), 409–421. https://doi.org/10.1007/s00737-015-0525-0.

StataCorp. (2013). Stata Statistical Software: Release 13. College Station. TX: StataCorp LP.

Stunkard, A. J., Sorensen, T., & Schulsinger, F. (1983). Use of the Danish adoption register for the study of obesity and thinness. Research Publications—Association for Research in Nervous and Mental Disease, 60, 115–120.

Swanson, V., Keely, A., & Denison, F. C. (2017). Does body-image influence the relationship between body weight and breastfeeding maintenance in new mothers? British Journal of Health Psychology, 22(3), 557–576. https://doi.org/10.1111/bjhp.12246.

U.S. Census of Bureau. (2014). Facts for features: Hispanic heritage month 2014: Sept. 15–Oct. 15. http://www.census.gov/newsroom/facts-for-features/2014/cb14-ff22.html.

Verret-Chalifour, J., Giguere, Y., Forest, J. C., Croteau, J., Zhang, P., & Marc, I. (2015). Breastfeeding initiation: Impact of obesity in a large canadian perinatal cohort study. PLoS ONE, 10(2), e0117512. https://doi.org/10.1371/journal.pone.0117512.
Funding
This research did not receive any specific grant from funding agencies in the public, commercial, or not-for-profit sectors.
Ethics declarations
Conflict of interest
The authors declare that they have no conflicts of interest.
About this article
Cite this article
Bigman, G., Wilkinson, A.V., Homedes, N. et al. Body Image Dissatisfaction, Obesity and Their Associations with Breastfeeding in Mexican Women, a Cross-Sectional Study. Matern Child Health J 22, 1815–1825 (2018). https://doi.org/10.1007/s10995-018-2583-1
Keywords
Breastfeeding

Body image dissatisfaction

Obesity

Mexican women