Abstract
Background Telephone helplines providing 24-h specialist-nurse contact present a source of immediate support for women encountering challenges with breastfeeding and may serve to prolong breastfeeding duration by building self-efficacy. To date there is little evidence on interaction effectiveness and still less on the relative effectiveness for women from different socio-economic backgrounds. Research Aim To establish the effect on maternal breastfeeding self-efficacy of calls made to a nurse-led parenting helpline. Methods From a corpus of calls made to the Australian Child Health Line (N = 723), those made by women presenting a breastfeeding concern as a prime issue (n = 60) were scored for breastfeeding self-efficacy at commencement and completion of recorded interactions. Analyses examined the significance and direction of change from beginning to end of calls and compared difference in change across calls originating from high and low social advantage locations. Results A significant increase in self-efficacy was found, but with low effect size. There was considerable variation among calls; 53% showed improvement, 25% showed no change and 22% showed reduction in breastfeeding self-efficacy. While most calls were made by women from socially advantaged locations, change was more positive for the small number of callers from disadvantaged locations. Conclusion The potential of nurse-led reactive telephone support is evident, but dependent on qualities of the interaction. For women living in disadvantaged locations telephone support may be of particular significance given the greater social barriers to breastfeeding they are likely to encounter.
Access options
Buy single article
Instant access to the full article PDF.
US$ 39.95
Tax calculation will be finalised during checkout.
Subscribe to journal
Immediate online access to all issues from 2019. Subscription will auto renew annually.
US$ 79
Tax calculation will be finalised during checkout.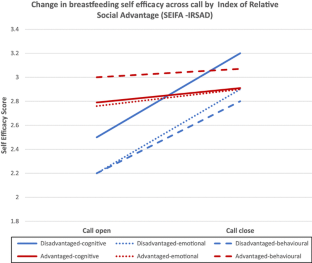 References
Artieta-Pinedo, I., Paz-Pascual, C., Grandes, G., Bacigalupe, A., Payo, J., & Montoya, I. (2013). Antenatal education and breastfeeding in a cohort of primiparas. Journal of Advanced Nursing, 69(7), 1607–1617.

Australian Bureau of Statistics. (2011). Census of population and housing: Socio-economic indexes for areas (SEIFA). Retrieved from http://www.abs.gov.au/ausstats/abs@.nsf/mf/2033.0.55.001.

Australian Institute of Health and Welfare. (2011). 2010 Australian National Infant Feeding Survey: Indicator results. Canberra: AIHW.

Bandura, A. (1977). Antecedent determinants. In A. Bandura (Ed.), Social learning theory (pp. 59–93). Englewood Cliffs: Prentice-Hall.

Bandura, A. (1986). Self-efficacy. In A. Bandura (Ed.), Social foundations of thought and action: A social cognitive theory (pp. 390–449). Englewood Cliffs: Prentice-Hall.

Baxter, J., Cooklin, A. R., & Smith, J. (2009). Which mothers wean their babies prematurely from full breastfeeding? An Australian cohort study. Acta Pædiatrica, 98(8), 1274–1277.

Butler, C. W., Danby, S., Emmison, M., & Thorpe, K. (2009). Managing medical advice seeking in calls to child health line. Sociology of Health & Illness, 31(6), 817–834.

Danby, S. J., Thorpe, K. J., Emission, M., Ferguson, R., Butler, C. W., & Daveson, N. (2009). Calling for help: A responsive evaluation of child healthy line. Brisbane: Queensland University of Technology.

Dennis, C. L., & Faux, S. (1999). Development and psychometric testing of the breastfeeding self-efficacy scale. Research in Nursing & Health, 22(5), 399–409.

Dennis, C. L., & Kingston, D. (2008). A systematic review of telephone support for women during pregnancy and the early postpartum period. Journal of Obstetric, Gynecologic, & Neonatal Nursing, 37, 301–314.

Dennis, C. L. E. (2006). Identifying predictors of breastfeeding self-efficacy in the immediate postpartum period. Research in Nursing & Health, 29(4), 256–268.

Feijen-de Jong, E. I., Jansen, D. E., Baarveld, F., van der Schans, C. P., Schellevis, F. G., & Reijneveld, S. A. (2012). Determinants of late and/or inadequate use of prenatal healthcare in high-income countries: A systematic review. The European Journal of Public Health, 22(6), 904–913.

Fox, R., McMullen, S., & Newburn, M. (2015). UK women's experiences of breastfeeding and additional breastfeeding support: A qualitative study of Baby Cafe services. BMC Pregnancy Childbirth, 15, 147.

Henshaw, E. J., Fried, R., Siskind, E., Newhouse, L., & Cooper, M. (2015). Breastfeeding self-efficacy, mood, and breastfeeding outcomes among primiparous women. Journal of Human Lactation, 31(3), 511–518.

Hoddinott, P., Craig, L., Maclennan, G., Boyers, D., & Vale, L. (2012). The FEeding Support Team (FEST) randomised, controlled feasibility trial of proactive and reactive telephone support for breastfeeding women living in disadvantaged areas. British Medical Journal Open, 2, 2.

Horta, B. L., & Victora, C. G. (2013). Long term effects of breastfeeding: A systematic review. Geneva: World Health Organization. Retrieved from http://www.who.int/maternal_child_adolescent/documents/breastfeeding_long_term_effects/en/index.html.

Jamtvedt, G., Young, J., Kristoffersen, D., O'Brien, M., & Oxman, A. (2007). Audit and feedback: Effects on professional practice and health care outcomes (review). The Cochrane Library, 2(2), 1–105.

Johnson, A. M., Kirk, R., Rooks, A. J., & Muzik, M. (2016). Enhancing breastfeeding through healthcare support: Results from a focus group study of African American mothers. Maternal and Child Health Journal, 20(Suppl 1), 92–102.

Keppel, G., & Wickens, T. D. (2004). The linear model and its assumptions. In G. Keppel & T. D. Wickens (Eds.), Design and analysis: A researchers handbook (4th ed., pp. 132–158). New Jersey: Prentice-Hall.

Koo, T. K., & Li, M. Y. (2016). A guideline of selecting and reporting intraclass correlation coefficients for reliability research. Journal of Chiropractic Medicine, 15(2), 155–163.

MacVicar, S., Kirkpatrick, P., Humphrey, T., & Forbes-McKay, K. E. (2015). Supporting breastfeeding establishment among socially disadvantaged women: A meta-synthesis. Birth, 42(4), 290–298.

McGraw, K. O., & Wong, S. P. (1996). Forming inferences about some intraclass correlation coefficients. Psychological Methods, 1, 30–46.

Meedya, S., Fahy, K., & Kable, A. (2010). Factors that positively influence breastfeeding duration to 6 months: A literature review. Women and Birth, 23(4), 135–145.

Meglio, G. D., McDermott, M. P., & Klein, J. D. (2010). A randomized controlled trial of telephone peer support's influence on breastfeeding duration in adolescent mothers. Breastfeeding Medicine, 5, 41–47.

Mullen, S. M., Marshall, A., & Warren, M. D. (2017). Statewide breastfeeding hotline use among Tennessee WIC participants. Journal of Nutrition Education and Behavior, 49(7), S192–S196.

Oakley, L. L., Renfrew, M. J., Kurinczuk, J. J., & Quigley, M. A. (2013). Factors associated with breastfeeding in England: An analysis by primary care trust. BMJ Open, 3(6), e002765.

Phillips, K. F. (2011). First-time breastfeeding mothers: Perceptions and lived experiences with breastfeeding. International Journal of Childbirth Education, 26(3), 17–20.

Renfrew, M. J., McCormick, F. M., Wade, A., Quinn, B., & Dowswell, T. (2012). Support for healthy breastfeeding mothers with healthy term babies. The Cochrane Database of Systematic Reviews, 5, 1–222.

Rozga, M. R., Kerver, J. M., & Olson, B. H. (2015). Self-reported reasons for breastfeeding cessation among low-income women enrolled in a peer counseling breastfeeding support program. Journal of Human Lactation, 31(1), 129–137.

Schmied, V., Beake, S., Sheehan, A., McCourt, C., & Dykes, F. (2011). Women's perceptions and experiences of breastfeeding support: A metasynthesis. Birth, 38(1), 49–60.

Sheehan, A., Schmied, V., & Barclay, L. (2009). Women's experiences of infant feeding support in the first 6 weeks post-birth. Maternal & Child Nutrition, 5(2), 138–150.

Smith, E. V., Wakely, M. B., De Kruif, R. E., & Swartz, C. W. (2003). Optimizing rating scales for self-efficacy and other research. Educational and Psychological Measurement, 63(3), 369–391.

Smith, S. (2010). Helping parents cope with crying babies: Decision-making and interaction at NHS Direct. Journal of Advanced Nursing, 66(2), 381–391.

Tahir, N. M., & Al-Sadat, N. (2013). Does telephone lactation counselling improve breastfeeding practices?: A randomised controlled trial. International Journal of Nursing Studies, 50(1), 16–25.

Thomson, G., & Crossland, N. (2013). Callers' attitudes and experiences of UK breastfeeding helpline support. International Breastfeeding Journal, 8(1), 1–15.

Thomson, G., Crossland, N., Dykes, F., & Sutton, C. J. (2012). UK breastfeeding helpline support: An investigation of influences upon satisfaction. BMC: Pregnancy and Childbirth, 12, 150–165.

Trivedi, D. (2018). Cochrane review summary: Support for healthy breastfeeding mothers with healthy term babies. Primary Health Care Research & Development, 1–2.

Victora, C. G., Bahl, R., Barros, A. J. D., França, G. V. A., Horton, S., Krasevec, J.,.. . Rollins, N. C. (2016). Breastfeeding in the 21st century: Epidemiology, mechanisms, and lifelong effect. The Lancet, 387(10017), 475–490.

World Health Organization. (2003). Global strategy for infant and young child feeding. Geneva: World Health Organization. Retrieved from http://www.who.int/nutrition/publications/gs_infant_feeding_text_eng.pdf.
Acknowledgements
The authors wish to thank the nurses and parent callers who consented to participate in this study. Data collection was supported by a grant from the Royal Children's Hospital Foundation, Brisbane and Perpetual Trustees.
Ethics declarations
Conflict of interest
The authors declare that they have no conflict of interest.
About this article
Cite this article
Thorpe, K., Jansen, E., Cromack, C. et al. Can a Call Make a Difference? Measured Change in Women's Breastfeeding Self-efficacy Across Call Interactions on a Telephone Helpline. Matern Child Health J 22, 1761–1770 (2018). https://doi.org/10.1007/s10995-018-2573-3
Keywords
Breastfeeding

Self-efficacy

Vulnerable populations

Telemedicine

Nursing