Abstract
Introduction Hispanics/Latinos are disproportionately affected by obesity in the U.S. Multiple factors place Hispanic/Latino children at risk for overweight, warranting guidance of a socio-ecologic approach to examine causes of obesity. The purpose of this study was to increase understanding of the factors that influence Hispanic/Latino childhood obesity through an intergenerational lens including children, parents/caregivers, and grandparents. Methods Eight focus groups were conducted with Hispanics/Latinos (N = 68 adults, N = 22 youth), using a semi-structured moderator's guide. Audio-recordings were transcribed, and thematically analyzed. Findings were categorized within the PRECEDE–PROCEED planning model. Results Adult participants were middle-aged (M = 37.8 ± 9.8 years) and youth were between the ages of 10–17 (M = 14.0 ± 1.8 years). Six themes emerged: eating habits, cultural perceptions of weight, acculturation, childhood obesity perceptions, economic issues, and generational differences. The major parental influence was lack of time to provide healthy meals due to socio-economic factors: long work hours and availability of nearby fast food options. Youth shared that childhood obesity is due to sedentary behaviors, permissive parenting and lack of parental modeling (the latter two factors often exacerbated by extended work schedules). Discussion Discordant perceptions about unhealthy eating habits emerged. Adults expressed a lack of nutritional knowledge and skills to prepare healthy meals; while adolescents emphasized permissive parenting styles and lack of discipline lead to unhealthy lifestyles in Hispanic families. Findings emphasize involving parents/caregivers and youth to understand discordant perceptions that can inform the development of prevention programs.
This is a preview of subscription content,
to check access.
Access this article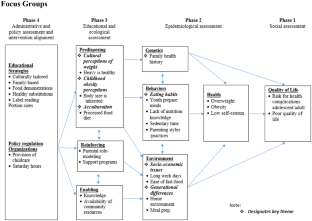 References
Acheampong, I., & Haldeman, L. (2013). Are nutrition knowledge, attitudes, and beliefs associated with obesity among low-income Hispanic and African American women caretakers? Journal of Obesity, 2013, 123901. https://doi.org/10.1155/2013/123901.

Arredondo, E. M., Elder, J. P., Ayala, G. X., Campbell, N., Baquero, B., & Duerksen, S. (2006). Is parenting style related to children's healthy eating and physical activity in Latino families? Health Education Research, 21(6), 862–871.

Caballero, A. E. (2005). Diabetes in the Hispanic or Latino population: Genes, environment, culture, and more. Current Diabetes Reports, 5(3), 217–225.

Cartagena, D. C., Ameringer, S. W., McGrath, J., Jallo, N., Masho, S. W., & Myers, B. J. (2014). Factors contributing to infant overfeeding with Hispanic mothers. Journal of Obstetrics Gynecological and Neonatal Nursing, 43(2), 139–159. https://doi.org/10.1111/1552-6909.12279.

Davis, R. E., Cole, S. M., Reyes, L. I., McKenney-Shubert, S. J., & Peterson, K. E. (2015). ''It hurts a Latina when they tell us anything about our children'': Implications of Mexican-Origin mothers' maternal identities, aspirations, and attitudes about cultural transmission for childhood obesity prevention. Childhood Obesity, 11(5), 608–615.

Davison, K. K., & Birch, L. L. (2001). Childhood overweight: A contextual model and recommendations for future research. Obesity Reviews, 2(3), 159–171.

Delva, J., O'Malley, P. M., & Johnston, L. D. (2006). Racial/ethnic and socioeconomic status differences in overweight and health-related behaviors among American students: National trends 1986–2003. Journal of Adolescent Health, 39(4), 536–545. https://doi.org/10.1016/j.jadohealth.2006.02.013.

Eyamber, G. S., Friedman, B. D., & Rawlings, E. (2016). Perceptions and attitudes about childhood obesity among adults in the lower Rio Grand Valley. International Journal of Public Health, 8(2), 215–225.

Faught, E., Vander Ploeg, K., Chu, Y. L., Storey, K., & Veugelers, P. J. (2016). The influence of parental encouragement and caring about healthy eating on children's diet quality and body weights. Public Health Nutrition, 19(5), 822–829. https://doi.org/10.1017/S1368980015002049.

Frank, G. C. (2008). Recommendations on the assessment, prevention, and treatment of child and adolescent overweight and obesity. PNPG Post, 17, 1–3.

Gielen, A. C., McDonald, E. M., Gary, T. L., & Bone, L. R. (2008). Using the PRECEDE-PROCEED model to apply health behavior theories. In K. Glanz, B. K. Rimer & K. Viswanath (Eds.), Health behavior and health education: Theory, research, and practice (pp. 407–429). San Francisco: Jossey-Bass.

Green, L. W., & Kreuter, M. W. (2005). Health program planning: An educational and ecological approach. New York: McGraw-Hill.

Guntzviller, L. M., King, A. J., Jensen, J. D., & Davis, L. A. (2017). Self-efficacy, health literacy, and nutrition and exercise behaviors in a low-income, hispanic population. Journal of Immigrant and Minority Health, 19(2), 489–493. https://doi.org/10.1007/s10903-016-0384-4.

Innella, N., Breitenstein, S., Hamilton, R., Reed, M., & McNaughton, D. B. (2016). Determinants of obesity in the hispanic preschool population: An integrative review. Public Health Nursing, 33(3), 189–199. https://doi.org/10.1111/phn.12215.

Long Beach Department of Health and Human Services. (2014). Community health improvement plan 2014–2020. Retrieved from http://www.longbeach.gov/globalassets/health/media-library/documents/planning-and-research/plans/community-health-improvement-plan/chip-final-approved-3-17_14.

Lopez, G. I., Figeroa, M., Conno, S. E., & Maliski, S. L. (2008). Translation barriers in conducting qualitative research with Spanish speakers. Qualitative Health Research, 18(12), 1729–1737.

Natale, R. A., Messiah, S. E., Asfour, L., Uhlhorn, S. B., Delamater, A., & Arheart, K. L. (2014). Role modeling as an early childhood obesity prevention strategy: Effect of parents and teachers on preschool children's healthy lifestyle habits. Journal of Developmental and Behavioral Pediatrics, 35(6), 378–387. https://doi.org/10.1097/DBP.0000000000000074.

Ogden, C. L., Carroll, M. D., Kit, B. K., & Flegal, K. M. (2014). Prevalence of childhood and adult obesity in the United States, 2011–2012. Journal of American Medical Association, 311(8), 806–814.

Pan, L., May, A. L., Wethington, H., Dalenius, K., & Grummer-Strawn, L. M. (2013). Incidence of obesity among young US children living in low-income families, 2008–2011. Pediatrics, 132(6), 1006–1013.

Park, M. H., Falconer, C., Viner, R. M., & Kinra, S. (2012). The impact of childhood obesity on morbidity and mortality in adulthood: A systematic review. Obesity Reviews, 13, 985–1000.

Power, T. G., O'Connor, T. M., Fisher, O., J., & Hughes, S. O. (2015). Obesity risk in children: The role of acculturation in the feeding practices and styles of low-income Hispanic families. Childhood Obesity, 11(6), 715–721. https://doi.org/10.1089/chi.2015.0036.

Rios-Ellis, B., Rascón, M., Galvez, G., Inzunza-Franco, G., Bellamy, L., & Torres, A. (2012). Creating a model of Latino PEER EDUCATION. Education and Urban Society, 47(1), 33–55. https://doi.org/10.1177/0013124512468006.

Rodriguez-Ventura, A. L., Pelaez-Ballestas, I., Samano-Samano, R., Jimenez-Gutierrez, C., & Aguilar-Salinas, C. (2014). Barriers to lose weight from the perspective of children with overweight/obesity and their parents: A sociocultural approach. Journal of Obesity, 2014, 575184. https://doi.org/10.1155/2014/575184.

Santiago-Torres, M., Cui, Y., Adams, A. K., Allen, D. B., Carrel, A. L., Guo, J. Y., et al. (2016). Structural equation modeling of the associations between the home environment and obesity-related cardiovascular fitness and insulin. Appetite, 101, 23–30.

Shaibi, G. Q., Konopken, Y., Hoppin, E., Keller, C. S., Ortega, R., & Castro, F. G. (2012). Effects of a culturally grounded community-based diabetes prevention program for obese Latino adolescents. Diabetes Educator, 38(4), 504–512. https://doi.org/10.1177/0145721712446635.

Singh, A. S., Mulder, C., Twisk, J. W. R., van Mechelen, W., & Chinapaw, M. J. M. (2008). Tracking of childhood overweight into adulthood:a systematic review of the literature. Obesity Reviews, 9, 474–488.

Tong, A., Sainsbury, P., & Craig, J. (2007). Consolidated criteria for reporting qualitative research (COREQ): 32-item checklist for interviews and focus groups. International Journal for Quality in Health Care, 19(6), 349–357.

Tschann, J. M., Martinez, S. M., Penilla, C., Gregorich, S. E., Pasch, L. A., de Groat, C. L., Flores, E., Deardorff, J., Greenspan, L. C., & Butte, N. F. (2015). Parental feeding practices and child weight status in Mexican American families: A longitudinal analysis. International Journal of Behavioral Nutrition and Physical Activity. https://doi.org/10.1186/s12966-015-0224-2

Ventura, A. K., & Birch, L. (2008). Does parenting affect children's eating and weight status? International Journal of Nutrition and Physical Activity, 5, 15.

Wang, Y., & Beydoun, M. A. (2007). The obesity epidemic in the United States–gender, age, socioeconomic, racial/ethnic, and geographic characteristics: A systematic review and meta-regression analysis. Epidemiologic Reviews, 29, 6–28. https://doi.org/10.1093/epirev/mxm007.

Watt, T., Appel, L., Roberts, K., Flores, B., & Morris, S. (2013). Sugar, stress, and the supplemental nutrition assistance program: Early childhood obesity risks among a clinic-based sample of low-income Hispanics. Journal of Community Health, 38, 513–520.

Williams, E. P., Mesidor, M., Winters, K., Dubbert, P. M., & Wyatt, S. B. (2015). Overweight and obesity: Prevalence, consequences, and causes of a growing public health problem. Current Obesity Reports, 4(3), 363–370. https://doi.org/10.1007/s13679-015-0169-4.

Wong, E., Tanamas, S. K., Wolfe, R., Backholer, K., Stevenson, C., Abdullah, A., & Peeters, A. (2015). The role of obesity duration on the association between obesity and risk of physical disability. Obesity (Silver Spring), 23(2), 443–447. https://doi.org/10.1002/oby.20936.
Acknowledgements
This study was funded by the United States Department of Agriculture Grant #2011-67002-30152. The authors thank the participants for their contribution to the development of the project, and the students and community health workers who assisted with the focus groups.
Ethics declarations
Conflict of interest
The authors declare no conflict of interest.
Ethical Approval
All study materials and procedures were approved by the California State University Long Beach Institutional Review Board. This study was performed in accordance with the ethical standards described in the 1964 Declaration of Helsinki and its later amendments.
Additional information
Publisher's Note
Springer Nature remains neutral with regard to jurisdictional claims in published maps and institutional affiliations.
Electronic supplementary material
Below is the link to the electronic supplementary material.
About this article
Cite this article
Garcia, M.L., Gatdula, N., Bonilla, E. et al. Engaging Intergenerational Hispanics/Latinos to Examine Factors Influencing Childhood Obesity Using the PRECEDE–PROCEED Model. Matern Child Health J 23, 802–810 (2019). https://doi.org/10.1007/s10995-018-02696-y
Published:

Issue Date:

DOI: https://doi.org/10.1007/s10995-018-02696-y
Keywords