Abstract
Purpose An assessment of the National Maternal and Child Health Workforce Development Center (the Center) was conducted to describe (1) effects of the Center's training on the use of collaborative leadership practices by MCH leaders, and (2) perceived barriers to collaboration for MCH leaders. The Center provides services to strengthen MCH professionals' skills in three core areas: Change Management/Adaptive Leadership, Evidence-Based Decision Making, and Systems Integration. Description This descriptive qualitative study compares eight interview responses from a sample of the Center's participants and findings from a document review of the training curriculum against an existing framework of collaborative leadership themes. Assessment Systems thinking tools and related training were highly referenced, and the interviewees often related process-based leadership practices with their applied learning health transformation projects. Perceived barriers to sustaining collaborative work included: (1) a tendency for state agencies to have siloed priorities, (2) difficulty achieving a consensus to move a project forward without individual partners disengaging, (3) strained organizational partnerships when the individual representative leaves that partnering organization, and (4) difficulty in sustaining project-based partnerships past the short term. Conclusion The findings in this study suggest that investments in leadership development training for MCH professionals, such as the Center, can provide opportunities for participants to utilize collaborative leadership practices.
Access options
Buy single article
Instant access to the full article PDF.
USD 39.95
Price excludes VAT (USA)
Tax calculation will be finalised during checkout.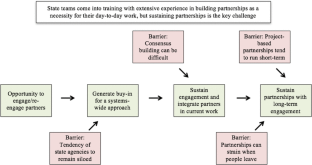 References
Alexander, J. A., Comfort, M. E., Weiner, B. J., & Bogue, R. (2001). Leadership in Collaborative Community Health Partnerships. Nonprofit Management and Leadership, 12(2), 159–175.

Avery, C. M. (1999). All power to you: Collaborative leadership works. The Journal for Quality and Participation, 22(2), 36.

Fawcett, S. B., Paine-Andrews, A., Francisco, V. T., Schultz, J. A., Richter, K. P., Lewis, R. K., … Lopez, C. M. (1995). Using empowerment theory in collaborative partnerships for community health and development. American Journal of Community Psychology, 23(5), 677–697.

Fernandez, C. S., Noble, C. C., Jensen, E., & Steffen, D. (2015). Moving the needle: A retrospective pre-and post-analysis of improving perceived abilities across 20 leadership skills. Maternal and Child Health Journal, 19(2), 343–352.

Green, L. W. (2000). Caveats on coalitions: In praise of partnerships. Health Promotion Practice, 1(1), 64–65.

Kavanagh, L., Menser, M., Pooler, J., Mathis, S., & Ramos, L. R. (2015). The MCH training program: Developing MCH leaders that are equipped for the changing health care landscape. Maternal and Child Health Journal, 19(2), 257–264.

Kreuter, M. W., Lezin, N. A., & Young, L. A. (2000). Evaluating community-based collaborative mechanisms: Implications for practitioners. Health Promotion Practice, 1(1), 49–63.

Larson, C., Sweeny, C., Christian, A., & Olson, L. (2002). Collaborative leadership and health: A review of the literature. Seattle: Leadership Development National Excellence Collaborative, Turning Point Initiative.

Leischow, S. J., Best, A., Trochim, W. M., Clark, P. I., Gallagher, R. S., Marcus, S. E., & Matthews, E. (2008). Systems thinking to improve the public's health. American Journal of Preventive Medicine, 35(2), S196–S203.

Lovelace, K. (2001). Multidisciplinary top management teamwork: Effects on local health department performance. Journal of Public Health Management and Practice, 7(1), 21–29.

Margolis, L., Mullenix, A., Apostolico, A. A., Fehrenbach, L. M., & Cilenti, D. (2017). Title V workforce development in the era of health transformation. Maternal and Child Health Journal, 21(11), 1–7.

Muhr, T., & Friese, S. (2004). User's Manual for ATLAS. ti 5.0. Berlin: ATLAS. ti Scientific Software Development GmbH.

Nowell, B., & Harrison, L. M. (2010). Leading change through collaborative partnerships: A profile of leadership and capacity among local public health leaders. Journal of Prevention & Intervention in the Community, 39(1), 19–34.

Peck, M. G., & Fitzgerald, M. (1998). Lessons Learned, 1997: Profiles of Leading Urban Health Department Initiatives in Maternal and Child Health. Highlights of the CityMatCH Urban Maternal and Child Health Leadership Conference. Atlanta.
Acknowledgements
The National MCH Workforce Development Center is supported by the Health Resources and Services Administration (HRSA) of the U.S. Department of Health and Human Services (HHS) under grant number UE7MC26282 for $1,837,391 with no support from nongovernmental sources. This information or content and conclusions are those of the author and should not be construed as the official position or policy of, nor should any endorsements be inferred by HRSA, HHS or the U.S. government. Special thanks to Lewis Margolis, MD, MPH of the Department of Maternal and Child Health at the University of North Carolina at Chapel Hill and Karl Umble, PhD, MPH of the Department of Health Policy and Management for comments on drafts and support.
Ethics declarations
Conflict of interest
The authors declare that they have no conflicts of interests.
About this article
Cite this article
Clarke, A.N., Cilenti, D. Developing Collaborative Maternal and Child Health Leaders: A Descriptive Study of the National Maternal and Child Health Workforce Development Center. Matern Child Health J 22, 17–23 (2018). https://doi.org/10.1007/s10995-017-2399-4
Published:

Issue Date:

DOI: https://doi.org/10.1007/s10995-017-2399-4
Keywords
Leadership

Workforce development

Collaborative leadership

Collaboration

National MCH Workforce Development Center