Abstract
Objective The purpose of this study was to examine the nutritional adequacy and dietary composition among women residing in Zinder and Maradi of Niger, and the factors that affect the variety of their dietary intake. Methods Data from 3360 women of ages 15–49 were used in the analysis. The variable of interest was the Women Dietary Diversity Score (WDDS), which is the simple sum of scores of the 9 categorized food groups, ranging from 0 to 9. Lower values for WDDS indicate nutritionally inadequate dietary diversity. Analysis included descriptive, Mann–Whitney U test and linear regression. Results The majority of the participants were residing in the Maradi Region (56.7%) and were living in households with both male and female adults (94.9%). The mean WDDS was 3.5 in Zinder compared to 2.5 in Maradi (p < .05). The most frequently consumed food items in both Zinder and Maradi were starchy staple food (98.3%). Region of residence was one of the strong predictor of WDDS. A total number of farmers in the household and Household Dietary Diversity Score (HDDS) had positive and significant effects on WDDS whereas Household Hunger Scale (HHS) had a negative and significant effect on WDDS. Conclusion Niger has one of the highest concentrations of malnutrition in the world. In 2012, approximately 2.5 million Nigeriens were affected by malnutrition. Our study results reinforce the importance to conduct more studies that examine the nutritional intake of women in Niger.
Access options
Buy single article
Instant access to the full article PDF.
US$ 39.95
Tax calculation will be finalised during checkout.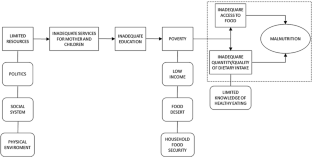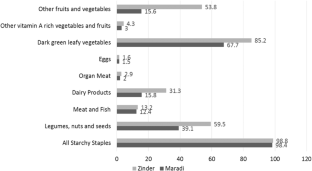 Notes
1.

An individual with a BMI index of less than 18.5 kg/m2 is considered to suffer from chronic energy deficiency (DHS).

2.

Baseline Study for the Title II Development Food Assistance Programs in Niger.

3.

Kantche-Bandawa, Kantche-Douache, Mirriah-Diney Haoussa, Mirriah-Fortoro Bougage.

4.

Guidan Roumdji-Guidan Sori, Guidan Roumdji-Tounkourma, Aguie-Naki Karfi, Aguie-Chakpe, Mayahi-Jan Toudou, Mayahi-Zongo Yardi, Dakoro-Dan Goubli, Dakoro-Magajin Kori.

5.

Eligible farmers are either male or female farmers within the household who have ownership or decision-making power over all plots of land and/or livestock that are part of the farm.

6.

Based on Baseline Study for the Title II Development Food Assistance Programs in Niger "co-owned is defined as joint property ownership of the house. Free Authorized is defined as dwelling being used for free with permission by owner. Free Unauthorized is defines as dwelling being used however no permission or authorization was provided".
References
Adewusi, S. R. A., Falade, M., Oyedapo, B., Rinaudo, T., & Harwood, C. (2006). Traditional and acacia colei seed-incorporated diets in maradi, niger republic. Nutrition and Health, 18(2), 161–177. doi:10.1177/026010600601800208.

Ahmend, T., Hossain, M., & Sanin, K. I. (2012). Burden of maternal and child undernutrition and micronutrient deficiencies. Annals of Nutrition and Metabolism, 61(suppl 1), 8–17 doi. 10.1159/000345165.

Araujo, C., Araujo-Bonjean, C., & Brunelin, S. (2011). Alert at Maradi: preventing food crisis using price signals. 2010.23. 2011. <halshs-00552240&gt.

Bhutta, Z. A., Das, J. K., Rizvi, A., Gaffey, M. F., Walker, N., Horton, S. .. Maternal and Child Nutrition Study Group. (2013). Evidence-based interventions for improvement of maternal and child nutrition: What can be done and at what cost? Lancet (London, England), 382(9890), 452–477. doi:10.1016/S0140-6736(13)60996-4

Delisle, H. F. (2008). Poverty. Annals of the New York Academy of Sciences, 1136(1), 172–184. doi:10.1196/annals.1425.026.

Doctors without Borders. (2012). Malnutrition on the rise in Maradi, Niger. Retrieved from http://www.doctorswithoutborders.org/news-stories/field-news/malnutrition-rise-maradi-niger.

Dresler-Hawke, E., & Whitehead, D. (2009). The behavioral ecological model as a framework for school-based anti-bullying health promotion interventions. The Journal of School Nursing, 25(3), 195–204. doi:10.1177/1059840509334364

Egg, J., & Wade, I. (2006). [Food crops in sahelian countries: Assessment and challenges]. Santé, 16(4), 271–8.

Famine Early Warning Systems Network (2015). Global weather hazards summary: poorly distributed rainfall in west and east Africa likely to exacerbate conditions Retrieved from http://www.fews.net/sites/default/files/documents/reports/Global%20Weather%20Hazard-150820.pdf.

Food and Agriculture Organization of the United Nations (2011). Guidelines for measuring household and individual dietary diversity. Retrieved from http://www.fao.org/3/a-i1983e.pdf.

Food and Agriculture Organization of the United Nations. (2015) The state of food insecurity in the world 2015. Retrieved from http://www.fao.org/hunger/en/.

Food and Nutrition Technical Assistance (2015). New global indicator to measure Women's dietary diversity. Retrieved from http://www.fantaproject.org/monitoring-and-evaluation/minimum-dietary-diversity-women-indicator-mddw.

Goudet, S. M., Faiz, S., Bogin, B. A., & Griffiths, P. L. (2011). Pregnant women's and community health workers' perceptions of root causes of malnutrition among infants and young children in the slums of dhaka, bangladesh. American Journal of Public Health, 101(7), 1225–1233. doi:10.2105/AJPH.2010.300090.

Gupta, P. (1979). Malnutrition fertility and family planning. Journal of the Indian Medical Association, 72(8), 194–199.

Hatløy, A., Hallund, J., Diarra, M. M., & Oshaug, A. (2000). Food variety, socioeconomic status and nutritional status in urban and rural areas in Koutiala (Mali). Public Health Nutrition, 3(1), 57–65.

Hovell, M. F., Wahlgren, D. R., Adams, M. A. (2009). The logical and empirical basis for the Behavioral Ecological Model. In R. J. DiClemente, R. A. Crosby, & M. Kegler (Eds.), Emerging theories in health promotion practice and research: Strategies for enhancing public health (2nd ed., pp. 415–450). San Francisco: Jossey-Bass.

Institut national de la statisque (INS) and Systemes d'Alerte Precoce. (2015). Enquete conjointe sur la vulnerability an l'insecurite alimentaire des menages au niger (december 2014-january 2015). Retrieved from http://reliefweb.int/sites/reliefweb.int/files/resources/wfp276386.pdf.

Institut national de la statistique (INS), Ministe`re des Finances &amp; ICF International. (2012a). Enquete demographique et de sante´ et a` indicateurs multiples 2012 – niger; 2013. Retrieved from http://dhsprogram.com/pubs/pdf/FR277/FR277.pdf.

Institut national de la statistique (INS), Ministe`re des Finances &amp; ICF International (2012b). Etat et Structure de la population du Niger en 2012. Retrieved from http://www.stat-niger.org/statistique/file/RGPH2012/ETAT_STRUCTURE_POPULATION.pdf.

International Federation of Red Cross and Red Crescent Societies. (2011). Tackling malnutrition in niger. Retrieved from https://www.ifrc.org/PageFiles/113731/Tackling%20malnutrition%20in%20Niger-EN.pdf.

Kimani-Murage, E., Muthuri, S., Oti, S., Mutua, M., van de Vijver, S., & Kyobutungi, C. (2015). Evidence of a double burden of malnutrition in urban poor settings in nairobi, kenya. PloS ONE, (10(6)) doi:10.1371/journal.pone.0129943.

Levinson, F. J., Bassett, L., & Population Reference Bureau. (2007). Malnutrition is still a major contributor to child deaths: But cost-effective interventions can reduce global impacts. Washington, DC: Population Reference Bureau.

Lindsay, K. L., Gibney, E. R., & McAuliffe, F. M. (2012). Maternal nutrition among women from sub-saharan africa, with a focus on nigeria, and potential implications for pregnancy outcomes among immigrant populations in developed countries. Journal of Human Nutrition and Dietetics, 25(6), 534–546. doi:10.1111/j.1365-277X.2012.01253.x.

Magadi, M. A. (2011). Household and community HIV/AIDS status and child malnutrition in sub-saharan africa: Evidence from the demographic and health surveys. Social Science & Medicine (1982), 73(3), 436–446. doi:10.1016/j.socscimed.2011.05.042 .

Mamadou, A., & Salaou, A. (2013). Women's land rights in a changing climate: A case study from maradi, niger. Retrieved from http://www.mrfcj.org/pdf/case-studies/2013-04-16-Niger.pdf.

Ministry of Public Health. (2012). National family planning in Niger, 2012–2020 action plan. Retrieved from http://ec2-54-210-230-186.compute-1.amazonaws.com/wp-content/uploads/2014/02/Niger_National_Family_Planning_Plan_English.pdf.

Ndjeunga, J., & Nelson, C. H. (2005). Toward understanding household preference for consumption characteristics of millet varieties: A case study from western niger. Agricultural Economics, 32(2), 151–165. doi:http://onlinelibrary.wiley.com/journal/10.1111/%28ISSN%291574-0862/issues.

Nguyen, P. H., Avula, R., Ruel, M. T., Saha, K. K., Ali, D., Tran, L. M. ... Rawat, R. (2013). Maternal and child dietary diversity are associated in Bangladesh, Vietnam, and Ethiopia. The Journal of Nutrition, 143(7), 1176–1183. doi:10.3945/jn.112.172247. [doi].

Oldewage Theron, W., & Kruger, R. (2011). Dietary diversity and adequacy of women caregivers in a peri-urban informal settlement in South Africa. Nutrition (Burbank, Los Angeles County, Calif.), 27(4), 420–427. doi:10.1016/j.nut.2010.05.013.

Performance Monitoring & Accountability 2020.Key Family Planning Indicators. Retrieved from http://www.pma2020.org/sites/default/files/NIGER-R1-EN-FP-Brief-v7-2016.06.30.pdf.

Sibhatu, K., Krishna, V., & Qaim, M. (2015). Production diversity and dietary diversity in smallholder farm households. Proceedings of the National Academy of Sciences of the United States of America, 112(34), 10657–10662. doi:10.1073/pnas.1510982112.

SPSS. (2013). SPSS for windows (release 15.0) [computer software] Chicago, IL: SPSS inc; 2006.

U.S. Agency for International Development,. (2015). Baseline study for the title II development food assistance programs in Niger. Retrieved from http://pdf.usaid.gov/pdf_docs/pnaed237.pdf.

United Nations International Fund for Agricultural Development. (2015). Niger receives IFAD financing to support family farmers in the regions of Maradi, Tahoua and Zinder. Retrieved from http://www.ifad.org/media/press/2015/58.htm.

Vuong, T., Gallegos, D., & Ramsey, R. (2015). Household food insecurity, diet, and weight status in a disadvantaged district of Ho Chi Minh City, Vietnam: A cross-sectional study. BMC public health, 15, 232. doi:10.1186/s12889-015-1566-z.

West Africa Gateway. (2013). Nigeriens feed Nigeriens - initiative 3Ns. Retrieved from http://www.westafricagateway.org/opinions/interviews/nigeriens-feed-nigeriens-initiative-3ns.

World Bank. (2014). Fertility rate, total (births per woman).Retrieved from http://data.worldbank.org/indicator/SP.DYN.TFRT.IN.

World Food Programme. (2011). Why empowering women farmers will help fight hunger. Retrieved from https://www.wfp.org/stories/why-empowering-women-farmers-will-help-fight-hunger.

World Food Programme. (2015). Hunger statistics. Retrieved from http://www.wfp.org/hunger/stats.

World Food Programme. (2015). Niger. Retrieved from https://www.wfp.org/countries/niger/overview.

World Health Organization. (2015). WHA global nutrition targets 2025: Stunting policy brief. Retrieved from http://www.who.int/nutrition/topics/globaltargets_stunting_policybrief.pdf.

Zakari, S., Ying, L., & Song, B. (2014). Factors influencing household food security in west Africa: The case of southern Niger. Sustainability (Switzerland), 6(3), 1191–1202. doi:10.3390/su6031191.
Acknowledgements
The authors wish to acknowledge the Trandisciplinary Center for Health Equity Research at Texas A and M University for providing the space to conduct this research.
About this article
Cite this article
Cisse-Egbuonye, N., Ishdorj, A., McKyer, E.L.J. et al. Examining Nutritional Adequacy and Dietary Diversity Among Women in Niger. Matern Child Health J 21, 1408–1416 (2017). https://doi.org/10.1007/s10995-016-2248-x
Keywords
Malnutrition

Nutrition

Rural

Women

Niger