Abstract
Objectives Decreasing neonatal morbidity and mortality remains a challenge in low resource settings. Maternity waiting homes (MWHs) may offer a way to better provide perinatal obstetric care and improve newborn outcomes. The purpose of this scoping review is to examine the impact of MWHs on newborn outcomes and to inform the development of targeted interventions and services to decrease neonatal mortality. Methods A literature search of four databases in the fields of nursing, medicine and global health was conducted yielding a total of 11 articles included for the review. Results Results indicate studies with extremely limited qualitative or quantitative measures of the impact of MWHs on neonatal health. Conclusions An exceptionally wide gap in knowledge on the outcomes of neonates born at MWHs was identified through this scoping review of the scientific literature. The review illustrates the need for more research to understand the effectiveness of MWHs on newborn morbidity and mortality. An increased focus on the study of MWHs for improving newborn outcomes in low resource settings merits immediate attention.
Access options
Buy single article
Instant access to the full article PDF.
USD 39.95
Price excludes VAT (USA)
Tax calculation will be finalised during checkout.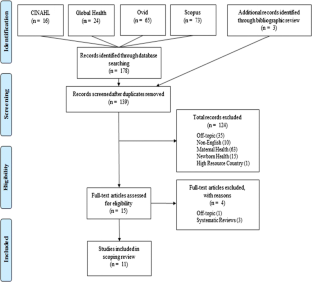 References
Andemichael, G., Haile, B., Kosia, A., & Mufunda, J. (2009). Maternity waiting homes: A panacea for maternal/neonatal conundrums in Eritrea. Journal of Eritrean Medical Association, 4(1), 18–21. doi:10.4314/jema.v4il.52112.

Arksey, H., & O'Malley, L. (2005). Scoping studies: towards a methodological framework. International Journal of Social Research Methodology, 8(1), 19–32.

Chandramohan, D., Cutts, F., & Millard, P. (1995). The effect of stay in a maternity waiting home on perinatal mortality in rural Zimbabwe. Journal of Tropical Medicine & Hygiene, 98(4), 261–267.

Daudt, H. M., van Mossel, C., & Scott, S. J. (2013). Enhancing the scoping study methodology: A large, inter-professional team's experience with Arksey and O'Malley's framework. BMC Medical Research Methodology, 13(1), 48–48 1p. doi:10.1186/1471-2288-13-48.

Davis, K., Drey, N., & Gould, D. (2009). What are scoping studies? A review of the nursing literature. International Journal of Nursing Studies, 46(10), 1386–1400. doi:10.1016/j.ijnurstu.2009.02.010.

Eckermann, E., & Deodato, G. (2008). Maternity waiting homes in southern loan PDR: The unique 'silk home'. Journal of Obstetrics & Gynaecology Research, 34(5), 767–775.

Figa'-Talamanca, I. (1996). Maternal mortality and the problem of accessibility to obstetric care; the strategy of maternity waiting homes. Social Science and Medicine, 42(10), 1381–1390. doi:10.1016/0277-9536(95)00286-3.

García Prado, A., & Cortez, R. (2012). Maternity waiting homes and institutional birth in Nicaragua: Policy options and strategic implications. International Journal of Health Planning & Management, 27(2), 150–166. doi:10.1002/hpm.1107.

Gaym, A., Pearson, L., & Khynn Win, W. S. (2012). Maternity waiting homes in Ethiopia - three decades experience. Ethiopian Medical Journal, 50(3), 209–219.

Kelly, J., Kohls, E., Poovan, P., Schiffer, R., Redito, A., Winter, H., et al. (2010). The role of a maternity waiting area (MWA) in reducing maternal mortality and stillbirths in high-risk women in rural Ethiopia. BJOG: An International Journal of Obstetrics and Gynaecology, 117(11), 1377–1383. doi:10.1111/j.1471-0528.2010.02669.x.

Lawn, J. E., Blencowe, H., Oza, S., You, D., Lee, A. C. C., Waiswa, P., et al. (2014). Every newborn: Progress, priorities, and potential beyond survival. The Lancet, 384(9938), 189–205. doi:10.1016/S0140-6736(14)60496-7.

Levac, D., Colquhouon, H., & O'Brien, K. K. (2010). Scoping studies: advancing the methodology. Implementation Science, 5(69), 1386–1400. doi:10.1186/1748-5908-5-69.

Liu, L., Oza, S., Hogan, D., Perin, J., Rudan, I., Lawn, J. E., et al. (2015). Global, regional, and national causes of child mortality in 2000-13, with projections to inform post-2015 priorities: An updated analysis. The Lancet, 385, 430–440.

Lori, J. R., Munro, M. L., Rominski, S., Williams, G., Dahn, B. T., Boyd, C. J., et al. (2013a). Maternity waiting homes and traditional midwives in rural Liberia. International Journal of Gynecology & Obstetrics, 123(2), 14–118. doi:10.1016/j.ijgo.2013.05.024.

Lori, J. R., Wadsworth, A. C., Munro, M. L., & Rominski, S. (2013b). Promoting access: The use of maternity waiting homes to achieve safe motherhood. Midwifery, 29(10), 1095–1102. doi:10.1016/j.midw.2013.07.020.

Millard, P., Bailey, J., & Hanson, J. (1991). Antenatal village stay and pregnancy outcome in rural Zimbabwe. Central African Journal of Medicine, 37(1), 1–4.

Poovan, P., Kifle, F., & Kwast, B. E. (1990). A maternity waiting home reduces obstetric catastrophes. World Health Forum, 11(4), 440–445.

Ruiz, M. J., Dijk, M. G., Berdichevsky, K., Munguía, A., Burks, C., & García, S. G. (2013). Barriers to the use of maternity waiting homes in indigenous regions of Guatemala: A study of users' and community members' perceptions. Culture, Health & Sexuality, 15(2), 205–218.

Tumwine, J. K., & Dungare, P. S. (1996). Maternity waiting shelters and pregnancy outcome: Experience from a rural area in Zimbabwe. Annals of Tropical Paediatrics, 16(1), 55–59.

van Lonkhuijzen, L., Stegeman, M., Nyirongo, R., & van Roosmalen, J. (2003). Use of maternity waiting home in rural Zambia. African Journal of Reproductive Health, 7(1), 32–36.

World Health Organization (2015). Maternity waiting houses. Retrieved from: http://www.who.int/reproductivehealth/publications/maternal_perinatal_health/MSM_96_21/en/.
Acknowledgments
The authors gratefully acknowledge Dr. Barbara L. Brush (The Carol J. and F. Edward Lake Professor of Nursing in Population Health, The University of Michigan School of Nursing) and Emily Ginier, MLIS (Informationist, Taubman Health Sciences Library, University of Michigan). No grants or additional sources of funding supported this work.
About this article
Cite this article
Buser, J.M., Lori, J.R. Newborn Outcomes and Maternity Waiting Homes in Low and Middle-Income Countries: A Scoping Review. Matern Child Health J 21, 760–769 (2017). https://doi.org/10.1007/s10995-016-2162-2
Published:

Issue Date:

DOI: https://doi.org/10.1007/s10995-016-2162-2
Keywords
Maternity waiting home

Newborn

Neonate

Low and middle-income countries