Abstract
Objectives To study the longitudinal effects of prenatal nicotine exposure on cognitive development, taking into consideration prenatal and postnatal second-hand smoke exposure. Methods A cohort follow up study was carried out. One hundred and fifty-eight pregnant women and their infants were followed during pregnancy and infant development (at 6, 12, 30 months). In each trimester of pregnancy and during postnatal follow-up, a survey was administered to obtain sociodemographic data and the details of maternal and close familial toxic habits. Obstetric and neonatal data were obtained from hospital medical records. To assess cognitive development, the Bayley Scales of Infant Development were applied at 6, 12 and 30 months; to assess language development, the MacArthur-Bates Communicative Development Inventories were applied at 12 months and the Peabody Picture Vocabulary Test at 30 months. Results After adjustment for confounding variables, the results showed that infants prenatally exposed to cigarette smoke recorded poor cognitive development scores. Language development was most consistently affected, specifically those aspects related to auditory function (vocalizations, sound discrimination, word imitation, prelinguistic vocalizations, and word and sentence comprehension). Conclusions for Practice Irrespective of prenatal, perinatal and sociodemographic data (including infant postnatal nicotine exposure), prenatal exposure to cigarette smoke and second-hand smoke affect infant cognitive development, especially language abilities.
Access options
Buy single article
Instant access to the full article PDF.
US$ 39.95
Tax calculation will be finalised during checkout.
Subscribe to journal
Immediate online access to all issues from 2019. Subscription will auto renew annually.
US$ 79
Tax calculation will be finalised during checkout.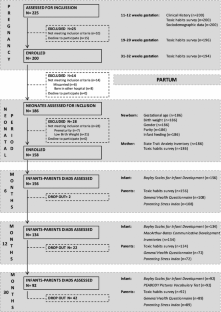 References
Abidin, R. (1995). Parenting Stress Index (2nd ed.). Odessa, FL: Psychological Assessment Resources.

Batstra, L. (2003). Can breast feeding modify the adverse effects of smoking during pregnancy on the child's cognitive development? Journal of Epidemiology and Community Health, 57(6), 403–404.

Batstra, L., Hadders-Algra, M., & Neeleman, J. (2003). Effect of antenatal exposure to maternal smoking on behavioural problems and academic achievement in childhood: Prospective evidence from a Dutch birth cohort. Early Human Development, 75(1–2), 21–33.

Bayley, N. (1993). Bayley scales for infant development (2nd ed.). San Antonio, TX: Psychological Corporation.

Button, T. M. M., Maughan, B., & McGuffin, P. (2007). The relationship of maternal smoking to psychological problems in the offspring. Early Human Development, 83(11), 727–732.

Campbell, J. M., Bell, S. K., & Keith, L. K. (2001). Concurrent validity of the Peabody Picture Vocabulary Test-Third Edition as an intelligence and achievement screener for low SES African American children. Assessment, 8(1), 85–94.

Conroy, S., Pariante, C. M., Marks, M. N., Davies, H. A., Farrelly, S., Schacht, R., et al. (2012). Maternal psychopathology and infant development at 18 months: The impact of maternal personality disorder and depression. Journal of the American Academy of Child and Adolescent Psychiatry, 51(1), 51–61.

Cowperthwaite, B., Hains, S. M. J., & Kisilevsky, B. S. (2007). Fetal behavior in smoking compared to non-smoking pregnant women. Infant Behavior & Development, 30(3), 422–430.

Ding, Y., Xu, X., Wang, Z., Li, H., & Wang, W. (2014). The relation of infant attachment to attachment and cognitive and behavioural outcomes in early childhood. Early Human Development, 90(9), 459–464.

Dwyer, J. B., Broide, R. S., & Leslie, F. M. (2008). Nicotine and brain development. Birth Defects Research. Part C, Embryo Today: Reviews, 84(1), 30–44.

Eskenazi, B., & Castorina, R. (1999). Association of prenatal maternal or postnatal child environmental tobacco smoke exposure and neurodevelopmental and behavioral problems in children. Environmental Health Perspectives, 107(12), 991–1000.

Fried, P. A., & Watkinson, B. (2000). Visuoperceptual functioning differs in 9- to 12-year olds prenatally exposed to cigarettes and marihuana. Neurotoxicology and Teratology, 22(1), 11–20.

Fried, P. A., Watkinson, B., & Gray, R. (1992). A follow-up study of attentional behavior in 6-year-old children exposed prenatally to marihuana, cigarettes, and alcohol. Neurotoxicology and Teratology, 14(5), 299–311.

Gatzke-Kopp, L. M., & Beauchaine, T. P. (2007). Direct and passive prenatal nicotine exposure and the development of externalizing psychopathology. Child Psychiatry and Human Development, 38(4), 255–269.

Hansell, N. K., Halford, G. S., Andrews, G., Shum, D. H. K., Harris, S. E., Davies, G., et al. (2015). Genetic basis of a cognitive complexity metric. PLoS One, 10(4), e0123886.

Hernández-Martínez, C., Arija Val, V., Escribano Subías, J., & Canals Sans, J. (2012). A longitudinal study on the effects of maternal smoking and secondhand smoke exposure during pregnancy on neonatal neurobehavior. Early Human Development, 88(6), 403–408.

Hollingshead, A. B. (2011). Four factor index of social status. Yale Journal of Sociology, 8, 21–52.

Jacobsen, L. K., Picciotto, M. R., Heath, C. J., Frost, S. J., Tsou, K. A., Dwan, R. A., et al. (2007). Prenatal and adolescent exposure to tobacco smoke modulates the development of white matter microstructure. The Journal of Neuroscience: The Official Journal of the Society for Neuroscience, 27(49), 13491–13498.

Julvez, J., Ribas-Fitó, N., Torrent, M., Forns, M., Garcia-Esteban, R., & Sunyer, J. (2007). Maternal smoking habits and cognitive development of children at age 4 years in a population-based birth cohort. International Journal of Epidemiology, 36(4), 825–832.

Kable, J. A., Coles, C. D., Lynch, M. E., & Carroll, J. (2009). The impact of maternal smoking on fast auditory brainstem responses. Neurotoxicology and Teratology, 31(4), 216–224.

Key, A. P. F., Ferguson, M., Molfese, D. L., Peach, K., Lehman, C., & Molfese, V. J. (2007). Smoking during pregnancy affects speech-processing ability in newborn infants. Environmental Health Perspectives, 115(4), 623–629.

Kiechl-Kohlendorfer, U., Ralser, E., Pupp Peglow, U., Reiter, G., Griesmaier, E., & Trawöger, R. (2010). Smoking in pregnancy: A risk factor for adverse neurodevelopmental outcome in preterm infants? Acta Paediatrica (Oslo, Norway: 1992), 99(7), 1016–1019.

Knopik, V. S., Maccani, M. A., Francazio, S., & McGeary, J. E. (2012). The epigenetics of maternal cigarette smoking during pregnancy and effects on child development. Development and Psychopathology, 24(4), 1377–1390.

Koutra, K., Chatzi, L., Roumeliotaki, T., Vassilaki, M., Giannakopoulou, E., Batsos, C., et al. (2012). Socio-demographic determinants of infant neurodevelopment at 18 months of age: Mother–Child Cohort (Rhea Study) in Crete, Greece. Infant Behavior & Development, 35(1), 48–59.

Lee, B.-E., Hong, Y.-C., Park, H., Ha, M., Kim, J. H., Chang, N., et al. (2011). Secondhand smoke exposure during pregnancy and infantile neurodevelopment. Environmental Research, 111(4), 539–544.

Lobo, A., Pérez-Echeverría, M. J., & Artal, J. (1986). Validity of the scaled version of the General Health Questionnaire (GHQ-28) in a Spanish population. Psychoiogical Medicine, 16, 135–140.

López Ornat, S., Gallego, C., Gallo, P., Karousou, A., Mariscal, S., & Martínez, M. (2005). Inventorios de Desarrollo Comunicativo MacArthur, Manual. Madrid: TEA Ediciones.

Mathews, T. J. (2001). Smoking during pregnancy in the 1990s. National Vital Statistics Reports: From the Centers for Disease Control and Prevention, National Center for Health Statistics, National Vital Statistics System, 49(7), 1–14.

Mccartney, J. S., Fried, P. A., & Watkinson, B. (1994). Central auditory processing in school-age children prenatally exposed to cigarette smoke. Neurotoxicology and Teratology, 16(3), 269–276.

McDonald, S. D., Perkins, S. L., & Walker, M. C. (2005). Correlation between self-reported smoking status and serum cotinine during pregnancy. Addictive Behaviors, 30(4), 853–857.

Melo, M., Bellver, J., & Soares, S. R. (2012). The impact of cigarette smoking on the health of descendants. Expert Review of Obstetrics & Gynecology, 7(2), 167–173.

Obel, G., Henriksen, T. B., Hedegaard, M., Secher, N. J., & Østergaard, J. (1998). Smoking during pregnancy and babbling abilities of the 8-month-old infant. Paediatric and Perinatal Epidemiology, 12(1), 37–48.

Roos, A., Geerts, L., Koen, N., Faure, S. C., Vythilingum, B., & Stein, D. J. (2015). Psychosocial predictors of fetoplacental blood flow during pregnancy. Comprehensive Psychiatry, 57, 125–131.

Sexton, M., Fox, N. L., & Hebel, J. R. (1990). Prenatal exposure to tobacco: II. Effects on cognitive functioning at age three. International Journal of Epidemiology, 19(1), 72–77.

Spielberger, C. D., Gorsuch, R. L., & Lushene, R. E. (1997). STAI Cuestionario de Ansiedad Estado Rasgo. (Adaptación Española: Nicolás Seisdedos Cubero). Madrid: TEA Ediciones.

Strenze, T. (2015). Handbook of intelligence. In S. Goldstein, D. Princiotta, & J. A. Naglieri (Eds.), Handbook of intelligence: Evolutionary theory, historical perspective, and current concepts. New York, NY: Springer.

Victora, C. G., Horta, B. L., de Mola, C. L., Quevedo, L., Pinheiro, R. T., Gigante, D. P., et al. (2015). Association between breastfeeding and intelligence, educational attainment, and income at 30 years of age: A prospective birth cohort study from Brazil. The Lancet Global Health, 3(4), e199–e205.

World Health Organization. (2007). Gender and tobacco control: A policy brief. Geneva: WHO.
About this article
Cite this article
Hernández-Martínez, C., Voltas Moreso, N., Ribot Serra, B. et al. Effects of Prenatal Nicotine Exposure on Infant Language Development: A Cohort Follow Up Study. Matern Child Health J 21, 734–744 (2017). https://doi.org/10.1007/s10995-016-2158-y
Keywords
Maternal smoking during pregnancy

Secondhand smoke exposure

Infant development

Cognitive development

Language development