Abstract
Objectives Georgia has the highest rate of maternal mortality in the United States, and ranks 40th for infant mortality. The Georgia Maternal and Infant Health Research Group was formed to investigate and address the shortage of obstetric care providers outside the Atlanta area. Because access to prenatal care (PNC) can improve maternal and infant health outcomes, we used qualitative methods to identify the access barriers experienced by women who live in rural and peri-urban areas of the state. Methods We conducted semi-structured, in-depth interviews with 24 mothers who gave birth between July and August 2013, and who live in either shortage or non-shortage obstetric care service areas. We also conducted key informant interviews with four perinatal case managers, and analyzed all data using applied thematic analysis. We then utilized Thaddeus and Maine's "Three Delays to Care" theoretical framework structure to describe the recognized barriers to care. Results We identified delays in a woman's decision to seek PNC (such as awareness of pregnancy and stigma); delays in accessing an appropriate healthcare facility (such as choosing a doctor and receiving insurance coverage); and delays in receiving adequate and appropriate care (such as continuity of care and communication). Moreover, many participants perceived low self-worth and believed this influenced their PNC exchanges. Conclusion As a means of supporting Georgia's pregnant women who face barriers and delays to PNC, these data provide a rationale for developing contextually relevant solutions to both mothers and their providers.
Access options
Buy single article
Instant access to the full article PDF.
US$ 39.95
Tax calculation will be finalised during checkout.
Subscribe to journal
Immediate online access to all issues from 2019. Subscription will auto renew annually.
US$ 79
Tax calculation will be finalised during checkout.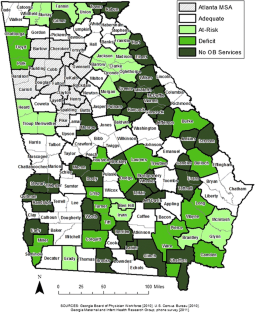 Notes
1.

Rankings are from best to worst.
References
1.

Allen, H., Wright, B. J., & Baicker, K. (2014). New medicaid enrollees in oregon report health care successes and challenges. Health Affairs, 33(2), 292–299.

2.

Bergman, A. A., & Connaughton, S. L. (2013). What is patient-centered care really? Voices of hispanic prenatal patients. Health Communications, 28(8), 789–799.

3.

Clement, S., Sikorski, J., Wilson, J., Das, S., & Smeeton, N. (1996). Women's satisfaction with traditional and reduced antenatal visit schedules. Midwifery, 12(3), 120–128.

4.

Currie, D. H., & Weisenberg, S. E. (2003). Promoting women's health-seeking behavior: Research and the empowerment of women. Health Care for Women International, 24(10), 880–889.

5.

Georgia Department of Public Health. (2015). Georgia Maternal Mortality: 2012 Case Review. www.dph.georgia.gov/sites/dph.georgia.gov/files/MCH/MMR_2012_Case_Review_June2015_final.pdf. Accessed 6 Sept 2015.

6.

Guest, G. S. (2012). Applied thematic analysis. Thousand Oaks, CA: SAGE Publications Inc.

7.

Lori, J. R., Yi, C. H., & Martyn, K. K. (2011). Provider characteristics desired by African American women in prenatal care. Journal of Transcultural Nursing, 22, 71–76.

8.

Partridge, S., Balayla, J., Holcroft, C. A., & Abenhaim, H. A. (2012). Inadequate prenatal care utilization and risks of infant mortality and poor birth outcome: A retrospective analysis of 28,729,765 U.S. deliveries over 8 years. American Journal of Perinatology, 29(10), 787–793.

9.

Phillippi, J. C. (2009). Women's perceptions of access to prenatal care in the United States: A literature review. Journal of Midwifery and Women's Health, 54(3), 219–225.

10.

Raine, R., Cartwright, M., Richens, Y., Mahamed, Z., & Smith, D. (2009). A qualitative study of women's experiences of communication in antenatal care: Identifying areas for action. Journal of Maternal and Child Health, 14, 990–999.

11.

Rowe, R. E., Garcia, J., Macfarlane, A. J., & Davidson, L. L. (2002). Improving communication between health professionals and women in maternity care: A structured review. Health Expectations, 5(1), 63–83.

12.

Schwalberg, R., Mathis, S.A., Giffen, M., Mohamadi, L., Zimmerman, B., & Sines, E. (2008). Medicaid coverage of family planning services: Results of a national survey (report). Retrieved January 2, 2014, from Kaiser Family Foundation website: https://kaiserfamilyfoundation.files.wordpress.com/2013/01/medicaid-coverage-of-family-planning-services-results-of-a-national-survey-report.pdf.

13.

Spelke, B., Zertuche, A., Cota, P., Rochat, R. W., & Dott, A. (2015). Obstetric provider shortage—Georgia. Atlanta: Emory University.

14.

Thaddeus, S., & Maine, D. (1994). Too far to walk: Maternal mortality in context. Social Science Medicine, 38(8), 1091–1110.

15.

Wheatley, R. R., Kelley, M. A., Peacock, N., & Delgado, J. (2008). Women's narratives on quality in prenatal care: A multicultural perspective. Qualitative Health Research, 18(11), 1586–1598.
Acknowledgments
The authors would like to acknowledge the Georgia Maternal and Infant Health Research Group Board Advisors (Pat Cota, RN, MS and Andrew Dott, MD, MPH), without whom this work would not have been possible, as well as the other members of the team who conducted the interview with new mothers. Gratitude is also extended to all GMIHRG partners for their data sharing, funding, and overall support, especially: Emory University's Schools of Public Health, Medicine, and Nursing; Georgia Board for Physician Workforce; Georgia Department of Public Health; Georgia Obstetrical and Gynecological Society; and March of Dimes Georgia Chapter. We are also grateful to the women who participated in our research, and hope that we have accurately represented their stories with the goal of transforming the maternal care system in Georgia.
About this article
Cite this article
Meyer, E., Hennink, M., Rochat, R. et al. Working Towards Safe Motherhood: Delays and Barriers to Prenatal Care for Women in Rural and Peri-Urban Areas of Georgia. Matern Child Health J 20, 1358–1365 (2016). https://doi.org/10.1007/s10995-016-1997-x
Keywords
Prenatal care

Rural

Access

Qualitative methods

Medicaid