Abstract
In Argentina and Uruguay, 10.3 and 18.3 %, respectively, of pregnant women smoked in 2005. Brief cessation counseling, based on the 5A's model, has been effective in different settings. This qualitative study aims to improve the understanding of factors influencing the provision of smoking cessation counseling during pregnancy in Argentina and Uruguay. In 2010, we obtained prenatal care providers', clinic directors', and pregnant smokers' opinions regarding barriers and promoters to brief smoking cessation counseling in publicly-funded prenatal care clinics in Buenos Aires, Argentina and Montevideo, Uruguay. We interviewed six prenatal clinic directors, conducted focus groups with 46 health professionals and 24 pregnant smokers. Themes emerged from three issue areas: health professionals, health system, and patients. Health professional barriers to cessation counseling included inadequate knowledge and motivation, perceived low self-efficacy, and concerns about inadequate time and large workload. They expressed interest in obtaining a counseling script. Health system barriers included low prioritization of smoking cessation and a lack of clinic protocols to implement interventions. Pregnant smokers lacked information on the risks of prenatal smoking and underestimated the difficulty of smoking cessation. Having access to written materials and receiving cessation services during clinic waiting times were mentioned as promoters for the intervention. Women also were receptive to non-physician office staff delivering intervention components. Implementing smoking cessation counseling in publicly-funded prenatal care clinics in Argentina and Uruguay may require integrating counseling into routine prenatal care and educating and training providers on best-practices approaches.
This is a preview of subscription content, log in to check access.
Access options
Buy single article
Instant access to the full article PDF.
US$ 39.95
Price includes VAT for USA
Subscribe to journal
Immediate online access to all issues from 2019. Subscription will auto renew annually.
US$ 99
This is the net price. Taxes to be calculated in checkout.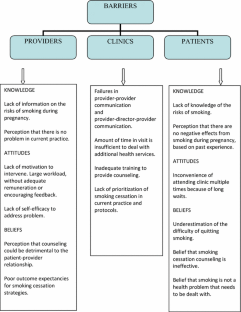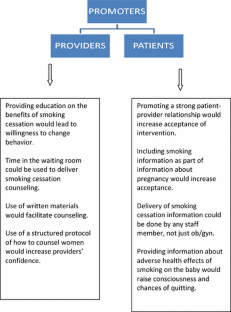 References
1.

World Bank (Internet). (2014, April 10). Data on county and lending groups. http://data.worldbank.org/about/country-classifications/country-and-lending-groups#Upper_middle_income

2.

Panamerican Health Organization (PAHO), Centers for Desease Control and Prevention (CDC), Instituo Nacional de Estadisticas y Censo (INDEC), Ministerio de salud Argentino. (2013). Global adult tobacco survey. Buenos Aires: Argentina.

3.

World Health Organization (WHO) (Internet). (2010, February). Global adult tobacco survey (GATS) Uruguay fact sheet 2009 (cited 2014 Jul 22). http://www.who.int/tobacco/surveillance/fact_sheet_of_gats_uruguay_2010.pdf

4.

Althabe, F., Colomar, M., Gibbons, L., Belizan, J. M., & Buekens, P. (2008). Smoking during pregnancy in Argentina and Uruguay. Medicina, 68(1), 48–54.

5.

U.S. Department of Health and Human Services. (2014). The health consequences of smoking: 50 years of progress. A Report of the Surgeon General. Atlanta, GA: U.S. Department of Health and Human Services, Centers for Disease Control and Prevention, National Center for Chronic Disease Prevention and Health Promotion, Office on Smoking and Health.

6.

Kramer, M. S. (1987). Determinants of low birth weight: Methodological assessment and meta-analysis. Bulletin of the World Health Organization, 65(5), 663–737.

7.

Hammoud, A. O., Bujold, E., Sorokin, Y., Schild, C., Krapp, M., & Baumann, P. (2005). Smoking in pregnancy revisited: Findings from a large population-based study. American Journal of Obstetrics and Gynecology, 192, 1856–1863.

8.

Kallen, K. (2001). The impact of maternal smoking during pregnancy on delivery outcome. European Journal of Public Health, 11, 329–333.

9.

Zhang, K., & Wang, X. (2013). Maternal smoking and increased risk of sudden infant death syndrome: A meta-analysis. Legal Medicine (Tokyo), 15(3), 115–121.

10.

Centers for Disease Control and Prevention. (2001). Women and smoking: A report of the surgeon general. Atlanta: U.S. Department of Health and Human Services.

11.

Bickerstaff, M., Beckmann, M., Gibbons, K., & Flenady, V. (2012). Recent cessation of smoking and its effect on pregnancy outcomes. Australian and New Zealand Journal of Obstetrics and Gynaecology, 52(1), 54–58.

12.

Programa Nacional para el Control del Tabaco. (2009). Guía Nacional para el Abordaje del Tabaquismo, Uruguay. Uruguay: Ministerio de Salud Pública.

13.

Ministerio de Salud. (2011). Guía Nacional de Tratamiento de la Adicción al Tabaco. Buenos Aires, Argentina: Ministerio de Salud.

14.

Fiore, M. C. (2000). US Public health service clinical practice guideline: Treating tobacco use and dependence. Respiratory Care, 45(10), 1200–1262.

15.

Chamberlain, C., O'Mara-Eves, A., Oliver, S., Caird, J. R., Perlen, S. M., & Eades, S. J. et al. (2013). Psychosocial interventions for supporting women to stop smoking in pregnancy. Cochrane Database of Systematic Reviews. doi:10.1002/14651858.CD001055.pub4.

16.

PHS Guideline Update Panel, Liaisons, and Staff. (2008). Treating tobacco use and dependence: 2008 update U.S. Public Health Service Clinical Practice Guideline. Respiratory Care, 53(9), 1217–1222.

17.

Herberts, C., & Sykes, C. (2012). Midwives perceptions of providing Stops smoking advice and pregnant smokers' perceptions of stops smoking services within the same deprived area of London. J Midwifery Womens Health, 57, 67–73.

18.

Everett, K., Odendaal, H., & Steyn, K. (2005). Doctors' attitudes and practices regarding smoking cessation during pregnancy. South African Medical Journal, 95, 350–354.

19.

Coleman-Cowger, V. H., Anderson, B. L., Mahoney, J., & Schulkin, J. (2014). Smoking cessation during pregnancy and postpartum: Practice patterns among obstetrician-gynecologists. Journal of Addiction Medicine, 8(1), 14–24.

20.

Price, J. H., Jordan, T. R., & Dake, J. A. (2006). Perceptions and use of smoking cessation in nurse-midwives' practice. Journal of Midwifery Womens Health, 51(3), 208–215.

21.

Thyrian, J. R., Hannöver, W., Röske, K., Scherbarth, S., Hapke, U., & John, U. (2006). Midwives' attitudes to counselling women about their smoking behaviour during pregnancy and postpartum. Midwifery, 22(1), 32–39.

22.

Baxter, S., Everson-Hock, E., Messina, J., Guillaume, L., Burrows, J., & Goyder, E. (2010). Factors relating to the uptake of interventions for smoking cessation among pregnant women: A systematic review and qualitative synthesis. Nicotine & Tobacco Research, 12, 685–694.

23.

Levis, D. M., Stone-Wiggins, B., O'Hegarty, M., Tong, V. T., Polen, K. N., Cassell, C. H., & Council, M. (2014). Women's perspectives on smoking and pregnancy and graphic warning labels. American Journal of Health Behavior, 38(5), 755–764.

24.

Gould, G. S., Munn, J., Watters, T., McEwen, A., & Clough, A. R. (2013). Knowledge and views about maternal tobacco smoking and barriers for cessationin Aboriginal and Torres Strait Islanders: A systematic review and meta-ethnography. Nicotine and Tobacco Research, 15(5), 863–874.

25.

Hotham, E., Atkinson, E., & Gilbert, A. (2002). Focus group with pregnant smokers: Barriers to cessation, attitudes to nicotine patch use and perceptions of cessation counseling by care providers. Drug and Alcohol Review, 21, 163–168.

26.

Althabe, F., Alemán, A., Mazzoni, A., Berrueta, M., Morello, P., Colomar, M., et al. (2013). Tobacco cessation intervention for pregnant women in Argentina and Uruguay: Study protocol. Reproductive Health, 10(1), 44. doi:10.1186/1742-4755-10-44.

27.

Blumenthal, D. S. (2007). Barriers to the provision of smoking cessation services reported by clinicians in underserved communities. The Journal of the American Board of Family Medicine, 20, 272–279.

28.

Okoli, C. T., Greaves, L., Bottorff, J. L., & Marcellus, L. M. (2010). Health care providers' engagement in smoking cessation with pregnant smokers. Journal of Obstetric, Gynecologic, and Neonatal Nursing, 39, 64–77.

29.

Zapka, J. G., Lori Pbert, L., Stoddard, A. M., Ockene, J. K., Goins, K. V., & Bonollo, D. (2000). Smoking cessation counseling with pregnant and postpartum women: A survey of community health center provider. American Journal of Public Health, 90(1), 78–84.

30.

Mejia, R., Guil Martinez, V., Gregorich, S., & Perez Stable, E. (2010). Physicians counseling of pregnant women about active and secondhand smoking in Argentina. Acta Obstetricia et Gynecologica Scandinavica, 89, 490–495.

31.

Chapin, J., & Root, W. (2004). Improving obstetrician-gynecologist implementation of smoking cessation guidelines for pregnant women: An interim report of the American College of Obstetricians and Gynecologists. Nicotine & Tobacco Research, 6, S253–S257.

32.

Passey, M. E., D'Este, C. A., & Sanson-Fisher, R. W. (2012). Knowledge, attitudes and other factors associated with assessment of tobacco smoking among pregnant Aboriginal women by health care providers: A cross-sectional survey. BMC Public Health, 7(12), 165.

33.

Borland, T., Babayan, A., Irfan, S., & Schwartz, R. (2013). Exploring the adequacy of smoking cessation support for pregnant and postpartum women. BMC Public Health, 14(13), 472.

34.

O'Malley, A. S., & Reschovsky, J. D. (2011). Referral and consultation communication between primary care and specialist physicians: Finding common ground. Archives of Internal Medicine, 171(1), 56–65.

35.

Neily, J., Mills, P. D., Young-Xu, Y., Carney, B. T., West, P., Berger, D. H., et al. (2010). Association between implementation of a medical team training program and surgical mortality. The JAMA, 304(15), 1693–1700.
Acknowledgments
We want to thank the institutions who kindly accepted to participate in this research. From Buenos Aires, Argentina: MV de Martinez Maternity Hospital, San Isidro Maternity Hospital, Ramon Carrillo Maternity Hospital, and Tigre Maternity Hospital. From Montevideo, Uruguay: Maternal and Child health Center 2, Badano Repetto Health Center, Jardines del Hipódromo Health Center, and Canzani Hospital. The study was supported through CDC cooperative agreement 5U48DP001948-04 (SIP09-18) to Tulane University. The findings and conclusions in this article are those of the authors and do not necessarily represent the official position of CDC.
Conflict of interest
We declare no conflicts of interest.
About this article
Cite this article
Colomar, M., Tong, V.T., Morello, P. et al. Barriers and Promoters of an Evidenced-Based Smoking Cessation Counseling During Prenatal Care in Argentina and Uruguay. Matern Child Health J 19, 1481–1489 (2015). https://doi.org/10.1007/s10995-014-1652-3
Keywords
Qualitative research

Health personnel

Prenatal care

Smoking cessation counseling