Abstract
To assess whether a measure of prenatal case management (PCM) dosage is more sensitive than a dichotomous PCM exposure measure when evaluating the effect of PCM on low birthweight (LBW) and preterm birth (PTB). We constructed a retrospective cohort study (N = 16,657) of Iowa Medicaid-insured women who had a singleton live birth from October 2005 to December 2006; 28 % of women received PCM. A PCM dosage measure was created to capture duration of enrollment, total time with a case manager, and intervention breadth. Propensity score (PS)-adjusted odds ratios (ORs), and 95 % confidence intervals (95 % CIs) were calculated to assess the risk of each outcome by PCM dosage and the dichotomous PCM exposure measure. PS-adjusted ORs of PTB were 0.88 (95 % CI 0.70–1.11), 0.58 (95 % CI 0.47–0.72), and 1.43 (95 % CI 1.23–1.67) for high, medium, and low PCM dosage, respectively. For LBW, the PS-adjusted ORs were 0.76 (95 % CI 0.57–1.00), 0.64 (95 % CI 0.50–0.82), and 1.36 (95 % CI 1.14–1.63), for high, medium, and low PCM dosage, respectively. The PCM dichotomous participation measure was not significantly associated with LBW (OR = 0.95, 95 % CI 0.82–1.09) or PTB (0.97, 95 % CI 0.87–1.10). The reference group in each analysis is No PCM. PCM was associated with a reduced risk of adverse pregnancy outcomes for Medicaid-insured women in Iowa. PCM dosage appeared to be a more sensitive measure than the dichotomous measure of PCM participation.
Access options
Buy single article
Instant access to the full article PDF.
US$ 39.95
Tax calculation will be finalised during checkout.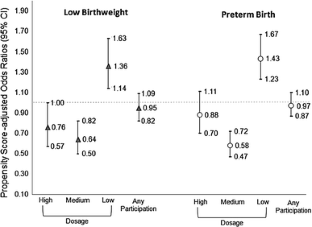 References
1.

Issel, L. M., Anderson, R. A., & Kane, D. J. (2003). Administrative characteristics of comprehensive prenatal case management program. Public Health Nursing, 20(5), 349–360.

2.

American Academy of Pediatrics. (1998). The role of home-visitation programs in improving health outcomes for children and families. Pediatrics, 101(3), 486–489.

3.

Bradley, P. J., & Martin, J. (1994). The impact of home visits on enrollment patterns in pregnancy-related services among low-income women. Public Health Nursing, 11(6), 392–398.

4.

Carabin, H., Cowan, L. D., Beebe, L. A., Skaggs, V. J., Thompson, D., & Agbangla, C. (2005). Does participation in a nurse visitation program reduce the frequency of adverse perinatal outcomes in first-time mothers? Paediatric and Perinatal Epidemiology, 19(3), 194–205.

5.

Hodnett, E. D., & Fredericks, S. (2003). Support during pregnancy for women at increased risk of low birthweight babies. The Cochrane Database of Systematic Reviews, 3.

6.

McNaughton, D. B. (2004). Nurse home visits to maternal-child clients: A review of intervention research. Public Health Nursing, 21(3), 207–219.

7.

Olds, D. L., Henderson, C. R., Kitzman, H., Eckenrode, J., Cole, R., & Tatelbaum, R. (1998). The promise of home visitation: Results of two randomized trials. Journal of Community Psychology, 26(1), 5–21.

8.

Sangalang, B. B., Barth, R., & Painter, J. S. (2006). First-Birth outcomes and timing of second Births: A statewide case management program for adolescent mothers. Health and Social Work, 31(1), 54–63.

9.

Silva, R., Thomas, M., Caetano, R., & Aragaki, C. (2006). Preventing low birth weight in Illinois: Outcomes of the family case management program. Maternal and Child Health Journal, 10(6), 481–488.

10.

Ciliska, D., Mastrilli, P., Ploeg, J., Hayward, S., Brunton, G., & Underwood, J. (2001). The effectiveness of home visiting as a delivery strategy for public health nursing interventions to clients in the prenatal and postnatal period: A systematic review. Primary Health Care Research & Development, 2(1), 41–54.

11.

Keeton, K., Saunders, S. E., & Koltun, D. (2004). The effect of the family case management program on 1996 Birth outcomes in Illinois. Journal of Women's Health, 13(2), 207–215.

12.

Wells, N., Sbrocco, T., Hsiao, C. W., Hill, L. D., Vaugh, N. A., & Lockley, B. (2008). The impact of nurse case management home visitation on birth outcomes in African-American women. Journal of the National Medical Association, 100(5), 547–552.

13.

Issel, L. M. (1997). Measuring comprehensive case management interventions: Development of a tool. Nursing Case Management, 4, 132–138.

14.

Issel, L. M., Slaughter, J. C., & Forrestal, S. G. (2011). Prenatal case management of pregnant women: What is the evidence for its contribution to a reduction of disparities in perinatal outcomes? In A. Handler, J. Kennelly, & N. Peacock (Eds.), Reducing racial/ethnic disparities in reproductive and perinatal outcomes: The evidence from population-based interventions (pp. 209–238). New York: Springer.

15.

Slaughter, J. C., & Issel, L. M. (2012). Developing a measure of prenatal case management dosage. Maternal and Child Health Journal, 16(5), 1120–1130.

16.

Case Management Society of America (CMSA). (2008). Definition of case management. Available at: http://www.cmsa.org/Consumer/GlossaryFAQs/tabid/102/Default.aspx. Accessed 23 August 2012.

17.

Issel, L. M., Forrestal, S. G., Slaughter, J., Wiencrot, A., & Handler, A. (2011). A review of prenatal home-visiting effectiveness for improving birth outcomes. Journal of Obstetric, Gynecologic, and Neonatal Nursing, 40(2), 157–165.

18.

Huber, D., Sarrazin, M. V., Vaughn, T., & Hall, J. A. (2003). Evaluating the impact of case management dosage. Nursing Research, 52(5), 276–288.

19.

Bell, J. F., & Zimmerman, F. J. (2003). Selection bias in prenatal care use by Medicaid recipients. Maternal and Child Health Journal, 7(4), 239–252.

20.

Frick, K. D., & Lantz, P. M. (1999). Commentary: How well do we understand the relationship between prenatal care and birth weight? Health Service Research, 34(5 Part I), 1063–1073.

21.

Rothman, K. J. (2002). Epidemiology: An introduction (1st ed.). New York: Oxford University Press.

22.

Szklo, M., & Nieto, F. J. (2000). Epidemiology: Beyond the basics (1st ed.). Gaithersburg: An Aspen Publication.

23.

D'Agostino, R. B. (1998). Tutorial in biostatistics propensity score methods for bias reduction in the comparison of a treatment to a non-randomized control group. Statistics in Medicine, 2281(19), 2265–2281.

24.

Oakes, J. M., & Johnson, P. J. (2006). Propensity score matching for social epidemiology. In J. M. Oakes & J. S. Kaufman (Eds.), Methods in social epidemiology (pp. 370–392). San Francisco: Jossey-Bass Inc Pub.

25.

Spreeuwenberg, M. D., Bartak, A., Croon, M. A., Hagenaars, J. A., Busschbach, J. J. V., Andrea, H., et al. (2010). The multiple propensity score as control for bias in the comparison of more than two treatment arms: An introduction from a case study in mental health. Medical Care, 48(2), 166.

26.

Yanovitzky, I., Zanutto, E., & Hornik, R. (2005). Estimating causal effects of public health education campaigns using propensity score methodology. Evaluation and Program Planning, 28(2), 209–220.

27.

Rosenbaum, P. R., & Rubin, D. B. (1983). The central role of the propensity score in observational studies for causal effects. Biometrika, 70(1), 41–55.

28.

Hernán, M. A., & Robins, J. M. (2006). Instruments for causal inference: An epidemiologist's dream? Epidemiology, 17(4), 360.

29.

Hernán, M. A., & Robins, J. M. (2006). Estimating causal effects from epidemiological data. Journal of Epidemiology and Community Health, 60(7), 578–586.

30.

Wang, J., Donnan, P. T., Steinke, D., & MacDonald, T. M. (2001). The multiple propensity score for analysis of dose–response relationships in drug safety studies. Pharmacoepidemiology and Drug Safety, 10(2), 105–111.

31.

Campbell, K. M., Deck, D., & Krupski, A. (2008). Record linkage software in the public domain: A comparison of Link Plus, The Link King, and a 'basic' deterministic algorithm. Health Informatics Journal, 14(1), 5–15.

32.

Goldenberg, R. L., & Culhane, J. F. (2007). Low birth weight in the United States. American Journal of Clinical Nutrition, 85(2), 584S.

33.

Kiely, J. L., Yu, S., & Rowley, D. L. (1995). Low birth weight and intrauterine fetal growth restriction. In L. S. Wilcox & J. S. Marks (Eds.), From data to action: CDC's public health surveillance for women, infants, and children (pp. 185–202). Washington, DC: US Department of Health and Human Services.

34.

Kramer, M. S. (2003). The epidemiology of adverse pregnancy outcomes: An overview. Journal of Nutrition, 133(5 Suppl 2), 1592S–1596S.

35.

Kotelchuck, M. (1994). The Adequacy of Prenatal Care Utilization Index: Its US distribution and association with low birthweight. American Journal of Public Health, 84(9), 1486–1489.

36.

Huber, D., Hall, J., & Vaughn, T. (2001). The dose of case management interventions. Lippincott's Case Management, 6(3), 119–126.

37.

Allison, P. D. (2001). Missing data. Thousand Oaks: Sage Publications.

38.

Tandon, S. D., Parillo, K., Mercer, C., Keefer, M., & Duggan, A. K. (2008). Engagement in paraprofessional home visitation: Families' reasons for enrollment and program response to identified reasons. Women's Health Issues, 18(2), 118–129.

39.

Hillemeier, M. M., Weisman, C. S., Chase, G. A., & Dyer, A.-M. (2007). Individual and community predictors of preterm birth and low birthweight along the rural-urban continuum in central Pennsylvania. The Journal of Rural Health, 23(1), 42–48.

40.

Ruberg, S. J. (1995). Dose response studies I. some design considerations. Journal of Biopharmaceutical Statistics, 5(1), 1–14.

41.

Health Resource and Service Administration. (2010). Announcing $90 million in affordable care act funding for maternal, infant and childhood home visiting program grants. Available from: http://mchb.hrsa.gov/programs/homevisiting/index.html.

42.

Lydon-Rochelle, M. T., Holt, V. L., Cárdenas, V., Nelson, J. C., Easterling, T. R., Gardella, C., et al. (2005). The reporting of pre-existing maternal medical conditions and complications of pregnancy on birth certificates and in hospital discharge data. American Journal of Obstetrics and Gynecology, 193(1), 125–134.

43.

Kane, D. J., & Issel, L. M. (2005). Estimating Medicaid prenatal case management costs: The provider's perspective. Nursing Economics, 23(4), 181.
Acknowledgments
Special thanks to the Iowa Department of Public Health for making the data used in this study available for my dissertation. Additional thanks to Arden Handler, Leslie Stayner, Deborah Rosenberg, Deborah Kane and Kristin Rankin for feedback on earlier versions. This research was funded, in part, by the Illinois Public Health Research Pre-doctoral Fellowship, the MCHB funded Maternal and Child Health Epidemiology Program, and the Training Program in Perinatal Epidemiology Grant (T32 HD046377).
About this article
Cite this article
Slaughter, J.C., Issel, L.M., Handler, A.S. et al. Measuring Dosage: A Key Factor When Assessing the Relationship Between Prenatal Case Management and Birth Outcomes. Matern Child Health J 17, 1414–1423 (2013). https://doi.org/10.1007/s10995-012-1143-3
Keywords
Prenatal case management

Prenatal home visiting

Birth outcomes

Dose–response relationships