Abstract
Introduction and Background: The United States has a higher rate of unintended pregnancies than many other developed countries despite the availability of effective contraception. Using Azjen's Theory of Planned Behavior and Luker's Theory of Contraceptive Risk Taking this qualitative study explores the reasons for the high rate of unintended pregnancy among low income women in Georgia. Methods: Six focus groups (N=39) were conducted at county health department clinics. Women were recruited at the clinics to participate in a discussion of Pregnancy and Motherhood. All English or Spanish speaking women between the ages of 18 and 49 were eligible for participation. Results: Three dimensions of pregnancy planning emerged-the decision to have a child, taking specific behaviors to increase the likelihood of conception, and making plans to care for a child. Planned pregnancies may occur when a couple or a woman decides that they are ready to have a child, but also occur in less stable situations that pose risks for the family and the child. Unplanned pregnancies may be welcomed or be unwanted depending on the circumstances. Women perceive advantages and disadvantages to planned and unplanned pregnancies. Discussion: There are major differences between the definition and values of planned and unplanned pregnancies promoted by public health practitioners and those of the women in our study. This suggests the need for research on the circumstances in which pregnancies occur, as well as targeted interventions and policies that help women and men define and achieve the circumstances in which they would like to bear and rear children.
Access options
Buy single article
Instant access to the full article PDF.
US$ 39.95
Tax calculation will be finalised during checkout.
Subscribe to journal
Immediate online access to all issues from 2019. Subscription will auto renew annually.
US$ 79
Tax calculation will be finalised during checkout.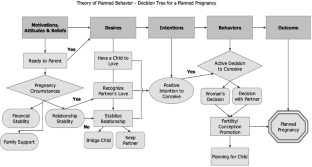 References
1.

Surgeon General Healthy People 2010 http://www.healthypeople. gov/Document/HTML/Volume1/09Family.htm.

2.

Colley-Gilbert B, et al. "PRAMS 1997 Surveillance Report." Division of Reproductive Health: National Center for Chronic Disease Prevention and Health Promotion, Centers for Disease Control and Prevention; 1999.

3.

Abma J, et al. Fertility, Family Planning and Women's Health: New Data from the 1995 National Survey of Family Growth. Vital Health Statistics. 1997;(19):1–114.

4.

National Survey of Family Growth. Vital and Health Statistics. 23(19). May 1997. Hyattsville, MD: National Center for Health Statistics; 1997.

5.

Azjen I. Attitudes, Personality, and Behavior. Bristol, UK: Open University Press; 1988.

6.

Azjen I, Fishbein M. Understanding Attitudes and Predicting Social Behavior. Englewood Cliffs, NJ: Prentice Hall; 1980.

7.

Hogue C, Lifflander A. Circumstances of Pregnancy, unpublished data.

8.

Miller WB, Pasta DJ. Behavioral intentions: Which ones predict fertility behavior in married couples? J Appl Soc Psychol. 1995;25:530–55.

9.

Luker K. Contraceptive risk taking and abortion: results and implications of a San Francisco Bay Area Study. Stud Fam Plan. 1977;(8):190–6.

10.

QSR N6. QSR International. Markham, Ontario, 2004.

11.

National Commission to Prevent Infant Mortality. Troubling Trends: The Health of America's Next Generation. Washington, DC: NCHM; 1990.

12.

Hogue CJR, Vasquez C. Toward a strategic approach for reducing disparities in infant mortality. AJPH. 2002;92:552–6.

13.

Delgado-Rodriguez M, et al. Unplanned pregnancy as a major determinant in inadequate use of prenatal care. Prev Med. 1997;26(6):834–8.

14.

Rosenberg KD, Gelow JM, Sandoval AP. Pregnancy intendedness and the use of periconceptional folic acid. Pediatrics. 2003;111(5 Part 2):1142–5.

15.

Institute of Medicine (IOM). In Brown S, Eisenberg L, Editors. The Best Intentions: Unintended Pregnancy and the Well-Being of Children and Families. Washington, DC: National Academy Press; 1995.

16.

Gerber A, Pennylegion M, Spice C. If it Happens, It Happens, A Qualitative Study of Unintended Pregnancy among Low Income Women Living in King County., Retrieved 2002; 9–2-05 from http://www.metrokc.gov/health/famplan/pregnancy/uipreport.pdf.

17.

Luker K. A Reminder that human behavior frequently refuses to conform to models created by researchers. Fam Plann Perspect. 1999;31(5).

18.

Lee RK, Thompson VL, Mechanic MB. Intimate partner violence and women of color: a call for innovations. Am J Pub Health. 2002;92(4):530–4.

19.

Koenig LJ, et al. Perinatal Guidelines Evaluation Project Group. Violence during pregnancy among women with or at risk for HIV infection. Am J Pub Health. 2002;92(3):367–70.

20.

Mayer L, Liebschutz J. Domestic violence in the pregnant patient: obstetric and behavioral interventions. Obstet Gynecol Surv. 1998;53(10):627–35.

21.

Murphy C, et al. Abuse: a risk factor for low birth weight? A systematic review and meta-analysis. CMAJ Can Med Assoc J. 2001;164(11):1567–72.

22.

Zimmer-Gembeck MJ, Helfand M. Low birth weight in a public prenatal care program: behavioral and psychosocial risk factors and psychosocial intervention. Soc Sci Med. 1996;43(2):187–97.

23.

Henshaw S. Unintended pregnancy in the United States. Fam Plann Perspect. 1998;30(1):24–29 and 46.

24.

Harris K, Campbell E. The plans in unplanned pregnancy: Secondary gain and the partnership. Br J Med Psychol. 1999;72:105–20.

25.

Zotti M, Siegal E. Preventing unplanned pregnancies among married couples: are services for the wife sufficient? Res Nurs Health. 1995;(18):133–42.

26.

Woodsong C, Shedlin M, Koo H. The 'natural' body, God and contraceptive use in the southeastern United States. Cult Health Sexu. 2004;6(1):61–78.

27.

Zabin LS. Ambivalent feelings about parenthood may lead to inconsistent contraceptive use and pregnancy. Fam Plann Perspect. 1999;31:250–1.

28.

Fischer RC, et al. Exploring the concepts of intended, planned, and wanted pregnancy. J Fam Pract. 1999;48(2):117–22.

29.

Moos MK, et al. Pregnant women's perspectives on intendedness of pregnancy. Women's Health Issues. 1997;7(6):385–92.

30.

Piccinino L, Peterson LS. Ambivalent attitudes and unintended pregnancy. In: Severy LJ, Miller WB, editors. Advances in population: Psychological perspectives, vol. 3. London: Jessica Kingsley, 1999; p. 227–49.

31.

Gerrard M, et al. Emotional inhibition of effective contraception (Review). Anxiety, Stress & Coping. An Inter J. 1993;6:73–88.

32.

American College of Obstetricians and Gynecologists. ACOG Committee on Practice Bulletins. Neural Tube Defects, Obstet Gynecol. 2003;102(1):203–13.

33.

Okah FA, Cai J, Hoff GL. Term-gestation low birth weight and health-compromising behaviors during pregnancy. Obstet Gynecol. 2005;105(3):543–50.
Acknowledgements
This project was made possible in part by a grant from Pew Charitable Trusts. The authors would like to acknowledge Ms. Jacqueline Lewis and Ms. Carla Galindo, MPH for their roles in facilitating the focus groups and analyzing focus group data and Ms. Emily Kahn, MPH at the Georgia Department of Human Resources/Division of Public Health for being our project sponsor.
About this article
Cite this article
Lifflander, A., Gaydos, L.M.D. & Hogue, C.J.R. Circumstances of Pregnancy: Low Income Women in Georgia Describe the Difference between Planned and Unplanned Pregnancies. Matern Child Health J 11, 81–89 (2007). https://doi.org/10.1007/s10995-006-0138-3
Received:

Accepted:

Published:

Issue Date:
Keywords
Unintended pregnancy

Family planning

Qualitative research

Pregnancy planning

Pre-conception care