Abstract
In this article I examine lecturers' beliefs about the use of Tetum for academic, scientific and vocational communication at university in Timor-Leste and discuss the discursive and performative language planning roles that they play in the intellectualisation of the language. Drawing on analysis of recorded discussions among university lecturers from different disciplinary areas and distinct institutional settings, I identify a range of discursive and ideological forces being brought to bear on the use of Tetum to communicate disciplinary and professional knowledge. I focus especially on lecturers' value-laden explanations for how and why they 'mix' Tetum with Portuguese, English and Indonesian in particular contexts of classroom communication. Lecturers' statements about the limitations of Tetum for academic and scientific communication, while grounded in the real need for coordinated intellectualisation of the language, also mask lecturers' individual preferences for (and greater confidence in) the use of more established 'academic languages', stemming from their own past experiences of language socialisation. I argue that these negative beliefs about the potential reach of Tetum reinforce hegemonic discourses that work against its coordinated intellectualisation. Meanwhile, significant individual efforts towards the intellectualisation of Tetum endure in the form of innovative translation and translanguaging work; efforts that I argue require greater attention and support. I conclude with a discussion about the need to recognise and value the expertise and contributions of multiple stakeholders in the development and intellectualisation of the Tetum language, including those who are not traditionally understood as 'language experts'.
Access options
Buy single article
Instant access to the full article PDF.
USD 39.95
Price excludes VAT (USA)
Tax calculation will be finalised during checkout.
Availability of data and material
Notes
That is, Tetum Dili or Tetum Prasa, the national lingua franca of Timor-Leste and co-official language (with Portuguese). There are multiple orthographies in use for Tetum, and there is disagreement over the spelling of many words, including 'Tetum' (/'Tetun'). In this article, I use the orthography that is sanctioned by the Instituto Nacional Linguistica (National Linguistics Institute, or INL). See Williams-van Klinken and Hajek (2016) for a helpful discussion of the heterogeneous nature of the Tetum language.

…and, also, Spanish, which is the language of instruction for the six-year Bachelor of Medicine delivered via the Cuban medical training program (Anderson 2013). This is further complicated by English being the language of instruction for post-graduate medical education in Timor-Leste, which is supported by Australian Aid (RACS 2020).

It was not made clear what exactly this lecturer meant by 'model' except that it referred to text books and reference materials for petroleum and that a clear comparison was being drawn between those published in Indonesian and those published in Portuguese: Se ita fó model Bahasa, ida-ne′e maizumenus di′ak liu duke ita fó sira model Portugés ['If we give them [the students] the Indonesian model, this is more or less better than if we gave them the Portuguese model']—see "Appendix A".

 = practical activities and experiments.

'Correct', that is, according to formal language planning efforts in the form of Tetum dictionaries produced by the INL. See, for example, Guterres Correia (2005, p. 576).

Tetum Dili is an interchangeably used name for Tetun Prasa, the form of Tetum that developed in the Timorese capital, Dili with strong linguistic influences from the Indigenous languages Tetun Terik and Mambai, as well as colonial Portuguese (see: Hull and Eccles 2001, p. 234). Tetum Dili/Tetun Prasa refer to the 'standard' form of Tetum that is now used as a lingua franca widely in Timor-Leste, though its most concentrated use remains in the capital. For this reason, one might also translate this lecturer's comment as 'our standard Tetum is mixed', even as he has just said 'we don't yet have a standard' using an Indonesian loan for the word 'standard'. Thus shot through with and complicated by colonial echoes is the Tetum language.

I evoke this metaphor prompted by Prof. R's use of the Tetum preposition ho [with].

naiv is most likely borrowed from the Indonesian naif, though it may also be borrowed from the English 'naïve', which highlights the influence of an individual's plurilingual repertoire on the practice of extending Tetum's range via the use of loan words.
References
Anderson, T. (2013). Cuban Health Cooperation in Timor-Leste and the South West Pacific [Special Report]. The reality of aid. Retrieved from: https://www.realityofaid.org/wp-content/uploads/2013/02/ROA-SSDC-Special-Report7.pdf.

Bonacina-Pugh, F. (2012). Researching 'practiced language policies': Insights from conversation analysis. Language Policy, 11(3), 213–234.

Brayner, F. H. A. (2014). O Clichê: notas para uma derrota do pensamento. Por uma consciência ingênua. Educação & Realidade, 39(2), 557–572.

CAET [Constituent Assembly of East Timor]. (2002). Constitution of the Democratic Republic of East Timor (English version). Dili: RDTL. Retrieved from: http://timor-leste.gov.tl/wp-content/uploads/2010/03/Constitution_RDTL_ENG.pdf.

Cooper, R. L. (1989). Language planning and social change. Cambridge: Cambridge University Press.

Ferguson, C. A. (1968). Language development. In J. A. Fishman, C. A. Ferguson, & J. Das Gupta (Eds.), Language problems of developing nations (pp. 27–36). New York: Wiley.

Freire, P. (1970). Pedagogia do Oprimido. New York: Herder & Herder.

Gill, S. K. (2004). Medium of instruction policy in higher education Malaysia: Nationalism versus internationalization. In J. W. Tollefson & A. B. M. Tsui (Eds.), Medium in instruction policies: Which agenda? Whose agenda? (pp. 135–152). New Jersey: Lawrence Erlbaum.

Guterres Correia, A. J. (2005). Disionáriu nasionál ba Tetun ofisiál. Dili: Instituto Nacional de Linguística.

Hornberger, N. (2002). Multilingual language policies and the continua of biliteracy: An ecological approach. Language Policy, 1(1), 27–51.

Hull, G. (1999). Standard Tetum-English dictionary. Crows Nest: Allen & Unwin.

Hull, G. (2006). Concise English-Tetum dictionary. Winston Hills: Sebastião Aparício da Silva Publications.

Hull, G., & Eccles, L. (2001). Tetum reference grammar. Sydney: Sebastião Aparício da Silva Project and Instituto Nacional de Linguística.

INL [Instituto Nacional de Linguística, National Institute of Linguistics]. (2004). The standard orthography of the Tetum language: 115 Years in the making. Dili, Timor-Leste: Author.

Liddicoat, A. J., & Bryant, P. (2002). Intellectualisation: A current issue in language planning. Current Issues in Language Planning, 3(1), 1–4.

Lo Bianco, J. (2005). Including discourse in language planning theory. In P. Bruthiaux, D. Atkinson, W. G. Eggington, W. Grabe, & V. Ramanathan (Eds.), Directions in applied linguistics: Essays in honor of Robert B. Kaplan (pp. 255–263). Clevedon: Multilingual Matters.

Lo Bianco, J. (2010). Language policy and planning. In N. Hornberger & S. McKay (Eds.), New perspectives on language and education (pp. 143–176). Clevedon: Multilingual Matters.

Lo Bianco, J. (2012). Role of deliberation in language policy and planning. In The encyclopedia of applied linguistics. Wiley.

Makoni, S., & Pennycook, A. (2012). Disinventing multilingualism: From monolingual multilingualism to multilingua francas. In M. Martin-Jones, A. Blackledge, & A. Creese (Eds.), The Routledge handbook of multilingualism (pp. 439–453). Milton Park: Routledge.

Marginson, S. (2006). Dynamics of national and global competition in higher education. Higher Education, 52, 1–39.

Martin-Jones, M. (2007). Bilingualism, education and the regulation of access to language resources. In M. Heller (Ed.), Bilingualism: A social approach (pp. 161–182). London: Palgrave Macmillan.

Menken, K., & García, O. (Eds.). (2010). Negotiating language education policies: Educators as policymakers. New York: Routledge.

Moore, D., & Gajo, L. (2009). French voices on plurilingualism and pluriculturalism: Theory, significance and perspectives. International Journal of Multilingualism, 6(2), 137–153.

Newman, T. (2018a). Transforming lexicon, transforming industry: University lecturers as language planners in Timor-Leste. In J. Choi & S. Ollerhead (Eds.), Plurilingualism in teaching and learning: Complexities across contexts (pp. 183–198). New York: Routledge.

Newman, T. (2018b). Policy and practicality in Timorese higher education: Lessons from lecturers in development-related disciplines. In J. Crandall & K. Bailey (Eds.), Global perspectives on language education policies (pp. 119–129). New York: Routledge.

Newman, T. (2019). 'Seidauk sai hanesan ami nia mehi': A study of lecturers' responses to multilingualism in higher education in Timor-Leste [Unpublished doctoral dissertation]. University of Melbourne.

Pennycook, A. (2014). Principled polycentrism and resourceful speakers. The Journal of Asia TEFL, 11(4), 1–19.

RACS [Royal Australasian College of Surgeons]. (2020). Timor-Leste program. Retrieved from: https://www.surgeons.org/about-racs/global-health/global-health-programs/timor-leste-program.

RDTL [República Democrática de Timor-Leste/Democratic Republic of Timor-Leste]. (2004). Orthographical Standard of the Tetum language (Law No. 1/2004). Dili: Author.

Ross, M. A. (2017). Attitudes toward Tetun Dili, A Creole Language of East Timor [unpublished doctoral dissertation]. University of Hawaii at Manoa. Hawaii, USA.

Shohamy, E. (2006). Language policy: Hidden agendas and new approaches. New York: Routledge.

Sibayan, B. P. (1991). The intellectualization of Filipino. International Journal of the Sociology of Language, 88(1), 69–82. https://doi.org/10.1515/ijsl.1991.88.69.

Sibayan, B. P. (1994). The teaching of the technical disciplines in Filipino. Unitas, 67(1), 88–89.

TLSA [Timor Leste Studies Association]. (2020). Conference proceedings. Retrieved from: https://tlstudies.org/conference-proceedings/.

UNTL [Universidade Nacional Timor Lorosa'e/National University of East Timor]. (2019). Revistas. Retrieved from: http://www.untl.edu.tl/pt/publicacoes/category/23-revistas.

Williams-van Klinken, C. (2001). High registers of Tetum Dili: Portuguese Press and Purist Priests. In C. Allen (Ed.), Conference of the Australian linguistic society. Canberra: Australian National University Press.

Williams-van Klinken, C., Brites da Silva, H., Martins Tilman, C., Silva, M., Cardoso, M., Santos, A., et al. (2016). Glosariu Turizmu no Hahaan. Dili: Sentru Estudu Lingua, Dili Institute of Technology.

Williams-van Klinken, C., da Silva Ribeiro, L., & Martins Tilman, C. (2015). Tetum ba eskola ho servisu 1. Dili: Sentru Estudu Lingua, Dili Institute of Technology.

Williams-van Klinken, C., & Hajek, J. (2016). Tetu-gés: Influénsia portugés ba estrutura Tetum. In S. Smith, N. Canas Mendes, A. B. da Silva, A. da Costa Ximenes, C. Fernandes, & M. Leach (Eds.), Timor-Leste: iha kontextu local, rejional no global/O local, regional e global/The local, the regional and the global/Lokal, regional dan global 2015 (Vol. 1, pp. 32–36). Hawthorn: Swinburne University Press.
Funding
The research on which this paper is based was funded in part by a doctoral dissertation grant provided by The International Research Foundation for English Language Education (TIRF).
Ethics declarations
Conflicts of interest
The authors declared that they have no conflict of interest.
Additional information
Publisher's Note
Springer Nature remains neutral with regard to jurisdictional claims in published maps and institutional affiliations.
Appendix A: 'Whether we want to or not, we continue to write using Indonesian'
Appendix A: 'Whether we want to or not, we continue to write using Indonesian'
Excerpted from a transcription of a recorded focus group discussion with petroleum lecturers.
Excerpt begins at [01:35:40].
Cited data include Prof. A's comment about Tetum's lack of technical language [01:38:00], his claim that 'whether we want to or not, we continue to write using Indonesian' [01:38:20], and his claim that the Indonesian 'model' of reference materials is better than the Portuguese model [01:39:10].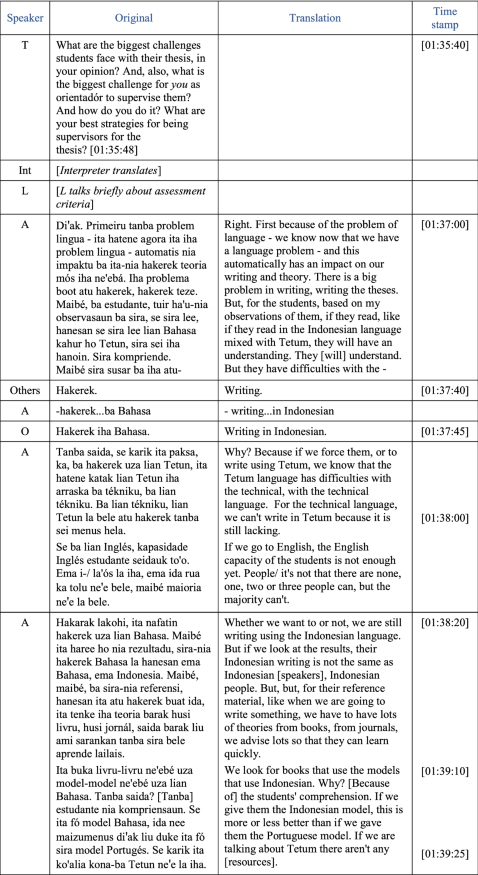 About this article
Cite this article
Newman, T. Tetun akadémiku: University lecturers' roles in the intellectualisation of Tetum. Lang Policy 20, 77–98 (2021). https://doi.org/10.1007/s10993-020-09560-2
Received:

Accepted:

Published:

Issue Date:

DOI: https://doi.org/10.1007/s10993-020-09560-2
Keywords
Language planning

Language ideology

Multilingual education

Minority language

Academic language

Higher education

Timor-Leste

Disciplinary communication