Abstract
The aim of the present study is to reveal the possible mechanism of anti-inflammatory activity of Crateva adansonii leaf extract to claim folkoric use of the plant in inflammation disease conditions. Isolation of chloroform leaf extract fraction (CEF) containing anti-inflammatory marker compound of the plant lupeol is done through column chromatography procedure, which is further confirmed by HPLC analysis with standard lupeol compound. The isolated marker compound lupeol from CEF shows significant in vitro anti-inflammatory effect compared to methanolic and chloroform leaf extracts (ME & CE) of the plant Crateva adansonii and reference standard indomethacin. Further in silico screening of lupeol and indomethacin against five crucial inflammatory molecular targets such as COX-2 (PDB ID: 4COX), MPO (PDB ID: 3ZS0), IL1β (PDBID: 1T4Q), IL6 (PDBID: 19PM) and TNFα (PDBID: 2AZ5) was done using autodock tool. Maximal binding affinity (− 11.6, − 9.0, − 9.9, − 7.5, − 9.0 kcal/mol) was exhibited by lupeol against all five targets of inflammation COX-2, MPO, TNFα, IL1β & IL6 respectively. In vitro and in silico modeling confirms the anti-inflammatory efficiency of lupeol and also unveils the hidden molecular mechanisms of folkoric use of Crateva adansonii plant in inflammatory disease conditions.
Access options
Buy single article
Instant access to the full article PDF.
USD 39.95
Price excludes VAT (USA)
Tax calculation will be finalised during checkout.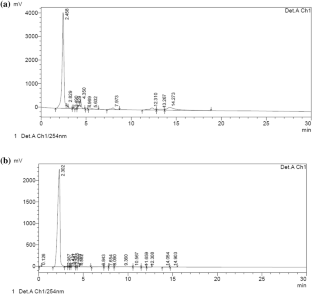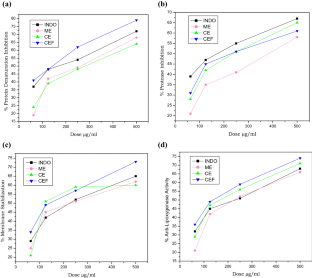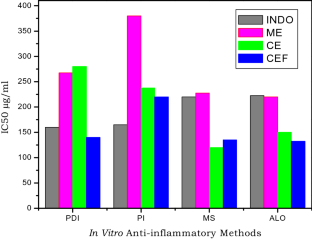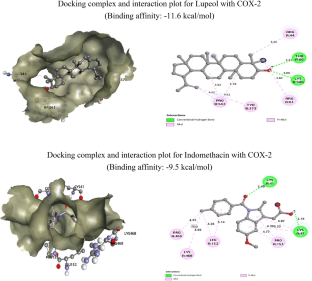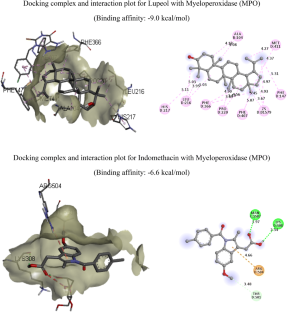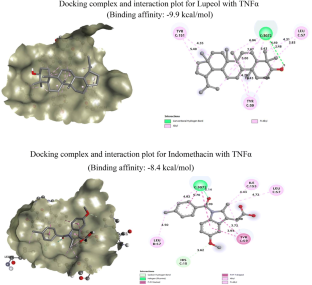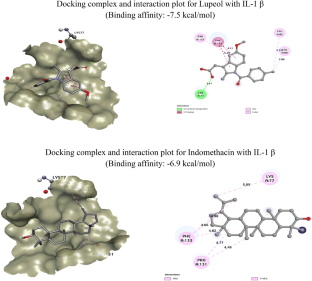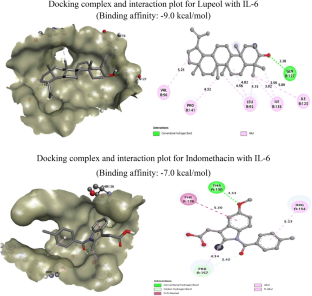 References
Abdullahi A, Hamzah RU, Jigam AA, Yahya A, Kabiru AY, Muhammad H, Sakpe S, Adefolalu FS, Isah MC, Kolo MZ (2012) Inhibitory activity of xanthine oxidase by fractions Crateva adansonii. J Acute Dis 1:126–129

Akanji MA, Salau AK, Yakubu MT (2013) Safety evaluation of aqueous extract of Crateva adansonii leaf on selected tissues of rats. Fountain J Nat Appl Sci 2:17–28

Berman HM, Westbrook J, Feng Z, Gilliland G, Bhat TN, Weissig H, Shindyalov IN, Bourne PE (2000) The protein data bank. Nucleic Acids Res 28:235–242

Boakye-Gyasi E, Woode E, Ainooson GK, Obiri DD, Ansah C, Duwejua M (2008) Anti-inflammatory and antipyretic effects of an ethanolic extract of Palisota hirsuta K. Schumroots. Afrn J Pharm Pharmacol 2:191–199

Calder PC, Ahluwalia N, Albers R (2013) A consideration of biomarkers to be used for evaluation of inflammation in human nutritional studies. Br J Nutr 109:S1–S34

Cao H, Yu R, Choi Y (2010) Discovery of cyclooxygenase inhibitors from medicinal plants used to treat inflammation. Pharmacol Res 61:519–524

Cos P, Vlietinck AJ, Berghe DV, Maes L (2006) Anti-infective potential of natural products: how to develop a stronger in vitro 'proof of concept'. J Ethnopharmacol 106(3):290–302

Gallin JI, Snyderman R (1999) Inflamation: basic principles and clinical correlates, 3rd edn. Lippincott Williams & Wilkins, Philadelphia, pp 1–3

Garcia Rodriguez LA, Tacconelli S, Patrignani P (2008) Role of dose potency in the prediction of risk of myocardial infarction associated with nonsteroidal anti-inflammatory drugs in the general population. J Am Coll Cardiol 52:1628–1636

Gitte TA, Kare MA, Deshmukh AM (2012) Ethno-medicinal studies on barks of some medicinal plants in Marathwada (M. S.) India. Recent Res Sci Technol 4:8–10

Grant NH, Alburn HE, Kryzanauskas C (1970) Stabilization of derum albumin by anti-inflammatory drugs. Biochem Pharmacol 19(3):715–722

Hawkey CJ (1990) Non-steroidal anti-inflammatory drugs and peptic ulcers: facts and figures multiply, but do they add up? Br Med J 300:278–284

Hess SM, Milonig RM (1972) Assay for anti-inflammatory drugs. In: Lepow IH, Ward PA (eds) Inflammation: mechanisms and control. Academic Press, New York, pp 1–12

Huang MT, Ghai G, Ho CT (2004) Inflammatory process and molecular targets for antiinflammatory nutraceuticals. Comp Rev Food Sci F 3:127–139

Igoli NP, Gray AI, Clements CJ, Igoli JO, Uche N, Singla RK (2012) Scientific investigation of antitrypanosomal activity of Crateva adansonii DC leaves extracts. Indo Glob J Pharm 2(3):226–229

Igoli NP, Clements CJ, Singla RK, Igoli JO, Uche N, Gray AI (2014) Antitrypanosomal activity and docking studies of components of Crateva adansonii DC leaves: novel multifunctional scaffolds. Curr Top Med Chem 14:981–990

Limongelli V, Bonomi M, Marinelli L (2010) Molecular basis of cyclooxygenase enzymes (COXs) selective inhibition. Proc Natl Acad Sci USA 107:5411–5416

DL Lucetti, ECP Lucetti, MAM Bandeira, HNH Veras, AH Silva, LKAM Leal, AA Lopes, VCC Alves, GS Silva, GA Brito, GB Viana (2010) Anti-inflammatory effects and possible mechanism of action of lupeol acetate isolated from Himatanthus drasticus (Mart.) Plumel. J Inflamm 7:60.

Ma XH, Zheng CJ, Han LY, Xie B, Jia J, Cao ZW, Li YX, Chen YZ (2009) Synergistic therapeutic actions of herbal ingredients and their mechanisms from molecular interaction and network perspectives. Drug Discov Today 14:579–588

Martel-Pelletier J, Lajeunesse D, Reboul P, Pelletier JP (2003) Therapeutic role of dual inhibitors of 5-LOX and COX, selective and non-selective non-steroidal anti-inflammatory drugs. Ann Rheum Dis 62(6):501–509

Mitchell JA, Akarasereenont P, Thiemermann C, Flower RJ, Vane JR (1993) Selectivity of nonsteroidal antiinflammatory drugs as inhibitors of constitutive and inducible cyclooxygenase. Proc Natl Acad Sci USA 90(24):11693–11697

Mizushima Y (1966) Screening test for anti-rheumatic drugs. Lancet 2:443

Sakat S, Juvekar AR, Gambhire MN (2010) In vitro antioxidant and anti-inflammatory activity of methanol extract of Oxalis corniculata Linn. J Pharm Sci 2(1):146–155

Sostres C, Gargallo CJ, Arroyo MT, Lanas A (2010) Adverse effects of non-steroidal anti-inflammatory drugs (NSAIDs, aspirin and coxibs) on upper gastrointestinal tract. Best Pract Res Clin Gastroenterol 24(2):121–132

Sasidharan S, Chen Y, Saravanan D, Sundram KM, Latha LY (2011) Extraction, isolation and characterization of bioactive compounds from plants extracts. Afr J Tradit Complem 8(1):1–10

Shinde UA, Phadke AS, Nari AM, Mungantiwara A, Dikshit VJ, Saraf MN (1999) Membrane stabilization activity-a possible mechanism of action for the anti-inflammatory activity of Cedrus deodara wood oil. Fitoterrapia 70:251–257

Thirumalaisamy R, Subramanian A, Binitha J, Mathiyazhagan M (2017) Evaluation and assessment of anti-inflammatory mediators in the leaf extracts of Crateva adansonii DC. Int J Adv Sci Eng 3(4):442–450

Thirumalaisamy R, Subramanian A, Govarthanan M (2018) Screening of anti-inflammatory phytocompounds from Crateva adansonii leaf extracts and its validation by in silico modeling. J Genet Eng Biotechnol 16:711–719

Trott O, Olson AJ (2010) AutoDock Vina: improving the speed and accuracy of docking with a new scoring function, efficient optimization and multithreading. J Comput Chem 31:455–461

Weissmann G, Spilberg I, Krakauer K (1969) Arthritis induced in rabbits by lysates of granulocyte lysosomes. Arthristis Rheum 12(2):103–116

Wilcox CM, Alexander LN, Cotsonis GA, Clark WS (1997) Nonsteroidal antiinflammatory drugs are associated with both upper and lower gastrointestinal bleeding. Digest Dis Sci 42(5):990–997

Yonathan M, Asres K, Assefa A, Bucar F (2006) Invivoanti-inflammatoryand anti-nociceptive activities of Cheilanthes farinose. J Ethnopharmacol 108(3):462–470

Zhou W, Cai JF, Yuan F, Ma M, Yin F (2014) In silico targeting of interleukin-6 by natural compounds. Bangladesh J Pharmacol 9:371–376
Acknowledgements
The research was funded by the Deanship of Scientific Research at Princess Nourah bint Abdulrahman University, Riyadh, Saudi Arabia through the fast track research funding group.
Ethics declarations
Conflict of interest
The authors declare that have no conflict of interests.
Ethical Approval
This article does not contain any studies with human participants performed by any of the authors.
Additional information
Publisher's Note
Springer Nature remains neutral with regard to jurisdictional claims in published maps and institutional affiliations.
About this article
Cite this article
Thirumalaisamy, R., Ameen, F., Subramanian, A. et al. In-Vitro and In-Silico Anti-inflammatory Activity of Lupeol Isolated from Crateva adansonii and Its Hidden Molecular Mechanism. Int J Pept Res Ther 26, 2179–2189 (2020). https://doi.org/10.1007/s10989-019-10006-5
Accepted:

Published:

Issue Date:

DOI: https://doi.org/10.1007/s10989-019-10006-5
Keywords