Abstract
Renal ischemia–reperfusion (IR) is a common cause of acute renal failure and result in remote organ injury. Oxidative stress and inflammation are of the suggested causes of renal IR injury. The aim of the present study was to investigate the protective effects of vaspin as an adipokine on renal and liver injury after renal IR. 36 Male mice randomly assigned to four groups: (1) Sham operated (2) renal IR (45 min bilateral ischemia) (3 & 4) renal IR + vaspin (20 & 40 mg/kg). Animals were intragastrically administered with PBS (Sham) or vaspin (20 & 40 mg/kg) for 7 days before renal IR. Renal IR induced renal functional damage, oxidative stress and inflammation in kidney and liver. Treatment with vaspin decreased plasma BUN, creatinine, alanine aminotransferase (ALT), and aspartate aminotransferase (AST) and increased creatinine clearance and urine flow rate. In both renal and liver tissues a significant rise in superoxide dismutase, catalase, interleukin-10 and fall in Malondialdehyde and tumor necrosis factor-α were seen after treatment. Oral administration of vaspin diminished renal and hepatic functional injury, oxidative stress and inflammation.
Access options
Buy single article
Instant access to the full article PDF.
US$ 39.95
Tax calculation will be finalised during checkout.
Subscribe to journal
Immediate online access to all issues from 2019. Subscription will auto renew annually.
US$ 79
Tax calculation will be finalised during checkout.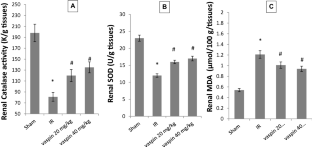 References
Aebi H (1984) [13] catalase in vitro. Methods in enzymology, Elsevier, Amsterdam

Aniort J, Heng A, Deteix P, Souweine B, Lautrette A (2019) Epidemiology of acute renal failure. Nephrol Ther 15(1):63–69

Bao JP, Xu LH, Ran JS, Xiong Y, Wu LD (2017) Vaspin prevents leptin-induced inflammation and catabolism by inhibiting the activation of nuclear factor-κB in rat chondrocytes. Mol Med Rep 16:2925–2930

Chashmi NA, Emadi S, Khastar H (2017) Protective effects of hydroxytyrosol on gentamicin induced nephrotoxicity in mice. Biochem Biophys Res Commun 482:1427–1429

Chi L, Hu X, Zhang W, Bai T, Zhang L, Zeng H, Guo R, Zhang Y, Tian H (2017) Adipokine CTRP6 improves PPARγ activation to alleviate angiotensin II-induced hypertension and vascular endothelial dysfunction in spontaneously hypertensive rats. Biochem Biophys Res Commun 482:727–734

Elshazly S, Soliman E (2019) PPAR gamma agonist, pioglitazone, rescues liver damage induced by renal ischemia/reperfusion injury. Toxicol Appl Pharmacol 362:86–94

Escoté X, Gómez-Zorita S, López-Yoldi M, Milton-Laskibar I, Fernández-Quintela A, Martínez J, Moreno-Aliaga M, Portillo M (2017) Role of omentin, vaspin, cardiotrophin-1, TWEAK and NOV/CCN3 in obesity and diabetes development. Int J Mol Sci 18:1770

Esterbauer H, Cheeseman KH (1990) [42] determination of aldehydic lipid peroxidation products: malonaldehyde and 4-hydroxynonenal. Methods in enzymology, Elsevier, Amsterdam

Hadj Abdallah N, Baulies A, Bouhlel A, Bejaoui M, Zaouali MA, Ben Mimouna S, Messaoudi I, Fernandez-Checa JC, García Ruiz C, Ben Abdennebi H (2018) Zinc mitigates renal ischemia-reperfusion injury in rats by modulating oxidative stress, endoplasmic reticulum stress, and autophagy. J Cell Physiol 233(11):8677–8690

Heiker JT (2014) Vaspin (serpinA12) in obesity, insulin resistance, and inflammation. J Pept Sci 20:299–306

Hida K, Wada J, Eguchi J, Zhang H, Baba M, Seida A, Hashimoto I, Okada T, Yasuhara A, Nakatsuka A (2005) Visceral adipose tissue-derived serine protease inhibitor: a unique insulin-sensitizing adipocytokine in obesity. Proc Natl Acad Sci 102:10610–10615

Kadkhodaee M, Khastar H, Seifi B, Najafi A, Delavari F (2012) Recipient kidney damage after leukocyte transfer from inbred mice with renal ischemia-reperfusion injury. Tehran Univ Med Sci 70(2):69–77

Kadkhodaee M, Khastar H, Seifi B, Najafi A, Delavari F (2013) Renal oxidative injury after leukocyte transfer from ischemia-reperfusion-induced kidney damage in Balb/c mice. Acta Physiol Hung 100:99–106

Khaksari M, Esmaili S, Abedloo R, Khastar H (2019) Palmatine ameliorates nephrotoxicity and hepatotoxicity induced by gentamicin in rats. Arch Physiol Biochem. https://doi.org/10.1080/13813455.2019.1633354

Khastar H (2015) Protective effects of vitamin E against liver damage caused by renal ischemia reperfusion. Ren Fail 37:494–496

Khastar H, Kadkhodaee M, Reza Sadeghipour H, Seifi B, Hadjati J, Najafi A, Soleimani M (2011a) Liver oxidative stress after renal ischemia-reperfusion injury is leukocyte dependent in inbred mice. Iran J Basic Med Sci 14(6):534

Khastar H, Kadkhodaee M, Sadeghipour H, Seifi B, Hadjati J, Delavari F, Soleimani M (2011b) Leukocyte involvement in renal reperfusion-induced liver damage. Renal Fail 33:79–83

Li H, Peng W, Zhuang J, Lu Y, Jian W, Wei Y, Li W, Xu Y (2013) Vaspin attenuates high glucose-induced vascular smooth muscle cells proliferation and chemokinesis by inhibiting the MAPK, PI3K/Akt, and NF-κB signaling pathways. Atherosclerosis 228:61–68

Li J, Chen Q, He X, Alam A, Ning J, Yi B, Lu K, Gu J (2018) Dexmedetomidine attenuates lung apoptosis induced by renal ischemia–reperfusion injury through α 2 AR/PI3K/Akt pathway. J Transl Med 16:78

Li Q-P, Wei R-B, Yang X, Zheng X-Y, Su T-Y, Huang M-J, Yin Z, Chen X-M (2019) Protective effects and mechanisms of shenhua tablet (肾华片) on toll-like receptors in rat model of renal ischemia-reperfusion injury. Chin J Integr Med 25:37–44

Li W, Qi D, Chen L, Zhao Y, Deng W, Tang X, Wang D (2018) Vaspin protects against lipopolysaccharide-induced acute respiratory distress syndrome in mice by inhibiting inflammation and protecting vascular endothelium via PI3K/Akt signal pathway. Nan fang yi ke da xue xue bao = Journal of Southern Medical University 38:283–288.

Liu Z, Yang Q, Wei Q, Chang Y, Qu M, Yu L (2019) The protective effect of miR-377 inhibitor against renal ischemia-reperfusion injury through inhibition of inflammation and oxidative stress via a VEGF-dependent mechanism in mice. Mol Immunol 106:153–158

Mohamed NSE-D, Mubarak H (2011) Effects of renal ischemia reperfusion on brain, liver kidney tissues in adult male rats. Life Sci J 8:204–212

Otero M, Lago R, Lago F, Reino JJG, Gualillo O (2005) Signalling pathway involved in nitric oxide synthase type II activation in chondrocytes: synergistic effect of leptin with interleukin-1. Arthritis Res Ther 7:R581

Otero M, Reino JJG, Gualillo O (2003) Synergistic induction of nitric oxide synthase type II: in vitro effect of leptin and interferon-γ in human chondrocytes and ATDC5 chondrogenic cells. Arthritis Rheum 48:404–409

Paoletti F, Mocali A (1990) [18] determination of superoxide dismutase activity by purely chemical system based on NAD (P) H oOxidation. Methods in enzymology, Elsevier, Amsterdam

Phalitakul S, Okada M, Hara Y, Yamawaki H (2013) Vaspin prevents methylglyoxal-induced apoptosis in human vascular endothelial cells by inhibiting reactive oxygen species generation. Acta Physiol 209:212–219

Qi D, Wang D, Zhang C, Tang X, He J, Zhao Y, Deng W, Deng X (2017) Vaspin protects against LPS-induced ARDS by inhibiting inflammation, apoptosis and reactive oxygen species generation in pulmonary endothelial cells via the Akt/GSK-3β pathway. Int J Mol Med 40:1803–1817

Rodríguez A, Ezquerro S, Méndez-Giménez L, Becerril S, Frühbeck G (2015) Revisiting the adipocyte: a model for integration of cytokine signaling in the regulation of energy metabolism. Am J Physiol 309(8):E691–E714

Yaykasli KO, Hatipoglu OF, Yaykasli E, Yildirim K, Kaya E, Ozsahin M, Uslu M, Gunduz E (2015) Leptin induces ADAMTS-4, ADAMTS-5, and ADAMTS-9 genes expression by mitogen-activated protein kinases and NF-ĸB signaling pathways in human chondrocytes. Cell Biol Int 39:104–112

Yuan L, Dai X, Fu H, Sui D, Lin L, Yang L, Zha P, Wang X, Gong G (2018) Vaspin protects rats against myocardial ischemia/reperfusion injury (MIRI) through the TLR4/NF-κB signaling pathway. Eur J Pharmacol 835:132–139

Zhang N, Cheng G-Y, Liu X-Z, Zhang F-J (2014) Expression of Bcl-2 and NF-κB in brain tissue after acute renal ischemia-reperfusion in rats. Asian Pac J Trop Med 7:386–389
Ethics declarations
Conflict of interest
The authors declared that they have no conflict of interest.
Informed Consent
Informed consent was obtained from all individual participants included in the study.
Additional information
Publisher's Note
Springer Nature remains neutral with regard to jurisdictional claims in published maps and institutional affiliations.
About this article
Cite this article
Salehi, M., Garmabi, B., Jafarisani, M. et al. Vaspin Exert Anti-Inflammatory and Antioxidant Effects on Renal and Liver Injury Induced by Renal Ischemia Reperfusion. Int J Pept Res Ther 26, 1607–1612 (2020). https://doi.org/10.1007/s10989-019-09973-6
Accepted:

Published:

Issue Date:
Keywords
Renal ischemia–reperfusion

Vaspin

Adipokine

Oxidative stress

Inflammation

Remote organ injury