Abstract
In the study, ten different Lactobacillus cultures were considered for the study of ɑ-amylase, ɑ-glucosidase and pancreatic lipase inhibitory activities. L. fermentum (M2) and L. fermentum (M7) were selected based on these three highest enzyme inhibition activities after 24 h at 37 °C inoculating at 2% rate. These two selected cultures were further studied for enzyme inhibition activities for different time intervals. For ɑ-amylase and ɑ-glucosidase inhibitory activities, M2 (65.29% and 11.14% respectively) and M7 (63.47% and 13.74% respectively) exhibited better inhibition after 24 h than other cultures. But in the case of lipase inhibitory activity, M7 (24.24%) and M2 (18.99%) showed maximum inhibition after 16 h. Purified peptides from fermented bovine milk were isolated, identified and characterized by amino acid profiling by searching on the BIOPEP database and Protein Information Resource (PIR) database. However, L. fermentum (M2) and L. fermentum (M7) could be explored to produce ɑ-amylase and ɑ-glucosidase inhibitory peptides from fermented bovine milk. Fermented bovine milk produced by selected Lactobacillus cultures could be a novel source of antidiabetic peptides.
Access options
Buy single article
Instant access to the full article PDF.
US$ 39.95
Tax calculation will be finalised during checkout.
Subscribe to journal
Immediate online access to all issues from 2019. Subscription will auto renew annually.
US$ 79
Tax calculation will be finalised during checkout.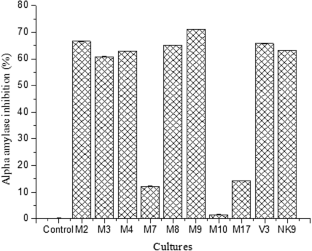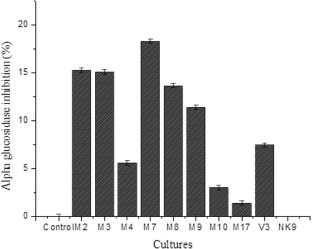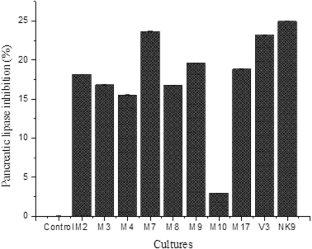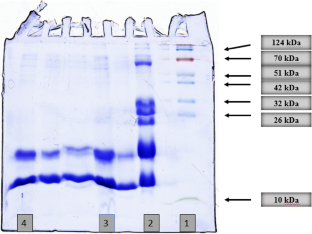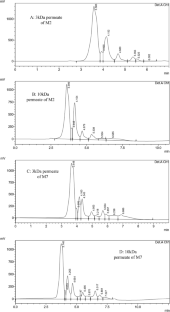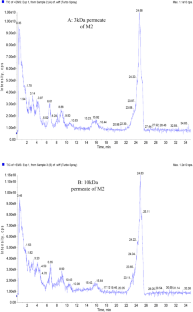 References
Ademiluyi AO, Oboh G (2013) Soybean phenolic-rich extracts inhibit key-enzymes linked to type 2 diabetes (α-amylase and α-glucosidase) and hypertension (angiotensin I converting enzyme) in vitro. Exp Toxicol Pathol 65(3):305–309

American Diabetes Association (2013) Diagnosis and classification of diabetes mellitus. Diabetes Care 36(Supplement 1):S67–S74

American Diabetes Association (2015) Classification and diagnosis of diabetes. Diabetes Care 38(Supplement 1):S8–S16

Andersson U, Bränning C, Ahrné S, Molin G, Alenfall J, Önning G, Nyman M, Holm C (2010) Probiotics lower plasma glucose in the high-fat fed C57BL/6J mouse. Benef Microbes 1(2):189–196

Aukrust TW, Brurberg MB, Nes IF (1995) Transformation of Lactobacillus by electroporation. In Electroporation protocols for microorganisms. Humana press, pp 201–208

Axelsson L (2004) Lactic acid bacteria: classification and physiology. In: Salminen S, Wright AV, Ouwehand A (eds) Lactic acid bacteria: microbiological and functional aspects, 3rd edn. Marcel Dekker, New York, pp 1–67

Bajpai VK, Jeong-Ho H, Nam GJ, Majumder R, Park C, Lim J, Paek WK, Rather IA, Yong-Ha P (2016) Characterization and pharmacological potential of Lactobacillus sakei 1I1 isolated from fresh water fish Zacco koreanus. Daru 24(1):8

Carrasco-Castilla J, Hernández-Álvarez AJ, Jiménez-Martínez C, Jacinto-Hernández C, Alaiz M, Girón-Calle J, Vioque J, Dávila-Ortiz G (2012) Antioxidant and metal chelating activities of peptide fractions from phaseolin and bean protein hydrolysates. Food Chem 135(3):1789–1795

Chen P, Zhang Q, Dang H, Liu X, Tian F, Zhao J, Chen W (2014) Screening for potential new probiotic based on probiotic properties and α-glucosidase inhibitory activity. Food Control 35(1):65–72

Donkor O (2007) Influence of probiotic organisms on release of bioactive compounds in yoghurt and soy yoghurt. Doctoral dissertation, Victoria University

Elya B, Basah K, Mun'im A, Yuliastuti W, Bangun A, Septiana EK (2012) Screening of α-glucosidase inhibitory activity from some plants of Apocynaceae, Clusiaceae, Euphorbiaceae, and Rubiaceae. BioMed Res Int 2012:281078

Ensor M, Williams JS, Banfield R, Lodder RA (2014) Effects of three low-doses of d-tagatose on glycemic control over six months in subjects with mild type 2 diabetes mellitus under control with diet and exercise. J Endocrinol Diabetes Obes 2:1057

Fuller R (1989) Probiotics in man and animals. J Appl Bacteriol 66(5):365–378

Gallego M, Aristoy MC, Toldrá F (2014) Dipeptidyl peptidase IV inhibitory peptides generated in Spanish dry-cured ham. Meat Sci 96(2):757–761

Gil-Rodríguez AM, Beresford TP (2019) Lipase inhibitory activity of skim milk fermented with different strains of lactic acid bacteria. J Funct Foods 60:103413

Hartmann R, Meisel H (2007) Food-derived peptides with biological activity: from research to food applications. Curr Opin Biotechnol 18(2):163–169

Hayes M, Ross RP, Fitzgerald GF, Stanton C (2007) Putting microbes to work: dairy fermentation, cell factories and bioactive peptides. Part I: overview. Biotechnol J 2(4):426–434

Jakubczyk A, Baraniak B (2014) Angiotensin I converting enzyme inhibitory peptides obtained after in vitro hydrolysis of pea (Pisum sativum var. Bajka) globulins. BioMed Res Int. https://doi.org/10.1155/2014/438459

Kharroubi AT, Darwish HM (2015) Diabetes mellitus: the epidemic of the century. World J Diabetes 6(6):850–867

Koh WY, Utra U, Ahmad R, Rather IA, Park YH (2018) Evaluation of probiotic potential and anti-hyperglycemic properties of a novel Lactobacillus strain isolated from water kefir grains. Food Sci Biotechnol 27(5):1369–1376

Korhonen H, Pihlanto A (2006) Bioactive peptides: production and functionality. Int Dairy J 16(9):945–960

Kurihara H, Asami S, Shibata H, Fukami H, Tanaka T (2003) Hypolipemic effect of Cyclocarya paliurus (Batal) Iljinskaja in lipid-loaded mice. Biol Pharm Bull 26(3):383–385

Lacroix I, Li-Chan E (2014) Peptide array on cellulose support—a screening tool to identify peptides with dipeptidyl-peptidase IV inhibitory activity within the sequence of α-lactalbumin. Int J Mol Sci 15(11):20846–20858

Laemmli UK (1970) Cleavage of structural proteins during the assembly of the head of bacteriophage T4. Nature 227(5259):680–685

Li X, Wang N, Yin B, Fang D, Zhao J, Zhang H, Wang G, Chen W (2016) Lactobacillus plantarum XI with α-glucosidase inhibitory activity ameliorates type 2 diabetes in mice. RSC Adv 6(68):63536–63547

Maqsood M, Ahmed D, Atique I, Malik W (2017) Lipase inhibitory activity of Lagenaria siceraria fruit as a strategy to treat obesity. Asian Pac J Trop Med 10(3):305–310

Mishra T, Goyal AK, Midha SK, Sen A (2011) Antioxidative properties of Canna edulis Ker-Gawl. Indian J Nat Prod Resour 2(3):315–321

Moslehishad M, Ehsani MR, Salami M, Mirdamadi S, Ezzatpanah H, Naslaji AN, Moosavi-Movahedi AA (2013) The comparative assessment of ACE-inhibitory and antioxidant activities of peptide fractions obtained from fermented camel and bovine milk by Lactobacillus rhamnosus PTCC 1637. Int Dairy J 29(2):82–87

Mudgil P et al. (2016) Pancreatic lipase inhibitory activities of lactic acid bacteria isolated from raw camel milk. Conference Proceedings of IPC2016. Paper presented at the International Scientific Conference on Probiotics and Prebiotics, Budapest (p. 49). IPC2016

Nair SS, Kavrekar V, Mishra A (2013) In vitro studies on alpha amylase and alpha glucosidase inhibitory activities of selected plant extracts. Eur J Exp Biol 3(1):128–132

Ni H, Hayes HE, Stead D, Raikos V (2018) Incorporating salal berry (Gaultheria shallon) and blackcurrant (Ribes nigrum) pomace in yogurt for the development of a beverage with antidiabetic properties. Heliyon. https://doi.org/10.1016/j.heliyon.2018.e00875

Noriko N, Pambudi A (2014) Diversifikasi pangan sumber karbohidrat canna edulis Kerr.(Ganyong). Jurnal Al-Azhar Indonesia Seri Sains dan Teknologi 2(4):248–252

Ojeda MJ, Cereto-Massagué A, Valls C, Pujadas G (2014) DPP-IV, an important target for antidiabetic functional food design. Food Inform. https://doi.org/10.1007/978-3-319-10226-9_7

Opatha Vithana NL (2012) A comparative study of immunomodulatory activity of deer and cow milk proteins. Doctoral dissertation, Lincoln University

Pal B, Vij S, Hati S (2014) Peptides functional significance of bioactive peptides derived from soybean. Peptides 54:171–179

Panwar H, Angad G, Veterinary D, Santos D et al (2014) Lactobacillus strains isolated from infant faeces possess potent inhibitory activity against intestinal alpha- and beta-glucosidases suggesting anti- diabetic potential. Eur J Nutr 53(7):1465–1474

Parmar H, Hati S, Panchal G et al (2019) Purification and production of novel angiotensin I-converting enzyme (ACE) inhibitory bioactive peptides derived from fermented goat milk. Int J Pept Res Ther. https://doi.org/10.1007/s10989-019-09902-7

Qian B, Xing M, Cui L, Deng Y, Xu Y, Huang M, Zhang S (2011) Antioxidant, antihypertensive, and immunomodulatory activities of peptide fractions from fermented skim milk with Lactobacillus delbrueckii ssp. bulgaricus LB340. J Dairy Res 78(1):72–79

Ramchandran L, Shah NP (2008) Proteolytic profiles and angiotensin-I converting enzyme and α-glucosidase inhibitory activities of selected lactic acid bacteria. J Food Sci 73(2):M75–81

Savijoki K, Ingmer H, Varmanen P (2006) Proteolytic systems of lactic acid bacteria. Appl Microbiol Biotechnol 71(4):394–406

Seegers JF (2002) Lactobacilli as live vaccine delivery vectors: progress and prospects. Trends Biotechnol 20(12):508–515

Sergent T, Vanderstraeten J, Winand J, Beguin P, Schneider YJ (2012) Phenolic compounds and plant extracts as potential natural anti-obesity substances. Food Chem 135(1):68–73

Shai LJ, Magano SR, Lebelo SL, Mogale AM (2011) Inhibitory effects of five medicinal plants on rat alpha-glucosidase: comparison with their effects on yeast alpha-glucosidase. J Med Plants Res 5(13):2863–2867

Shori AB, Baba AS (2014) Comparative antioxidant activity, proteolysis and in vitro α-amylase and α-glucosidase inhibition of Allium sativum-yogurts made from cow and camel milk. J Saudi Chem Soc 18(5):456–463

Solanki D, Hati SF, Sakure AA (2017) In silico and in vitro analysis of novel angiotensin I-converting enzyme (ACE) inhibitory bioactive peptides derived from fermented camel milk (Camelus dromedarius). Int J Pept Res Ther 23:441–459

Stefanovic E, Fitzgerald G, McAuliffe O (2017) Advances in the genomics and metabolomics of dairy lactobacilli: a review. Food Microbiol 61:33–49

Tagliazucchi D, Martini S, Bellesia A, Conte A (2015) Identification of ACE-inhibitory peptides from Phaseolus vulgaris after in vitro gastrointestinal digestion. Int J Food Sci Nutr 66(7):774–782

Telagari M, Hullatti K (2015) In-vitro α-amylase and α-glucosidase inhibitory activity of Adiantum caudatum Linn. and Celosia argentea Linn. extracts and fractions. Indian J Pharmacol 47(4):425

Tuohy KM, Probert HM, Smejkal CW, Gibson GR (2003) Using probiotics and prebiotics to improve gut health. Drug Discov Today 8(15):692–700

Uenishi H, Kabuki T, Seto Y, Serizawa A, Nakajima H (2012) Isolation and identification of casein-derived dipeptidyl-peptidase 4 (DPP-4)-inhibitory peptide LPQNIPPL from gouda-type cheese and its effect on plasma glucose in rats. Int Dairy J 22(1):24–30

Yamaki K, Mori Y (2006) Evaluation of alpha -glucosidase inhibitory activity in colored foods: a trial using slope factors of regression curves. J Jpn Soc Food Sci Technol 53(4):229–231

Yofananda O, Estiasih T (2016) Potensi senyawa bioaktif umbi-umbian lokal sebagai penurun kadar glukosa darah: kajian pustaka. Jurnal Pangan dan Agroindustri 4(1):410–416

Yun SI, Park HO, Kang JH (2009) Effect of Lactobacillus gasseri BNR17 on blood glucose levels and body weight in a mouse model of type 2 diabetes. J Appl Microbiol 107(5):1681–1686

Zeng Z, Luo J, Zuo F, Zhang Y, Ma H, Chen S (2016) Screening for potential novel probiotic Lactobacillus strains based on high dipeptidyl peptidase IV and α-glucosidase inhibitory activity. J Funct Foods 20:486–495

Zhang Y, Chen R, Zuo F, Ma H, Zhang Y, Chen S (2016) Comparison of dipeptidyl peptidase IV-inhibitory activity of peptides from bovine and caprine milk casein by in silico and in vitro analyses. Int Dairy J 53:37–44
Funding
This research was financed by the Department of Biotechnology, New Delhi, Government of India (Grant No. Agri/2015/02).
Ethics declarations
Conflict of interest
All authors declare that they have no conflict of interest.
Ethical Approval
This article does not contain any studies with human participants or animals performed by any of the authors.
Additional information
Publisher's Note
Springer Nature remains neutral with regard to jurisdictional claims in published maps and institutional affiliations.
Electronic supplementary material
Below is the link to the electronic supplementary material.
About this article
Cite this article
Kinariwala, D., Panchal, G., Sakure, A. et al. Exploring the Potentiality of Lactobacillus Cultures on the Production of Milk-Derived Bioactive Peptides with Antidiabetic Activity. Int J Pept Res Ther 26, 1613–1627 (2020). https://doi.org/10.1007/s10989-019-09958-5
Accepted:

Published:

Issue Date:
Keywords
Lactobacillus

ɑ-Amylase inhibitory activity

ɑ-Glucosidase inhibitory activity

Lipase inhibitory activity

Antidiabetic peptides