Abstract
Fusion (F) and Hemagglutinin-neuraminidase (HN) glycoproteins of Newcastle disease virus containing important epitopes play crucial role in stimulation of humoral and cell-mediated immunity of the host. In the present study we analyzed and compared genetic diversity of F and HN sequences related to long-term circulating sub-genotype VIIj isolates to genotype VII and II strains. In addition, F and HN epitope prediction was performed using IEDB, NetMHC 4.0 and NetMHC II 3.1 servers. Molecular docking analysis was also conducted for VIIj and LaSota isolates interacting MHC I and II molecules. Results indicated that certain specific mutations were occurred in Fusion and Hemagglutinin-neuraminidase proteins of VIIj sub-genotype. Epitope prediction study revealed that the unique variations were located on the antigenic site regions of F and HN glycoproteins. Furthermore, docking interaction analysis showed surprising results, in which defined antigenic site residues of VIIj isolates interacted to MHC molecules with higher affinity levels rather than LaSota strains used as vaccines. Our in silico results suggest that by applying certain epitope sequences inducing both immune responses, vaccination failures may be reduced and challenged vaccinated host cells may stop viral shedding beside protection from Newcastle disease infection. Thus, we recommend the introduced antigenic sites of VIIj sub-genotype in this paper would act as the great targets for epitope-based vaccine design in the region.
Access options
Buy single article
Instant access to the full article PDF.
US$ 39.95
Tax calculation will be finalised during checkout.
Subscribe to journal
Immediate online access to all issues from 2019. Subscription will auto renew annually.
US$ 79
Tax calculation will be finalised during checkout.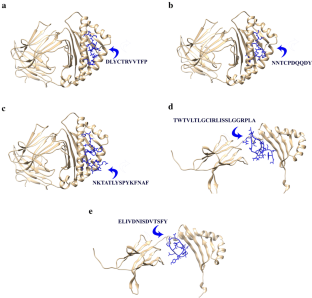 References
Alexander DJ (1997) Newcastle disease and other avian Paramyxoviridae infection. In: Calnek BW, Barnes HJ, Beard CW, McDougald LR, Saif YM (eds) Diseases of Poultry. Iowa State University Press, Ames, pp 541–549

Alonso-Padilla J, Lafuente EM, Reche PA (2017) Computer-aided design of an epitope-based vaccine against Epstein-Barr Virus. J Immunol Res 2017:9363750. https://doi.org/10.1155/2017/9363750

Amarasinghe GK, Bào Y, Basler CF, Bavari S, Beer M, Bejerman N, Blasdell KR, Bochnowski A, Briese T, Bukreyev A, Calisher CH, Chandran K, Collins PL, Dietzgen RG, Dolnik O, Dürrwald R, Dye JM, Easton AJ, Ebihara H, Fang Q, Formenty P, Fouchier RAM, Ghedin E, Harding RM, Hewson R, Higgins CM, Hong J, Horie M, James AP, Jiāng D, Kobinger GP, Kondo H, Kurath G, Lamb RA, Lee B, Leroy EM, Li M, Maisner A, Mühlberger E, Netesov SV, Nowotny N, Patterson JL, Payne SL, Paweska JT, Pearson MN, Randall RE, Revill PA, Rima BK, Rota P, Rubbenstroth D, Schwemmle M, Smither SJ, Song Q, Stone DM, Takada A, Terregino C, Tesh RB, Tomonaga K, Tordo N, Towner JS, Vasilakis N, Volchkov VE, Wahl-Jensen V, Walker PJ, Wang B, Wang D, Wang F, Wang LF, Werren JH, Whitfield AE, Yan Z, Ye G, Kuhn JH (2017) Taxonomy of the order Mononegavirales: update 2017. Arch Virol 162:2493–2504. https://doi.org/10.1007/s00705-017-3311-7

Badawi MM, Fadl Alla AAE, Alam SS, Mohamed WA, Osman DAN, Alrazig Ali SAA, Ahmed EME, Adam AAE, Abdullah RO, Salih MA (2016) Immunoinformatics predication and in silico modeling of epitope-based peptide vaccine against virulent newcastle disease viruses. Am J Infec Dis and Microbiol 4:61–71. https://doi.org/10.12691/ajidm-4-3-3

Ben-Yedidia T, Arnon R (2007) Epitope-based vaccine against influenza. Expert Rev Vaccines 6:939–948. https://doi.org/10.1586/14760584.6.6.939

Cho SH, Kwon HJ, Kim TE, Kim JH, Yoo HS, Park MH, Park YH, Kim SJ (2008a) Characterization of a recombinant newcastle disease virus vaccine strain. Clin Vaccine Immunol 15:1572–1579. https://doi.org/10.1128/CVI.00156-08

Cho SH, Kwon HJ, Kim TE, Kim JH, Yoo HS, Kim SJ (2008b) Variation of a newcastle disease virus Hemagglutinin-Neuraminidase linear epitope. J Clin Microbiol 46:1541–1544. https://doi.org/10.1128/JCM.00187-08

Dallakyan S, Olson AJ (2015) Small-molecule library screening by docking with PyRx. Methods Mol Biol 1263:243–250. https://doi.org/10.1007/978-1-4939-2269-7_19

Diel DG, da Silva LHA, Liu H, Wang Z, Miller PJ, Afonso CL (2012) Genetic diversity of avian paramyxovirus type 1: proposal for a unified nomenclature and classification system of Newcastle disease virus genotypes. Infect Genet Evol 12:1770–1779. https://doi.org/10.1016/j.meegid.2012.07.012

Esmaelizad M, Mayahi V, Pashaei M, Goudarzi H (2017) Identification of novel Newcastle disease virus sub-genotype VII-(j) based on the fusion protein. Arch Virol 162:971–978. https://doi.org/10.1007/s00705-016-3189-9

Ghalyanchilangeroudi A, Hosseini H, Jabbarifakhr M, Fallah Mehrabadi MH, Najafi H, Ghafouri SA, Mousavi FS, Ziafati Z, Modiri A (2018) Emergence of a virulent genotype VIIi of Newcastle disease virus in Iran. Avian Pathol 47:509–519. https://doi.org/10.1080/03079457.2018.1495313

Gu M, Liu W, Xu L, Cao Y, Yao C, Hu S, Liu X (2011) Positive selection in the hemagglutinin-neuraminidase gene of Newcastle disease virus and its effect on vaccine efficacy. Virol J. https://doi.org/10.1186/1743-422X-8-150

Gurunathan S, Klinman DM, Seder RA (2000) DNA vaccines: immunology, application, and optimization. Annu Rev Immunol 18:927–974. https://doi.org/10.1146/annurev.immunol.18.1.927

Hernandez LD, Hoffman LR, Wolfsberg TG, White JM (1996) Virus-cell and cell-cell fusion. Annu Rev Cell Dev Biol 12:627–661. https://doi.org/10.1146/annurev.cellbio.12.1.627

Hu S, Wang T, Liu Y, Meng C, Wang X, Wu Y, Liu X (2010) Identification of a variable epitope on the Newcastle disease virus hemagglutinin–neuraminidase protein. Vet Microbiol 140:92–97. https://doi.org/10.1016/j.vetmic.2009.07.029

Kamthania M, Sharma DK (2015) Screening and structure-based modeling of T-cell epitopes of Nipah virus proteome: an immunoinformatic approach for designing peptide-based vaccine. 3 Biotech 5:877. https://doi.org/10.1007/s13205-015-0303-8

Kapczynski DR, Afonso CL, Miller PJ (2013) Immune responses of poultry to Newcastle disease virus. Dev Comp Immunol 41:447–453. https://doi.org/10.1016/j.dci.2013.04.012

Khan MA, Hossain MU, Rakib-Uz-Zaman SM, Morshed MN (2015) Epitope-based peptide vaccine design and target site depiction against Ebola viruses: an immunoinformatics study. Scand J Immunol 82:25–34. https://doi.org/10.1111/sji.12302

Li T, Wang G, Shi B, Liu P, Si W, Wang B, Jiang L, Zhou L, Xiu J, Liu H (2015) Comprehensive analysis and characterization of linear antigenic domains on HN protein from genotype vii newcastle disease virus using yeast surface display system. PLoS ONE 10:e0131723. https://doi.org/10.1371/journal.pone.0131723

Maminiaina OF, Gil P, Briand FX, Albina E, Keita D, Rasamoelina Andriamanivo H, Chevalier V, Lancelot R, Martinez D, Rakotondravao R, Rajaonarison JJ, Koko M, Andriantsimahavandy AA, Jestin V, Servan de Almeida R (2010) newcastle disease virus in madagascar: identification of an original genotype possibly deriving from a died out ancestor of genotype IV. PLoS ONE 5:e13987. https://doi.org/10.1371/journal.pone.0013987

Mayahi V, Esmaelizad M (2017a) Identification of novel E347Q and G362K amino acid substitutions in HN neutralization epitope and major antigenic difference in novel sub-genotype VIIj isolates. Acta Virol 61:438–444. https://doi.org/10.4149/av_2017_405

Mayahi V, Esmaelizad M (2017b) Molecular evolution and epidemiological links study of Newcastle disease virus isolates from 1995 to 2016 in Iran. Arch Virol 162:3727–3743. https://doi.org/10.1007/s00705-017-3536-5

Miller PJ, King DJ, Afonso CL, Suarez DL (2007) Antigenic differences among Newcastle disease virus strains of different genotypes used in vaccine formulation affect viral shedding after a virulent challenge. Vaccine 25:7238–7246. https://doi.org/10.1016/j.vaccine.2007.07.017

Miller PJ, Afonso CL, El Attrache J, Dorsey KM, Courtney SC, Guo Z, Kapczynski DR (2013) Effects of Newcastle disease virus vaccine antibodies on the shedding and transmission of challenge viruses. Dev Comp Immunol 41:505–513

Molouki A, Mehrabadi MHF, Bashashati M, Akhijahani MM, Lim SHE, Hajloo SA (2019) NDV subgenotype VII(L) is currently circulating in commercial broiler farms of Iran, 2017–2018. Trop Anim Health Prod 51:1247–1252. https://doi.org/10.1007/s11250-019-01817-1

Motamedi MJ, Amani J, Shahsavandi S, Salmanian AH (2014) In silico design of multimeric HN-F antigen as a highly immunogenic peptide vaccine against Newcastle disease virus. Int J Pept Res Ther 20:179. https://doi.org/10.1007/s10989-013-9380-x

Munir M, Linde AM, Zohari S, Stahl K, Baule C, Engstrom B, Renstrom LHM, Berg M (2011) Whole genome sequencing and characterization of a virulent Newcastle disease virus isolated from an outbreak in Sweden. Virus Genes 43:261–271. https://doi.org/10.1007/s11262-011-0636-2

Neyt C, Geliebter J, Slaoui M, Morales D, Meulemans G, Burny A (1989) Mutations located on Both Fl and F2 subunits of the Newcastle disease virus fusion protein confer resistance to neutralization with monoclonal antibodies. J Virol 63:952–954

OIE (World Organisation for Animal Health) (2012) Newcastle disease (infection with Newcastle disease virus). www.oie.int/fileadmin/Home/eng/Health_standards/tahc/current/chapitre_nd.pdf. Accessed 2012

Osman MM, ElAmin EE, Al-Nour MY, Alam SS, Adam RS, Ahmed AA, Elsayed AA, Abdalla MH, Salih MA (2016) In silico design of epitope based peptide vaccine against virulent strains of (HN)-Newcastle disease virus (NDV) in poultry Species. Int J of Multidiscip Curr Res 4:868–878

Rott R, Klenk HD (1988) Molecular basis of infectivity and pathogenicity of Newcastle disease virus. In: Alexander DJ (ed) Newcastle disease. Kluwer Academic Publishers, Boston, pp 98–112

Saadi M, Karkhah A, Nouri HR (2017) Development of a multi-epitope peptide vaccine inducing robust T cell responses against brucellosis using immunoinformatics based approaches. Infect Genet Evol 51:227–234. https://doi.org/10.1016/j.meegid.2017.04.009

Sabouri F, Vasfi Marandi M, Karimi V, Malekan M, Bashashati M (2016) Genetic analysis of avian paramyxovirus type I strains isolated from backyard poultry in Iran. Turk J Vet Anim Sci 40:750–756. https://doi.org/10.3906/vet-1601-117

Sabouri F, Vasfi Marandi M, Bashashati M (2018) Characterization of a novel VIIl sub-genotype of Newcastle disease virus circulating in Iran. Avian Pathol 47:90–99. https://doi.org/10.1080/03079457.2017.1376735

Saha CK, Mahbub Hasan M, Saddam Hossain M, Asraful Jahan M, Azad AK (2017) In silico identification and characterization of common epitope-based peptide vaccine for Nipah and Hendra viruses. Asian Pac J Trop Med 10:529–538. https://doi.org/10.1016/j.apjtm.2017.06.016

Shahriari AG, Bagheri A, Bassami MR, Malekzadeh-Shafaroudia S, Afsharifar A, Niazi A (2016) Expression of Hemagglutinin-Neuraminidase and fusion epitopes of Newcastle disease virus in transgenic tobacco. Electron J Biotechnol 22:38–43. https://doi.org/10.1016/j.ejbt.2016.05.003

Shen Y, Maupetit J, Derreumaux P, Tufféry P (2014) Improved PEP-FOLD approach for peptide and miniprotein structure prediction. J Chem Theor Comput 10:4745–4758. https://doi.org/10.1021/ct500592m

Shi J, Zhang J, Li S, Sun J, Teng Y, Wu M, Li J, Li Y, Hu N, Wang H, Hu Y (2015) Epitope-based vaccine target screening against highly pathogenic MERS-CoV: an in silico approach applied to emerging infectious diseases. PLoS ONE 10:e0144475. https://doi.org/10.1371/journal.pone.0144475

Simons K, Garoff H (1980) The budding mechanisms of enveloped animal viruses. J Gen Virol 50:1–21

Tamura K, Stecher G, Peterson D, Filipski A, Kumar S (2013) MEGA6: molecular evolutionary genetics analysis version 6.0. Mol Biol Evol 30:2725–2729. https://doi.org/10.1093/molbev/mst197

Thévenet P, Shen Y, Maupetit J, Guyon F, Derreumaux P, Tufféry P (2012) PEP-FOLD: an updated de novo structure prediction server for both linear and disulfide bonded cyclic peptides. Nucleic Acids Res 40:W288–293. https://doi.org/10.1093/nar/gks419

Wei D, Yang B, Li YL, Xue CF, Chen ZN, Bian H (2008) Characterization of the genome sequence of an oncolytic Newcastle disease virus strain Italien. Virus Res 135:312–319. https://doi.org/10.1016/j.virusres.2008.03.003

Yang H, Zhao J, Xue J, Yang YL, Zhang GZ (2016) Antigenic variation of LaSota and genotype VII Newcastle disease virus (NDV) and their efficacy against challenge with velogenic NDV. Vaccine 35:27–32. https://doi.org/10.1016/j.vaccine.2016.11.048

Yusoff K, Nesbit M, McCartney H, Meulemans G, Alexander DJ, Collins MS, Emmerson PT, Samsoni ACR (1989) Location of neutralizing epitopes on the fusion protein of Newcastle disease virus strain Beaudette C. J Gen Virol 70:3105–3109. https://doi.org/10.1099/0022-1317-70-11-3105

Zhang R, Wang X, Su J, Zhao J, Zhang G (2010) Isolation and analysis of two naturally-occurring multi recombination Newcastle disease viruses in China. Virus Res 151:45–53. https://doi.org/10.1016/j.virusres.2010.03.015

Zheng J, Lin X, Wang X, Zheng L, Lan S, Jin S, Ou Z, Wu J (2017) In silico analysis of epitope-based vaccine candidates against Hepatitis B virus polymerase protein. Viruses 9:E112. https://doi.org/10.3390/v9050112

Zhu J, Hu S, Xu H, Liu J, Zhao Z, Wang X, Liu X (2016) Characterization of virulent Newcastle disease viruses from vaccinated chicken flocks in Eastern China. BMC Vet Res 12:113. https://doi.org/10.1186/s12917-016-0732-6
Acknowledgements
This study was supported by Grant No. 2-18-18-94129 Razi Vaccine and Serum Research Institute.
Ethics declarations
Conflict of interest
The authors declare no competing interests.
Ethical Approval
This article does not contain any studies with human participants or animals performed by any of the authors.
Additional information
Publisher's Note
Springer Nature remains neutral with regard to jurisdictional claims in published maps and institutional affiliations.
About this article
Cite this article
Mayahi, V., Esmaelizad, M. & Ganjalikhany, M.R. Development of Avian Avulavirus 1 Epitope-Based Vaccine Pattern Based on Epitope Prediction and Molecular Docking Analysis: An Immunoinformatic Approach. Int J Pept Res Ther 26, 1513–1522 (2020). https://doi.org/10.1007/s10989-019-09952-x
Accepted:

Published:

Issue Date:
Keywords
Immunoinformatics

Fusion

Hemagglutinin-neuraminidase

Epitope-based vaccine

Avian Avulavirus 1

Molecular docking