Abstract
Bacteriocins are antimicrobial compounds with targeted activities that are produced by a variety of bacterial species. Different aspects of bacteriocins were intensively studied and highlighted in previous research publications. Developments in this field are best demonstrated through analysis of the most cited scientific literature concerning bacteriocins. The objective of this report was to identify and establish main characteristics of the 100 top-cited papers presenting research on bacteriocins. Publications regarding bacteriocins between 1970 and 12th May 2017 were retrieved from the Web of Knowledge database of the Institute of Scientific Information. From this list, the top-cited 100 papers in the field of bacteriocins were established. The top-cited papers in this field were published from 1991 to 2013 and, as of this date, they have received from 85 to 1097 citations. The average citation rate of the 100 top-cited papers was 166.23 times (SD 136.87). The most common fields of study were microbiology (45%), biochemistry and molecular biology (35%), and biotechnology and applied microbiology (26%). Among the top-cited papers, 24 and 17 papers originated from the United States and Germany, respectively. Among these top-cited papers close to 80% concerned mainly bacteriocins from Gram-positive bacteria, whereas, only nine of the top-cited papers described bacteriocins of Gram-negative bacteria.
This is a preview of subscription content, log in to check access.
Access options
Buy single article
Instant access to the full article PDF.
US$ 39.95
Price includes VAT for USA
Subscribe to journal
Immediate online access to all issues from 2019. Subscription will auto renew annually.
US$ 99
This is the net price. Taxes to be calculated in checkout.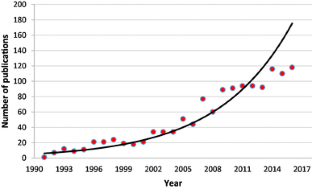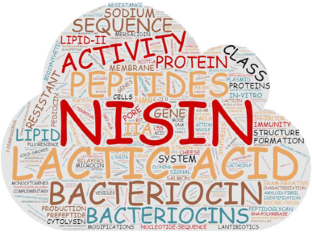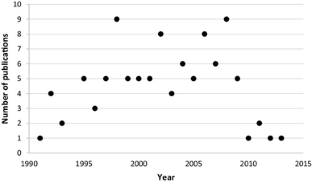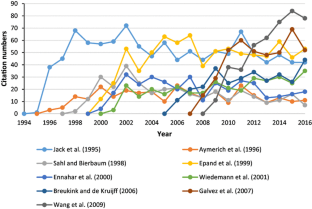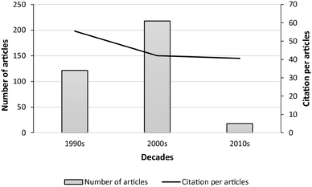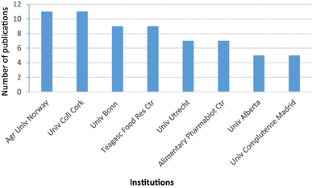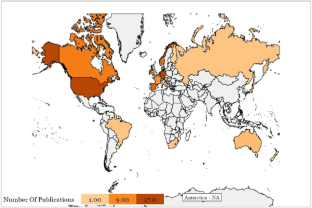 References
Adi H, Young PM, Chan H-K, Salama R, Traini D (2010) Controlled release antibiotics for dry powder lung delivery. Drug Develop Ind Pharm 36:119–126

Aymerich T, Holo H, Håvarstein LS, Hugas M, Garriga M, Nes IF (1996) Biochemical and genetic characterization of enterocin A from Enterococcus faecium, a new antilisterial bacteriocin in the pediocin family of bacteriocins. Appl Environ Microbiol 62:1676–1682

Baltussen A, Kindler CH (2004) Citation classics in anesthetic journals. Anesth Analg 98:443–451

Bohannon RW, Roberts D (1991) Core journals of rehabilitation: identification through index analysis. Int J Rehabil Res 14:333–336

Breukink E, de Kruijff B (2006) Lipid II as a target for antibiotics. Nat Rev Drug Discov 5:321–332

Chauhan A, Goyal P, Aggarwal ML, Chacko KM (2013) Prevalence and antibiotic resistance of Bacillus strains isolated from various food stuffs. Int J Biomed Pharm Res 2:8–16

Dadrasnia A, Shahsavari N, Salmah I (2015) The top 101 cited articles in environmental clean-up: oil spill remediation. Global NEST J 17:692–700

Devlieghere F, Vermeiren L, Debevere J (2004) New preservation technologies: possibilities and limitations. Int Dairy J 14:273–285

Ennahar S, Sashihara T, Sonomoto K, Ishizaki A (2000) Class IIa bacteriocins: biosynthesis, structure and activity. FEMS Microbiol Rev 24:85–106

Epand RM, Vogel HJ (1999) Diversity of antimicrobial peptides and their mechanisms of action. ‎Biochim Biophys Acta 1462:11–28

Eshraghi A, Osman NAA, Gholizadeh H, Ali S, Shadgan B (2013) 100 top-cited scientific papers in limb prosthetics. Biomed Eng Online 12:119

Gálvez A, Abriouel H, López RL, Omar NB (2007) Bacteriocin-based strategies for food biopreservation. Int J Food Microbiol 120:51–70

Garfield E (2006) The history and meaning of the journal impact factor. JAMA 295:90–93

Hedayat M, Jahangiri P, Torkamani A, Mashayekhi M, Sabzali MK, Ebrahim NA (2015) The scientific articles on art criticism. Asian Soc Sci 11:130–138

Hennessey K, Afshar K, MacNeily AE (2009) The top 100 cited articles in urology. Can Urol Assoc J 3:293–302

Ho Y-S (2012) Top-cited articles in chemical engineering in science citation index expanded: a bibliometric analysis. Chin J Chem Eng 20:478–488

Igbinosa EO, Beshiru A, Akporehe LU, Ogofure AG (2016) Detection of methicillin-resistant Staphylococci isolated from food producing animals: a public health implication. Vet Sci 3:14

Jack RW, Tagg JR, Ray B (1995) Bacteriocins of Gram-positive bacteria. Microbiol Rev 59:171–200

Jamali H, Radmehr B, Thong KL (2013) Prevalence, characterisation, and antimicrobial resistance of Listeria species and Listeria monocytogenes isolates from raw milk in farm bulk tanks. Food Control 34:121–125

Lazdunski CJ (1988) Pore-forming colicins: synthesis, extracellular release, mode of action, immunity. Biochimie 70:1291–1296

Loonen MP, Hage JJ, Kon M (2008) Plastic surgery classics: characteristics of 50 top-cited articles in four plastic surgery journals since 1946. Plast Reconstr Surg 121:320e–327e

Martinez FAC, Balciunas EM, Converti A, Cotter PD, de Souza Oliveira RP (2013) Bacteriocin production by Bifidobacterium spp. A review. Biotechnol Adv 31:482–488

Nason GJ, Tareen F, Mortell A (2013) The top 100 cited articles in urology: an update. Can Urol Assoc J 7:16–24

Ponce FA, Lozano AM (2010) Highly cited works in neurosurgery. Part I: the 100 top-cited papers in neurosurgical journals: a review. J Neurosurg 112:223–232

Sahl H-G, Bierbaum G (1998) Lantibiotics: biosynthesis and biological activities of uniquely modified peptides from Gram-positive bacteria. Annu Rev Microbiol 52:41–79

Wang G, Li X, Wang Z (2009) APD2: the updated antimicrobial peptide database and its application in peptide design. Nucleic Acids Res 37:D933–D937

Wiedemann I, Breukink E, van Kraaij C, Kuipers OP, Bierbaum G, de Kruijff B, Sahl H-G (2001) Specific binding of nisin to the peptidoglycan precursor lipid II combines pore formation and inhibition of cell wall biosynthesis for potent antibiotic activity. J Biol Chem 276:1772–1779
About this article
Cite this article
Jamali, H., Krylova, K. & Dozois, C.M. The 100 Top-Cited Scientific Papers Focused on the Topic of Bacteriocins. Int J Pept Res Ther 25, 933–939 (2019). https://doi.org/10.1007/s10989-018-9741-6
Accepted:

Published:

Issue Date:
Keywords
Citation-classics

Bacteriocin

Bibliometric

Top-cited articles

Antimicrobial peptides